We're only days away from the release of Cars! I've been sharing just a portion of my experiences while attending Cars 3 Event in San Francisco just a few weeks ago. The excitement is building up and I'm eagerly awaiting June 16th with you!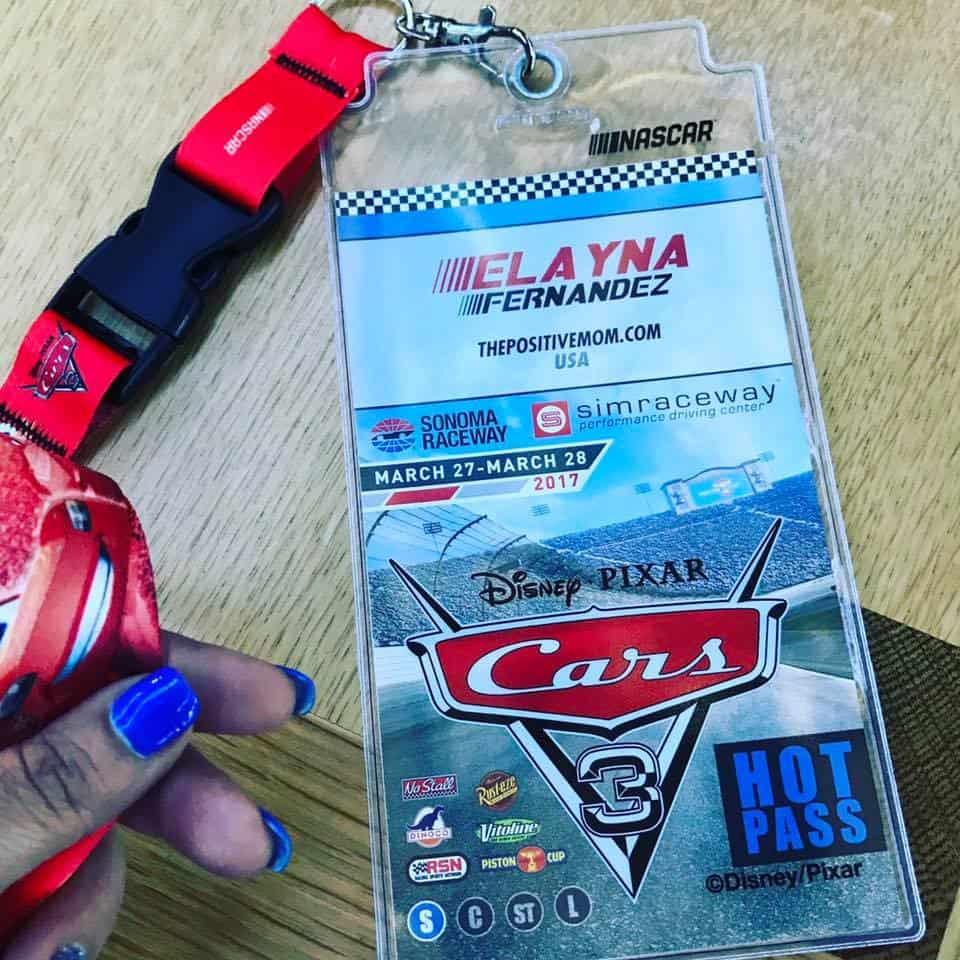 Being invited by Disney, Pixar and ABC as one of the 25 Top Disney Bloggers to screen Cars 3, meet the talented writers who developed this impactful story, tour the Pixar campus, and learn from the animators how a Pixar film is made was a pixie-dusted opportunity I will never forget and forever will treasure.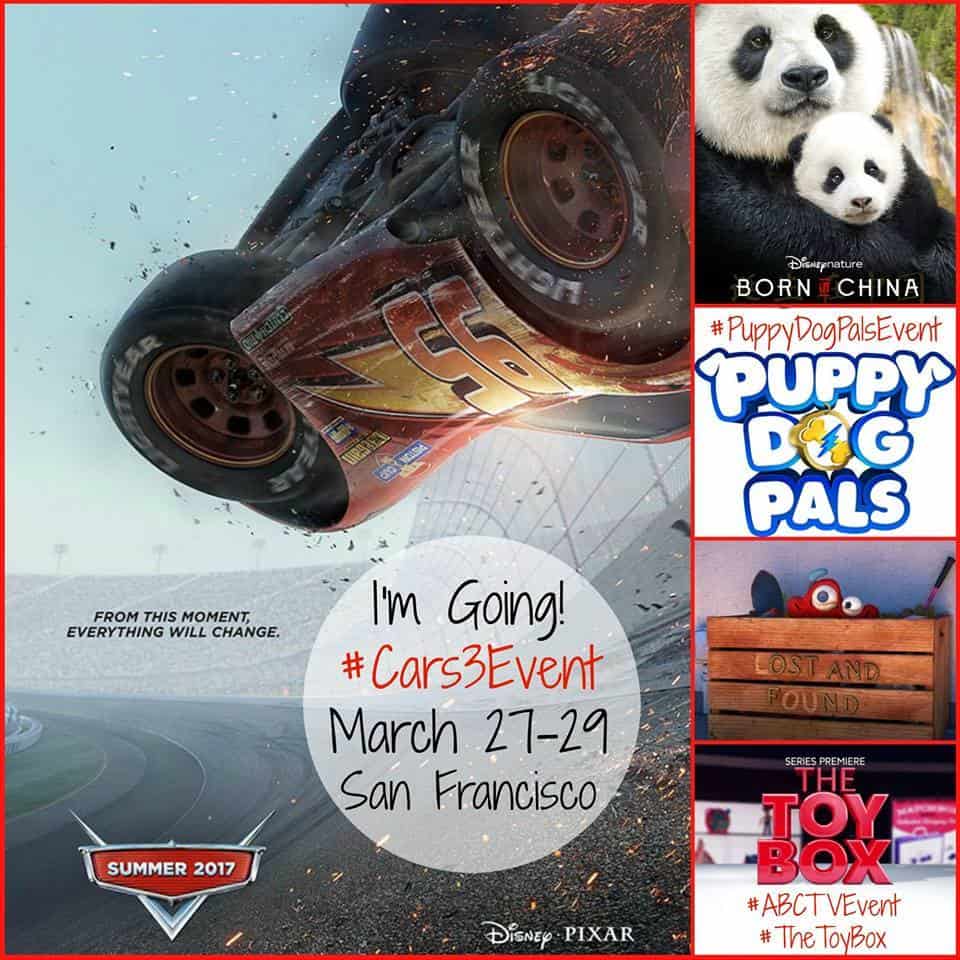 Today, I'll share the spectacular experience of visiting the Sonoma Raceway and have the opportunity to interview the Cars 3 filmmakers – a little before following Eleanor Roosevelt's advice to do the one thing I thought I could NOT do!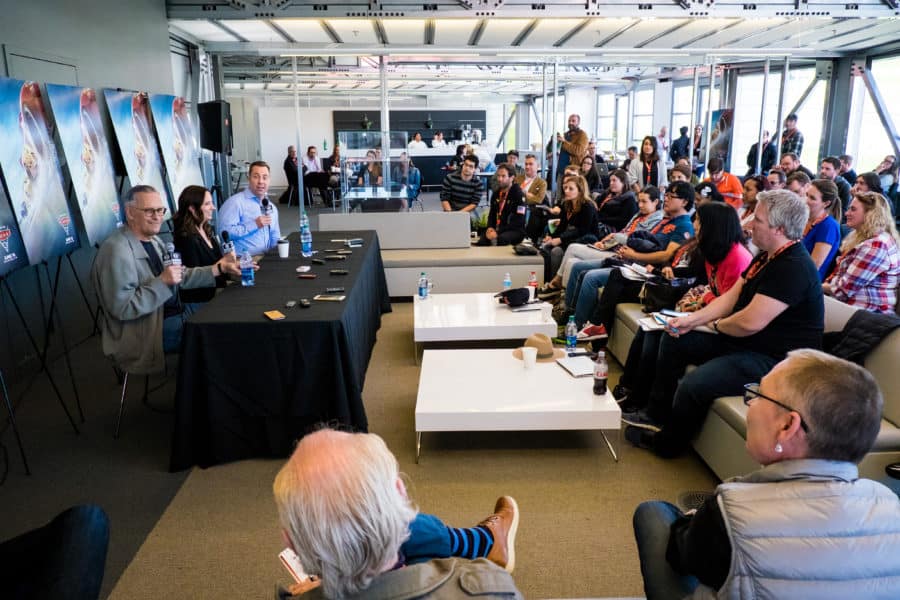 Imagine sitting in a room with Brian Fee, Kevin Reher, and Andrea Warren! You can see I was taking copious notes from these brilliant people. We all learned so much from them, laughed, and cried – well maybe not all of us. What I can say for sure is that we were all amazed, especially since we had screened Cars 3 prior to the interview and knew what a beautiful film they had created!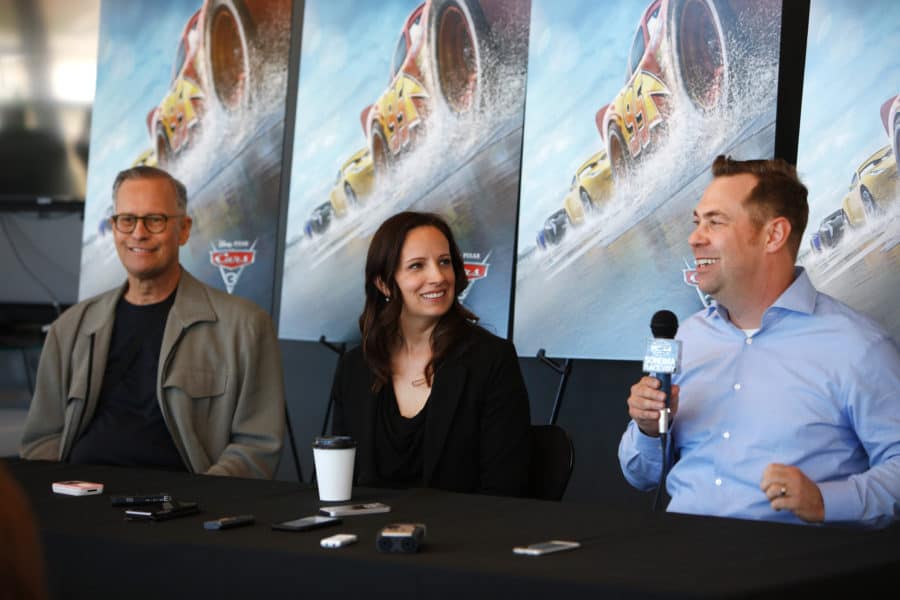 Brian Fee is the director of Cars 3, Kevin Reher is the producer of Cars 3, and Andrea Warren is the co-producer of Cars 3, The Next Generation. They shared personal and collective joys and challenges of creating this film and took us behind the scenes – well, not literally, since this meeting was post-production; but a girl can dream!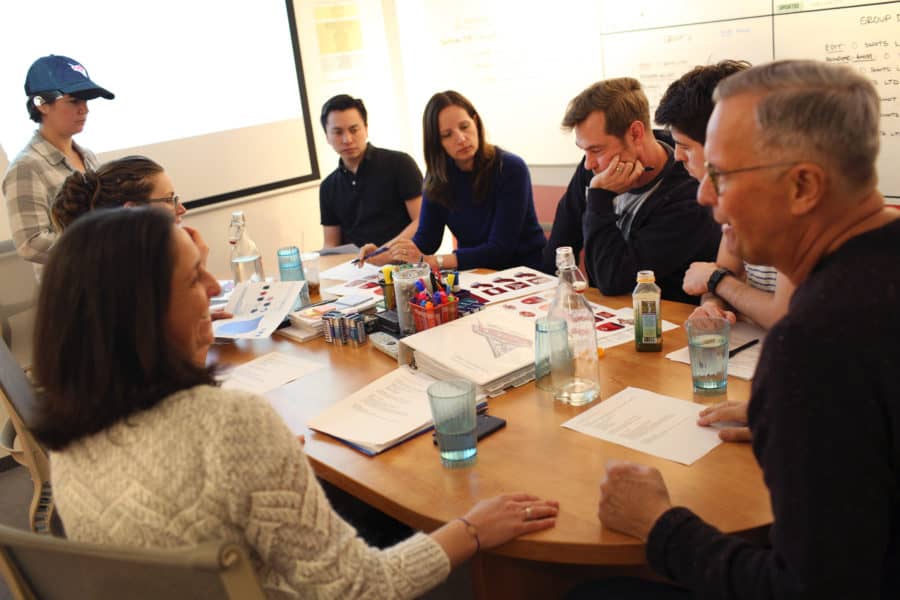 I gotta warn you that, as we get closer to the Cars 3 release on June 16th, the line between coverage of the Cars 3 Press Event and spoilers gets a bit fuzzy, so if you're like my brother and want to know zero to very little before you're in the theater, come back and read after June 16! I won't hold it against you… I think that's a cool way to do it.
So you are still here and I can share freely? Awesome! According to the filmmakers, what makes Cars 3 different from the other Cars movies is that kids will get an expanded world and more depth in the characters, and a lot more racing than you've ever seen, all while sharing a relatable story. There are some "Easter Eggs" in Cars 3, too, so be on the look out, especially for something related to the next Pixar movie in the works (and one I'm super excited about!): Coco!  So now onto the lessons…
Life Lesson #1 ~ Allow yourself to be imperfect
This is something we discovered a bit when we chatted with the Cars 3 writers. Brian Fee told us how in sequels, especially into the third movie, you have an aged character who has already learned a lot of lessons, so you may conclude they don't have actual problems to deal with – and that would make the story boring. He added:
One of the things we allow is our characters to be imperfect, because that's where we find stories. With McQueen, it just took a little research. We started talking to Jeff Gordon, to athletes,  people who were at the top of their game, who were big celebrities, who had it all, and they're facing the expiration date. And quite frankly, we also feel that we feel that way too… As an artist, new, young artists, interns, come into the studio and they can draw better than I can now, so I think everybody in the world has that feeling that they know what it's like for someone younger to come in, and that's the next generation, and you start to feel like you are no longer valid anymore, so it seemed like an obvious thing to latch onto.
I resonated so much with this concept! I have found that the wiser and older we get, the more expectations we place on ourselves. I think the life lesson we learn here is to release perfection and comparison, while practicing more self-compassion because these "problems" and feelings are what makes the story interesting and life worth living.  
When someone asked if there were more movies left in the Cars franchise, Fee responded:
John Lasseter always says we won't make a movie unless there is a story we think is worth telling, so I don't know how long it will last, but, we always want to make sure we have problems that people can identify with.
Though they're just "focused on getting Cars 3 out the door," we can rejoice when we face a problem, because it just means our story is not over!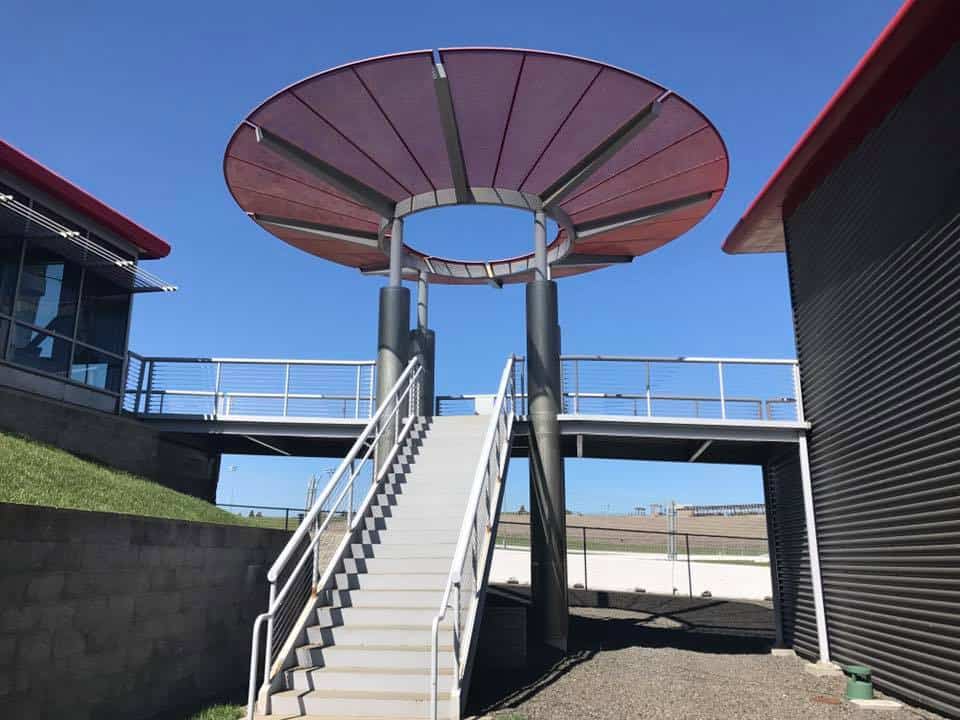 Life Lesson #2 ~
Make sure the part fits
Something I learned at the Zootopia press junket is that before actors get involved, there will be "scratch acting" with people around the studio. As the filmmakers are trying to craft a story, experiment with story, try things, they just grab somebody to say the lines. I was able to be in the booth and it was a magical moment, so it wasn't a surprise to hear that people love getting in the booth. Then they do a lot of sessions with the actors. He says:
One of the fondest memories I have with Owen is him looking at the lines and stopping and saying, "This doesn't make any sense to me, wouldn't the character do this?" … He wears his writer's hat when he's in the booth, and he'll actually talk about a scene and he starts giving me new options and we'll play around and often what ends up on the screen is something that wasn't necessarily on the page when we started. To me, that's exhilarating, that's as close to improv as you can get in the animation world.
The filmmaking process is very collaborative, and there are several versions of many scenes in the movie that don't make it to the screen, which is part of the excellence that Disney Pixar is committed to.  So the life lesson that stuck out to me is this: if your life is a movie, you are the protagonist, you are the main character, and you get to decide whether the part you are going to play fits you or not. Being a passive actor doesn't help the director… and it doesn't add to the story.
Life Lesson #3 ~ 
Learn from others' expertise
Bob Petersen wrote a fantastic meeting between Jackson Storm and Lightning McQueen to demonstrate the generational gap. The filmmakers never wanted Storm to be a villain, and instead highlight what happens when the younger generation loses respect for the people that came before him. 
Storm… thinks he has inherited the world, the world owes him something because he was born a certain class, because he is who he is, therefore it's his day, and everybody else doesn't belong here anymore.
This arrogance contributes to the overall theme that people around you can help you achieve something great. Director Brian Fee told us it physically takes 250 to 260 people to work on a Disney Pixar movie at a time.
…They come and go, roll off, and the department gets full of people. It's a village. I leaned on everybody as much as I possibly could, being a first time director, I spoke a lot to other directors picked their brain, buy them lunch, find out what they wish they knew when they were in my shoes. And then I relied heavily on the leads of all the departments because one of the benefits about working at Pixar is every department is run by experts. In every individual department, they are the very best at what they do.

My job is not to tell them how I'd like the scene, my job is not to tell them how to animate the scene, my job is not to get in there and mechanically do their job for them, my job is to inspire them with what the story needs are: how we want the audience to feel, what does the scene need to achieve, and how can the lighting, how can the animation, and how can that all come together and help us tell the story. I was able to rely on just the fact that they're already good at what they do. My job is to infuse them with the story we're trying to tell.
The awareness we can gain from this life lesson is that honoring other people's greatness, tapping into their expertise, and collaborating with them toward a common purpose is the most fulfilling way to succeed.
Life Lesson #4 ~ 
Purpose in progress
For the filmmakers, the message buried in Cars 3 is finding purpose in life. A deep wisdom nugget from Brian Fee:
And that changes throughout your life, what is important to you when you're 20 is probably no longer what's important to you when you are 45 and we go through these changes where life does have new meaning and that's the discovery he's on.
Many of us feel like we are "not there" because we haven't figured out our true purpose, or still have doubts and experience transition. It's okay to give yourself permission to be where you are. When I remind myself that I am supposed to be "a work in progress" and not this perfect final masterpiece, I feel a greater sense of peace and, ironically, purpose.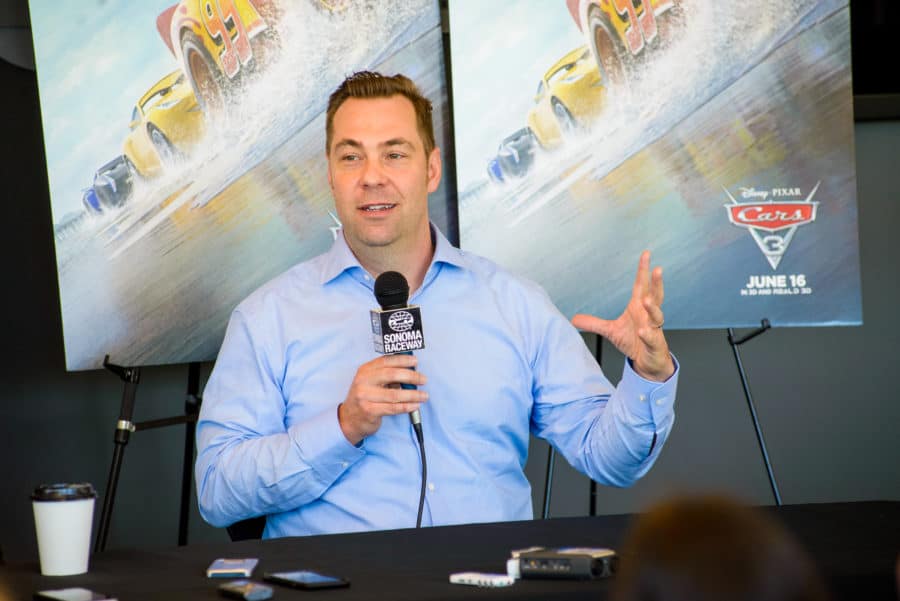 Life Lesson #5 ~ The joy of parenthood
I saved the best for last. The best for me – because it was my question. I asked the filmmakers which of the themes, angles, and stories they each related to the most. 
Kevin Reher, Cars 3 producer, joked about how he related with retirement, and Andrea Warren, Cars 3 co-producer, confessed she loves Cruz Ramirez' story, and defines her as an admirable and likable character, especially because she reflects Cristela's own life story. 
Brian Fee, Director of Cars 3, chose two favorites, and here's the first one:
I have two daughters and one day my daughters told me rather abruptly that certain things were for boys, and certain things were for girls and if something was "for boys" they automatically didn't have an interest in it or feel like they could have an interest in it, and that was a red flag and it killed me that society puts those kind of labels on things and they, at such a young age, were already feeling those labels from society, so there's a part of Cruz that I see my daughters, and that storyline is very important to me.
You can imagine the waterworks. How could one hold the tears? His second favorite theme:
…McQueen's storyline the moment you wake up and realize what it really feels like to be a parent, and what it really feels like to help somebody do something.

When you're 20 years old, you spend all your time doing things for yourself, and then you realize the joy you have out of helping someone else find their potential and that's something I identify with with McQueen on a great scale.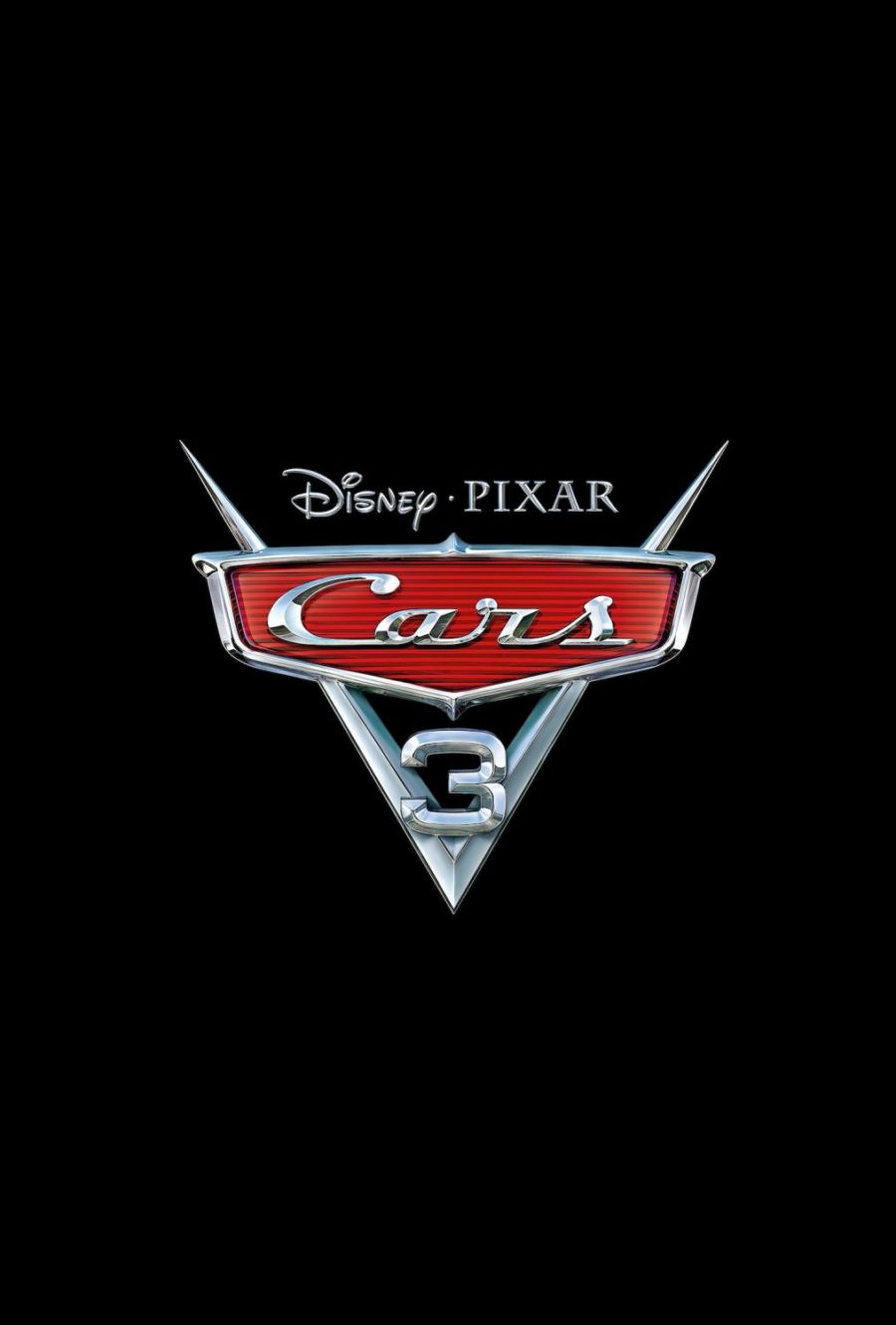 The joy of motherhood is that you are doing something bigger than yourself and you can make a difference in your children by challenging what "the world" expects of them and how they are labeled. I know as I continue to grow as a mom, it's been both difficult and rewarding to break cycles, choose a path on my own terms, and rewrite my own life story, but as I do that, I am raising empowered little women.
10 more days!!!! Go see Cars 3 on June 16th to discover how the story ends for Cruz, Storm, and McQueen.
What life lesson do you resonate most with? Share your own life lesson with us, too!
Like and Follow CARS on Facebook, Twitter, and Instagram. You can also visit the official CARS 3website and follow the hashtag #Cars3Event!