I'm growing more and more excited about the release of Cars 3 this month! Mark your calendars for June 16th, my lovely! 
As you know by now, I was  invited by Disney, Pixar and ABC ( along 24 other Top Disney Bloggers ) to San Francisco for the Cars 3 Event, and I screened 42 minutes of the film, so I already know most of what happens and it is EPIC! I'll be attending an early screening on the 13th, so stay tuned for my review of the whole film. Yay!
Today, I am going to share yet another amazing experience from the Cars 3 Event at the Sonoma Raceway. Those days were packed with exciting interviews, fun learning, and exclusive tours.
The presentations "Start to Finish: Pixar's Production Pipeline"  and "The Next Generation" really blew my mind. We learned the science behind everything it takes to make a Disney Pixar film and met key members of the Cars 3 animation, design, and production teams. It was amazing to learn from the people who put in so much effort, energy, and passion into this film, and to hear their challenges, funny anecdotes, and personal stories. Oh… and a few spoilers, too!

Bobby Podesta, supervising animator on Cars 3, introduced himself and told us that he was the first animator for the first installment of Cars. He's been working on the Cars franchise since 2001! That's 16 years.
The main quality of a Pixar story is that it's emotionally relatable, and Bobby Podesta shared that his job is to make it tangible. He told us that when working on computer animation, you must feel like you can reach out and touch what's in front of you: 
"…that emotional relatability is the thing that drives everything.  It's not just a story about a lamp, but it's a story about being a parent. (Luxo Jr.)  And it's not a story about being a fish; it's a story about overcoming your obstacles. (Finding Dory)"…
This same principle was observed in the making of Cars 3. They've created a world that is more visually tangible than it's ever been done: the characters are extremely realistic, and the key in the story is finding yourself in a place where you're just not sure where to go and you're really feeling like you're out of your element, which is being visually told in the form of a demolition derby as an analogy.
The demolition derby was a foreign concept for me. The scene was so vivid and Bobby Podesta explained there was a great amount of research that went into creating references that are authentic and true to life.
erosion  
They found that the cars were pretty wrecked up and, Podesta described it as "crazy" and "insane."  But since they start with the character, the animators sit down with the story artists, Scott Morris and his team. 
"We cram ourselves into a room and we say anything goes! From these we get a lot of drawings and storyboard drawings, and gab sessions to come up with what these ideas would be…"
The animators then produce a rough test, mostly flat, and then as the story keeps moving forward, so does the animation testing, building layer upon layer upon layer.
"Then we take shots and start running them through. We'll start… to get a little more refined… until we get to the end product, until it starts to feel like you're there, like you're in the chaos.  From these tests we have lots of different departments that are all going to start working on the effects and shots and layouts.  You're going to have people coming through designing characters that are going to go through this world and it's going to start to get moved down to the pipeline."
It's so fascinating… and a bit overwhelming, too! I wish you could have felt the passion in his voice and the excitement in his body language. It's a true labor of love.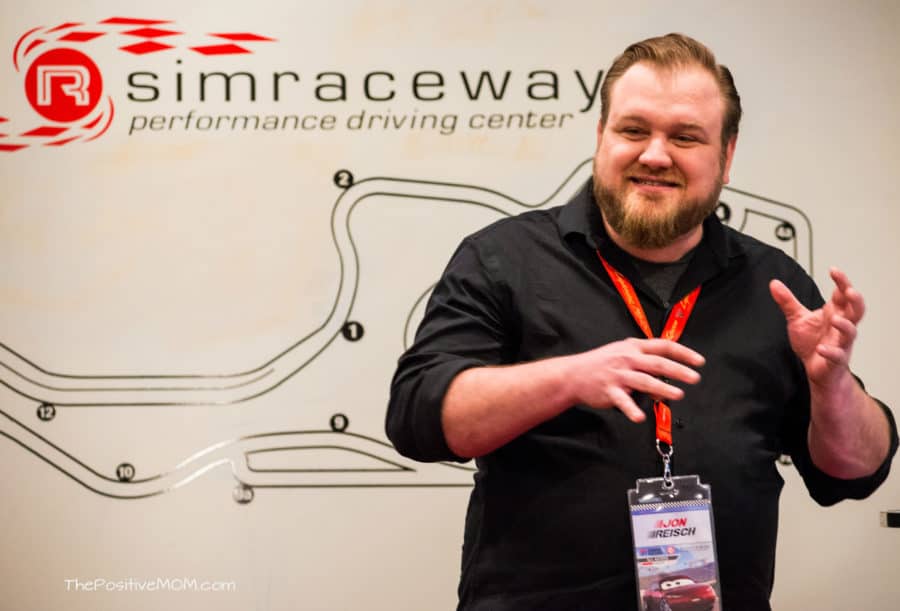 Next, we met up with Jon Reisch, the effects supervisor on Cars 3.  
"In the effects department at Pixar, we are primarily responsible for all the natural phenomenon you see in the world so basically water, fire, smoke, sand, dust and debris, anything that our characters interact with in this really rich and complex world that we have constructed for Cars 3. My effects team goes through and provides the interaction that provides the believability that feels like our character is really grounded in the world.  So that's the visual component of the physicality… the tangible realism that we are after in the film and gives it that groundedness …We help create emotional states in the story.  So that our characters can be put into danger, they can be hurt. There's something very visceral and powerful about seeing Lightning McQueen our hero, tumbling end over end, showered in Sparks and trailing engine smoke which is some of the great work that my team is responsible for.  That sense of realism, that detail that we bring to the film really helps our audience identify with the mood for our characters."
This is so cool! And you may be wondering, "how do they do it?" Reisch explained that in effects, one of the things that really sets Pixar apart is the physical simulation software used. The simulators are programs they use are viewed with a sense of physics and motion. The artists are using physical parameters to input into the simulation, many of which are driven by performance that animation provides such as the velocity of the car, how fast the wheels are spinning, whether or not it's in traction, whether it's slipping, dragging across the road.  
They use all of that data to determine whether it's going to be emitting tire smoke, or even simulating the airflow around the cars for the first time.
"It gives a sense of suction, that the feeling that these cars are moving really fast."
 And they've done it on a bigger scale on Cars 3 that Pixar hasn't been done in the past. 
Believe it or not, mud was the biggest challenge for the effects team to replicate on the film. Mud is a substance that is not really a liquid, it's not really solid, it's somewhere in between most of the time.  A lot of research was also done to find out how mud moves, how it breaks up, and what it looks like. They also did a lot of experiments. In the early tests, the mud actually looked like chocolate! 
"It took a long time to push through some of these early tests and figure out how to give a believable sense of the material.  But that's really just the tip of the iceberg, because effects is really iterative, and very collaborative.  To get to the final images, they had to do a lot of work across 6 departments."
With mud, they worked with their set shaders and the lighting department to give it a sense of wetness that makes it integrated into the ground. The effects team generated the splashes that are going to interact with the character, and then they hand it off to the character shading artist who makes the character look like they have mud on their face for the rest of the shots in the sequence.
With action sequences, they only have a second or less to communicate what the shot is about, so imagine doing all that in 160 shots, coordinating across half a dozen departments, all while keeping true to the consistent, very crafted, realistic look. 
"Lucky for me at Pixar and especially with this Cars 3 crew, we have some of the best effects, lighting, shading and technical artists in the game.  I'm really proud of the level we were able to achieve in this sequence."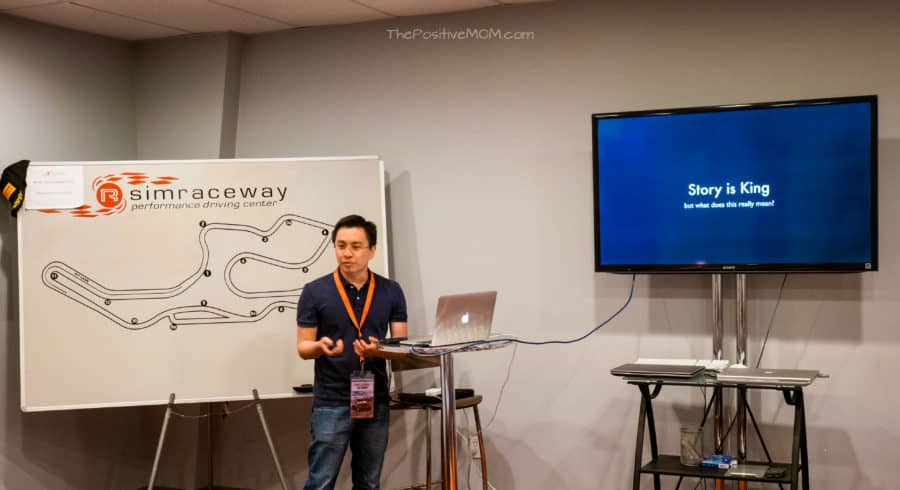 Next up, we heard from Michael Fong, the supervising technical director of Cars 3.  He talked to us about how at Pixar, their belief is that story is king.
"It affects all the departments, including technical ones, in different but significant ways. Everything that Bobby's animators do and Jon's effects artists do is in alignment with the storytelling. Without tangible realism we're not doing the best storytelling. Story takes a lot of time…but our movie needs to be in theaters on June 16."
At Pixar, they talk about how art drives technical and helps technical influences, and art is demanding all sorts of things and what Pixar is doing is trying to realize these worlds.  As they are making the movie, they make changes while the story is still evolving, and though it seems like a recipe for disaster, it works!
Late story changes affect all the departments, and they are constantly redoing and scraping work. They build their entire production pipeline around the inspiring idea that story has to constantly improve. 
"It's hard but to be honest we embrace this.  …Technical and other departments… absorb these changes and even start work at anytime.  And this is how the mantra 'Story is King' permeates through every single department including the technical ones.  In my opinion this is probably Pixar's greatest talent but it is also one of our greatest strengths.  The grounding in the acting, the truth to materials, the visual realism in the effects, it's all there to make the storytelling that more tangible and relatable to life.  This is where we come from…  we are trying to engage in that story."
I am so amazed at all these details that make Cars 3 such a wonderful animated film. I am so excited to see the final product!
What makes you most excited about Cars 3? Share below and see you at the movies!
Like and Follow CARS on Facebook, Twitter, and Instagram. You can also visit the fficial CARS 3website and follow the hashtag #Cars3Event! 

© Elayna Fernández ~ The Positive MOM