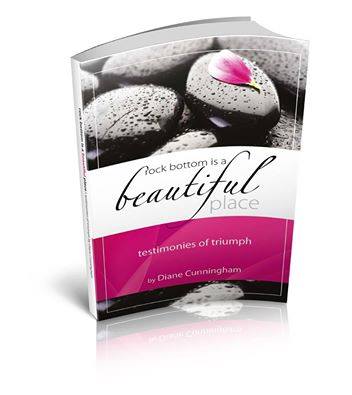 Everyone has a story. And at times, it is not pretty; it can be raw, graphic, and gut-wrenching… which makes it difficult to share, to release it to the world, and become vulnerable, emotionally naked, and spiritually exposed.
The Rock Bottom book is a collaborative collection written by Christian sisters uniting to share their stories of triumph through personal struggles with the power of faith and God, demonstrating that Rock Bottom Is A Beautiful Place, because they did not become victims of a life occurrence, but are instead victors that defied the odds and used the power of healing from the inside out.
Elayna Fernandez ~ The Positive Mom, shared a very personal rock bottom story that had brought her much sorrow. The story of how in her youth, it seemed that she almost lost her life, when in reality, she was becoming alive. You will feel how God blessed her through unspeakable shame and pain.
The Rock Bottom book is a perfect read for women who feel the pain of hiding and running from the very brokenness that God uses to make us whole. This is a healing book that contains controversial stories that others may judge, but that you can use to build up the courage to share your own.
"Elayna, your story in Rock Bottom book made me want to sit there and cry right there in the Diner where I was having coffee.. You are a TRUE inspiration and that is putting it mildly. I want to express to you how much I praised and thanked the Lord for you and how internally it made my love for Him deeper because of your words." C.D.
"Elayna, I'm just sitting here in tears, praising God for the miracle of your life. Thank you for opening your heart and sharing this!" H.M.