Are you a mom entrepreneur who wants to take your business, your family, and your personal development to a higher level? Then this is for you!
YAY!
I am so excited that you are ready and willing to take one of the most important steps toward developing yourself, your family, and your business.
The guidance, support, and performance accountability of a Certified Success Trainer will be the best investment you will ever make.  I attribute my own success to my willingness to be coachable, my commitment to lifelong learning, and the discipline to take action.
Whether you are a mom who has challenges with balance, a brand new mompreneur, or a mom entrepreneur who feels discouraged because you're not making the progress or getting the results you want, no matter how hard you've tried, Success Mentoring will have a profound impact because it will help you uncover what's holding you back and to get rid of the blocks that are sabotaging your capacity to reach your biggest goals and dreams.
If you are committed to advancing to your next level of success and soaring to new heights.
If you are committed to learning from those who know how to make it happen.
If you are committed to a more fulfilling family life.
If you are committed to starting or growing your business.
If you are committed to creating a better financial future.
If you are committed to designing your personal action plan.
If you are committed to move past fears, challenges and setbacks.
If you are committed to enjoying motherhood while increasing your influence as a mom.
If you believe that you were destined for more and it's time to go for it.
If you are committed to do the work to get you the results you want.
If you are ready to stretch yourself beyond your comfort zone.
If you know now it's the time to face your fears and move forward with faith…
Then you must invest in your transformation!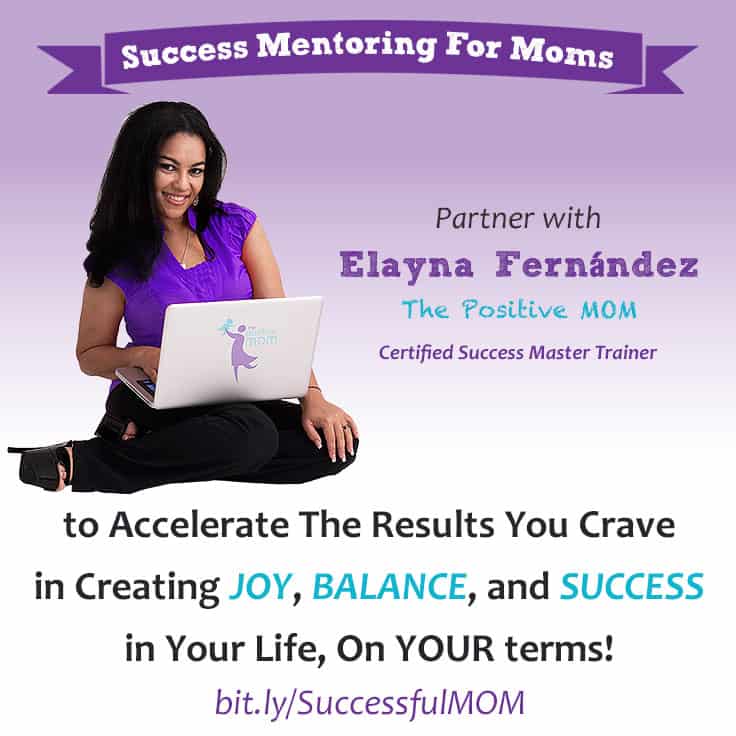 With my experience as a mom, my proven track record of results in success mentoring for moms, and my commitment to investing in self-improvement, I know you will find our coaching sessions worth the investment.
My mentoring services are customized to best support your needs and desires as a mom and mompreneur. I have been where you are at, I can relate to your struggles, and together, we can partner to accelerate your results in creating JOY, BALANCE, and SUCCESS in your life, on YOUR terms.
NO MORE…
thinking "I'm not enough"
wondering "

if only I could

"
complaining "

I feel stuck

"
You are NOT alone!
Our mentoring sessions are 40 minutes long, however, please do not book yourself after coaching in case we need extra time to finish a discussion that is important to your progress. You will always have assignments and action steps to take between sessions, so you will take full advantage of our time together.
Say YES to yourself… to your BEST Self! Invest in Your Self!
For a VERY limited time, you can access one on one mentoring with me for the following discounted rates:
$497 per month with a 3 month contract
$497 per month with no contract
$247 per individual session, as needed
There are limited available slots per month. Before our conversation, you will receive a questionnaire and instructions to help you prepare for our call, along with convenient scheduling options. After our call, you will receive a list of action items, and tips and strategies on how to implement them. 
If you need longer or more frequent calls, send me a message at elayna@thepositivemom.com so we can find a way to work that in. Cost varies directly with the amount of time requested, and the level of commitment in your coaching investment.
I look forward to sharing the tools, strategies, and resources required to accelerate your success, and to mentoring you in creating the results you crave in your life!
Let's create new possibilities together!

© Elayna Fernández ~ The Positive MOM