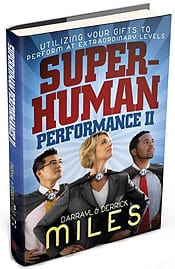 We all have a Gift: a special ability that allows us to perform with superhuman power. Superhuman Performance occurs when believers utilize their Spiritual Gifts in their work.
After being a guest on their radio show Milestone Motivation, Elayna Fernandez ~ The Positive MOM, was invited by Derrick and Darrayl to share her influential personality, her business savvy and her inspirational story in their powerful Superhuman Performance book: Superhuman Performance II – Utilizing Your Gifts to Perform at Extraordinary Levels
Look beyond the dumps is about how Elayna learned to find treasures, wisdom, and positivity in the most unusual places and circumstances. You will learn, laugh, and be inspired!
With compelling insights and practical applications from The Positive MOM and other of the world's top entrepreneurs, you will:
gain a fresh understanding of what it means to live within a cone of excitement, anticipation and purpose.
learn how to reclaim your sense of wonder, replacing worry with hope — fear with faith.
gain access to profound wisdom and practical advice for how you can lead a life of adventure and abundance.
…and more!