Last Friday, I attended Today's Innovative Woman's Dallas Success Summit and met the adoring, young CEO Dane Short, of Zymbol™, the coolest line of interactive empowerment jewelry . We were sitting together during the mastermind lunch session and he shared his entrepreneurial story.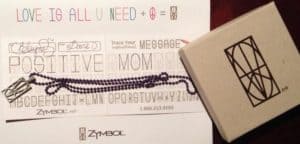 It all started with Dane's mom, Sally Short. Her company, MeriDane, combines the names of her children, I realized while reading more about it. What a sweet mom!  She is a positive mom who doodles with her children, and an advocate for peace and love.  She creatively wrote 'LOVE IS ALL U NEED' stacking each letter on top of the next, and then adding a peace sign to complete the design. A beautiful 'Love and Peace' pendant!
I am always inspired by what happens when families spend time together!  Turns out, after the pendant was manufactured, they noticed a 'K' popping out, which motivated the Short family to investigate further into what other letters they could find. What happened next was amazing!  EVERY LETTER of the ALPHABET and EVERY NUMBER are hidden within the symbol – which is now called Zymbol because it goes from A-Z.
Zymbol™ has been featured on FOX News, The Hufington Post, People en Espanol, and Hollywood Today, to name a few media outlets, and endorsed by many celebrities, because not only it is a wonderful conversational piece and thoughtful gift, it represent an act of kindness: Because the Short family sees Zymbol as a gift to their family,  for every Zymbol sold – an acrylic pendant is gifted to a child in the hospital.  I also like that it is Multilingual  ~ you know me, word-nerd!
I didn't get to meet Positive Mom Sally Short, but she is featured on this month's Today's Innovative Woman Magazine on page 24, and I was IN LOVE when she defined success as "Waking up every day with a SMILE … Working with my FAMILY … Impacting people's lives in a POSITIVE way."  I knew I had to support this woman!
The girls and I wear our Zymbol™ pendants everywhere we go now, but it is a unisex design that can be sported by anyone, "9 to 90″as earrings, bracelets, and charms, and comes in sterling, pewter, acrylic, wood, rose gold, and stainless, with a reasonable retail prices ranging between $16-$76. Of course, mine is purple!
What I love most about Zymbol™  is that it is a reflection of everyone's uniqueness.  We can use it to trace and spell out names, dates, phrases, intentions, goals, personal mottos, or a heartfelt message to spread love, hope, inspiration and empowerment to someone else we love. The message can change and evolve each day, or remain consistent. I think it's awesome for branding, too!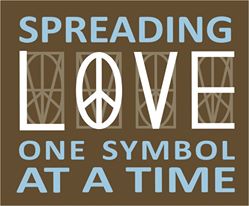 Here's where you go to purchase  Zymbol interactive jewelry or a gift certificate, and here's where you go to download free blank Zymbol worksheets to trace more messages. What a cool family activity.  The family that plays together, stays together.
Of course, a mompreneur after my own heart, Sally Short's family business can be found on Facebook, Twitter, and a newsletter, so you can follow up on what they are doing in the world.
Zymbol
™  is unique because of the positive story behind it, but remember that you can create your own story, because it is a celebration of self-expression, family togetherness fun,  giving back, and having something in common while embracing our individual uniqueness.  Spread the love!