I've been pondering a lot about my life and getting to know myself so much more these days as I notice my thoughts and my decisions and examine how I carry those actions through – or don't. I've recently discovered that every time I get the opportunity to challenge myself (in a healthy way) I always say yes and push through any limiting thoughts that may have been holding me back.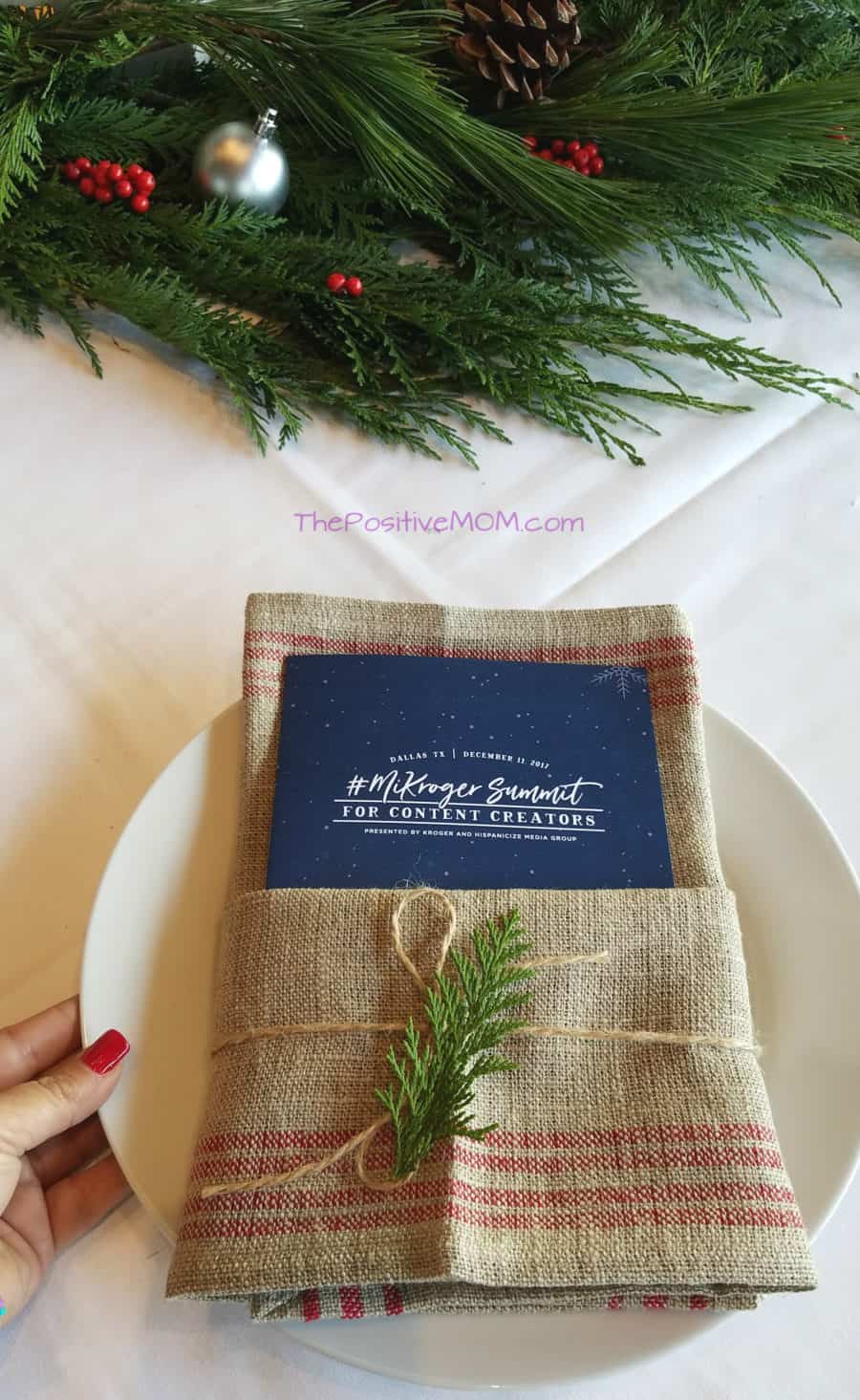 I've said over and over how much I dreaded cooking as a child, because of the dysfunction that tainted my circumstances. I've learned to love cooking for my family and close friends, though I'm not what you would call an entertainer. And ever since I became vegan, it there really hasn't been any luck in potluck – just pots full of food that come back home technically untouched.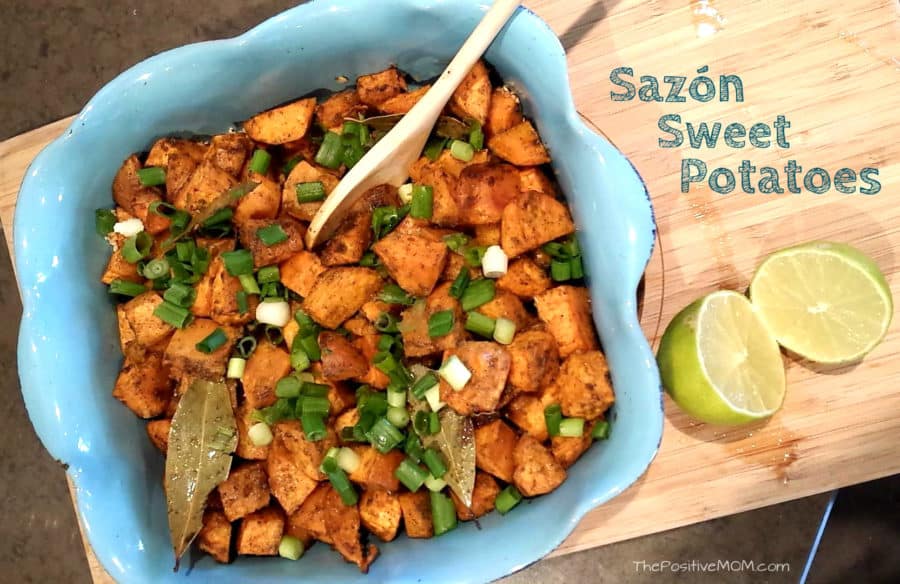 When I was invited to the inaugural #MiKroger Summit for Content Creator in Dallas, I was very excited to say yes, but the inner bully was warning me about cooking and bringing food for people to "judge."
I don't know what it is about being human and fearing rejection or having our feelings hurt, but ultimately, it's what we do about those emotions that matters. And I decided that connection, community, and cooking were more important than my imagined future pain.  But, as it usually turns out, what happens in reality is different -almost opposite- of the chaos and catastrophe we expect it to be.
I knew the Mi Kroger Summit for Content Creators in Dallas, TX would be an absolute delight, and it was. I met up with Texan influencers I follow and admire, met new friends, and learned a lot!And unlike my worrisome predictions, people ate -AND LOVED!- the vegan dish I made. I'm glad I didn't let fear get in the way!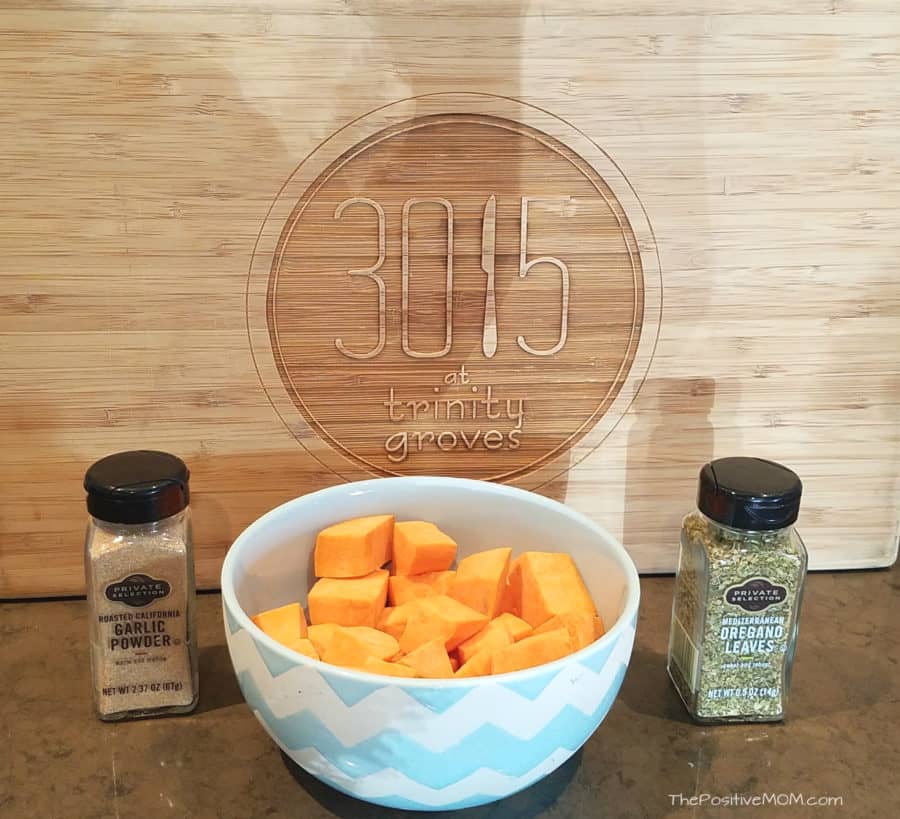 I arrived a quarter til nine, registered and set up my cooking station, ready to prepare Sazón Sweet Potatoes right at the venue, 3015 at Trinity Groves.
As an immigrant from the Dominican Republic, I had never seen Sweet Potatoes until I traveled to the USA for the first time in 1999. Sweet potatoes were intriguing to me because we have a type of sweet potato back home we call "batata" but they don't look or taste the same.
I wondered: Are sweet potatoes better than regular potatoes? Are sweet potatoes healthy? Do sweet potatoes promote weight loss? Should people be eating the sweet potato skins? The simple answer is "Yes – all of the above!," which was shocking to me because sweet potatoes taste as sweet as a dessert item.
Sweet potatoes contain about the same amount of carbs as regular white potatoes, but sweet potatoes have more fiber and are lower on the glycemic index than white potatoes.
Sweet potatoes are very healthy, and actually they are one of the healthiest foods you can eat. Sweet potatoes are a great source of vitamin A, which keeps your eyes and skin healthy. We all want to care for our skin, right?, but it wasn't until after I was prescribed glasses to read that I got serious and more conscious of my eye health than ever. My grandpa always said: "uno no sabe lo que tiene hasta que lo pierde," which means that one doesn't know what you have until you lose it.
Besides the beta-carotene, sweet potatoes are a good source of vitamin C, vitamin D, and vitamin B6, B1 and B2.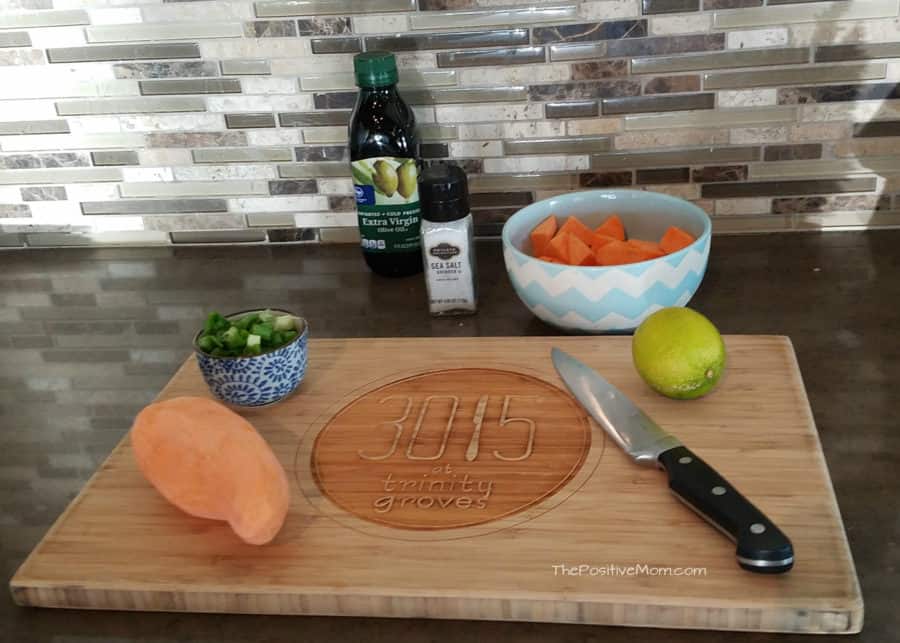 Sweet potatoes promote weight loss because of the high amount of dietary fiber and water and the low amount of calories they contain. And they are said to have anti-aging properties (although aging is part of life, so I'd say aging-better is a more accurate term).
Keeping the sweet potato skin will add fiber and potassium to your dish. I peeled the sweet potatoes in this occasion, but you can make Sazón Sweet Potatoes with the skin, too, and it saves time and effort, which I am all for – ALWAYS!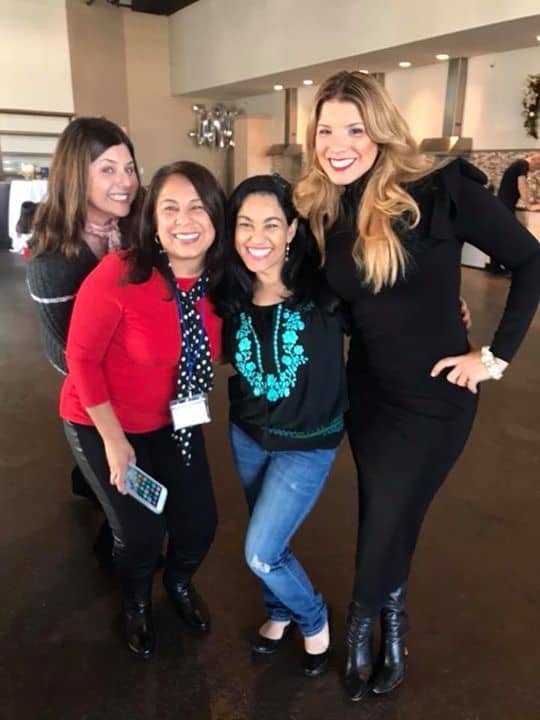 This vegan recipe is delicious, very nutritious, and so easy that I mingled during the networking breakfast at the Mi Kroger Summit and learned from the speakers while I cooked.
Sean Flanery and Casey Smith spoke about "Tasty Collaborations: A Creators Guide to Building Business Relationships and Ideas for Food Brands," and the panel was moderated by the always amazing Cristy Clavijo-Kish. We then heard from Jeanine Amapola on Creating Simple, Shareable Videos in Less Time. I was live-tweeting the tips and tricks they shared, so check out my tweets and the #MiKroger hashtag.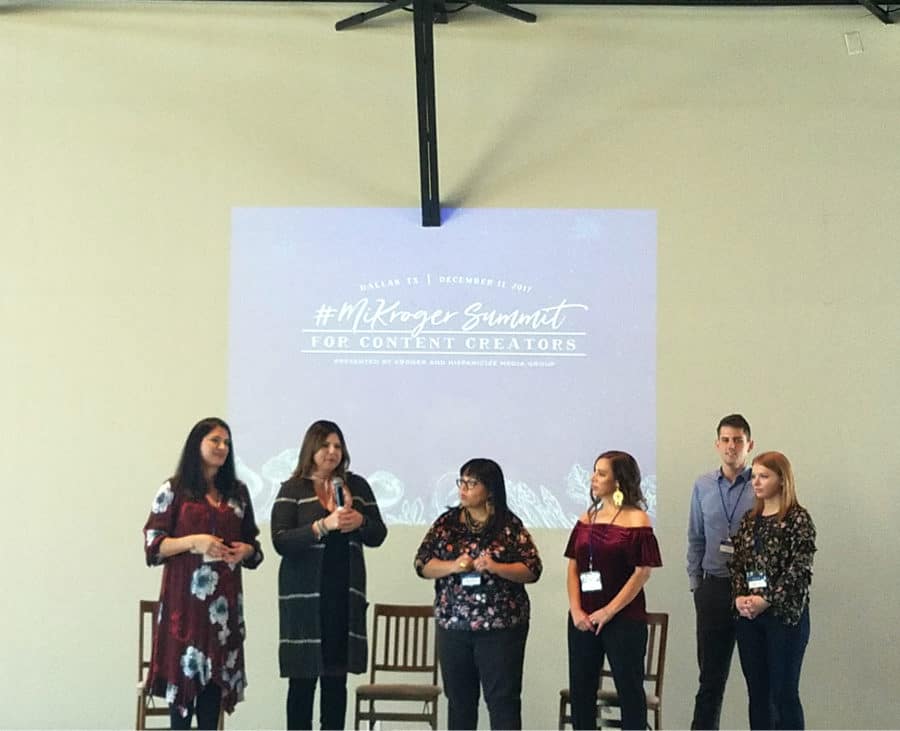 Award-winning food bloggers and entertaining experts Vianney Rodriguez (of Sweet Life Bake) and Yvette Marquez-Sharpnack (of Muy Bueno Cooking) broadcasted some tips LIVE from the Hispanic Kitchen's Facebook!
Later on that afternoon, they were joined on the stage by moderator Emmy Award Winner and bestselling author Gaby Natale, with the topic Taking Your Food Passion Beyond Digital: Are You Cook Book Ready? to teach the attending influencers how to get published. I've read Gaby's book, El Circulo Virtuoso, and if you can read Spanish, I recommend you grab a copy!
So let's get back to the reason you're on this page: You want to learn how to make Sazón Sweet Potatoes for your family or special guests! Fortunately, all you need can be found in the Private Selection seasonings and produce aisle at Kroger: 
Sazón Sweet Potatoes Ingredients
1 lb. sweet potatoes, peeled
1 tsp. oregano
1 tsp. onion powder
1 tsp. garlic powder
1 tsp. salt
2 bay leaves
2 oz. olive oil
½ cup chopped green onion
1 lime
Let's talk about those Private Selection herbs, now, which "transform something to eat into something to savor!"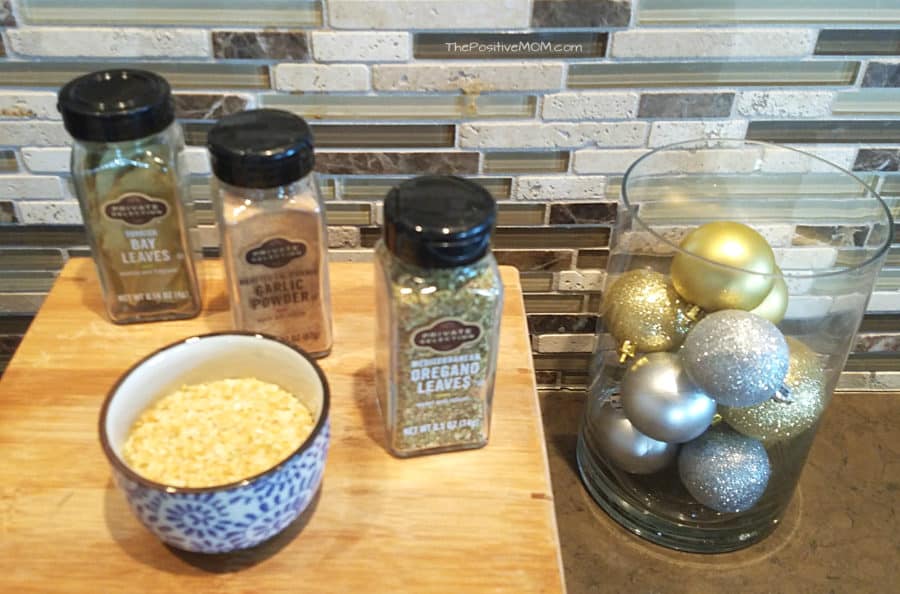 Besides being such a flavorful herb, oregano has many medicinal properties: it is antibacterial, antiviral, and antifungal. My grandpa taught us that an oregano tea would calm even the most upset stomach, and it helps menstrual cramps, which tend to want to cramp my style every single month.
Eating garlic can fight heart disease, prevent cancer, control blood pressure, and can cure colds and infections, because of its antibiotic properties. Side bar: Green onions (scallions) have similar properties when it comes to common colds and phlegm issues.
Onions are used to reduce inflammation and heal infections and are a great source of vitamin C and B6, iron, folate, and potassium.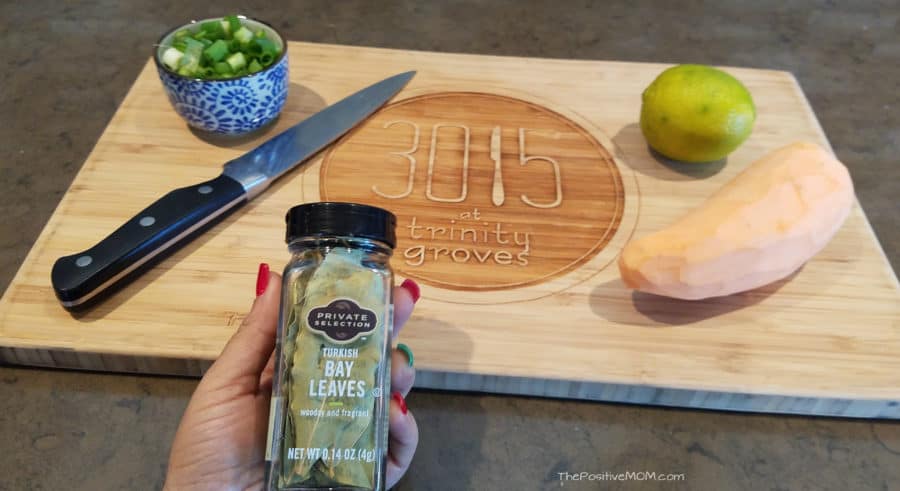 I use onion and garlic in EVERYTHING. Seriously! However, I hadn't really used bay leaves before. I loved the flavor and fragrance they added to the Sazón Sweet Potatoes, and I did a little research about how bay leaves are also beneficial for the health with vitamins A and C, as well as calcium, iron, and other minerals. I even found out that bay leaves help with sore muscles and that the smell of bay leaves can help protect your home from cockroaches, too. Isn't that something?
So now that we know we're using quality herbs that will nourish and heal you in a holistic way, let's talk about the simple way to prepare Sazón Sweet Potatoes!
Directions to Prepare Sazón Sweet Potatoes
Preheat the oven to 400°F ( (baking sweet potatoes is better than boiling them, so we can keep water soluble nutrients that would otherwise be lost). 

Cut the sweet potatoes into small pieces and combine with spices, salt, bay leaves and 1 ounce of olive oil (If you have a toddler, you may want to make sure the pieces are small enough for their little mouths).

Spread out the sweet potatoes evenly on a non-stick sheet and bake for about 30 minutes, stirring every 10 minutes.

Remove when the sweet potato is fork tender and golden brown outside.

Serve hot with a squeeze of fresh lime, green onion and the remaining olive oil. It's likely that you won't have any leftovers, but refrigerate if you do.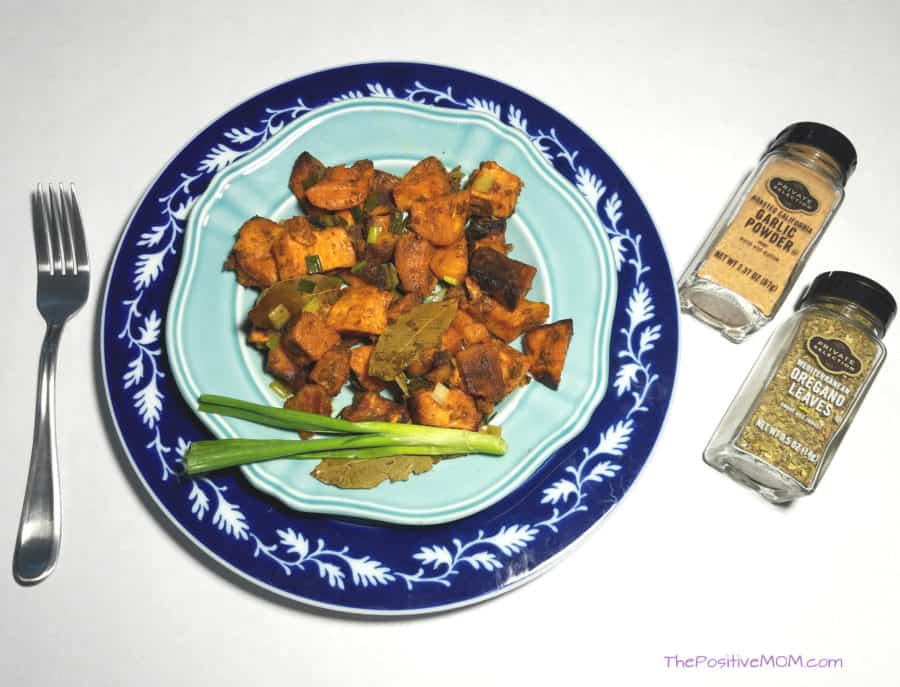 Make sure you add the lime right before serving. The citric juice gives this recipe a special taste and aroma. Limes are rich in vitamin C, as you can guess, and they also help with weight loss, skin care, and even constipation.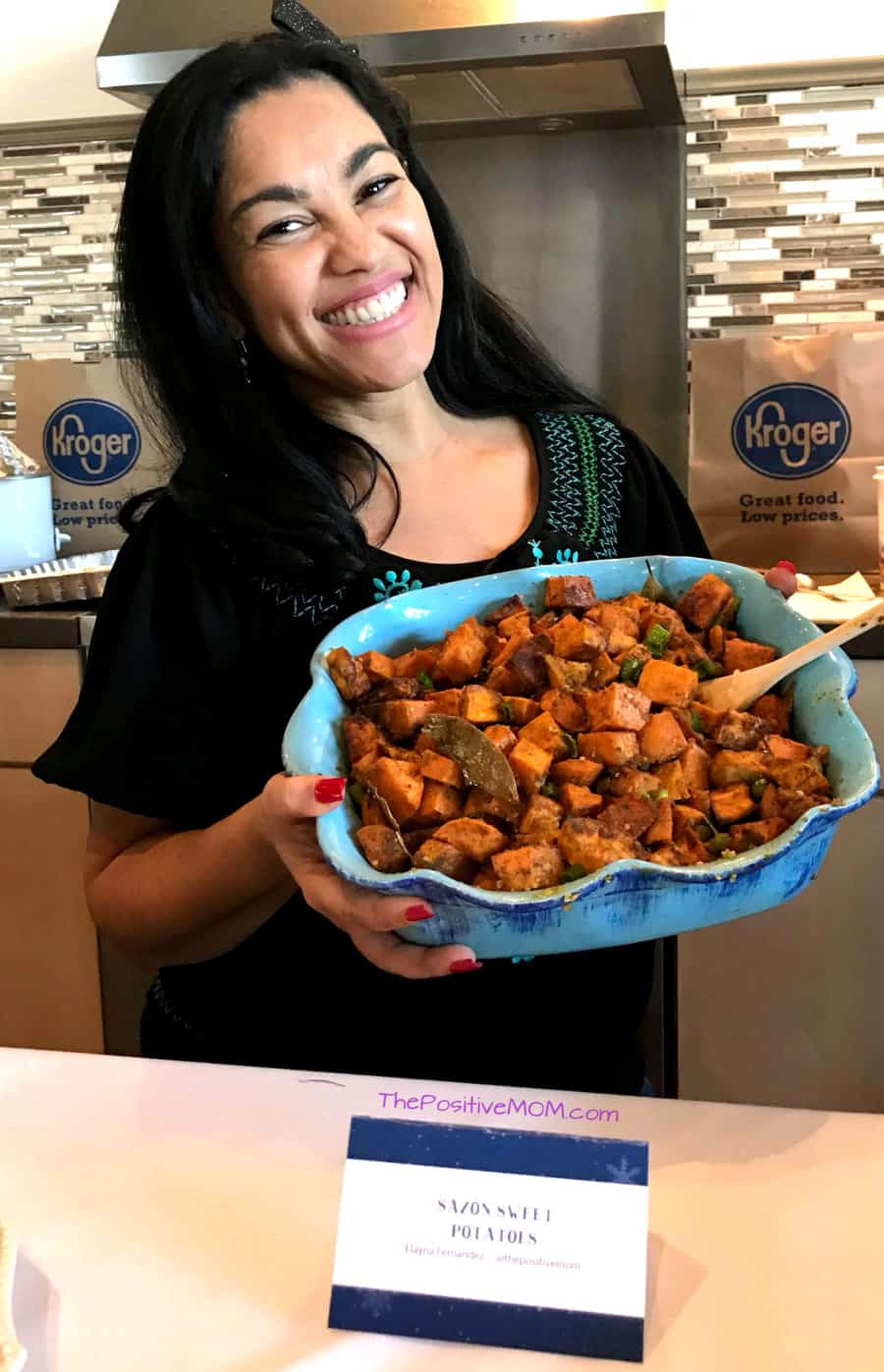 The Sazón Sweet Potatoes were a hit and what cook doesn't love getting compliments on their food? I am so happy I let go of my self-consciousness to achievement and I feel honored and grateful to have been invited to the first EVER Mi Kroger Summit. I look straight up legit with my dish and tent card, don't I? LOL I look forward to hearing about your results when you make this recipe for your tribe!
Have you tried the Private Selection brand at Kroger? Share your thoughts in the comments below and use #MiKroger when you share online, tagging @Kroger on Twitter and @KrogerCo on Instagram!

© Elayna Fernández ~ The Positive MOM