Breast implants, Botox, liposuction, facelifts… you name it… millions of women all around the world are having work done to improve alter their appearance. Have you considered plastic surgery? I have.
But cosmetic surgery wasn't my idea. And although we live in a society that promotes flawlessness, being perfect, defying age, and transforming our physique to a more widely acceptable mold, I was actually influenced by a single person. Someone whose opinion I cared about. Someone I once loved.
He never said "you're ugly, you need work done!" He claimed to be extremely and dangerously attracted to me and that I was the only one for him, the most beautiful woman ever born… but he would also often [at any possible chance] point out how he was obsessed with a certain cup size, how I would be "so much prettier" if my stomach was flatter, or how he loved me so much "in spite of my flat nose."
I wish I could tell you that I ignored him, told him to go "somewhere special," and moved on with my life, but sadly, his words started to creep into my self-image… and little by little, I started to be concerned with my body and desperately wanting to fix what was wrong with it.
I did the research that included price comparison, types of plastic surgery, and the nature of the implants. I went to the free consultation —where I learned what a good candidate for plastic surgery I was. I even asked my mom whether she would help me with the babies during recovery time. Now it was just a matter of deciding: would I get my giant cup size on first, then my tummy tuck, or would I do them both at the same time? And at that point, I never considered changing my nose, but I now believe I would have probably gone there next.
What I learned from my visit to the plastic surgeon is better expressed in Rae Smith's expressed words: "There is nothing wrong with your body but there is a lot wrong with the messages which try to convince you otherwise."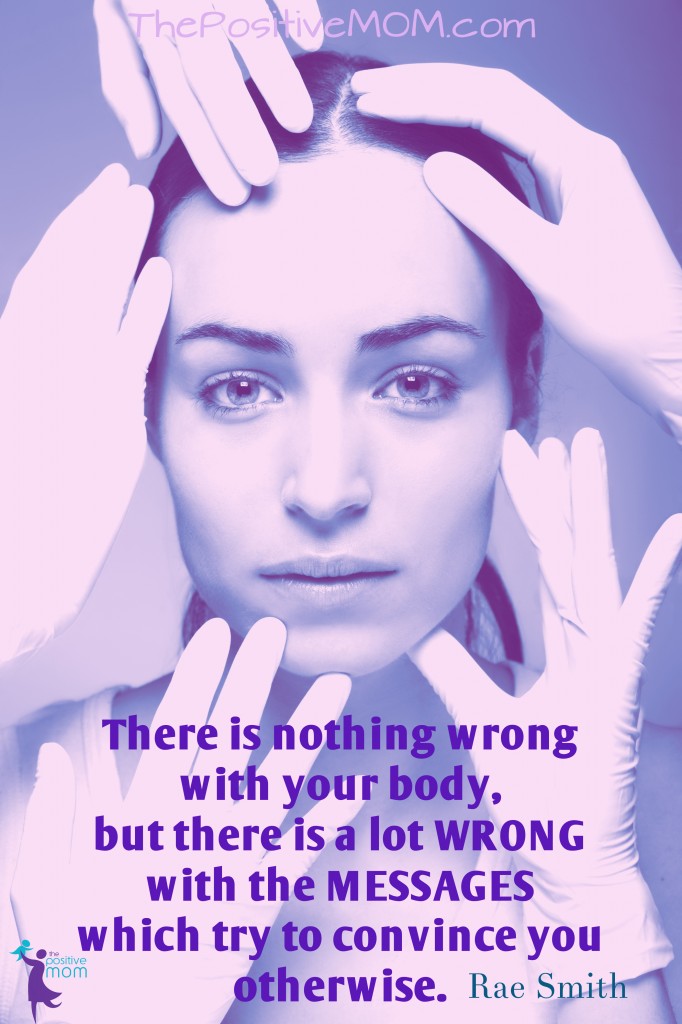 I am not writing this to place blame on the man who provoked my desire for plastic surgery. He is who he is… it is not up to me to judge whether he is right or wrong. I am simply pouring my heart out to you because I feel great joy that I came to my senses and remembered who I am … and most importantly, whose I am.
I was paying too much attention on how I felt about him, so with that relationship, I learned to focus on how I feel about myself when I am with a man. Now that I am married to my eternal soul mate, I love that he brings out the best in me and our relationship empowers me.
I'm not sure if you have heard the fact that the Disney movie FROZEN was inspired by Hans Christian Andersen's fairy tale The Snow Queen. This story tells of a mirror with the power to make that which was beautiful ugly, and that which was ugly, horrifying. This relationship for me was like that mirror. When we take a close, honest look at our relationships, we can learn so much about how and why we created them. And we are empowered to break the mirror, to ignore the hints, to take a stand for who we are, and embrace our beauty.
I am not anti-plastic surgery (or anti-anything for that matter). I know some women reduce their breasts because of back pain, for example. I did read a statistic claiming that 15,000 people die every month due to various medical and surgical errors, which sounds scary to say the least. I deeply believe that external beauty is not measured in inches and cups, or weighed in pounds… it does not depend on cosmetic products, hair dye, fad diets, plastic surgery, gastric surgery, liposuction, injections, or diet pills. External beauty is not even a thing.
Let me illustrate: I think you would agree that Norma Jean Mortenson [ AKA Marilyn Monroe] is considered as a beauty icon; dubbed one of the sexiest women in the history of the world. Her tummy wasn't tucked ( or even toned), she didn't have a thigh gap, her arms weren't skinny, her breasts weren't perky Double D's, and she had stretch marks! It was not a body part that made her beautiful…it was her confidence, her smile, her femininity… and all women have access to these three free, proven alternatives to undergoing risky unnecessary surgical procedure.
My prayer is that you remember who you are and whose you are, that you embrace your body as it is, no matter the age or stage you're in. I love my saggy mommy belly pouch (if that's a name), I love my stretch marks, I love my crazy hair, I love my scars, I love my flat nose and my square feet, I love that I'm 4'9″… and so does my husband. He loves me for who I am, not for what I look like…and that is why I chose him.
Don't let manipulative media messages tell you how you're supposed to be, what you're supposed to look like, or who you're supposed to act like to be beautiful. You were created a masterpiece and the Artist knows His craft. You're bound to bump into these messages, because quite frankly, they're everywhere, at times, very close to home, and very often, between your own ears.
You don't need to change anything about you to be beautiful. There are many goals you can attain with discipline, faith, and motivation. If like me, you have considered plastic surgery, may I ask you to honestly reconsider? Are your expectations realistic? How will it change your life?
If you have already gone under the knife, don't beat yourself up. We all do what we know with what we have, and given the circumstances we are presented with. This is not to make you wrong… but perhaps you may want to share some lessons that you learned before, during, or after the process that may illuminate truth for other women.
I am not having plastic surgery… I feel happy, beautiful, and confident just the way I am… and I INVITE YOU to choose to feel the same way about yourself!
[ela]