Hey DFW loves! Are you ready for a giveaway?
I've partnered with Warner Bros. Pictures to give out 10 pairs of tickets for an advance screening for the epic superhero film, Blue Beetle, releasing on August 18.
Trailer | Instagram | #BlueBeetle
BLUE BEETLE SCREENING DETAILS
Date: Tuesday, August 15
Location: Cinemark 17 + IMAX
11819 Webb Chapel Rd, Dallas, TX 75234
Time: Screening will start promptly at 7:30pm
ABOUT BLUE BEETLE:
From Warner Bros. Pictures comes the feature film "Blue Beetle," marking the DC Super Hero's first time on the big screen. The film, directed by Angel Manuel Soto, stars Xolo Maridueña in the title role as well as his alter ego, Jaime Reyes.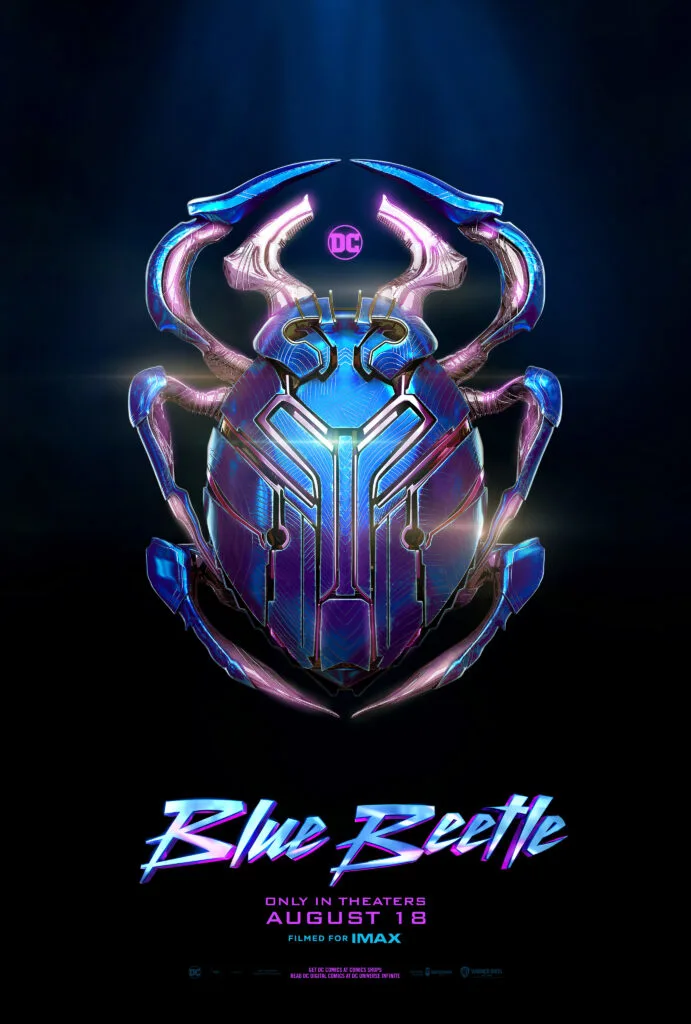 Recent college grad Jaime Reyes returns home full of aspirations for his future, only to find that home is not quite as he left it. As he searches to find his purpose in the world, fate intervenes when Jaime unexpectedly finds himself in possession of an ancient relic of alien biotechnology: the Scarab. When the Scarab suddenly chooses Jaime to be its symbiotic host, he is bestowed with an incredible suit of armor capable of extraordinary and unpredictable powers, forever changing his destiny as he becomes the Super Hero BLUE BEETLE.
BLUE BEETLE CAST
Starring alongside Maridueña ("Cobra Kai") are Adriana Barraza ("Rambo: Last Blood," "Thor") as Jaime's grandmother, Nana, Damían Alcázar ("Narcos," "Narcos: Mexico") as his father, Elpidia Carrillo ("Mayans M.C.," the "Predator" films) as his mother, Bruna Marquezine ("Maldivas," "God Save the King") as Jenny Kord, Raoul Max Trujillo (the "Sicario" films, "Mayans M.C.") as Carapax, with Oscar winner Susan Sarandon ("Monarch," "Dead Man Walking") as Victoria Kord, and George Lopez (the "Rio and "Smurf" franchises) as Jaime's Uncle Rudy. The film also stars Belissa Escobedo ("American Horror Stories," "Hocus Pocus 2") as Jaime's sister, Milagro, and Harvey Guillén ("What We Do in the Shadows") as Dr. Sanchez.
Soto ("Charm City Kings," "The Farm") directs from a screenplay by Gareth Dunnet-Alcocer ("Miss Bala"), based on characters from DC. John Rickard and Zev Foreman are producing, with Walter Hamada, Galen Vaisman and Garrett Grant serving as executive producers.
The director's creative team behind the scenes includes director of photography Pawel Pogorzelski ("Midsommar," "Hereditary"), production designer John Billington ("Bad Boys for Life"), editor Craig Alpert ("Deadpool 2," "The Lost City"), Oscar-nominated costume designer Mayes C. Rubeo ("Jojo Rabbit," the "Thor" films), visual effects supervisor Kelvin McIlwain ("The Suicide Squad," "Aquaman") and composer Bobby Krlic ("Midsommar," the "Snowpiercer" series).
A Warner Bros. Pictures Presentation, a Safran Company Production, "Blue Beetle" soars into theaters only internationally beginning August 2023 and in North America August 18, 2023. It will be distributed worldwide by Warner Bros. Pictures.
BLUE BEETLE GIVEAWAY
Enter the BLUE BEETLE movie giveaway here:
a Rafflecopter giveaway
Make sure you read the instructions well to assure you are qualified to win!
Warning: Seats are not guaranteed/numbered, and they are allocated on a first-come, first-served basis. Therefore, we recommend winners arrive at least two hours before.
See you at the movies!
Elayna is a homeschool educator, single mom of 4, founder of the Positive MOM Community, award-winning Storyteller, Story Strategist, and Student of Pain. She's a bestselling author, internationally acclaimed keynote speaker, and 3x TEDx speaker. To receive a gift from Elayna, click HERE.

Want to support the Positive MOM blog?
The mission of the Positive MOM blog is to help moms break trauma cycles, find peace, and feel emotionally whole, so they can practice supportive parenting and create a positive and healthy environment for their children. If you found Elayna's content valuable, please consider donating a love offering to enable her to keep creating content and helping more moms worldwide. Donate HERE.