I had the incredible privilege to screen 4 episodes of Marvel's new original live-action six-episode mini-series, Moon Knight, which premieres on Disney+ on March 30th.
There's so much to unpack and I'll do just that here, as well as give you the best Moon Knight quotes and positive lessons.
But first, let me just say that Moon Knight is a perfect blend of genres. Brilliantly humorous, emotional, action-packed, and even terrifying at times, you're in for a wonderful ride.
Moon Knight is an intriguing, captivating, and truly breathtaking show.
Following mild-mannered gift shop employee Stephen Grant, Moon Knight explores his struggles with dissociative identity disorder—and the discovery that his blackouts and mysterious memories come from sharing a body with former mercenary Marc Spector!
The vulnerability of each of the characters is moving. The setting was beautiful and really added to the already incredible story. The authenticity of Egyptian culture (including having Egyptian actors) was refreshing.
One of the things that make Moon Knight so unique is the perspective of the audience – we see everything from the lens of an unreliable narrator, which makes it all the more interesting and mysterious.
Is Moon Knight Safe for Kids? What Positive Moms Need to Know
Moon Knight was definitely not made for kids or sensitive teens. This action-filled series is absolutely very dark. It has suspense, moderate profanity, insults, and a lot of injuries, death, monsters, and otherwise implied violence.
The themes of alternate identities, the mental breakdowns, and the intense suspense make it very scary for children.
Attending The Moon Knight Press Conference
The Moon Knight Press conference was hosted by Devan Coggan, a staff writer at Entertainment Weekly, and in attendance were the cast and filmmakers of Marvel's series "Moon Knight", premiering on Disney+ on March 30th.
Oscar Isaac
Ethan Hawke
May Calamawy
Mohamed Diab (Director of episodes 1, 3, 5, and 6)
Justin Benson & Aaron Moorhead (Directors of episodes 2 and 4)
Grant Curtis (Executive Producer)
Moon Knight's Cast Members
Moon Knight features Antonia Salib, Ann Akinjirin, David Ganly, Sofia Danu, Karim El Hakim, Fernanda Andrade, Shaun Scott, Rey Lucas, and Díana Bermudez.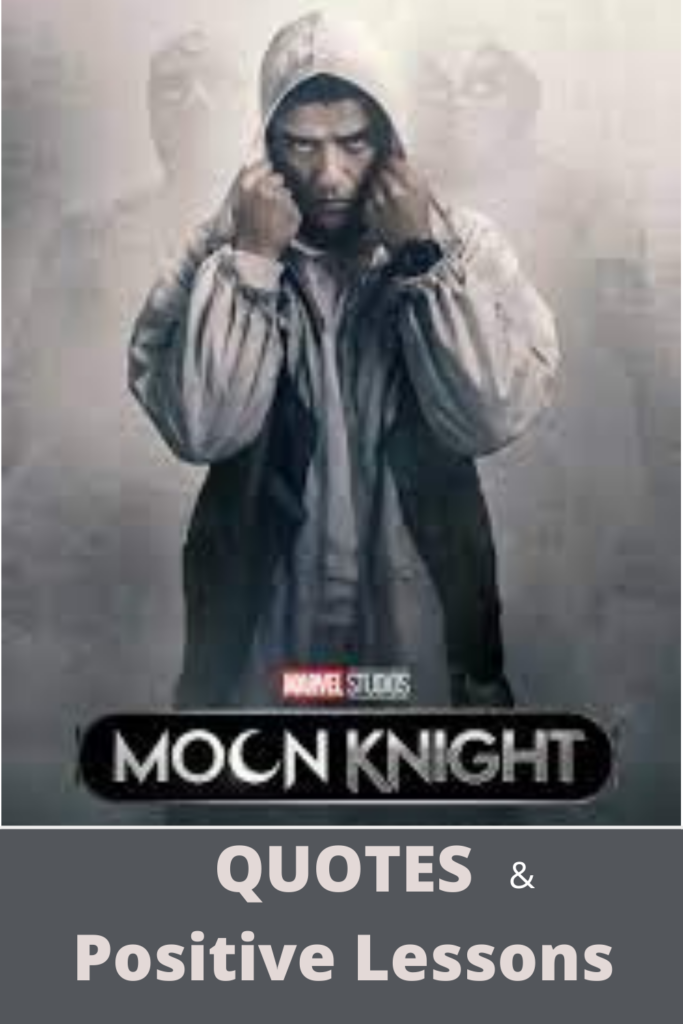 Additional filmmakers include Executive Producers Kevin Feige, Louis D'Esposito, Victoria Alonso, and Brad Winderbaum.
Moon Knight Characters
There are so many intriguing characters in Moon Knight and this is one of the main reasons to love this series!
Steven Grant / Marc Spector/ Moon Knight (Oscar Isaac)
Steven Grant is an endearing museum gift shop employee. He's vegetarian and non-violent. He loves Egyptian history and is a connoisseur. Steven Grant is socially awkward, mainly because of trying to cope with his mental health struggles — dissociative identity disorder.
Steven Grant shares his body with someone who is the complete opposite in almost every way: Marc Spector.
Marc Spector, former Marine, CIA operative-turned-mercenary, is acting as the earthly avatar of the Egyptian moon god and god of vengeance, Khonshu. He is charming and determined to get what he wants.
Steven also acts as Khonshu's avatar as his alter ego of Mr. Knight, while Marc's Super Hero persona is Moon Knight.
It was truly fascinating to see how Moon Knight flips the script and gives us a mentally ill hero – someone who wants to do the right thing but is battling his own mind to do so.
Oscar Isaac, whom we know from X-Men: Apocalypse, Dune, and as our beloved pilot Poe Dameron in Star Wars, stars as both Steven Grant and Marc Spector, was excited to join the Marvel Studios franchise.
"There was a real opportunity to do something completely different—particularly in the MCU—to focus on the internal struggle this character is having; to use Egyptian iconography, the Super Hero genre, and this language to talk about a real internal struggle that this person is having; and to create an indelible, unusual character, particularly with Steven Grant." ~ Oscar Isaac
Is Marc Spector British?
Marc Spector is an ex-pat in London.
When I asked why, the answer was: we just have too many characters in New York.
This was exciting for Oscar Isaac because he loves English humor, like "The Office" and "Stath Lets Flats." He mentioned referencing to comedians like Karl Pilkington from "An Idiot Abroad" and Russell Kane.
He studied the Jewish community in London from Enfield, listening to accents that are northeast London, and committed to that.
"It wasn't just about accent, but it was also about his timidness but also wanting to connect with people but not quite knowing how. In Marc, I was leaning into a bit of the stereotype of the tortured, dark vigilante guy, but what makes him so special is that he has this little Englishman living inside of him. I think Marvel in particular have done such an amazing job at combining action and comedy in such a great way. And I thought with Steven, there was a chance to do a different type of comedy than we've seen of somebody that doesn't know they're funny, doesn't know they're being funny."
Arthur Harrow (Ethan Hawke)
This sane villain feels familiar to many of us. His charismatic, clever, and cult-like leadership can feel really triggering. Arthur Harrow is Khonshu's nemesis. He wants vengeance, and you'll learn why.
Prepare to witness the war between Marc Spector / Steven Grant, Khonshu, Moon Knight, and Harrow.
I loved Ethan Hawke's take on why the narrative of this series and these chaotic characters matter:
"The history of movies is paved with storytellers using mental illness as a building block for the villain. There are countless stories of mentally ill villains, and we have a mentally ill hero—and that's fascinating because we've inverted the whole process… As a villan, I had to find a sane malevolent force. In his mind, he is Saint Harrow, someone who's trying to save the world. That was an interesting riddle for me to figure out."
Layla El-Faouly (May Calamawy)
Unlike Moon Knight and Harrow, the character Layla El-Faouly didn't originate in the Marvel Comics.
Layla El-Faouly is an adventurous archeologist who finds herself in the midst of the Steven Grant/Marc Spector battle with Harrow. They will need to work together to face the dangers that await.
May Calamawy told us her favorite things about playing this character:
She's strong, she's for the people, and she fights for what she believes, but she's also really vulnerable and scared.
May Calamawy pulled a lot from her own experiences to play Layla and felt supported by the cast and crew. They all fought to make her character the best it could be.
"The more I ended up taking from myself, the easier it became because I wanted to find a story that would work with someone who had a similar conditioning, who would deal with situations a certain way," she said. "What would that look like for someone raised there versus someone raised in the West?"
Positive Lessons from Moon Knight
In playing Marc Spector and Steven Grant, Oscar Isaac expects the audience to take this away:
That that in itself is its own superpower to be able to live through abuse or trauma and survive it and then come to terms with that, as opposed to push it all away. And to see that journey happen, I think that's a really powerful thing.
Mohamed Diab's main takeaway was:
What I learned through the journey of doing the show is that the character need to live with themselves, the identities. And I felt that, I identified with that by the way each of us, the persona is the mask that we're putting. I'm right now putting a mask to hide my desires, to hide everything — the other real character in me. And I think what I'm learning — what I learned from Marc and Steven is I need to be the same. I need to be one person. And I think this is the struggle that all of us through the journey of living are trying to achieve.
One of the main lessons we can learn is to be more compassionate because you don't know what someone's internal dialogue is, or what they are going through.
Moon Knight Quotes
I can't tell the difference between my waking life and dreams. ~ Steven Grant
It must be difficult – the voices in your head. ~ Arthur Harrow
Hello, and welcome to Staying Awake!
There's chaos in you. Embrace the chaos. ~ Arthur Harrow
I'll be adding more quotes to this post, so stay tuned!
Which Moon Knight quotes did you love most? Share with us in the comments below.

© Elayna Fernández ~ The Positive MOM
Be sure to Subscribe to blog post updates, so you never miss a thing!