Should you call yourself an Expert?
Answer #1: Yes! ]
Answer #2: Nooooo! No way!!!!
Let's examine this!
What is an Expert?
Copy-pasted from TheFreeDictionary.com
ex·pert n. A person with a high degree of skill in or knowledge of a certain subject.
Being an expert at something is really NOT like being a rocket scientist and it shouldn't be that intimidating. You don't have to be perfect or a god (goddess) to be called an expert. Oh… and it really doesn't take 10,000 hours. That's not EXACTLY what Malcolm Gladwell said!
Now for the hard question: Are YOU an Expert? Pop quiz time… Be honest, will you?
Are you more knowledgeable than many in your field?
Do you have more experience than many in your field?
Could many past and current clients [or maybe employers] attest of your skills?
Do other professionals in your field refer to you?
Have you "been there, done that"?
Do you find yourself giving advice to others in your profession?
Do you know your audience, market, and market trends?
Do you know the answer to most problems that may arise in your field?
Are you innovative and resourceful?
Do you have credentials and a proven track of success?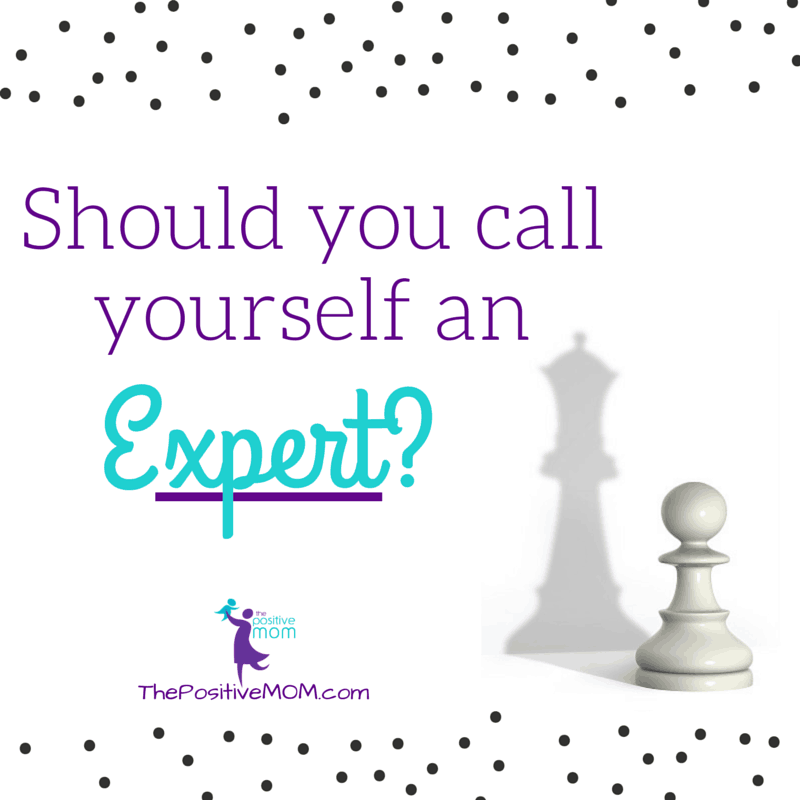 Well, I think you will find out that, like Seth Godin says:"Everyone is an expert about something" and that you ARE an Expert whether you market yourself as such or not. When I speak at conferences on the topic of positioning yourself as an expert or coach and mentor one-on-one, I always tell the moms: "To a first grader, a second grader is an expert."
[Tweet ""To a first grader, a second grader is an expert." #elaynaquotes #motivationformoms #womeninbiz"]
Isn't that bragging?
Have you ever thought "this person seems under qualified, but they got 'the job' I didn't get because they were boastful and not afraid of 'tooting their own horn'?"
A little confidence goes a long way – when expressed, that is. If you don't list your credentials, highlight your experience, your awards, and special designations, no one will ever know just how qualified and committed to your profession you are. Your customers, clients, brands you want to partner with, readers, social media followers, and the world at large have at least one trait in common: they can't read minds!
[Tweet ""Your audiences have one trait in common: they can't read minds." #elaynaquotes #womeninbiz"]
Does it make sense?
If you think about it, branding yourself as an expert is actually kind of nice! People trust experts, listen to experts and follow their advice. You create a name that sells for itself.
When does it work?
A brand is a promise and your prospects want to know that you are qualified to deliver what you promise. The question is…What do you promise? This is the defining element. This factor will determine why all the "bragging" will work for one and won't for others. It's not what you can do, but how you can help them!
[Tweet ""It's not what you can do, but how you can help them!" #elaynaquotes #womeninbiz #expert"]
Positioning yourself as an expert works when:
you establish how your competencies will work for your niche audiences and when you focus on benefits and not features.
you tell them how your know-how will add value to their business, their lifestyle, their pocket…
you translate everything into terms of "

what this means to you is…"
Is it THAT simple?
'Course not! After communicating your proficiency, you have to actually – hm you know – DELIVER. Backing up perception with action is what really makes a difference ( and pays the bills). It's why you see many are on page one of Google and at the bottom of the satisfaction surveys. Poor follow up and poor performance.
Does it have to be the actual word "Expert"?
Some people come themselves a "Leader" or a "Specialist"… or use the title "America's Best…xyz." The truth about the word Expert is that is derived from Latin that means "Experienced". You could have been the smartest in your class, gone to Medical School and specialized in a particular area…if you never practiced medicine…would you be the Expert? My grandpa never went to medical school (or any school for that matter) and they called him the town doctor because he was a healer. People want to do business with the woman in the trenches that speaks from experience, not from text book.
[Tweet "The word 'expert' derives from Latin, meaning 'Experienced.' Are you an expert?"]
I truly believe that you were born equipped to bless others with a gift only you have. Even though many people do what you do in the marketplace, you do it in a way that can't be duplicated. You don't need a PhD or special certification to be an expert, I'm just saying "if you have it, flaunt it."
[Tweet ""You were born equipped to fulfill your purpose. You have all you need to be successful!""]
So…should I?
Yes! If you have the passion it takes and will continue to hone your skills, evolve, and reinvent yourself to live up to the title (and that takes consistent study and training and investing in yourself!), and even go the extra mile. Give yourself permission to own it, brand it, let it show by backing it up (like Elsa sings)… but hey, only do this in your BRANDING… don't be running around telling everyone yourself, because, hey… that's just tacky.
Noooooo! If you won't be able to perform under Expert's pressure and will end up being called the "so-called-expert." It gives the word a negative connotation to use it to loosely, plus it is quite misleading and highly unethical to claim you're an expert just because you have a certificate that says so, or to call yourself the expert of everything!!! (Pet Peeve alert!) Someone once said "the expert knows more and more about less and less." Isn't that a cool way to look at it?
And speaking of Pet Peeves, is it STILL necessary to say that you must stay away from giving medical, legal, or tax advice unless you are indeed a doctor, lawyer or accountant?Ugh. I digress.
I believe people are so well informed these days, it would be really hard to fool someone with "fake" expertise. If someone is an impostor, they will figure it out… and they'll tell their friends.
But one thing I'm sure of, you should let your prospects (and even your competitors) know what you bring to the table and how your uniqueness works towards delivering your brand's promise. If you are not able to tell others how wonderful you are at what you do, then, who is? Oh… and whatever you do… don't compare yourself, just look within!
[Tweet ""Don't compare yourself, just look within." #elaynaquotes #motivationformoms #womeninbiz"]
Whether you call yourself an expert or not, your results will speak for themselves and people will define you based on them. A brand is a promise. An empty promise never did anyone any good. It's all about value and you can't "wing" value. If your clients don't agree with the title, then you're doomed!
What is your answer to this thought-provoking question? Do you consider yourself an expert? Flaunt your expertise in the comments below!
[ela]