Do you often feel like you're failing at motherhood?
You're not alone.
A Care.com survey revealed that 80% of mothers in the United States feel stressed about getting everything done, 79% feel as if they're falling behind and more than 50 % fear that they're missing important everyday moments in their family's lives.
In a time where we have more tools, information, and resources at our disposal than ever, why do we feel like we don't measure up as moms?
I've found the secret cure to our perceived motherhood inadequacies and insecurities. Want to know what it is?
Yeah, you've got it.
Stop striving to be your best self.
You may have learned that being your best self is a noble quest, but research shows that the culture of striving is costing you your ability to be the present, patient, positive mom you want to be.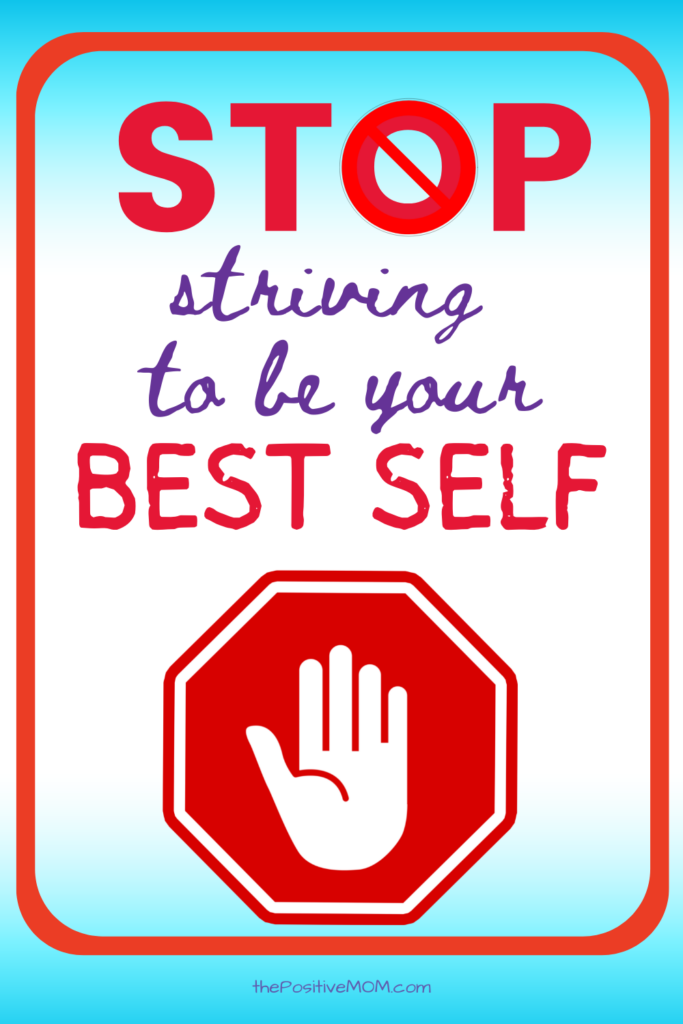 The more we strive, the more we fail to thrive.
In working as a transformational coach and trainer for moms all over the world for over 2 decades, I've found that those who want to be their best selves don't feel like they do enough, have enough, or are enough.
And yes, I have felt like this before. We live in a society where smaller goals don't count and big steps are encouraged. It's all about setting smart goals, doing what successful people do, and putting in maximum effort.
That's why I decided to share the top 5 reasons why chasing our best is toxic (whether it's your best self or your best life) and what to do instead.
Doesn't striving to be your best self help you achieve your goals?
And just to put your mind at ease, know that I'm not talking about a life with no standards or aim.
Professor Kenneth Rice, who serves as co-director of the Center for the Study of Stress, Trauma, and Resilience at Georgia State University, said and I agree:
"Standards in and of themselves are not bad; it's what people attach to them that can make them problematic."
Goal setting is one of The Success Principles and I believe in BOLD goals. However, today's standards are attached to being the best, which implies comparison, competition, and self-judgment.
And the hardest part is that we attach our worth to this best self we're desperately striving for. We shame ourselves and each other for staying in our comfort zone, for resting or doing nothing, or for having a lack of motivation, and sometimes that's what is needed.
It's no wonder why mental health issues are on the rise.
There's this harmful web of perfectionism we've been caught up in because being "your best self" is simply one of the many disguises of the pursuit of perfection.
I think this quote by Michael J. Fox explains this concept well:
"I am careful not to confuse excellence with perfection. Excellence, I can reach for; perfection is God's business."
And we all know that being perfect is not an attainable goal in this world.
Studies clearly show that people who seek to be their best selves have higher levels of toxic stress and lower levels of satisfaction and fulfillment.
When we stop striving to be our best selves, we can be the moms we want to be.
5 Reasons to Stop Striving to Be Your Best Self
Let's explore 5 reasons why the pursuit to be your best self is not as wholesome as it seems:
#1 You end up depressed.
Striving to be your best self is the easiest way to feel like you're failing at being a mom. You never achieve the elusive goal of feeling like your best. It's a futile activity because you are an evolving being and can never fully be your best self. You can only be who you are and where you are.
#2 You end up distracted.
When we are extremely focused on a goal, we might miss out on what truly matters, the simple joys and tender mercies of the present moment, and our most precious relationships might suffer.
#3 You end up depleted.
And a depleted mom is going to be too exhausted to be positive, too on edge to be peaceful, and too overcommitted to be present.
#4 You end up disconnected.
That means you're not present with God, yourself, or others – including your children. The spiritual side of our nature needs these connections to give life true meaning and purpose.
#5 You end up disseminating it.
Perfectionism breeds perfectionism.
Author Ryan Holiday teaches that "Perfectionism rarely begets perfection or satisfaction — only disappointment."
In her book, The Gifts of Imperfection, Brené Brown says that "Research shows that perfectionism hampers success. In fact, it's often the path to depression, anxiety, addiction, and life paralysis."
Is this what we want for our children?
Of course not!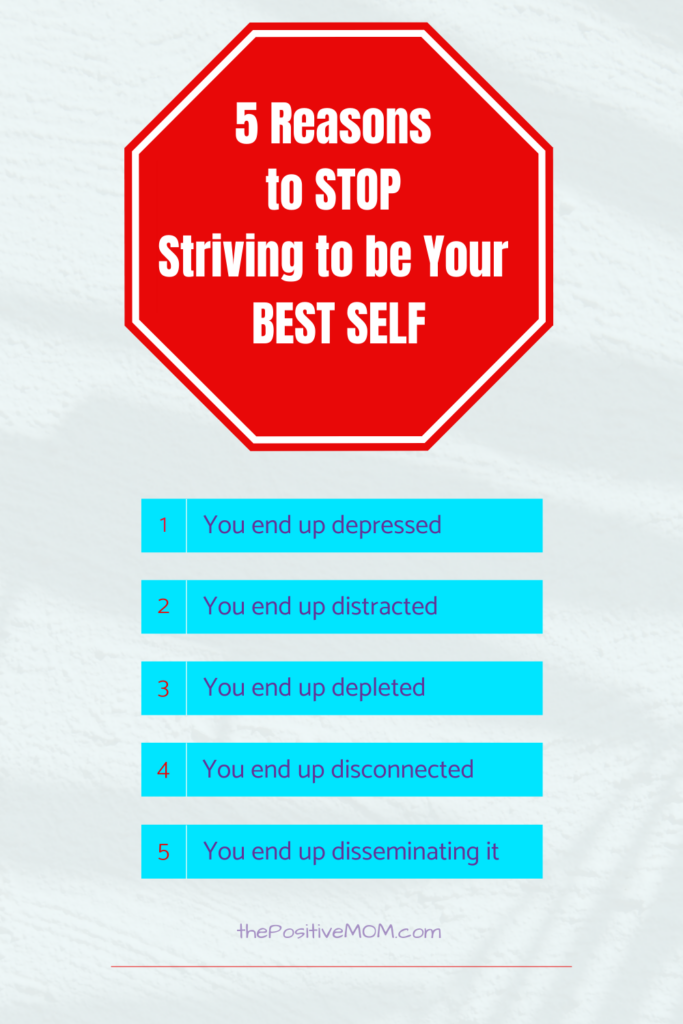 But when we as moms, focus on being the best, we create unreasonable and damaging standards for our children that may lead to unfortunate consequences.
What to Be Instead
Now that we've established how harmful it can be to strive to be your best…
What can you do instead of striving to be your best self?
The right way to ask this question is actually: What can you BE instead?
And the answer is: BE your own best friend.
When you are your own best friend, you make choices that bring you peace in your daily life.
Rather than striving to be your best self, you are your authentic self. You can be a real mom.
And you know that old saying:
"Real moms aren't perfect, and perfect moms aren't real."
Good moms do exist though.
Good moms set goals – both goals in motherhood and personal goals
Good moms take small steps in the right direction to achieve those goals
Good moms make a conscious effort to live a happy life with their families
At the end of the day, a good mom knows she is not her best self or her perfect self, but she is happy about what she did, what she has, and who she is. And yeah, that can take hard work!
Good is Good Enough
Remember the story of Mary and Martha in the Bible? You can find their story in Luke 10:38-42 KJV, in the New Testament. Real moms, like Martha, choose "the good part that is not taken away from them."
A good mom is a real mom.
I always talk about this word – good – with my own daughters. As artists, they keep trying to make each of their creations their best work, a flawless masterpiece.
As I see the frustration, fear, and anxiety this big goal brings to them, I remind them of Genesis 1, the account of the creation of the world in the Bible.
In verse 31, we read:
"And God saw every thing that he had made, and, behold, it was very good."
Not perfect.
Not the best…
but GOOD!
Good is good enough – even for God.
Why isn't being a good mom enough?
I think you've noticed that I like to read the Bible a lot. I've noticed that being good is a great compliment, a worthy qualifier, like in "The Good Shepard," or "The Good Samaritan…"
But in today's society, being good has become synonymous with subpar, inferior, and second-class. Being your best is the goal – and striving to be your best self means that you gotta be at your peak performance and focus on the future self, on the bigger picture, in all areas of your life.
Being a good person, a good self, and a good mom is not settling.
And as God's creation, and as God's daughter, you are good enough.
My belief is that we must not be so preoccupied with reaching our divine potential, that we are unable to see the wholeness of our divine worth.
As Tara Brach eloquently said:
"Rather than striving for perfection, we discover how to love ourselves into wholeness."
To do this, there are 3 standards we must practice and model to our children:
Self-acceptance, positive growth, and non-judgmental discernment.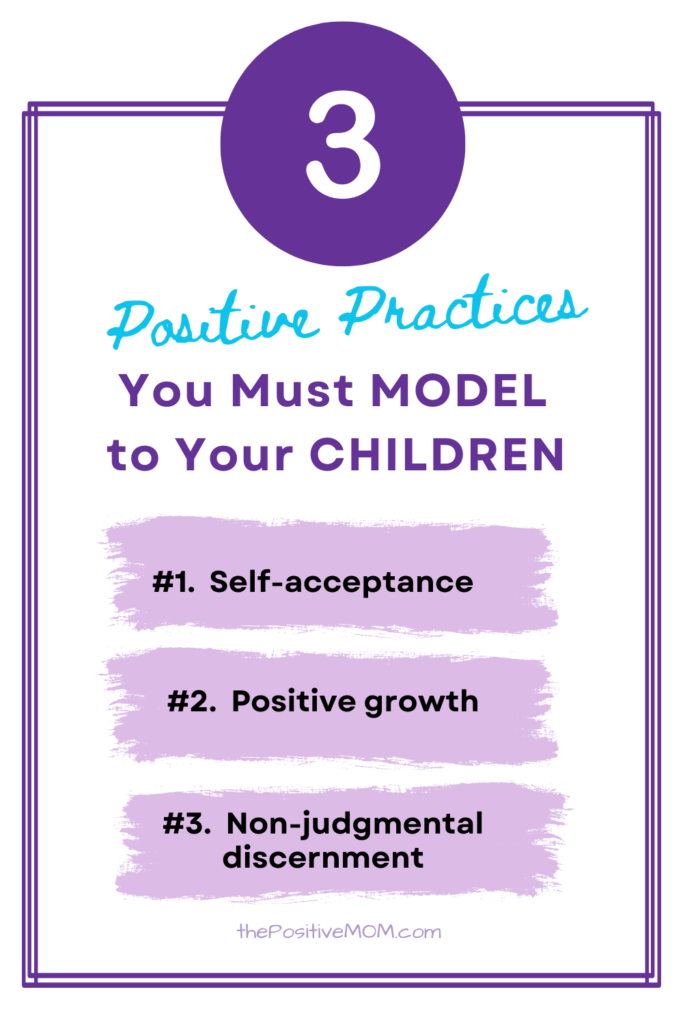 #1 Self-acceptance
This means that you practice self-compassion, embrace who you are in your current state, and honor your emotions. No matter what may seem, no one is in a good mood at all times. No one gets everything right at all times. And there is no mom that is perfect – not at motherhood, not in her work, not in her personal life.
#2. Positive growth
When your standard is positive growth, you are able to point out your own progress. You look for small ways in which you had a positive effect on others and for moments in which you did the right thing, and you celebrate yourself. A simple way to do this is to practice gratitude. You'll gain a new sense of confidence when you thank yourself.
And something really important that I'm still working on: you take time to rest before pursuing another goal. You'll have an easier time creating real change when you're activating your happiness hormones and taking care of your physical wellness.
#3. Non-judgmental discernment
This is done by admitting where there's room for improvement, without shame.
Guilt and shame are two different energies. A great way to discern where you are shaming yourself is to remember that Guilt says "something is wrong," while Shame says "someone is wrong."
When you find yourself criticizing, berating yourself, or telling yourself you failed, fell short, or fell behind (like the women in the Care.com survey, you remind yourself that you are a good mom, not a perfect mom).
Important Questions
Is what I did potentially damaging, harmful, or dangerous?
Is what I didn't do really essential for myself and my family?
Most of the time, the answer is no and you'll feel a sigh of relief and it will be easy to forgive yourself and move on.
Sometimes the answer to these questions is a yes and you'll feel like you won the horrible mom award. The good news is that you aren't a horrible mom – horrible moms don't wonder whether they are horrible or not. What you are is a good mom who needs extra help and the courage to ask for it.
We all need extra support at times – and as a single mom myself, I know this first-hand. Even if you feel you don't have close friends or family nearby (or at all), there is always someone willing to listen and provide help.
Self-forgiveness is still the answer. This letter is a powerful tool I like to prescribe for these cases. You are not condoning what you did or didn't do, you are simply deciding to not be mean to yourself.
The energy of grace will open you up to do better in those areas, and to be a better person (still not your best, though). You will be able to commit to micro-actions you can take.
A great question to ask would be:
What's the first step you can take toward improvement?
And then you take those baby steps with hope. You will strive to feel enthusiasm for the positive changes you are making and for the powerful ways in which this will impact your family.
Creating a Positive Influence
When your family life is rooted in these 3 principles, there will be a spirit of Christ-like love, peace, and joy in your home. This environment creates fertile soil for children (and adults) to tap into their infinite potential consistently and continually. The most meaningful growth occurs when people experience unconditional love.
Yes, that includes YOU.
In contrast, when your happiness and your worth depend on your ability to be the best version of yourself, you and those around you are unable to truly enjoy or experience your blessings and miracles.
I invite you to decide to love yourself as you are right now. Live authentically as who you are. Commit to loving yourself as much as you'd like your children to love themselves. Read that again and take it in:
Commit to loving yourself as much as you'd like your children to love themselves.
"Good Self" Daily Routine
Now it's time for an assignment to nurture your Good Self, your Real Self.
You know I believe in the power of Positive Affirmations (when done well, that is). Positive thinking is one of the best ways to raise your energy.
So I've come up with an affirmation based on a Bible Verse (Psalm 139: 13-14). Feel free to look it up!
For the next 7 days, end your day by looking at yourself in the mirror, and saying:
"You are wonderfully made,

you are a product of God's marvelous work,

and I thank God for you,

just as you are, right now, today."
Be sure to use your name, because it is my belief that God knows you by name. I also know in my heart that He loves you unconditionally, every step of the way. Yes, even through the steps you might have come to regret.
What matters most in life is not found through external factors or external rewards. What you do or achieve is not the most important thing. The legendary words of George Leonard ring true:
"Perhaps we'll never know how far the path can go, how much a human being can truly achieve until we realize that the ultimate reward is not a gold medal but the path itself."
Stop striving to be your best self, because you already are!
Blessings!
My mission is to help moms find peace, break cycles, and feel whole so they can be present, peaceful, and positive moms. To receive a gift that can get you started on that journey click HERE.