I was once interviewed about how I became an expert in my field, and the interviewer asked me to share 7 strategies to become an expert. I could have very well shared my trademarked 7P Guerrilla Positioning System (GPS), but interestingly enough, I chose to not focus on industry tips, and to share a random collection of principles that will get anyone in the direction of success in any field…and without further ado:
Expert Strategy #1 ~
Be You
In order to be fulfilled at anything you do, you've to be you. No matter how successful the industry, how innovative the product, how prosperous the economy, you will not experience the tasty flavor of success unless it is aligned with your personality, core values and the ultimate big picture you see as your life: your Passions! Your integrity must go beyond "thou shall not steal or thou shall not bear false witness."Be congruent, keep your word, be true to yourself and others.
Expert Strategy #2 ~ Plan For It
We've all heard it: If you Fail to Plan, you Plan to Fail. Some people think they have a plan when they have formulated it in their head. GOOD. Others think they have a plan when they put it in writing. BETTER. Others – and I signed up for this group – think they have a plan when it's calendared. BEST. Schedule action steps, tasks and events. Prepare the conditions for IT to happen…plan FOR it…and you will see it come true.
Expert Strategy #3 ~
Connect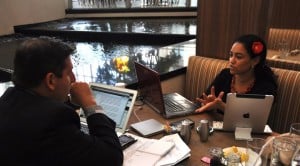 People do business with people they know, they like love and they trust. Truly give people the scoop on you. Share who you are, share
what you're like, share what you know. I am not a sales person [although I did study the subject hard in my teenage years], but I can tell you each and every sale I make, except for referrals, comes from the simple principle of deeply and genuinely connecting and coming from a place of service. People buy people…relationships are EVERYTHING. Start building and strengthening your relationships and you will succeed at ANYTHING.
Expert Strategy #4 ~
Educate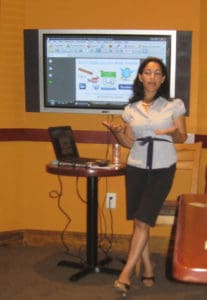 Marketing has changed rapidly and radically even since my college days not so long ago (he he). Relationship Marketing was a foreign concept as so was Content Marketing: two critical tactics that will revolutionize your business forever. When I started my business from a desktop computer I received as advanced payment for the first official website I designed, I never imagined I would be teaching others to do the same. When I taught web design at the local adult education facility, earning just a few dollars per hour, I didn't do it because I needed the job. It was one of the tactics of my strategy to gain credibility, recognition and visibility in the marketplace. You don't have to teach a class, you can write blog posts, record videos, tweet or update your Facebook business page… but educating your prospects will convert them to lasting clients, will eliminate the perceived competition, and will grant you the media attention, and PROFITABILITY a thought leader gets.
Expert Strategy #5 ~
Contribute
Love thy neighbor and multiply your talents are Biblical principles. Paying it forward not only will allow you to fulfill your mission on Earth, it will help you in your business as well. It's a win-win and a blessing. I give back because it's just part of my nature, but I never thought it would open so many doors and so many blessings would come to my life because of it. Contribution blesses you and others. If you have to choose ONE principle to live by, this is it!
Expert Strategy #6 ~
Time It
I grew up in a land where there's a proverb to answer pretty much everything. Did you ever hear the statements: "good things come to those who wait" and "early bird gets the worm"? Did you ever wonder which one is true? I have worked with hundreds of entrepreneurs and business professionals and have seen "those who wait" and want everything done with the utmost perfection, as well as those who simple go for it and "get the worm". Both are right… IF… the timing is right. Sometimes "If you snooze, you lose" (I can't get enough lol) and you must act NOW pressing forward with unwavering faith and massive charge. At other times, you must patiently wait and let things incubate. Think of pregnancy: you want to hold the baby, see her, feel her, and the desire only grows stronger. Remember how pressing it gets at 8 months? The baby comes when she is supposed to …and that is the right time.
Expert Strategy #7 ~
Celebrate
One of my highest values in life is Gratitude. It's in my Top 5, actually. Having experienced and witnessed poverty and scarcity, as well as having overcome many life threatening and near-death experiences has given me a crazy perspective of life. I can be real serious and trust me, I can be a highly effective results-producing machine; however, because I believe in integration, my philosophy is that there is no business life, there is only life and life must be celebrated. I love the quote "don't forget to pray today because God didn't forget to wake you up." Remember to pray, to express gratitude, to celebrate the people around you… your family, your close friends, your team, your church, your community… and celebrate yourself, too. Make time to celebrate what [and who] matters EACH day!
If you are hungry for tactics on expert positioning, keep tuned-in to my posts… I'll share the specifics. I think if you start with these 7 top strategies to become an expert, you will find that your values and habits are far more important than any trendy tactic, and that they will bring you success (or lack thereof) in any life area.
[ela]