The girls and I screened all ten episodes of THE GARCIAS, a groundbreaking streaming series, that represents what it means to be a family.
It's a fun, happy, wholesome, and entertaining show for all families! The Garcias is coming to HBO Max on April 14.
I also had the opportunity to attend the official Press Conference for The Garcias, so I'm going to be sharing everything you need to know about the show from the cast and crew themselves!
What is The Garcias about?
The Garcias chronicles an American family based in San Antonio, Texas. The Garcias are grown up and gathered for a summer vacation in their gorgeous beach house in Riviera Maya, Mexico with their parents and children.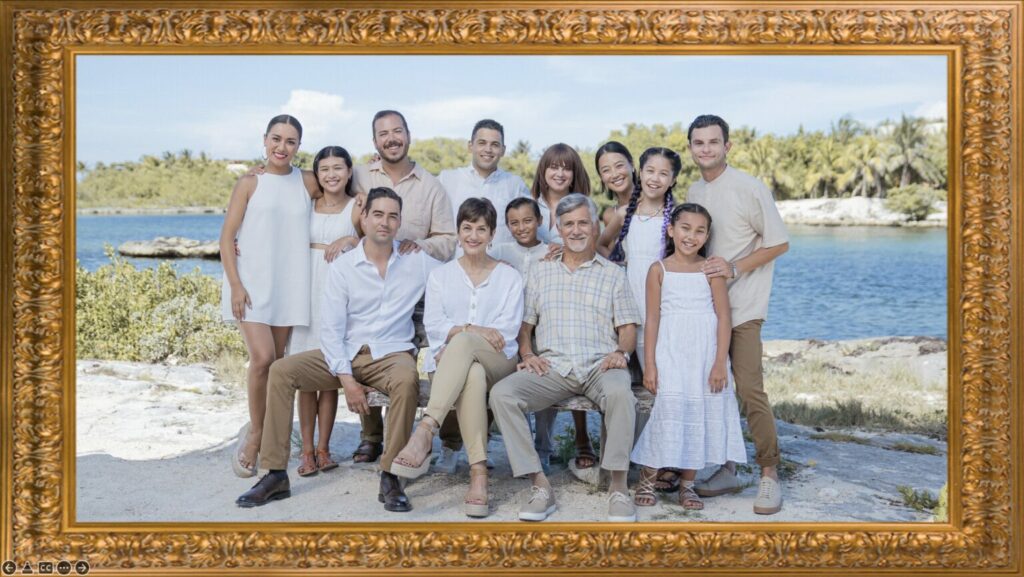 The Brothers Garcia Reboot
The Garcias is an HBO Max reboot of The Brothers Garcia, a hit Nickelodeon series, which originally aired from 2000 to 2004.
Executive Producer, Jeff Valdez (former stand-up comic) has been involved since the start. He told us that the original show was aired in 60 countries!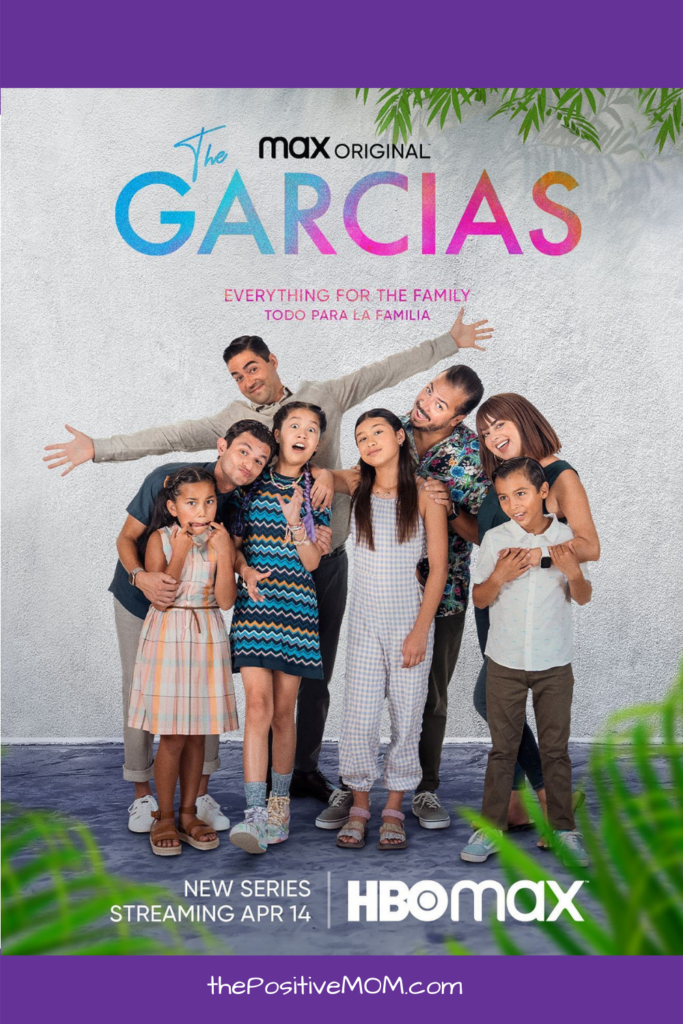 Jeff Valdez had been trying to get the rights to the show from 2011 to 2018 and it took 3 years for the process to be final, so it was a 10-year process. He always wanted to have the original cast members back, and he accomplished it!
During our press conference he told us:
This show had no executives on it. I had complete creative control. Normally you have a lot of executive input on a show. My partner went to them and said "we know how to be Latino, we've been doing that our whole lives, and Jeff did 50 episodes of the original show. We got this. Let us provide the content. We know this world, we know this space, trust us. and we are thankful that we had this. It's with great responsibility we do that. Everything from the writers, the lighting, the camera. there was absolute commitment. It's really authentic it's not somebody telling us how to be Latino, otherwise, it would be a Latino show, it's a family show. We showed that you find smart people give them an opportunity and they will deliver in spades.
The Garcias cast: Who stars in the HBO Max Series?
The original cast list, reprising their original roles:
Bobby Gonzalez (George Garcia)
Vaneza Pitynski (Lorena Garcia)
Ada Maris (Sonia Garcia)
Carlos Lacamara (Ray Garcia)
Jeffrey Licon (Carlos Garcia)
Alvin Alvarez (Larry Garcia)
Cast additions include:
Nitzia Chama (Ana Camacho Garcia)
Elsha Kim (Yunjin Huh Garcia)
Ayva Severy (Andrea Huh Garcia)
Trinity Jo-Li Bliss (Alexa Huh Garcia – the artist daughter)
Sol Trujillo (Executive Producer)
Maeve Garay (Victoria Garcia – the activist daughter)
Oliver Alexander (Max Garcia)
Sound Representation
The Brothers Garcia was the first English-language sitcom to ever have an all-Latino cast and creative team.
Jeff Valdez calls the show "a slice of America" because the show boasts a 82% Latino cast, and is inclusive of other ethnicities, such as Korean, too. It's 18% Asian.
It's the portrayal of a U.S. family in which the members just happen to be Latinos and Latinas – and there's more diversity and inclusion.
To put this into perspective, Jeff Valdez told us that most movies in Hollywood have about 2% of Latino inclusion, so that's an 80% difference!
Carlos Lacamara shared:
It was such a relief to be able to play a human being and not a Latino character stereotype written by someone else. It's liberating.
Trinity Jo-Li Bliss added:
Alexa is a mixed-race girl just like me. This feels like my family.
This type of representation is important for so many children, like my daughters who are also biracial and bilingual. Much of the cast is of mixed culture or come from mixed-race families. Bobby Gonzalez is Cuban-American and Elsha Kim is Korean-American.
The Right Representation
Bobby Gonzalez expressed his passion for representation both during the Press Conference and our interview:
I want people's sense of normalcy to be confirmed…. To see this show and say 'Oh, this is just like my family.' Whatever your background is: children of immigrants, immigrants in this country, or any people that feel like outsiders. I just want them to feel "I'm normal" and to feel represented.

We are not seeing enough of the proper representation. We still see too much of Latinos on television and in movies where we are drug kingpins, drug dealers, convicts, or ex-convicts. There is not enough on the screen of us just being families, just being humans, just being real. There's not enough for the average Latino to watch TV and say 'that's just like me.'

Most Latinos won't watch a narco-type show and say 'oh yeah, that's just like my family, us dealing drugs.' That's not what Latinos will be able to connect with. The Garcias is as groundbreaking [as The Brothers Garcia in its representation ] and there needs to be more of it.

I'm so honored to be part of it with such an amazing cast that is representative of who we really are in this country and outside of the country and to show our culture in the most beautiful light.
Positive Representation
Nitzia Chama added:
Representation means being able to connect with a character that you see on TV. And you can identify not only with the physical similarities but also discover a deep cultural understanding and sense of belonging. It's to know that there's a safe place where we can go and finally feel like it's normal to look differently, to speak differently, to sound with an accent… To embrace that we are different and that makes us unique. That's what's beautiful about every single human being. We're bringing light to this new generation.
This show is filled with positive content and positive messages about the everyday life family dynamic. It touches on essential family values in an entertaining and fun way.
My daughters and I binged all 10 episodes as soon as we received the screener… and we are hoping for another season!
I think Bobby Gonzalez captured the essence of the series beautifully:
The importance of family… not only your family of origin but your chosen family… Your extended family, the family that comes into your life… That you can support each other and the love will shine through.
Interview with Bobby Gonzalez and Nitzia Chama
Interview with Elsha Kim, Jeffrey Licon, Trinity Jo-Li Bliss
Interview with Vaneza Pitynski
Fun Facts from The Garcias Press Conference
Ada Maris says she is just like Sonia, "always worrying about her kids."
Carlos Lacamara says he's always one step behind in real life with his sons, always trying to keep up.
Jeff Valdez claims each cast member is so much like their character that "they're playing themselves."
Nitzia Chama says the cast went to Cancun and she fell in love with someone there "while with her on set husband, Carlos"
Jeff Valdez wanted to be an astronaut and that's where Larry Garcia's profession came from.
The whole cast loved the beach house. Elsha Kim described the series shooting as "a summer vacation."
Jeff Valdez's sister had a beauty salon in San Antonio, and this served as inspiration for Sonia Garcia.
Some of the actors hadn't acted in 15 years, and some of the writers hadn't written in 15 years. some of the kids
Jeff Valdez cried several times while casting. He also loved the experience of Zoom casting because it allowed him to see the cast on-screen.
The new cast members' final auditions, when each actor gets the role, are posted on the @thegarciatstv Instagram account.
Jeffrey Licon was "nervous to return to television."
Nitzia is the only Mexican in the show and she loved showing everyone around and translating for everyone.
Bobby loved the script but couldn't help himself to do his own spin and a lot of that ended up staying in the show.
The Garcias Easter Eggs
Executive Producer Jeff Valdez told us there are 5 easter eggs that lead to spin-offs! Of course, he couldn't reveal much.
Meanwhile, Sonia still says "Rayyy" a lot and still loves being a hairstylist.
Ray is still a Mayan history enthusiast who knows about the past and is trying to keep up with the present.
Tune In!
Don't miss the series premiere on HBO Max on April 14, 2022, with the first 3 episodes, followed by 2 episodes each week, and the finale episode on May 12, 2022.
To follow The Garcias and connect with them, follow @thegarciastv on Facebook and Instagram, and @thegarcias_tv on Twitter.
You can also use the hashtags #todoparalafamilia #everythingforthefamily #thebrothersgarcia #thegarcias and #hbomax!

© Elayna Fernández ~ The Positive MOM
Be sure to Subscribe to blog post updates, so you never miss a thing!