Mompreneurship is a term I've been using for over a decade and is becoming more and more popular these days. But what exactly is it? Is mompreneurship for you? And how can you be a successful mom entrepreneur?
In this blog post, I will discuss what mompreneurship is and provide tips for aspiring mom entrepreneurs that come from my journey of almost two decades as a mompreneur.
What is a Mompreneur?
A Mompreneur is a mother who uses her knowledge, skills, creativity, and past experiences to successfully run her own business while being devoted to her day-to-day family life.
Many people reject the labels "female entrepreneur" or "mom entrepreneur" and prefer to be called "entrepreneurs" without any gender or motherhood distinction. However, I really love the sense of belonging that being both a mom and an entrepreneur creates when we find one another.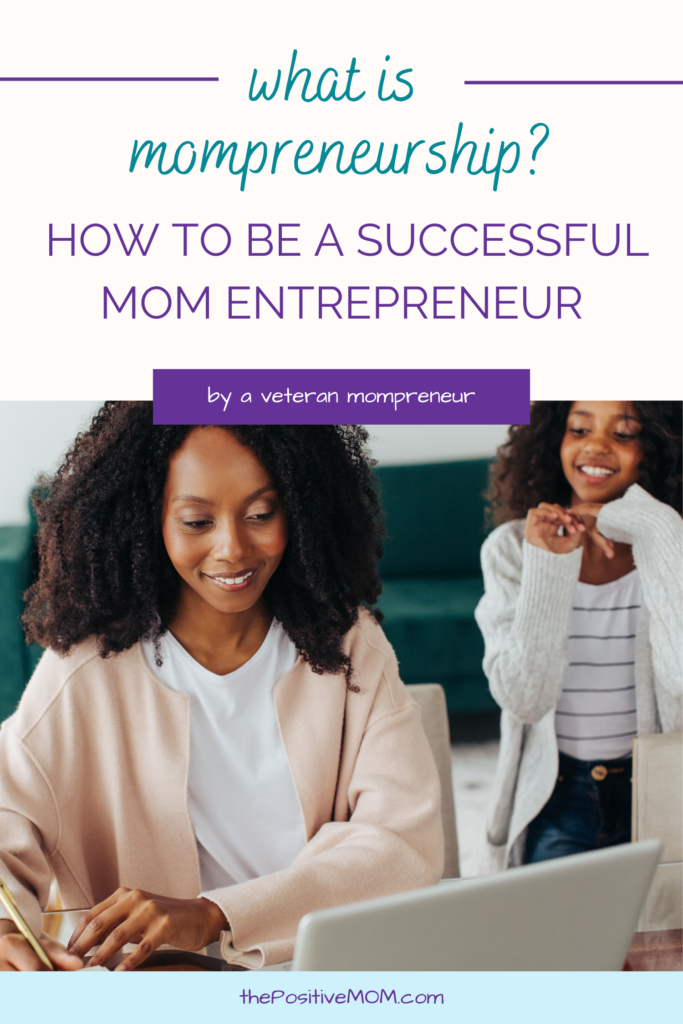 Being a Mompreneur requires a high degree of creativity, time management, organization, dedication, and emotional resilience.
Mompreneurship can be both rewarding and challenging as you try to meet the demands of your home as well as your business needs.
There is an abundance of resources available online or in-person to help Mompreneurs reach their goals while balancing work and family responsibilities.
As a mompreneur, you will use your creative gifts and the skills you've developed in motherhood to be a mom on purpose!
Current Mompreneur Trends
One-third of small business owners in the United States are mothers. This number is definitely going to go up because women are starting their own businesses at a rate that is nearly twice as fast as men. What this means is that the current climate for mompreneurs is very good. And the mom market is a trillion-dollar market!
Most mompreneurs start their businesses when they are 40 years old or older on average. The average age of the first child tends to be six by the time these mothers set up their businesses. Many moms wait until their child starts Kindergarten to set time aside for their entrepreneurial endeavors.
Most mompreneurs – 79% – are married and 95% have a partner who earns an income. This means that most mompreneurs are not the only ones who bring in money for their families.
I guess you'd say I was an atypical case. I started my mompreneur business when I was 28 years old when my children were 1 and 2. I was not only a single mom, but the head of the household, and the only one who contributed to my family's income.
Why do moms choose to be entrepreneurs?
For many moms, becoming an entrepreneur offers them the flexibility and freedom to design their own life. This translates to more time with children and feeling on purpose – doing what they love.
In today's world of endless technology and possibilities, it's easier than ever for moms to be successful entrepreneurs. By creating their own products or services, moms can pursue meaningful work that fits the needs of their families and easily integrates with their family lives.
Additionally, running their own business allows them to work on their laptop or phone from anywhere – whether it's from home, the car, or anywhere with WiFi or a hotspot. And automation makes life so much easier!
Whether they are transitioning from a full-time or part-time job or from life as a stay-at-home mom, mompreneurs set their own schedule in mompreneurship so they can spend more time with family while still making money and achieving career goals.
Ultimately, being an entrepreneur is empowering for female business owners who desire financial independence, success on their own terms, and meaning in motherhood.
What Businesses Are Ideal for Mompreneurs?
Let's talk about some simple steps and simple ideas successful mompreneurs follow to create business success.
Work from home as a digital entrepreneur
Mompreneurship is a growing opportunity that allows moms to find greater flexibility while staying connected to the business world. A great way to make this happen is by creating a small business and working from home as a digital entrepreneur.
You can use the advantages of technology, such as video conferencing, instant messaging, and file sharing, to increase efficiency and reach more customers.
By avoiding most major overhead costs associated with office rental or established healthcare packages, women entrepreneurs can focus on pursuing success on their own terms – both financially and personally.
Freelance writing
Freelance writing is a great way for Mompreneurs to make money while working from home. This can involve ghost blogging, writing articles for magazines, or creating content for websites.
Online courses
Another option is to teach online courses. This could involve teaching classes on something you love and know about. It could be topics such as photography, music production, nutrition, web design, graphic design, marketing, and more.
Life coach
If you have a passion for helping others, then becoming a life coach is a great way to combine that with your entrepreneurial spirit. Life coaching involves inspiring and motivating others to reach their full potential, while also helping them to identify their strengths and weaknesses.
Virtual Assistant
Mompreneurs can also work as virtual assistants, providing clerical and administrative support to clients from their own homes.
Business consultant or strategist
For those moms with business experience or corporate background, they can offer their services as a business consultant or strategist, or become a business coach. This involves helping clients to identify their business goals and create strategies for achieving them.
Blogger (start a blog)
Mompreneurs can also start their own blog and write content related to their area of expertise. This could involve writing about parenting tips, recipes, parenting experiences, or other topics that are related to their niche. I started my blog almost two decades ago and monetizing it has made a huge difference for my family.
Social media influencer
Social media influencers are gaining popularity and many mompreneurs can use this platform to promote their business. Platforms such as Instagram, Facebook, TikTok, and YouTube can be great for reaching potential customers, but also to partner with brands as brand ambassadors. This is a good "side hustle" for an extra stream of income.
Social media manager
Mompreneurs can also offer their services as social media managers, creating content for clients' social media platforms and managing their accounts. Many of my clients do this and work with mom business owners who are so grateful for the support. It's a win-win.
Author (sell books and ebooks online)
If you have a passion for writing, then becoming an author is another great entrepreneurial opportunity. Mompreneurs can market their books and ebooks online, reaching a global audience of potential readers. And, if you are not a writer, you can also sell books and ebooks that you obtain through PLR.
Artist (sell artistic creations)
Mompreneurs with a creative streak can sell their artwork online, such as digital prints, paintings, drawings, cards, stationery, and photographs. Many mom photographers I work with love what they do and make 6 figures!
Affiliate Marketing
Affiliate marketing is a great way to make money online. As an affiliate marketer, you can monetize your blog, website, or social media platform. By partnering with other companies, you can promote their products and services and earn a commission for each successful sale. Just make sure you use the proper disclosure language!
Stock photography
Mompreneurs can also sell stock photographs online. This is a great way to make money while showcasing your photography skills. You can be commissioned by bloggers to create customized photography for them.
YouTuber
Mompreneurs can also create a YouTube channel and share videos related to their area of expertise. This could involve tutorials, product reviews, or other informative content. The requirement to monetize your channel is only 1,000 subscribers.
Podcaster (start a podcast)
Podcasts are an increasingly popular way to share content. Mompreneurs can create their podcast, talk about topics related to their business, and build an audience.
If you're a bit intimidated about having content to talk about, you can easily interview other people (even a fellow mom entrepreneur). You can also use the same interview questions over and over again. You can monetize your podcast through ads and ambassadorships or brand partnerships.
Public Speaker
Speaking in public is a profitable activity that you can do for home by speaking at online conferences and virtual summits that are always looking for people that can share tips and an emotional and inspiring story. You can even do a TEDx Talk from home when an organizer has a studio license.
Dropshipping Business
Dropshipping is a great way to get into entrepreneurship because you can sell products without holding inventory or paying upfront. Dropshipping is an order-fulfilling method where a third-party supplier ships directly to the customer. I'm not saying it's easy, but it's a great option!
Challenges Mompreneurs Face
Being a mom entrepreneur is hard work and it can also be very challenging. But knowing that these will come up for you will help you find creative ways to overcome them so you can enjoy a profitable business and work-life balance.
Taking charge of your emotional healing and uncovering your limiting beliefs is the foundation of becoming a successful mompreneur.
Imposter syndrome
Imposter syndrome is where you feel like a fraud and believe you can't possibly run a successful business. And if you achieve success, you'd attribute it to factors such as luck rather than skills or having what it takes. This feeling can prevent you from going after opportunities or developing confidence in your abilities.
Busy Schedule
As a mom, it can feel impossible to balance it all. It is critical that you create a schedule that works for both you and your family, as well as one that allows for growth in your business. Make sure you also block time for your relationships, enjoyment, and wellness. Be proactive in making this happen because as you recharge, you'll be more productive in the long run.
Mom Guilt
Switching off from work is even harder for a business owner when you work from home. Having the space to get into mom mode, by saying no to work will help you ease the mom guilt. It is important that you keep your vision in the forefront of your mind while having a concrete plan to delegate, work fewer hours, and automate, so you can be present as a mom.
Doing it alone
Mompreneurship can be lonely – and overwhelming. Don't be afraid to ask for help when you need it. Whether that's assistance with childcare, help in the home, or advice from other entrepreneurs, no one can do it all alone. Allow yourself to receive family support and any other assistance available to you, and join a supportive community of like-minded mom entrepreneurs!
Boundaries
Setting boundaries is key for mompreneurs. Make sure that you are not overworking yourself and that you don't feel guilty about taking time for yourself. Setting work hours is a great boundary to let everyone know when you're available – and not available – for them. Saying NO is your best ally in avoiding burnout and a negative impact in your physical, emotional, and mental health.
Not owning your worth
It can be easy to undervalue yourself and your services as a mompreneur. This happens because your gifts come so easily to you that you may not think they are valuable. Plus, if you're starting out, you may discount yourself because of your lack of experience. Everyone starts somewhere and it's all about how much value you're able to provide to others.
Asking for what you're worth is an important part of any business, so make sure to be confident in your capabilities and don't accept anything less than what you deserve.
Having success as a mompreneur
Being successful as a digital entrepreneur is easier than ever, and any mom can be a mompreneur!
There are so many books, programs, blogs, podcasts, and communities for women business owners to thrive. SCORE: Counselors to America's Small Businesses is a great place to start.
I also invite you to check out the Positive MOM community where you can get access to tools, support, and resources that will make a difference in your own mom business, whether you are in the idea, launch, or growth phase.
A great way to be successful is to find a coach or mentor who inspires you, guides you, validates you, and holds you accountable, so you can be the successful mom and positive mom you long to be. I'd love to support you on your journey!
Are you a mompreneur? Share what being a mom entrepreneur means to you in the comments below.