You hear it everyday: "my ex is a jerk", "(s)he didn't treat me right", "(s)he didn't deserve me". It's probably true. But instead of focusing on how the relationship ended, the "what ifs" and finding out who's to blame, I've learned to just learn.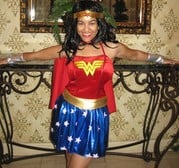 The purpose of relationships is learning. This is why I still love my ex. My ex boyfriend, my ex husband, my ex friend, my ex boss, my ex co-worker, my ex neighbor, my ex…anything. Regardless of how our relationship started, developed or ended, they helped me learn something about me, something about them, and something about living.
If a relationship failed, it doesn't mean we failed. As a matter of fact, it doesn't mean they failed either. Each relationship we experience, is just that, an experience. While sometimes the experience is long-lasting, ever-lasting even, sometimes the experience is quite brief.
Reasons to love our Ex
Knowledge Knowledge is power and the knowledge to move on is definitely the power to live better relationships in the future. Whether we like it or not, sometimes our ex knew us better than any one else did and revealed some things we probably didn't want to hear about ourselves. If we examine the criticism, we will find knowledge that will improve us and our next relationships. When we know better, we can certainly do better!
Must Haves Remembering how wonderful our ex was in different ways will allow us to expect the same qualities in our next relationship. If (s)he was charming, generous, funny, patient…think of the upgraded version of him/her. Memory is not only part of the past, it is alive in us now. So if you're going to have memories, they might as well be good ones or motivating ones.
Deal Breakers This is so valuable! We learn what we won't tolerate, what we won't compromise, what we don't want in a relationship, which allows us to have better relationships in the future. Let's face it, some "things" are not negotiable.
New Doors When one door closes, another opens, and when we come out of a relationship, we are free to experience a new one. I am not talking about replacing one person with another. I am talking about renewing our relationship with ourselves. I remember the first time I went to the movies by myself; it was so liberating and incredibly fun.
Put a dash between the starting and end date of your relationship. Describe the dash. Think about what made the relationship special while it lasted. Savor the memories and avoid harboring resentment toward your ex. Maybe they hurt you in a merciless way (I should know), but that made you stronger and better.
Yes, I love my ex, because (s)he is my ex and not a part of my life anymore. The relationship with him/her made me a better person and helped me have a better relationship with myself… and others.
Ex boyfriend, ex husband, ex friend, ex boss, ex co-worker, ex neighbor, ex…anything, I still love you, because you taught me so much!
Published on Saturday, April 10, 2010 at 8:03am and re-posted on
It's All About Women.com