Cars 3 opens today!!! YAY!!! I am so excited that you finally can experience all of this for yourself and understand why I've been raving about this movie so much! Cars 3 is playing in theaters starting TODAY and this is the perfect weekend to take the entire family to see it.
I was blessed to screen about two thirds of the movie at the end of March when I visited the Pixar Campus in Emeryville, California (just outside San Francisco), for the Cars 3 Event and press conference at the Sonoma Raceway. I already knew the movie was exciting for the entire family and would teach some timeless and much needed lessons for all viewers; however, I had no idea how the movie would end.
I had the privilege to screen the full movie earlier this week and OH MY! I am not going to spoil it for you, but let's just say that Cars 3 is the best Cars installment and will have your emotions racing the entire time. I'm getting goosebumps as I type!
And of course, Disney Pixar keeps blowing our minds with full feature films, and the animated shorts in front of them also keep getting better!  Lou, which will screen right before Cars 3, is definitely the cutest animation short yet, and one that had me and my daughters crying and holding hands.
Lou is an original short film directed by Dave Mullins, who was an animator on Finding Nemo, Up, Monsters, Inc., and the previous Cars movies. I met Mullins at the Disney Social Media Moms Land and Sea Celebration back in February when I first screened Lou. At that time, I couldn't even share images, but he autographed a Lou poster for my daughters and even took selfies with Eliana while we were doing the 5K run in Castaway Cay!
It was a real delight to see Dave Mullins again at Pixar Animation Studios and learn even more about this incredible short film! I've watched it 3 times already and it still gets to me! It was so exciting to also have Dana Leigh Murray who is the producer of Lou. 
Dave Mullins shared his journey with us, telling us that he was familiar with the production pipeline process film from conception to final film, so he announced he would talk to us about the pitching process, story, art, and animation, all the way down to the music.
John Lasseter said something about Pixar films once that always stuck with me: Pixar films have very specific ingredients; Pixar films have heart, entertainment, setting and animation. Heart meaning the main characters flawed and experiences personal growth. Entertainment meaning the story has to be unpredictable and funny. Setting meaning the film needs to transport the viewer or audience to some place that is exciting and new and animation meaning the film must be called to be animated and must use animation's full potential. I love these guidelines because it gave me a road map for what to pitch at the studio.  It's these ingredients that appeal to a wide audience and help create a really compelling film.
When he said that, I felt really inspired because many of us creative types sometimes resist structure and can be really stubborn about it. For example, I don't bake much because I don't like measuring ingredients. Baking is not a part of my life's mission, so it's fine; however, I must be careful in resisting structures that can help me grow in the areas that are meaningful to me. Pixar is home to some of the most accomplished creatives in the world, and they are successful precisely because they have established a set of priorities in the stories they tell and they enforce guidelines to keep the focus.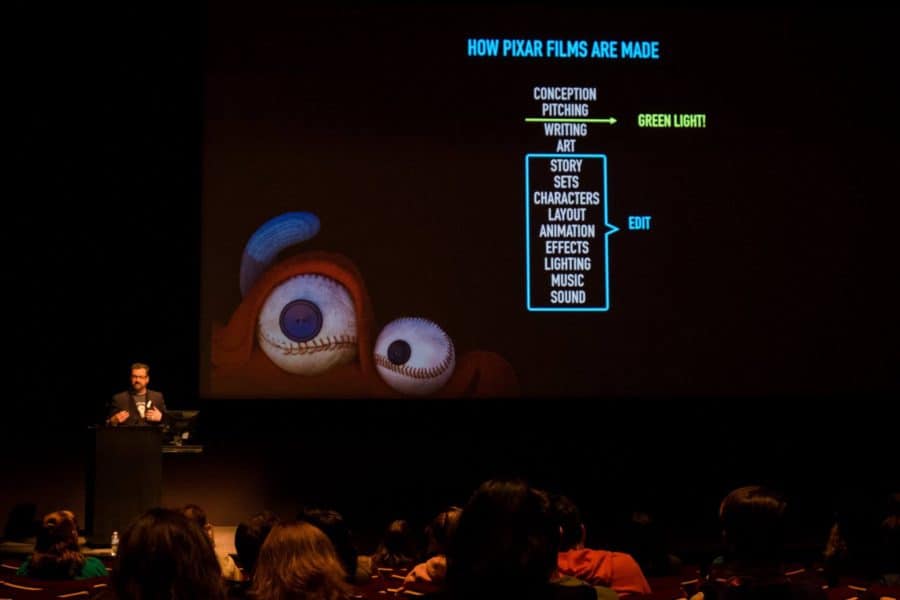 In 2005, Dave Mullins started coming up with different ideas for short films and he refused to tell us about those, some because he still wants to direct those, the others because they'll never make the cut.
Since 2005 I've been pitching short films here, but nothing really took hold.
He said a lightbulb went on when he reflected about his own childhood.
When I was a kid I moved around a lot.  My dad was very driven and that meant that we moved every year or so for his job.  I was always the new kid and it was tough leaving old friends behind every year and having to make all new ones… At times, being the new kid made me feel invisible.
Lou started as an idea of an invisible character that can hide in plain sight at a school and longed to be accepted by the other kids. He wanted to do something funny yet creepy. We saw a myriad of sketches and were impressed with how his idea evolved to the cool creature you will see on the screen. Persistence and dedication are traits I have found in every successful person I interview. When you think of your own projects today, realize that every try counts, every single steps gets you closer to where you want to be.
I followed one of John Lassetter's rules about bringing inanimate objects to life. When bringing something inanimate to life, you have to think about its intended purpose in the world. A lost and found box is meant to collect lost items and return them to their original owners. This character had a built in sense of purpose. It supported my core idea and became the key to my pitch…Now all I needed was conflict to give the story heart.
He came up with the idea of JJ, an elementary school bully, then enlisted his wife, Lisa, who is a talented stop motion fabricator and animator, to build a maquette of Lou. We met Lisa at DSMMC and it was so romantic when he acknowledged her in front of a room full of bloggers and digital influencers.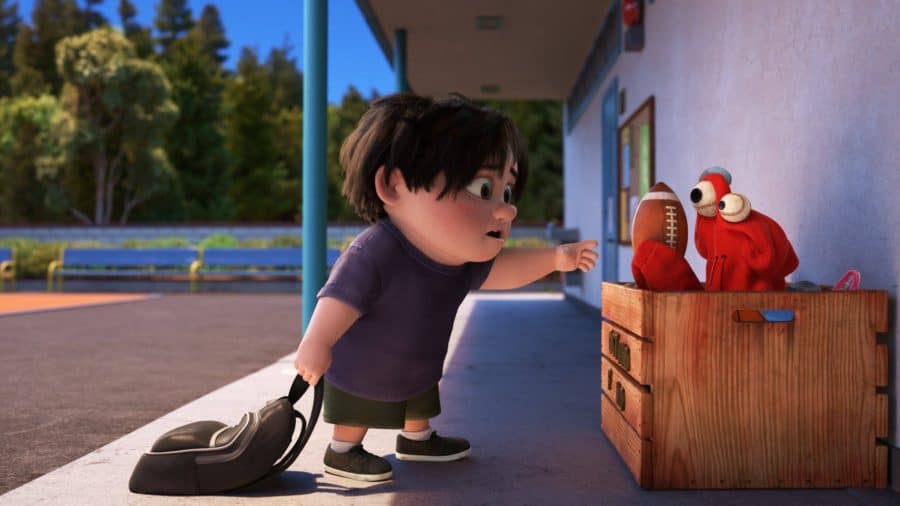 It was impressive and Mulllins told us he fell in love with it right away.
As you actually have the physical thing in front of you, you can start playing with it, I discovered there is something interesting with the eyes.  Having the baseballs as eyes, you can turn them to get expressions like lids and as you orient the stitching, he become happy or mad or whatever it is and it acted like eyelids just using the actually objects and for me this is when Lou really came to life and it excited me because this was the part that could only be done in animation.
When he pitched the idea and revealed Lou's maquette and "everyone lit up," sad Mullen.
John Lasseter and Pete Duncan were in those roller chairs and they wheeled their way over to the maquette and they started playing with it and there was great conversation right away about the possibilities you could do with Lou.  At this point, I knew I had them hooked.
John Lasseter gae Dave Mullins green light to move forward with the story after pitching for nearly 8 years, and at the beginning of 2015 Dana Murray entered the scene as Lou's producer. This is what most people call an overnight success.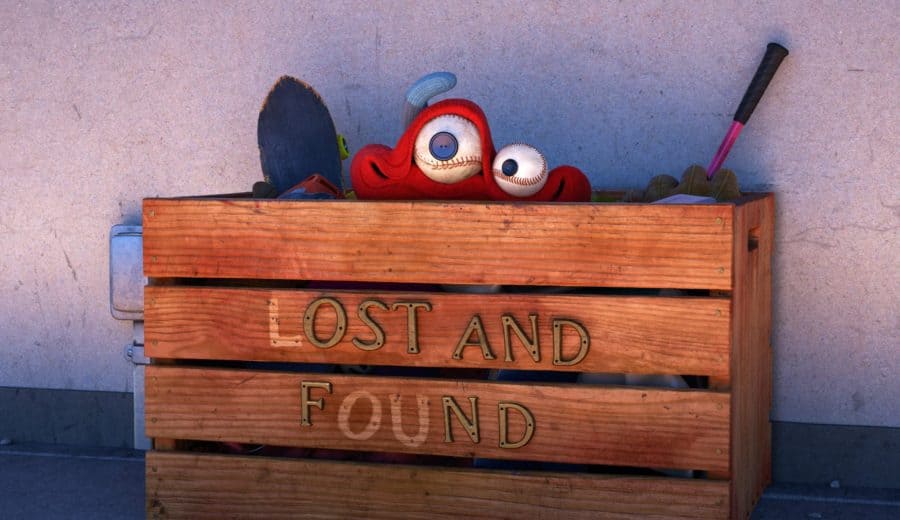 Dana explained that being paired with a producer means that a film is officially in production. A producer takes care of like building a schedule and a budget, and building a team, but in addition to this, Dana's main focus was on making sure the team stayed true to the story that Dave wanted to tell. They had some challenges along the way, and one of them was having to shut down for 6 months because the Good Dinosaur became the studio's priority.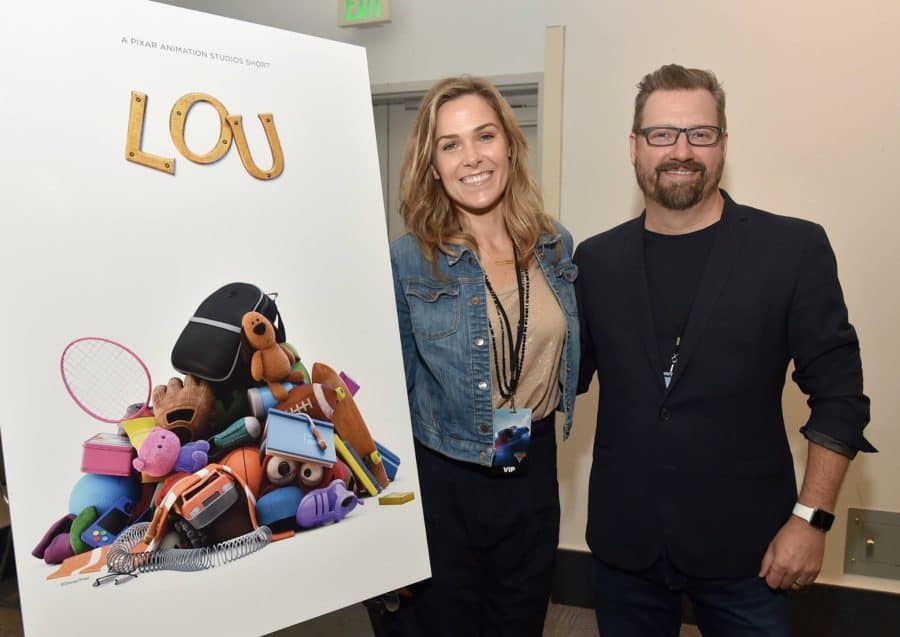 Once back on track, they focused on art and first was Lou, then the bully JJ. The different ideas they explored were really interesting, but ended up with the final design based on Jonah Bobo from Crazy Stupid Love.
Even though he looked tough also looked vulnerable at the same time.  This was exactly what we needed JJ to look like.
After having appealing designs for the characters and we started working with the story department. And for Dave, working with story was really exciting!
I had worked closely with every other department as animation supervisor here at Pixar but story was kind of new to me. We began by exploring a bunch of different story ideas involving Lou like throwing lunch meat, having a sock tongue. We tried jumping from one box to the next, changing shapes, trying to stay away from jock straps. In story there are so many elements in play both written and visual. This is where I learned the most and I found it the most challenging. This is something that would continue for the entire film, that storytelling process.  After story comes edit. We delivered our storyboard to Tony Greenberg who is our editor for Lou.  Tony would show me exactly what I asked for every time and then he would show me a better version, which he had worked on.  So I was really happy about that.  With this we began a rough assembly, which is basically coming up with the boards for the film.  We learned a lot from the rough assembly.
We saw a lot of the early story boards for Lou and it was all so fascinating. It was also interesting to know that what is pitched doesn't necessarily play well on the screen and how he was just so open to all those changes. In life and in motherhood, we often resist change and stick to our way of doing things. Everything that is meaningful requires transformation… a lot of it!
It happens every time you go into a new department and more significantly in the earlier stages of a film.  So when you go from script to story, story to edit, edit to animation something new is learned every time.  It was at this point we got some pretty big notes from the studio for we thought our story was on track but it wasn't quite working.  I didn't fully understand at the time that Pixar you're never really done with story.  I had seen other directors' story changes like this before but I had never experienced it for myself.
Having to go back to the drawing board when you're already so far ahead may sound like a nightmare, but when you are committed to a single purpose, your ego takes the back seat. In Dana's words:
We had to go back to the drawing board and rework the entire story from scratch.  The wonderful thing about Pixar's culture is that it cultivates telling good stories but with that comes notes, lots and lots of notes.  A huge part of my role was partnering with Dave to figure out which notes we were going to use to make them better and which notes we needed to let go of.  So what we thought we knew about filmmaking was completely wrong.  This is a lot more accurate.  Story is never done.  We went back to the drawing board and something unexpected happened.  By continuing to work on the story we found some humor and entertainment that was missing from the original version of the film.  In the end we stayed with the original idea but we learned some things.  It was a great lesson in being open to radically different ideas because at Pixar the best idea always wins.  So once we were back on track with our story, we had to build, articulate and texture not only our main character but also a ton of school your kids and the set.
I was just chatting with a mom friend and discussing how frustrating it is when you have just figured out a bedtime or nap time routine and then have someone care for your kids to totally ruin it for you. Or when you've just declared victory in potty training and go on a trip. But these set backs are part of life and they teach us so much. I love this perspective and you'll be as grateful as Dana and Dave are, because the end product is absolutely amazing.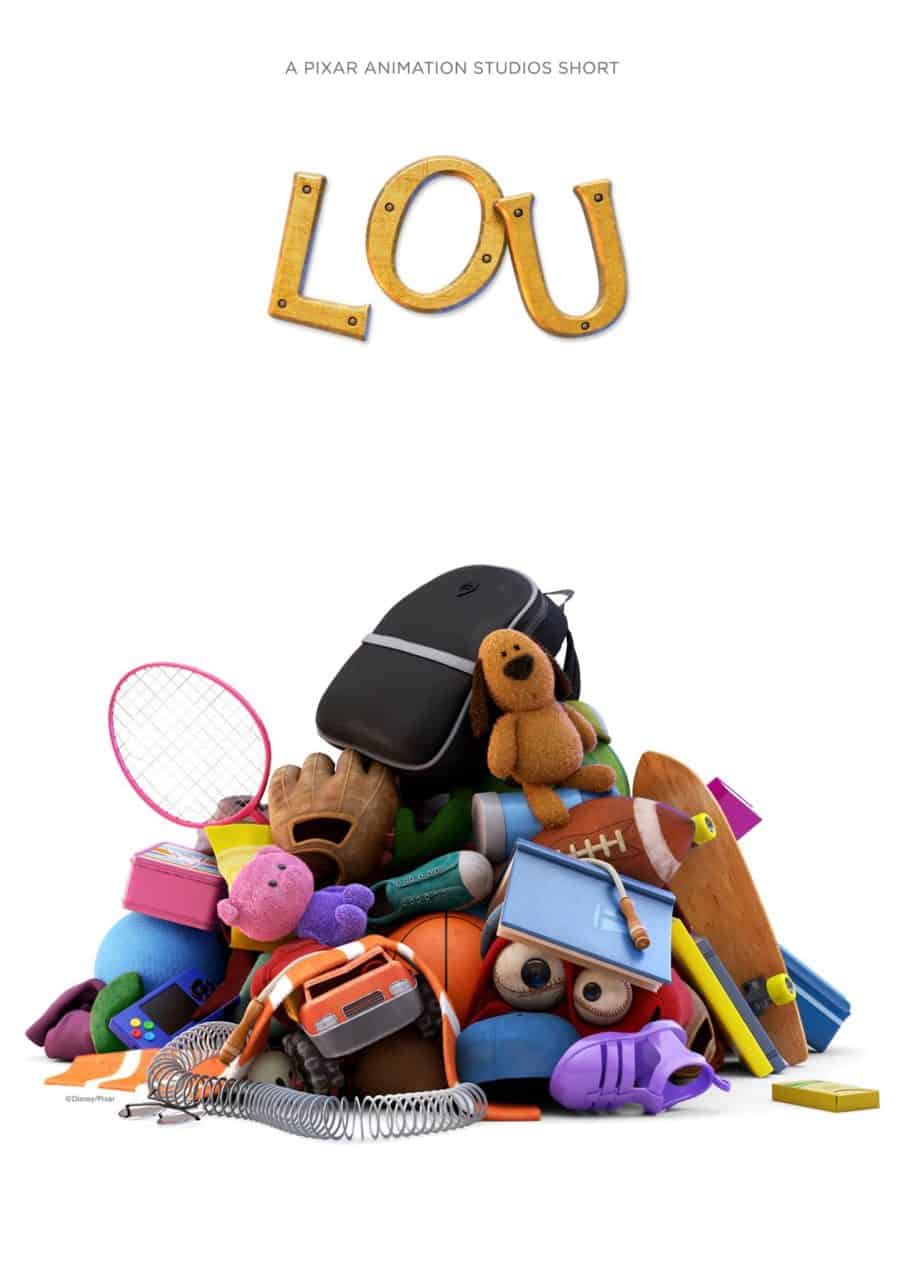 One of the main decisions was that everything would need to be animated by hand, so there aren't any computer shortcuts or simulations that they ran to make this character feel alive. It is fully animation. "And believe it or not this is actually the simplest solution," Dave declared.
At Pixar we love these types of challenges and the animators were totally up to the task. At this point we turn to the fantastic sculptor, Jerome Ranft, to sculpt JJ.  And here's a little secret about JJ, his initials stood for Joyce Jean, which is my mom's full name.  My mom called me on this and said did you think I was a bully?  I was like no mom I just wanted to have someone immortalized in the film in the film that I loved, not somebody that I didn't. I had my bully's initials on the board at one point and I'm like why am I putting that guy's name in here.  But my mom is great.
Awwwwwwwwww!!! A lot of teary mom bloggers filled the room. I remembered how I have "purified" my memories by getting rid of pictures and memories of people who are not a part of my life anymore or that represented something painful. I can still cherish the lessons, but I'd rather immortalize the people I love – so wise!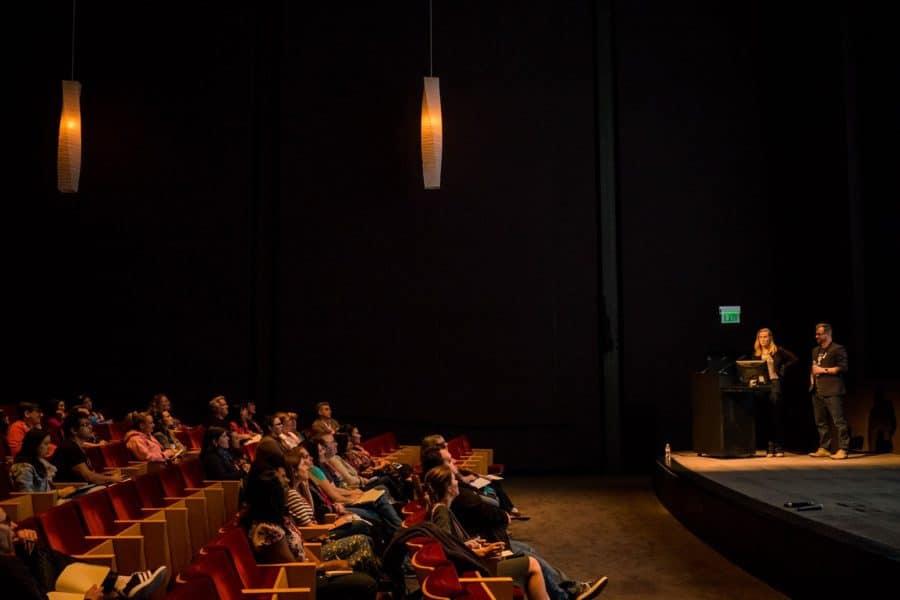 After the characters were built and the set was ready and at the beginning of 2016, they   were able to move into layout. They had to completely re-make the film once it went into the computer. You have to make the sets and the action kind of all fit together, and it's a real puzzle. And in the layout stage they realized they needed to revisit Lou's design. They  reached out to the animators to help.  We saw some of the funny examples they came back with… eyes wide open and staring at the screen.
There's a snail Lou, football face Lou, tripod Lou, spunky spiky thing Lou, I don't know what that is Lou and then Albert Lozano, our production designer, came up with design.  And we were over the moon. It held onto what we loved about our earlier design but made him kind of Squirrely and this was the Lou we needed.
Then it was time to animate JJ!
The question is how do you make a bully funny, how do you care for him?  This was answered by answering what motivates a bully.  Bullies act out because they want attention.
Dana told us that these changes represented "a major sprint to the finish line." Animation kicked into full gear and they moved into lighting.  
We began by doing color studies of the world.  We took key moments of the film and did tiny paintings of them, demystifying the emotional beats of the film with color.
Once the filmmakers have the look of the film, they work on score.
 had this quirky sensibility about his music and we knew that he would fit the film perfectly.  Chris and I worked on Lou's theme and I wanted something that was hummable as all my main favorite themes are. You will be humming the Lou theme, too!

What Chris had do was each one would play one note at a time and it went around in a circle… There were 14 of them… They weren't actually playing music all at once, they were just playing once at a time… We were overjoyed with how the score turned out. It was quirky just like Lou and had a lot of heart.
They headed to Skywalker Sound where filmmakers create the sound effects and mix the music.  At the end of summer 2016, the film was "finally in the can!"
Dana drove separately that day and she headed home and I kind of walked back to my car and I was … sitting alone in the car by myself and felt kind of numb at that moment. I texted my friend Angus McClain and said Lou's done… And at that moment this kid that felt invisible for so long as a school kid, realized not only did I make a great film but also made a lot of great friends. And we're happy with the film and we hope you like it.
What a happy ending. And that's how it works. Everything you do – even what you call mistakes – is worth it and is part of a beautiful journey that we call motherhood. 
I promise you will love Lou and you will use it to teach your kids amazing lessons in bullying… and compassion. Race to the theaters so you can see Lou and Cars 3… now showing!
What do you learn from the creation of Lou?  I am looking forward to learning from you!
Like and Follow CARS on Facebook, Twitter, and Instagram. You can also visit the official CARS 3website and follow the hashtag #Cars3Event! 

© Elayna Fernández ~ The Positive MOM