I've been creating content, systems, and resources for moms for 12 years. It's been quite the journey and it's still emotional for me to think of how it all began and, most importantly, why. 
The law of gestation states that when we plant a seed, it requires time and nurturing to grow and manifest, and I am in awe and utter gratitude to see that after much plowing, planting, and watering, the harvest is manifesting – tenfold.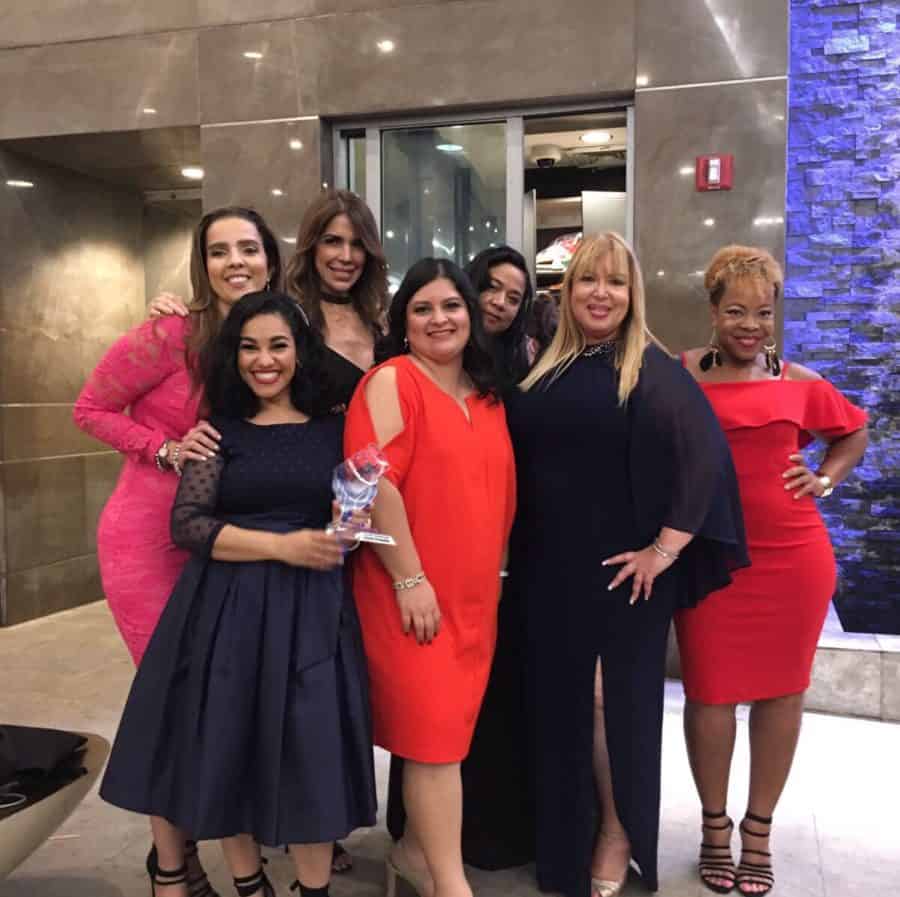 I knew I was nominated for two Tecla Awards, and to me, that was already a win. I knew I wanted to let my happiness and gratitude shine by dressing up for the occasion, but because I pour much of my heart and energy into my work with moms, I haven't yet set time aside to master make up and style. 
The day of the awards ceremony, I woke up to Miami hair and two weeks of non-stop travel felt like it was catching up with me. I needed a dress, accessories, and major hair and makeup help. Fortunately, my friends at JCPenney provided me aid!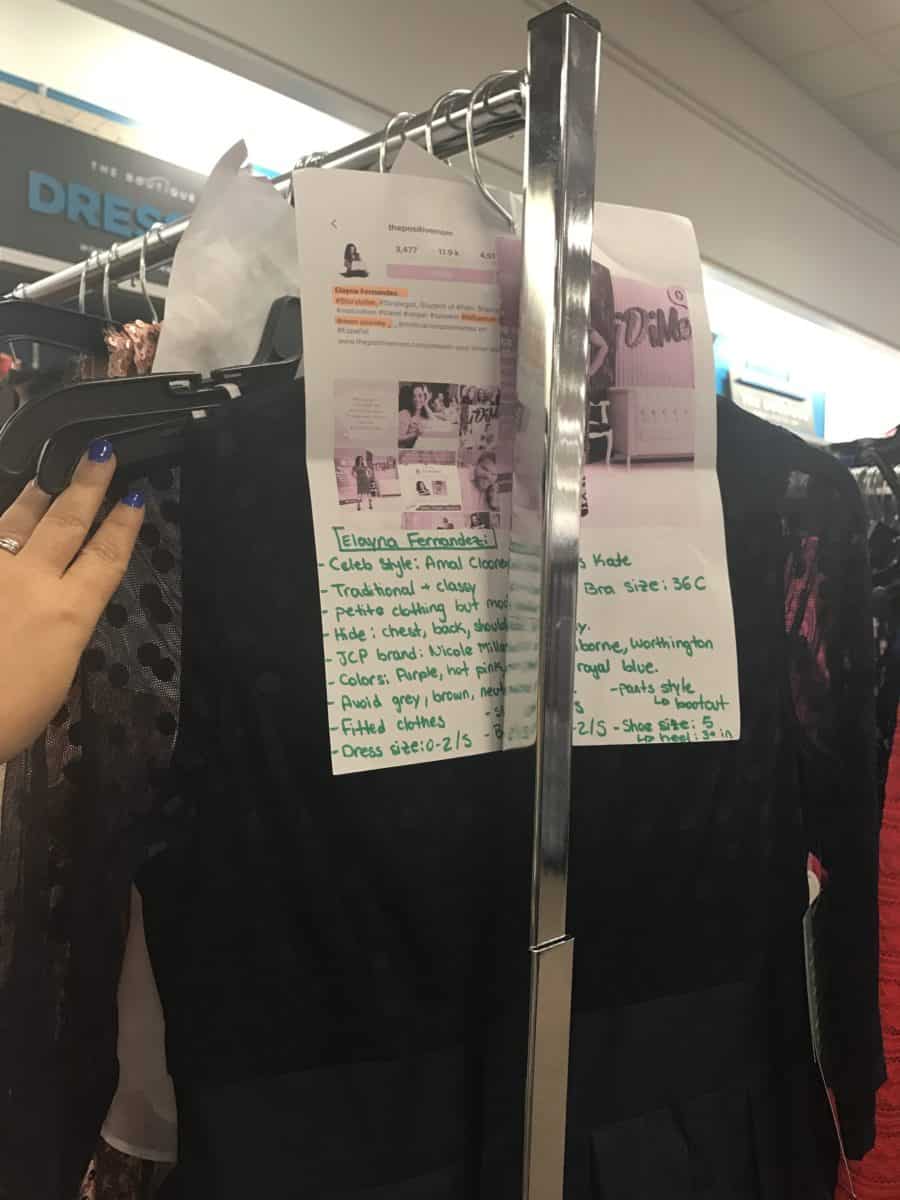 I arrived around noon and they already had a rack full of outfits laid out for me to choose from.
Tip #1 to Get The Winning Look On The Red Carpet:

Know your styling profile
Before I arrived at the JCPenney in Dadeland Mall, I had filled out a "Styling Survey," to help my stylist choose the best fit for me. You may want to include:
Celebrity styles you admire
Parts of your body you like to flaunt or try to hide
Preferred brands, colors, and fit (whether body con, fitted, or loose)
Colors you love and colors you prefer staying away from
All of your measurements in letters (Small Petite through XXL) and numbers (0-16) for dresses, tops, bottoms (pants and skirts), bra, shoe, and heels.
You can also guide them to a Pinterest board or Facebook album that showcases your favorite looks.
At first, I didn't think there were any celebrities whose style I admire. Most celebs bare all in the red carpet and, usually, the best dressed list is filled with revealing gowns that feature cut outs, thigh high slits, sheer fabrics, and low necklines. 
Although there was a time in my life in which I believed the refran (Hispanic proverb) "lo que no se exhibe no se vende" meaning "if it's not exhibited, it can't sell," I have learned that those racy risque looks of the past were quite the head-turners, I truly prefer modest, traditional, and elegant pieces. 
I chose Amal Clooney and Kate Middleton as my inspiration. Their modest, stylish, and classy styles always make the headlines without them showing serious skin.
Tip #2 to Get The Winning Look On The Red Carpet:

Know what makes you feel like a star!
There were a variety of pieces that my wonderful stylist had available for me to try on. She's an expert and really talented in her craft, so though she knew she had chosen great pieces for me, she focused on making sure I felt confident and comfortable in what I was wearing. And we didn't stop until I found the perfect dress: one that was flattering, conservative, and memorable for my big night at the Tecla Awards.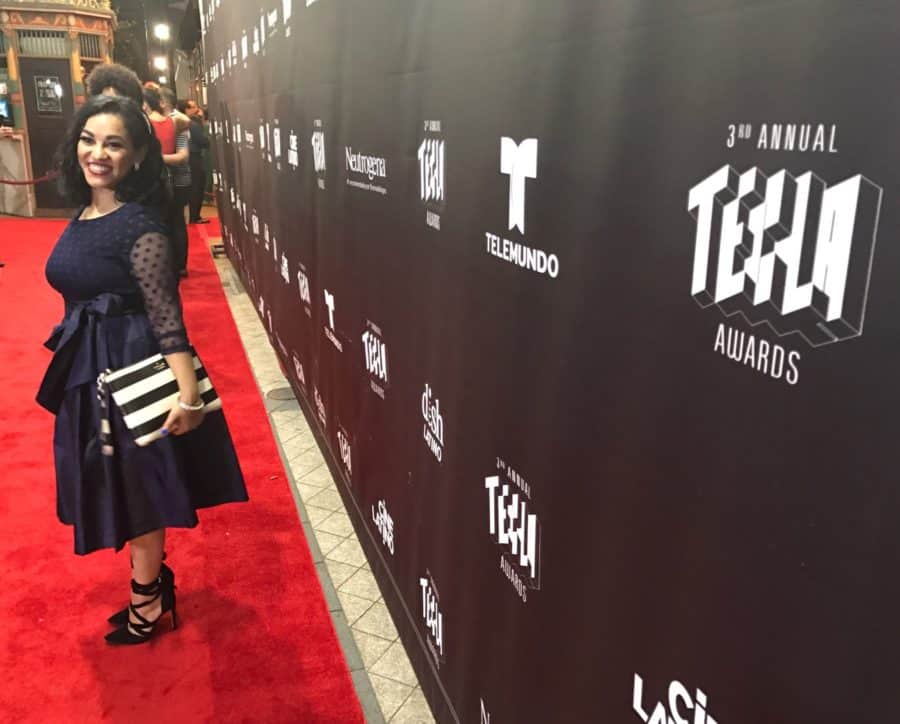 I loved it. I felt as if I could conquer the world in this dress. It covered what I wanted to cover and it enhanced my silhouette without feeling suggestive. It also didn't feel too strict, but playful with a timeless elegance. 
I didn't know JCPenney carried so much of a variety of dresses, especially modest ones – and in my size and favorite colors. This retailer has recently launched a new brand platform called "Get Your Penney's Worth," which is all about reinforcing the value of the penny, and is designed to express the brand's commitment to making sure every shopping experience – both in-store and online – is worth your time, money and effort. Though the penny may be tiny, it is definitely mighty – and that's how I felt wearing that dress!
Then it was time to accessorize. While I was changing out of the dress and having a delicious snack, and keeping hydrated, my JCPenney stylist found the right amount of sparkle and shine to make a girl feel glamorous. I felt so blessed to have my very own fairy-god-mother dressing me up for the night of a ball where I would be coronated as a princess who has been her own prince charming.
Tip #3 to Get The Winning Look On The Red Carpet:

Don't be afraid to try something new!
Besides the broad assortment of private fashion brands, which offer the perfect blend of style, quality and value, JCPenney also offers hair and make up service to complement your winning look.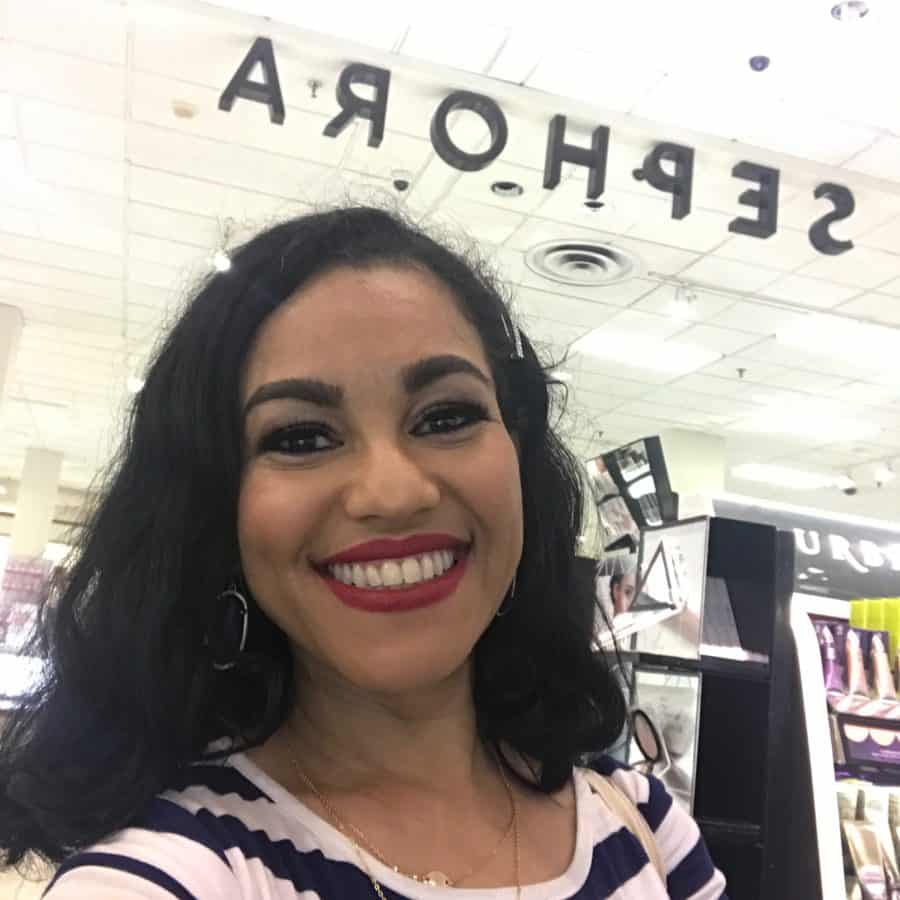 I usually don't wear a lot of makeup, not because it is against my standards or for personal or religious reasons, but because I don't know how to do it at that level. When my makeup artist for the day suggested going for a dramatic look, I said YES. Though it felt a bit much – because it was early afternoon and I was not wearing THE dress yet, it paid off on the red carpet.
Tip #4 to Get The Winning Look On The Red Carpet: 

Be Present
I arrived at the Olympia Theater a bit past Seven. I had completed all my work and school work, except for my math final, determined I would complete it after the award show – before the midnight deadline. I look back now and feel like Cinderella!
There was a line specially for finalists and interviews lined up once we got to the red carpet. I really enjoyed experiencing the spotlight with my influencer friends, all dressed in styles as diverse as we are, empowered to dress on our own terms.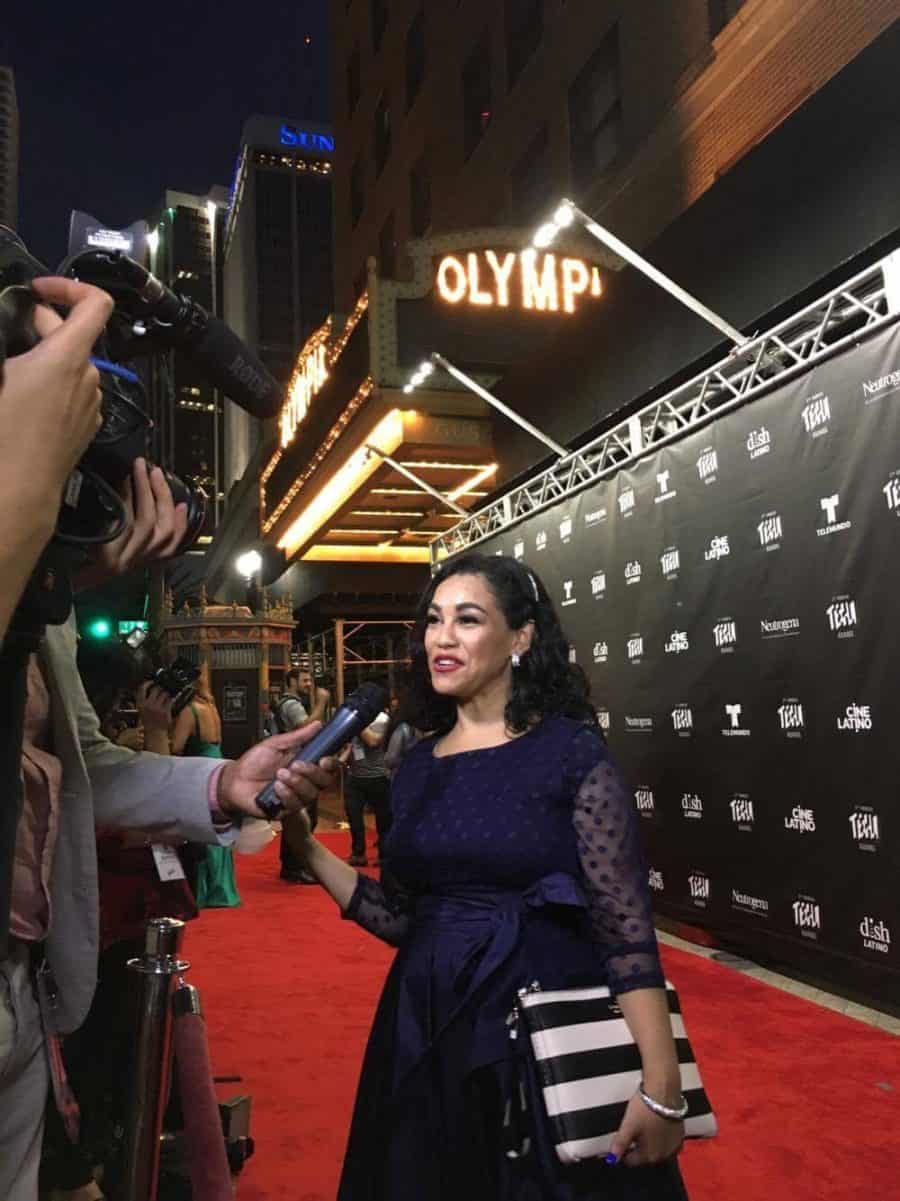 Being present gives you a special glow on the red carpet, because your beauty radiates from within, regardless of how much of a fashionista you are. It's like my dad often says:
"No es el vestido, es la percha!"
This means, "it's not the dress, it's the hanger," because what the dress is on is always more important. If you are feeling frazzled and hurried, you will be more likely to have a wardrobe malfunction, a trip, or simply a clouded memory of what could have been an unforgettable night.
Tip #5 to Get The Winning Look On The Red Carpet: 

Know your best angles
If you follow the Oscars, the Golden Globes, the Grammys, the Emmys, and any other award show where celebs walk the red carpet, you will notice a few common poses that showcase their best features.
Before getting to the red carpet, practice your best smile in the mirror, find out what your best side is for the camera, and try out different poses with this brand new dress you're wearing, because your best pose may not work with this dress.
Simple tricks like moving your hip to the side, placing your hand on the hip, holding a clutch in a certain way, posing over the shoulder, raising your chin, or putting your weight on one leg, can give you a boost, from elongating and defining your limbs to even cinching your waist.
After all the camera attention, my besties and I went on to enjoy a wonderful show, and even though I didn't have this expectation, I won as Best Parenting and Family Creator. I was overwhelmed with emotions, and a bit nervous because I hadn't prepared an acceptance speech (must learn this art from Viola Davis). 
Spending the afternoon at JCPenney was worth my time, (Uber) money and effort to visit, not only because I learned so much and had so much fun, but because though I was shaking, I felt like I was conquering that stage in that dress. Plus, I made it on Style The Scene's top best dressed at the Tecla Awards – in modest fashion!!!
Because the JCPenney prices are pocket-friendly, I got a few more pieces for different occasions, and I'm sure going to keep shopping at my local JCPenney, since it has launched "Penney Days," special promotions in stores and on jcp.com, throughout the year.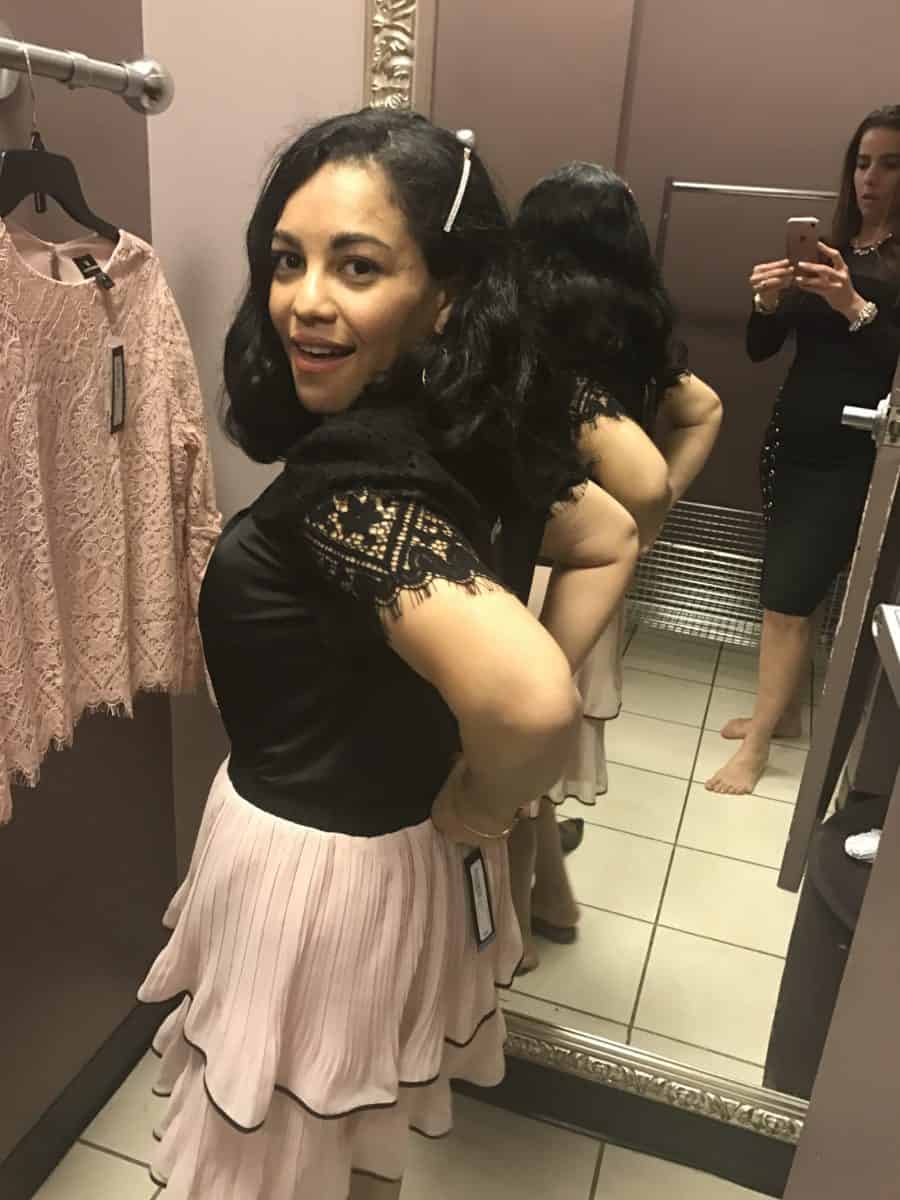 I am celebrating this win with you, and just today I learned that, even though I ran out of time during my final after the Tecla Awards, and left 6 questions unanswered, I actually passed with an A! I'm so grateful for all your support, love, and prayers, because with you, and the Grace of God, my efforts truly prosper. I love you!
How do you get the wining look for special events in your life? Share your best tips with us below, and follow JCPenney on Twitter and Instagram: @JCPenney, like JCPenney on Facebook, and visit JCPenney.com to explore your next look.

© Elayna Fernández ~ The Positive MOM