"Kids are a lot smarter than we give them credit for." When I heard Sean Coyle say that, I wanted to jump and give him a hug. It wouldn't have been appropriate, though, so I didn't… but I did in my head. I say this ALL-THE-TIME.
I often hear people say "your daughters are so mature," about Elisha and Elyssa, or "is she really only three?" about my Lil Pige, Eliana. They are not the exception and I am not super mom. Sean Coyle is right… our kids are brilliant and they are craving to be treated as such.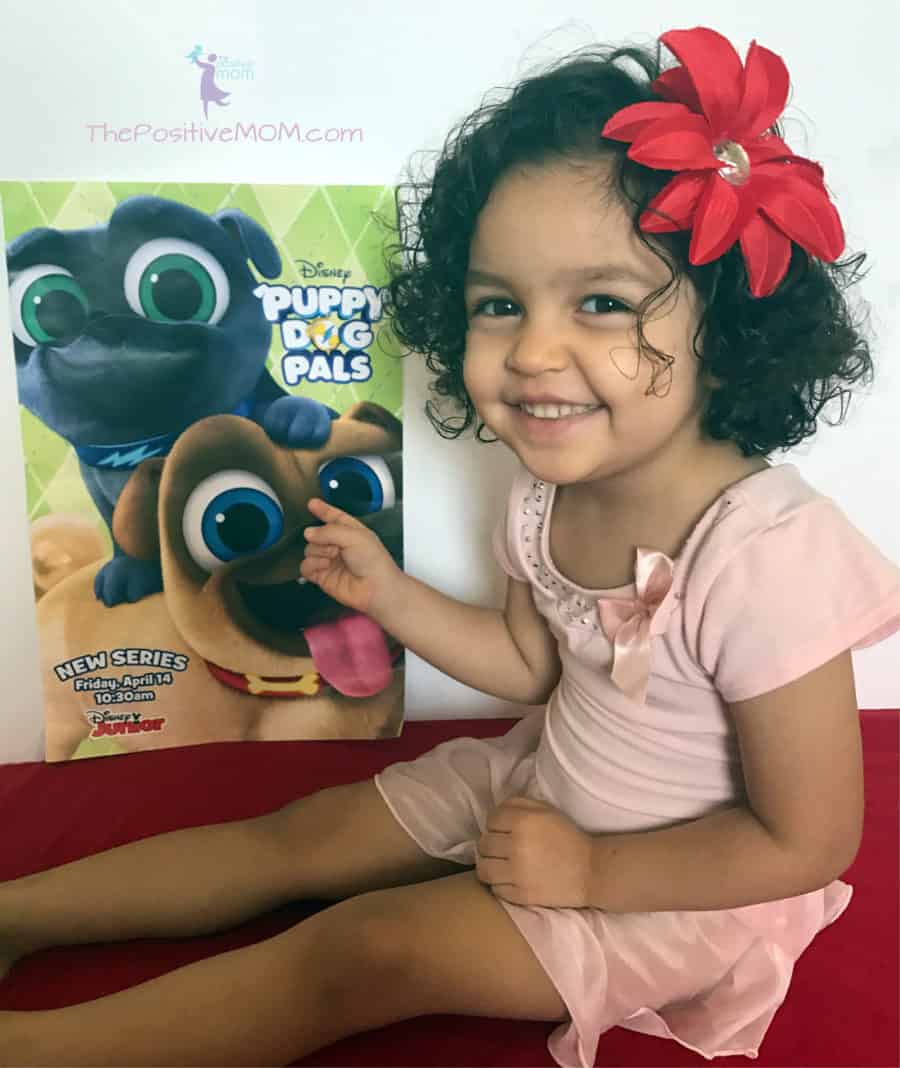 Who is this Sean Coyle I speak of? Sean Coyle is executive producer of Disney Junior's "Puppy Dogs Pals," an animated series about two fun-loving pug puppy brothers, Bingo and Rolly, whose thrill-seeking appetites take them on adventures around their neighborhood and beyond.
"What drew me to the show was that… it didn't talk down to their audience, which some preschool shows sort of dumb things way down. Kids are a lot smarter than we give them credit for. So we had all that on our minds going forward with this show trying to just tell the best stories possible, create the cutest little characters possible, and really treat these 11-minute shorts as like little 11-minute movies…"
With over 10 years of animation experience, Coyle has spent much of his career at The Walt Disney Company working on a variety of Disney Television Animation series, including the "Mickey Mouse Clubhouse," – which is a BIG deal to me!
As part of the Cars 3 press event, I had the amazing opportunity of meeting Sean Coyle and Diane Ikemiyashiro, Director of Original Programming at Disney Junior and chat with them about Puppy Dog Pals, as well as screening the pilot of this fun new animated series for kiddos 2 to 5 years old, which debuts Friday, April 14 at 10:30 a.m. ET/PT. There are 25 episodes on the first season (25 half hours, and each half hour is two 11-minute, for a total of 50 stories).
The premiere episode will also become available that day on the Disney Junior app and Disney Junior YouTube page.
We were all "awwws" and giggles while screening this colorful and heartwarming show. I was wishing my little one were with me, because it is definitely preschooler heaven!
Created by actor, writer and comedian Harland Williams, (whose credits includes one of my favorite movies EVER –> "Meet the Robinsons!!!"), Puppy Dog Pals is a labor of love that is centered around kids.
This is important because early childhood is critical to a child's development. A newborn's brain average weight is 333 grams and by age 2, it triples in size to an average of 999 grams. Early experiences, especially those around parental or caregiver attachment are defining for a child.
As a neuroscience enthusiast, that's why I love that Disney Junior invites mom and dad to join their child in the Disney experience of magical, musical and heartfelt stories and characters while incorporating specific learning and development themes designed for kids age 2-7.
"I'm a parent of two little kids, and I'm very picky with what they watch because it has to be something that I don't mind spending time with either. That was really a focus for myself and a lot of the crew members, too. The writers, the directors, the designers wanted to create something that kids would love but also something that people two to 80 could also enjoy spending 25 minutes with."
It's lovely to imagine the entire family gathered around and having meaningful conversations around these two playful pugs and their adventures in their neighborhood, around the county, and around the world, meeting different characters that will be introduced gradually, and learning new things.
"The different adventures they go on show(s) [kids] that the world is a fun place. It's a diverse place. It's a wonderfully, colorful, amazing place with… different things to see."
And speaking of diversity, one key aspect I really loved is that Sean intentionally leaves labels out of the show:
"All the animals in this world, our main characters, they never refer to each other as a specific animal or as a specific breed, or as a specific anything. Everybody's a friend or family."
That touched my heart. When you're preschool age everyone really is a friend or family. I don't think Bingo and Rolly will be throwing tantrums, but from what I saw, they act just like our toddlers: curious, innocent, adventurous, spontaneous, rambunctious, and sweet. They drool, explore the world by putting things in their mouth, and just want lots of attention. Kids and puppies are adorable!
Sean explained that in the development stage, he studied his kids' reaction to the character designs and story ideas. They did focus testing utilizing nuggets of story ideas and artwork they could show.
Diane stated that the ED team tested a lot of the episodes in front of children in schools all over Southern California.
"They give story time to the kids, and then they ask the kids questions. And through comprehension or not, that's how we gauge whether or not a story is working, especially for the youngest audience members."
And I could tell they weren't looking for validation. Diane stated that they really listened and gave feedback to the writers and to the team, and they, in turn, incorporated the notes into the show. Here's a fun fact Sean shared:
"Early on we did some focus testing with some preschool kids. And the original design of Hissy was orange. All of the girls loved Hissy, and then one of the girls was like, she'd be better if she was pink or purple. And I thought, that's a good idea. It's a wonderful idea."
When he expressed "kids are a lot smarter than we give them credit for," he meant it. I agree.
I learn so much from my 3-year-old daughter on a daily basis. She has an opinion about EVERYTHING and she "knows" she is right and holds the absolute truth – and many times, that seems to be the case.
When I watch a show with her, it definitely helps that I can also be involved and entertained, and that the content is presented in a fun way she can relate to, but that can expand and stretch her plastic brain.
I asked Diane Ikemiyashiro if they considered the show educational, and though they're not trying to teach didactic lessons, every episode of Puppy Dog Pals goes through the Disney Junior educational resource group, a whole team of educational consultants who guide the storytellers, and it has lots of life lessons to teach our young ones.
"We're hopeful that in our stories there's something inspiring that the kids can learn from the interactions between the brothers or when they're out in the world meeting other characters. There's a little bit of education but in an entertaining, storytelling way."
Eliana already knows her ABC's (in both English and Spanish) so I am excited for her to enjoy how Bingo and Rolly explore their similarities and differences while demonstrating positive lessons about friendship, problem-solving, collaboration, creativity and adventure.
We may think that preschool kids are only interested in entertainment in fun; however, research shows that relationship skills and social-emotional connections are formed in these early development stages. They are never too young to learn; as a matter of fact, there's a gap that could be missed if these connections are not made when they are especially young.
I love what Diane had to say about Puppy Dog Pal's main message and how it relates to teaching preschoolers how to relate with others:
"…at the core of this particular show it's all about the family unit. The two pug puppies are brothers, and they love each other…they really, really support each other, and they have different personalities. It's about family bonds, being friends, making friends, and being a good brother."
There is also music in Puppy Dog Pals. Sean let us know that there'll be a unique song per 11 minute and Diane added that there are all different styles of songs, too, depending on where Rolly and Bingo's adventure takes place… and they get out of the house as much as possible!
I'm really excited about watching Puppy Dog Pals with Pige. She's already in love with the pugs and we've played every possible promo video on the Disney Junior YouTube page! She'll be learning lessons at a level that would engage everyone, at every age, and we'll be doing it together!
Do you agree that kids are smarter than we give them credit for? Don't forget to tune in to this new animated series "Puppy Dog Pals," this FRIDAY, APRIL 14 (10:30 a.m. EDT), with two back-to-back episodes on Disney Channel and will also become available that day on the Disney Junior app and YouTube page, and join Rolly and Bingo in their detective-like missions! You can also play some entertaining activities on the Puppy Dog Pals page at Disney Junior.
My mission is to help moms find peace, break cycles, and feel whole so they can be present, peaceful, and positive moms. To receive a gift that can get you started on that journey click HERE.