I'm obsessed passionate about keeping my children safe, and I realized I hadn't had a safety conversation with you before. So, today, I've teamed up with Tide to share tips on how to make your home toddler safe.
I've personally found that toddlerproofing or childproofing is a never-ending task. It only really takes a second for an accident or injury to occur in any part of your home.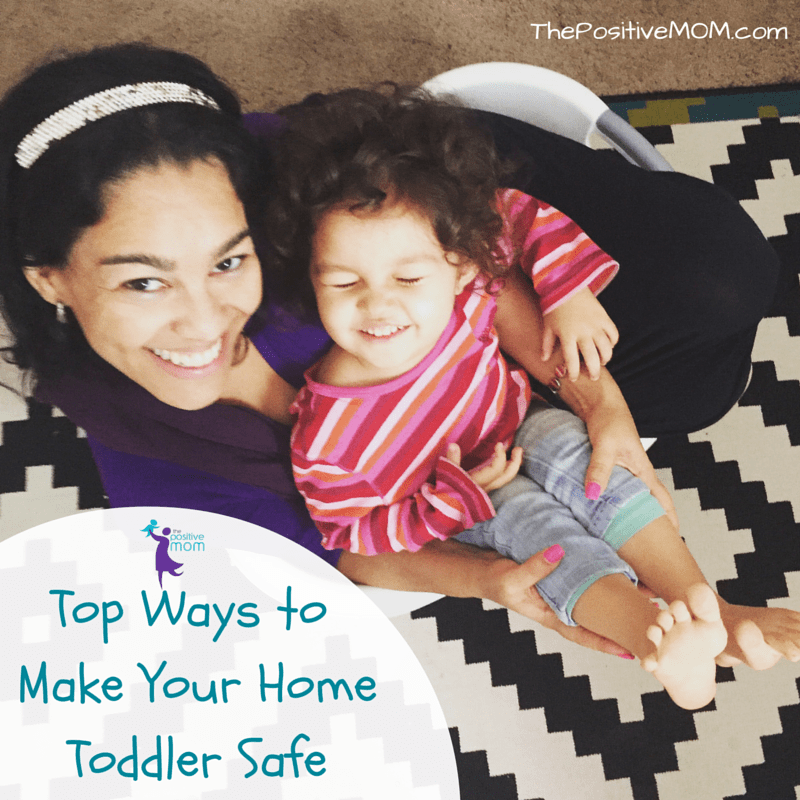 My little pige walks, runs, climbs, crawls, and is always excited to explore – always touching everything she finds and putting them in her mouth, too. I know – YUCK. But that's how she learns.  Mouthing is absolutely normal, even beneficial, in a child's development. In fact, according to the American Academy of Pediatrics (AAP), it is one of the developmental milestones for small children at around seven months is precisely to explore the world around them through their hands and mouths. Instead of dissuading her from mouthing, we moms just need to be aware and on guard – 24/7!
I am often mesmerized at the new tricks she learns everyday, like opening doors, locking doors, and the like.  As she gets smarter, faster, and more curious, I need to do the same. Granted, she has way more energy than I do, but that's a story for another time, LOL.
You know how they say moms have eyes in the back of their heads – I don't. It's an adventure to chase Pige around, and I speak for all of us when I say that, because we are a team of falcons, seeking to keep her safe.
And sure she blows me away because she is so bright and acts like a two-nager (my word for a two year old that acts like a teenager), but I am always keeping myself in check to not be overconfident about how much she understands about her own safety. She's practically a fearless dare-angel, and it is my responsibility to make sure she has the safest home environment, while I patiently teach her to be safe.
Studies show that while most moms take precautions to properly child proof the home, many areas are often overlooked.
It only takes an instant, a second -a fraction of a second, really – for a tragic accident to take place in the home. Minors scrapes, bumps, and bruises are sometimes unavoidable, but a serious injury is easily preventable by watchful supervision.
Some safety hazards are quite obvious (like guns – YIKES!), but others require a lot of thought. With young children, the simplest household item can become a danger, so good parenting becomes expecting the worse. Sounds pessimistic, I know, but considering that household injuries are among the top reasons why kids under 3 visit the E.R. and that nearly 70% of the children who die from unintentional injuries at home are 4 years old and under, it's probably the best way to look at it.
Some of the most common causes of home-injury deaths are fire and burns, suffocation, strangulation, entrapment, shocking, drowning, choking, falls (from climbing and grabbing), cuts, poisoning, and firearms. It's so scary, but empowering to know there's something we can do about it.
How do we keep our little and not-so-little ones out of harm's way in our home?
Here's what you do: you crawl around your home on your hands and knees, and then walk around on your knees to get to your child's height.  As you explore your home, it is essential that you decide to see things from your child's perspective, and have a checklist of what may harm your toddler. Do you see…
Any uncovered power outlets
A window blind cord or drapery that can be pulled down?
A Fireplace?
An unattended handbag?
Anything with sharp edges?
Small objects that can easily be lodged in a toddler's throat? ( think coins, buttons, beads, marbles, knives, household cleaners, medicines and vitamins)
Electrical cords that need to be wrapped tightly with a twist tie?
An unattended iron or other hot items?
A leaning mirror?
Stairs or room doors that need a safety gate?
Water containers?
An unlocked bathroom cabinet?
A crib or toddler bed near the window?
An open pantry?
Access to dangerous fluids or chemicals?
Toys your child can choke on?
Furniture that needs rounded corner guards?
A table cloth that can be pulled down?
A floor or table fan the child can put his fingers through?
An unvacuumed carpet with small trash they can mouth?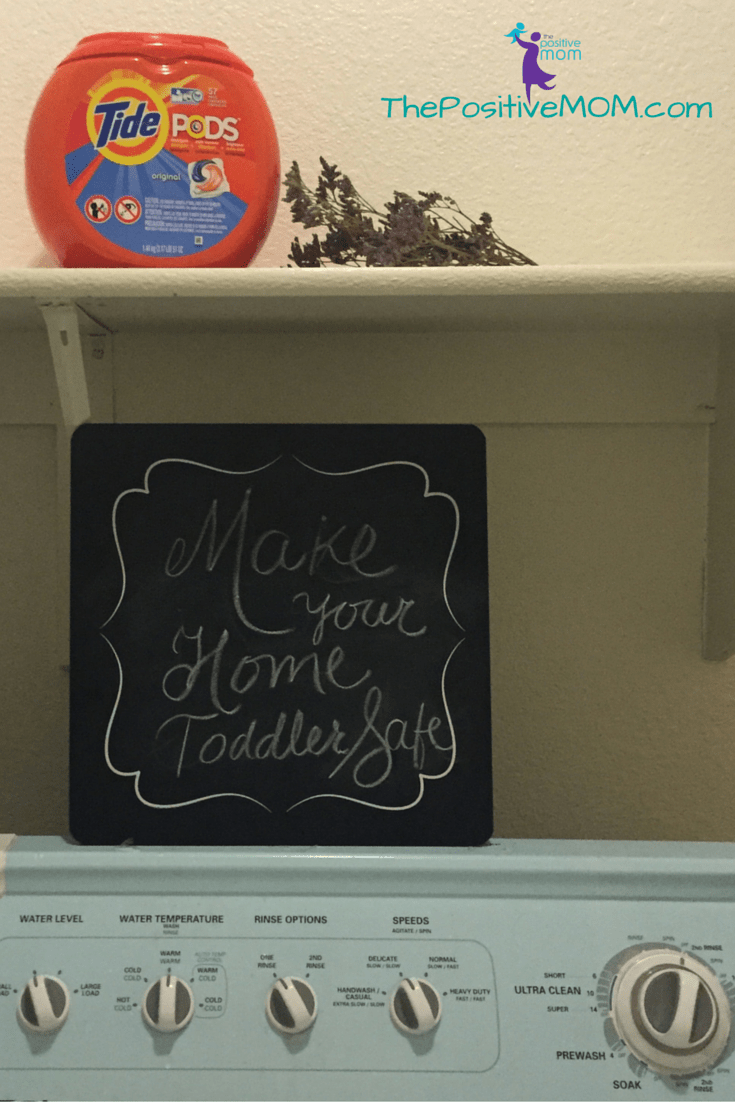 Like other household cleaning products, your Tide pods laundry pacs need to be kept out of the reach (and sight) of your little ones.
Tide's simple rule for laundry pacs is  Keep Them Up, Keep Them Closed, and Keep Them Safe. I like that it's simple to remember and to understand (keep the laundry pacs stored up high and away, keep the Tide pods container or bag sealed, and keep your children and pets safe by preventing unintended exposure). This rule also applies to a lot of other items that, although super useful and helpful for us, can be harmful to our little ones.
Tide pods dissolve in both hot and cold water and work in both both high‐efficiency and regular washers, so place the laundry detergent pacs in the machine before your clothes, and put them away before you start the load. A both convenient and safe routine!
Young kids have the highest risk of being injured at home, because no matter what a great mom you and I are, that's where they spend most of their time! These tips have helped me and will help you create a safe haven for your active toddler or young child, giving them a bit more of freedom and giving you a bit more peace of mind (because we'll always worry – in a positive way!).
Before I end my passionate talk, I'd like to check whether you covered every room. Did you go to:
Every bathroom?

The kitchen?

Every single bedroom?

Living room?

Dining area?

Laundry room?

Family room?

Game room?

Every home office?
Then you're good to go. Until your next inspection, that is.
And hey, I can attest to the fact that accidents will still happen, even when you've done this and informed the older kids, grandparents, other care givers, church volunteers, and the community at large,  so it's important to be prepared with phone numbers to poison control center (1800‐222‐1222), and your pediatrician handy.
I'd love for you to add your own tips to the conversation and to share this post with every mom you know. My grandma used to always say "cuatro ojos ven mas que dos" which means it doesn't hurt to get another set of eyes look at the situation. Share what your eyes see with other moms in the comment section below!
PS – To learn more about safety, you can attend a Safe Kids Local Events. You can find information at http://bit.ly/SafeKidsDayEvents.

© Elayna Fernández ~ The Positive MOM