Are you a fan of Disney Descendants? Then I have great news! The exciting third installment of the
Descendants
Series is out on Disney DVD!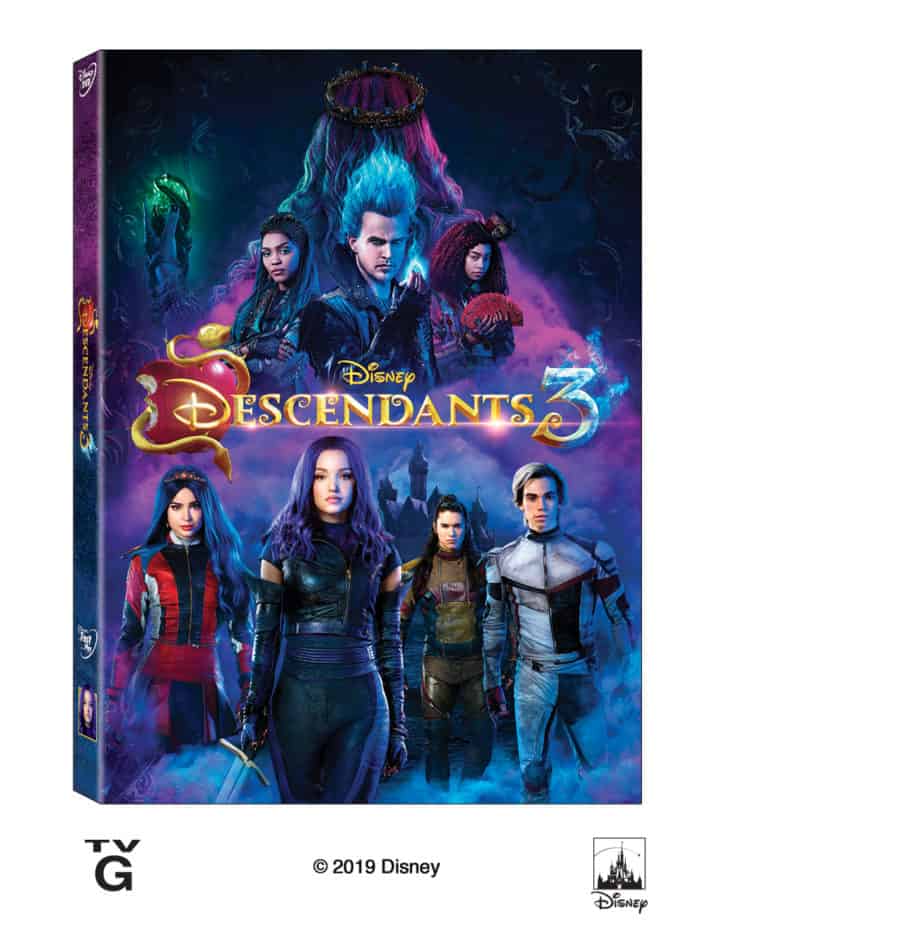 The highly anticipated Disney Channel Original Movie continues the contemporary saga of good versus evil as the teenage daughters and sons of Disney's most infamous villains, Mal, Evie, Carlos and Jay (also known as the villain kids or VKs), return to the Isle of the Lost to recruit a new batch of villainous offspring to join them at Auradon Prep.
When a barrier breach jeopardizes the safety of Auradon during their departure off the Isle, Mal resolves to permanently close the barrier, fearing that nemeses Uma and Hades will wreak vengeance on the kingdom. Despite her decision, an unfathomable dark force threatens the people of Auradon, and it's up to Mal and the VKs to save everyone in their most epic battle yet.

The all-star cast of Descendants 3 includes Dove Cameron as Mal, Cameron Boyce as Carlos, Sofia Carson as Evie, Booboo Stewart as Jay; Mitchell Hope as Ben; Sarah Jeffery as Audrey; Jadah Marie as Celia; with Cheyenne Jackson as Hades; and China Anne McClain as Uma.
Descendants 3 is directed by Kenny Ortega ("High School Musical" franchise), who is also an Executive Producer along with Wendy Japhet ("The Italian Job"), Josann McGibbon ("Runaway Bride") & Sara Parriott ("Runaway Bride"), Susan Cartsonis ("Freaky Friday").
The Descendants 3 DVD is rated TV-Y (US); G (Canada) and it features never before seen deleted scenes, blooper reel, and "Under The Sea: A Descendants Short Story." You can enjoy the feature film in English, Spanish, and French and subtitles.
Elisha has always loved Descendants because of the concept that your parents or your past do not define who you are. It shows us that even if you're the daughter/son of a villain, that doesn't make you a villain, and that being the child of a hero doesn't make you one either. It's a bigger underlying message of looking past stereotypes and being stronger together.
Elisha loves the choreography (by choreographers Jamal Sims and Kenny Ortega).
It was bright, unique, and really made me want to get up and dance. I like that there were different movements that really brought together and emphasized the messages behind the songs.
The soundtrack(by Music Composer: David Lawrence)was a masterpiece.
I love how we explored some different genres in Descendants 3, like with Do What You Gotta Do it had a cool rockstar vibe with a rhythmic beat, and My Once Upon A Time had soft moving feel. My favorite song was The Queen of Mean, it had a sort of rap inspiration that made it very compelling and the vocals were superb. I loved the dynamics between good and bad, right and wrong, that were touched on in the film.
Descendants 3 also had amazing messages, like to never turn your back on your true family, that living in fear doesn't protect you from anything, and that appearances can be very deceiving.
For all of us, it was heartwarming and very sad to see Cameron Boyce in his last role.
I teared up when I first saw him in the opening scene. He truly shone and I'm glad he was able to do what he loved while he was on the Earth, and that he shared his marvelous gifts with the world.
Elyssa had been anxiously waiting for Descendants 3 for a long time:
It definitely did not disappoint me. I loved everything about the movie. The music was even better, the colors brighter, and the plot even more exciting!
Elyssa thinks that Descendants 3 is the perfect follow-up to the first two movies, and ties everything up perfectly! We all got a happy ending!
I love the lessons I saw in Descendants 3, especially that no one is good or bad. We're just people, who make good or bad decisions, regardless of where we come from or our background.

Another favorite of mine is to not only accept, but EMBRACE our differences, and use them to help each other. I highly encourage everyone to watch Descendants 3, and I'm looking forward to see what you think!
[ela]