The girls were away at camp for three long days. I had periods of anxiety, wondering what they were doing, wishing to get an update, wishing they'd just come home.
They were were extremely tired, and told tales of the extremely hard, but worthwhile journey they'd just had. I am so proud of my little chicas and their positive attitude.
I figured they really wanted to get to their bed, so instead of the usual surprise, I asked whether they would be up to go see Finding Dory or we should wait another day. They didn't want to wait another second, which makes total sense because it's been 13 years since Disney•Pixar introduced us to our friends Nemo, Marlin, and Dory, in the Academy Award winning for Best Animated Feature Film, Finding Nemo. It was worth the wait!
We all remember forgetful blue tang Dory (Ellen DeGeneres) because she is obviously a-dory-able: she's funny, helpful, and has a positive attitude. She's like a kid – she lives in the moment, she takes risks without overthinking, and has fun.
Dory takes center sea in Disney•Pixar's "Finding Dory." She's living happily in the reef with Marlin (voice of Albert Brooks) and Nemo (voice of Hayden Rolence), when Dory suddenly gets a glimpse into her past, and remembers that she has a family out there who may be looking for her. The trio takes off on a life-changing adventure across the ocean to find her family.
Finding Dory may seem like a film about an adventure to find Dory's parents, but it is truly the compelling story about Dory finding herself, finding out who she really is, and learning to practice self-acceptance. I would dare say that finding yourself and accepting who you are is the most valuable lesson to learn as a child… and to remember as a parent.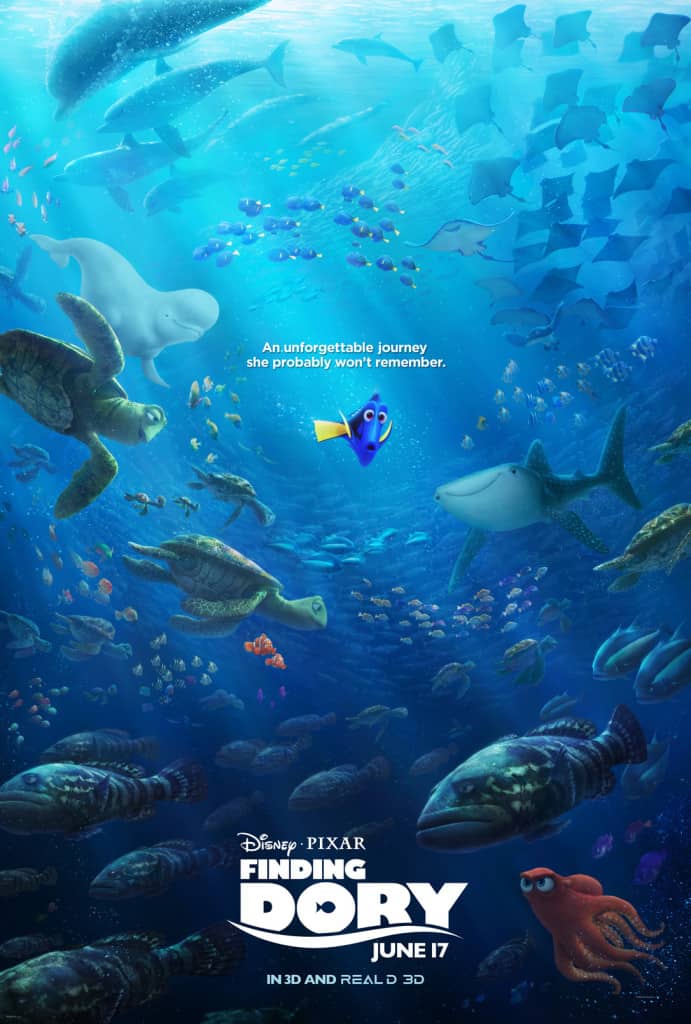 We're all flawed, imperfect, and complex, yet beautiful. I have yet to meet someone who hasn't dealt with difficulty, disability, or disadvantage of some kind. So many times we wish we didn't go through the hardships, could rid ourselves of an impairment, or could teach the world to see us as equal, even though we are aware – painfully aware – that we are different.
Sometimes we wish we could forget. But, our favorite bright blue tang, Dory, who suffers from short-term memory loss, teaches us that those challenges we've been through are important clues that help us understand who we are.
Your self-image (the beliefs you hold about who you are) will determine your actions, but it may or may not be in alignment with your true identity.
Dory feels like there's something wrong with her. She feels afraid, and she apologizes a lot for being who she is. Sound familiar?
Dory is always finding something good about others. Her friends are dealing with their own shortcomings, their own flawed self-concepts, their own limitations, difficulties, and disadvantages – even when all she sees in them is beauty and courage. She's accepting of everyone around her and so judgmental about herself. I think we can all relate to focusing on what we see as a flaw or focusing on the odds being stacked against us to the point of going on a downward spiral path of self-doubt and self-destruction.
Dory is inspiring, aspirational, loving and loyal. She's always ready to fix others' problems, and sometimes even blames herself for them. Are you like Dory?
And in Finding Dory, she makes a choice to find out who she is, to face her fears, to embrace her need and desire to belong, to know where and who she comes from.
And that's not an easy quest. Finding yourself takes you to unknown places and situations in which you are most vulnerable. Finding yourself requires doing things that seem inconsistent with your current self-image, and for you to sometimes leave behind some people and places that were comfortable and familiar.
Self-concept is "knowing oneself, accepting oneself with one's limitations, not being ashamed of the limitations but simply seeing them as part of the reality one is in, and perhaps as a boundary one is challenged to expand" (Murugami, 2002:2; Berne & Savary, 1981).
Have you ever asked yourself:
Who am I?
What am I not?
Do I know myself?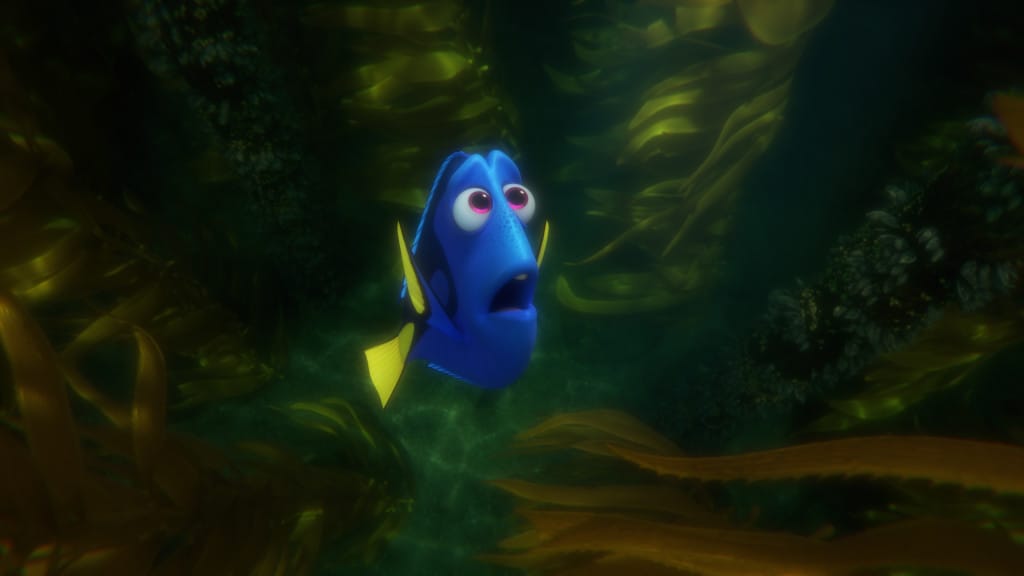 Trying to live in a way that is inconsistent with our true nature leads to anxiety, frustration, and misery. Dory teaches us that by recognizing our own strengths and embracing our own unique way of thinking, loving, and living, we can find true happiness in our path. It's not enough to know who we are, it's necessary to love who we are, to accept ourselves fully and unconditionally: our past, our present, our limitations, our needs, our fears… the whole package.
Clownfish Marlin is still as skeptic, critical and over protective as we remembered him. He's impatient, and a bit intolerant of Dory's nature, what he perceives to be a disorder. But listening to her gut and thinking differently is what makes her Dory. Dory's internal struggle is scary, sad, and sometimes isolating, but she just keeps swimming, living life to the fullest, and being the best Dory she can be along the way.
In her journey of self-discovery, Dory finds a new friend, septopus Hank (a mimic octopus who is missing a tentacle, voiced by Ed O'Neill), who acts in a grumpy, and cynical way, and is clearly hurt by his own memories of the past. Dory teaches us that it's necessary to ask for help and that there's always another way, an unconventional way to get to a desired result. She's flexible and that quality allows her to handle whatever life has in store for her.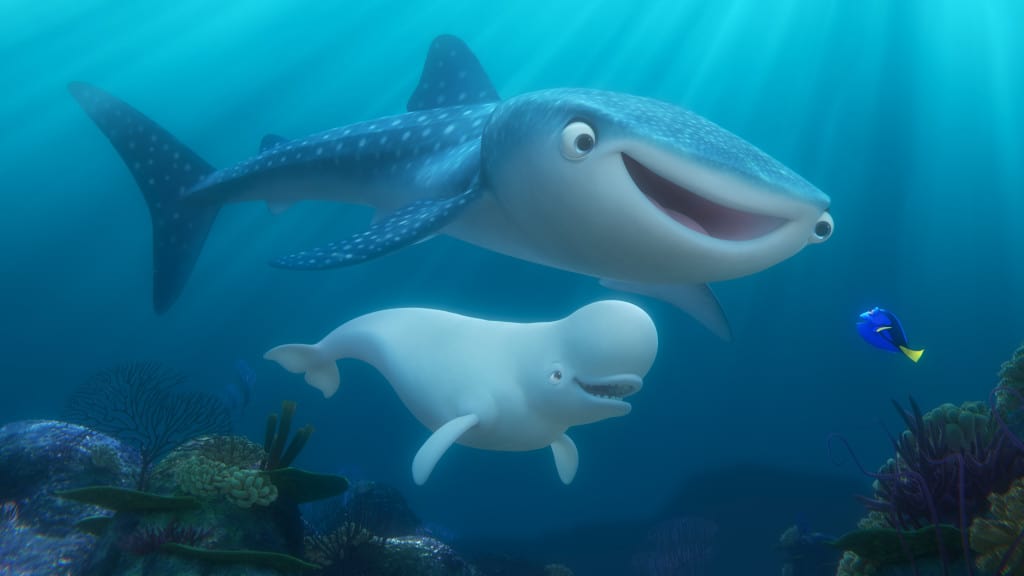 Dory also reunites with her childhood friend, whale shark Destiny, voiced by beautiful actress and mom, Kaitlin Olson. This was my favorite relationship in the film, because it reminds me of my friend Carolina and I. It doesn't matter how long it's been since we talked, we just pick up where we left off! Destiny, who struggles with a sight-impairment, proves to be the most supportive friend you could wish for.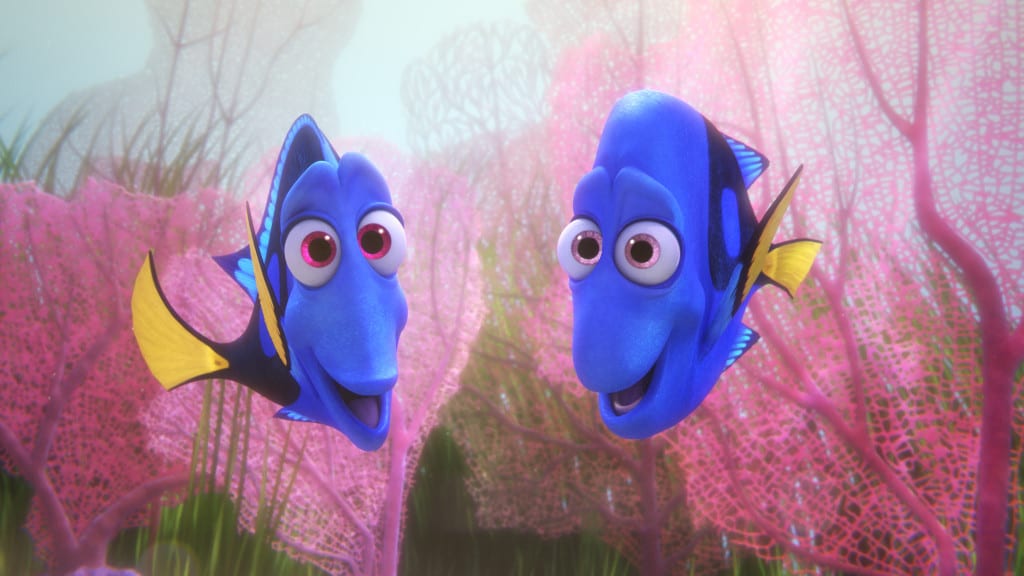 In both Finding Nemo and Finding Dory, one thing is clear about Dory's interactions with others: she accepts, without trying to change them… and that's a big takeaway for us moms.
Eugene Levy and Diane Keaton play Jennie and Charlie, Dory's parents. Loving, encouraging, and very concerned parents, who patiently and thoughtfully teach their wide-eyed child she's different:
"Hi, I'm Dory. I suffer from short term memory loss!" says a tiny fish-ling with a sweet voice and speech impediment that will pull your heartstrings.
As moms, we often wonder "if I die today, will my child be okay?" or "will they remember what I taught them when they're off to college…" You know, we want our kids to be safe, in spite of the challenges.
Yet, Dory's parents didn't try to isolate Dory, change who she is, or how her brain works. They arm her with skills she can use to survive just as she is. They embrace and accept her and want to help her accept who she is. They trust she will find herself, even if she first needs to get lost in the process. They never doubt her. They never give up on her.
I pray daily that I can be like that. With being a mom, comes a natural tendency to question whether you are the right mom for your children and their unique set of challenges, temperaments, and needs.
And even though the Dory we met in Finding Nemo could only remember that she forgets things, her emotional memory is superior. She thrives when she does things in her own Dory way and the love for her friends and family is imprinted in her heart and soul.
Finding Dory is a powerful portrayal of how love and support is the remedy for our diverse and disabled human condition. Through Hank's anxiety, Marlin's paranoia, Bailey's struggles with owning his talent of echolocation, Destiny's impaired vision, Nemo's "lucky" little fin, we see that we all have difficulties, disabilities, and disadvantages, but we all have innate strengths that make the world a better place for someone else… for many people.
As you own who you were created to be, embrace your true identity as a goddess in training, and adapt to the unexpected twists and turns of your life story, you will find purpose in your pain, and discover the magic within those weaknesses, relationships, and experiences that have tested your very core.
In Finding Dory, we learn that we must develop the ability to trust ourselves, and to accept the love and support of our family: the one we were inevitably born into and the family we build around us as we travel in our journey through life
Have you seen her? Finding Dory is about finding YOU among the pain, fear of abandonment, disability, identity crises, parenting challenges, grief, loss, and whatever flavor of struggle and suffering you may be dealing with. Finding Dory is a must see for the whole family, now playing in theaters everywhere! You'll enjoy the timeless storyline, the visual wonder of color and beauty, the groundbreaking animation, the interesting characters, and the extraordinary vocal performances.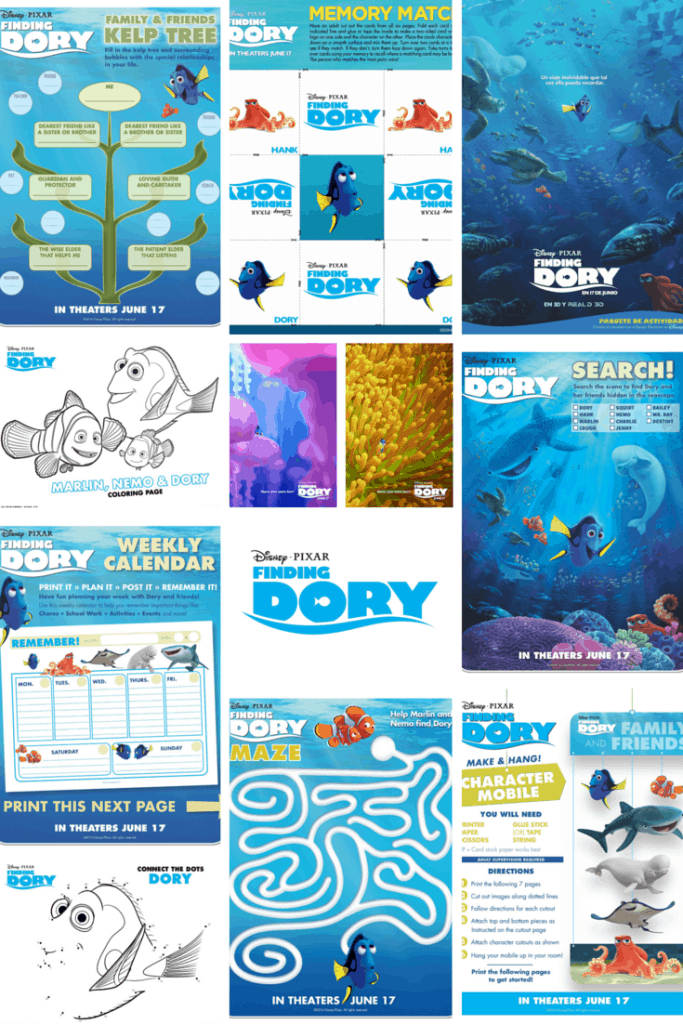 Like FINDING DORY on Facebook; follow FINDING DORY on Twitter; follow Disney/Pixar on Instagram; follow Disney Studios on Pinterest; visit Disney/Pixar on Tumblr, visit the official FINDING DORY website.
Also, be sure to download these fun activities for the kiddos to have fun learning:
Finding Dory connect the dots | Finding Dory educational packet | Finding Dory paquete educativo | Finding Dory scene search | Finding Dory coloring sheets | Finding Dory Maze | Finding Dory Memory Match Game | Finding Dory weekly calendar | Finding Dory character mobile … and even a Finding Dory Family Tree!
So much summer fun! Happy first day of summer, by the way!
Your turn to chime in! Have you gone within to a deeper exploration toward finding yourself and accepting who you are? Are you willing to? Tell us all about it!
[ela]