Because I have two amazing artists I call daughters, many would think I am a Frida Kahlo. I am surely NOT. I used to love drawing and painting as a child, but I had plenty of chores to do and plenty of businesses to run.
It was very intense and, in those days, I would only use my creativity for monetization purposes… or to get A's.
These days, I do art for fun, relaxation, and for decorative prettiness. I love projects that turn trash into timeless treasures, and that's what I did today.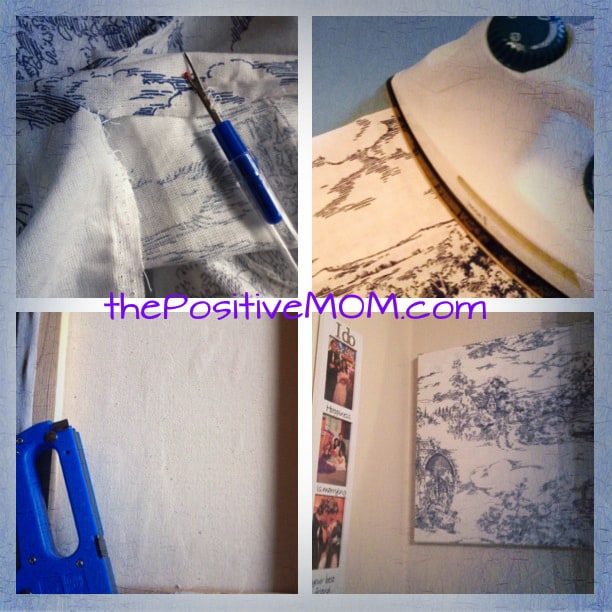 If you have limited skills, a limited budget, and limited time, you can create stunning wall art using stretched canvases in about 10 minutes. Fabric-covered canvases look really classy and add your personal style to your home. I am going to use my leftover fabric to make cushion covers so I can tie the whole look together. Here's a step-by-step on how to wrap a canvas with fabric:
Materials I used
– old beat-up canvas found by the dumpster
– a little white paint to cover canvas imperfections
– pillowcase of my favorite fabric that I bought on clearance for $2 when I was preggo and ripped the seams out in lightning speed today
Tools I used
– fabric scissors from my daughter's sewing kit
– iron and ironing board we already owned and that I rarely use [lol]
– staple gun that we bought at Michael's for $9 and included the staples
Instructions I followed
Cut fabric by placing your canvas or stretched frame above it and leaving about an inch of material on each side.
Iron fabric until it looks nice and smooth. Ironing is my least favorite chore, so I admit I didn't do it perfectly – nor did I aim to.
Fold fabric over the canvas and start stapling on the right, then the left. Continue with the top then the bottom. Stretching nicely can make up for inexpert ironing – he he. Get those corners!
This is a very basic project, but you can have more fun and create a collage with various frame sizes, embroider something pretty on the fabric, add buttons to make a pattern or letter, or hot glue a wooden letter, jewelry, or photo on top. You can even repurpose clothing like old t-shirts or baby clothing.
What easy, inexpensive, and fun home decor projects are you working on?
My mission is to help moms find peace, break cycles, and feel whole so they can be present, peaceful, and positive moms. To receive a gift that can get you started on that journey click HERE.