It's no secret that motherhood can be a challenging, isolating experience. You feel like you are constantly doing something, and it seems like there is never enough time to do everything. Plus, you feel like you are not doing it right.
Add to that the early days, late nights, sleep deprivation, the high degrees of stress, and the judgment you experience from other moms both offline and online, and especially the impossible expectations imposed by the unrealistic images on social media.
Amid this craziness and, sometimes, hopelessness, it's important to remember that you are not alone. There are countless other mothers out there, whether new moms or veteran moms, who understand what you are going through. That's why it's so vital to have a community of moms that you can rely on for support!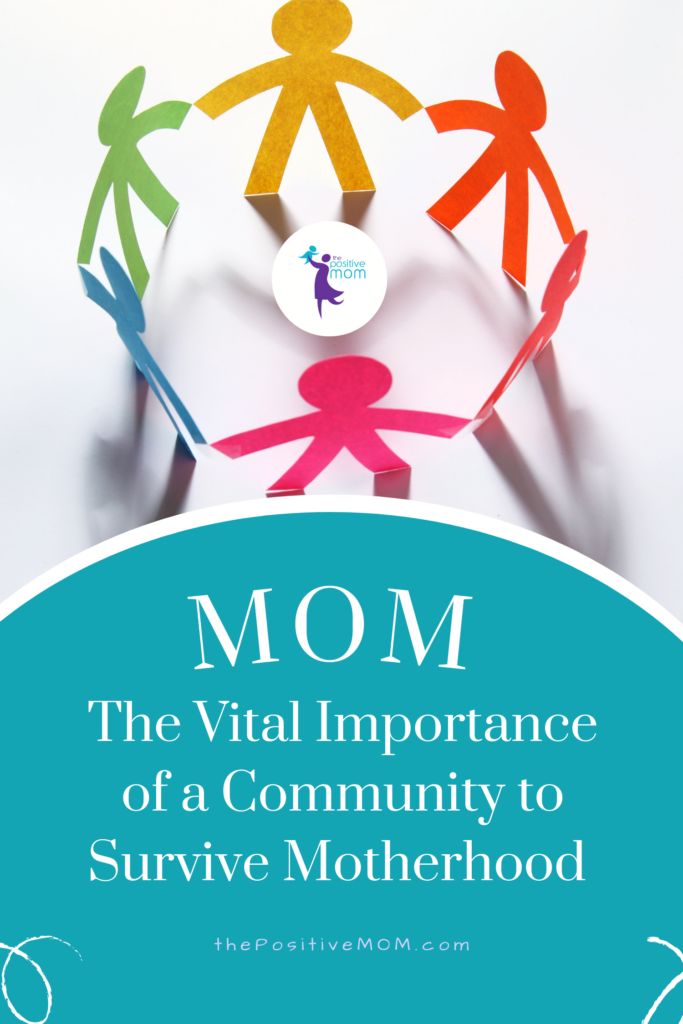 As a single mom of four daughters, I know this all too well. Raising young children on my own as an immigrant without family in this country and with no mom friends. I learned the importance of a community from the intense pain of not having one.
Motherhood Can Be Hard to Survive
For many mothers, feelings of guilt and regret come all too often. We might think other moms are flying through it while we're struggling and failing – but this isn't true.
Most mothers have moments when they feel like they can't do anything right, or ever seem to make the same mistake time and time again. But in reality, motherhood comes with some unavoidable highs and lows.
Motherhood is hard, but for some mothers, it can be even harder. For moms who have experienced trauma in their lives, the transition to motherhood can be triggering and lead to feeling overwhelmed and isolated.
While many of us believe that we should be able to balance everything perfectly, anyone struggling with their mental health can often find themselves unable to manage the additional stress that having a child brings.
Becoming a mother is not just about dealing with the practical demands of childcare – it's an emotional transition too. Even the experience of birthing itself is traumatic and then we can even struggle with postpartum depression.
The struggle is real.
Both new and experienced moms need to recognize warning signs such as intrusive thoughts or feelings of being bogged down by guilt or inadequacy and reach out if they start to feel overwhelmed by their emotions.
Surviving motherhood doesn't mean being "perfect" – it means understanding your limits, listening to your intuition, and trusting yourself enough to take care of your mental health needs so you're in the best position possible to care for your child.
And that's why being part of a safe community plays an important role in motherhood. Asking for help is hard when you're struggling like this, but having the support of a community makes it easier to ask for help and to allow ourselves to receive it.
Being a Mom Can Be Lonely
Being a mother can be incredibly rewarding, but it can also be lonely, even when all is falling into place. Despite having people around, the isolation of putting your children's needs before your own can be overwhelming and isolating.
To combat this loneliness, moms must practice self-care and take time for themselves. This may involve setting aside specific times each day to do something relaxing or indulging in a hobby that brings joy.
This is easier said than done, of course. I learned this the hard way. Having been through cancer taught me that self-care is health care. Taking only 2 minutes to take care of your mental and emotional health can save your life!
And even if all you do is brush your teeth and think positive thoughts while you do it, some days that is a BIG WIN.
Additionally, mothers need to reach out to other moms who understand the challenges Motherhood can bring and form relationships with local and online support networks.
When we belong to a group of other moms in a strong community, we feel a sense of connectedness that helps us overcome even the hardest hurdles of parenthood.
Importance of a Mom Community
Having a supportive community of other moms is invaluable. No one knows better than another mom the highs and lows of the journey of nurturing a child. Doing it solo can be isolating and exhausting, so it is important to create a community where moms can have a safe space to give and receive support!
Being part of a community provides an opportunity to better understand our own experiences and make more accessible stories that have been previously trapped in isolation. It facilitates and accelerates trauma healing by reminding us that we are not alone and permitting us to grieve together.
Nurturing relationships with our fellow mamas comes with many benefits – we can find support when needed, feelings of empowerment from collective success, or gain valuable wisdom from those who have gone through similar experiences before us.
Benefits of a Mom Community
Being part of a mom community and experiencing this kind of sense of belonging has a positive impact on our emotional health (which, in turn, improves our physical health, too!).
Connecting with your local or online mom community will bring new quality friendships, access to mentorships, potential collaborations, and other resources that can help provide balance for mothers who are constantly juggling their responsibilities.
No matter what you are going through, being in community offers a safe place for processing our vulnerabilities and for finding real solutions that nurture us both emotionally and physically. Above all else, being in a community amplifies the inherent truth that our life matters; something we all need reminding of sometimes.
Notice that I don't use the word "tribe" when referring to a community. This is out of respect and in an effort not to appropriate a term from Indigenous cultures.
A community of mothers is essential for stay-at-home mothers, single mothers, married mothers, work-outside-of-the-home mothers, work-at-home mothers, mom entrepreneurs, and mothers of all ages, no matter the stage of life they are in. Having mother-to-mother support groups provide a level of understanding beyond a loving husband or a supportive friend or family member. It's a blessing if you have those, too!
What to Look for in a Mom Community
When searching for a community of moms, it's important to look for a safe, non-judgmental environment that fosters mutual respect and understanding. You should be able to share your joys, struggles, and questions without shame or stigma and also provide tips and tools to help make a difference.
Your community should be open for all moms to discuss any topics relating to motherhood without fear of judgment. This is essential in creating an environment where mothers can support one another through the shared experience of parenting. Look for forums that actively encourage conversation that honors the individuality of each person's journey through motherhood.
Additionally, consider whether the community offers resources beyond conversation, like hosting events and workshops which can be invaluable in connecting with other mothers who may be going through similar situations.
You also want to find out who the group leader is and maybe even check out some of the community members, just to understand what the community values are and whether they align with your own. Many communities will disclose their philosophy and will post community guidelines where you can get a feel of what the atmosphere will be like once you join.
Find the right mom community for you!
Finding the right community can have a tremendous impact on your motherhood experience. Making sure you're looking out for key factors such as strong support, acceptance, respect, open dialogue, individualization, and communication will put you on track to finding your virtual village. Make sure you take your time when scouting out a place that lines up strongly with your parenting goals.
Most importantly – enjoy the journey! When you find the right match for your needs it can easily become an incredible source of calm and comfort during times of heightened stress levels caused by having young (and sometimes older) children! There's nothing more rewarding than knowing that we are not alone in this never-ending rollercoaster ride called parenthood and that we can make a difference to other fellow moms!
How to Find a Mom Community
Finding the right community can be tricky, but with so many digital options available, it's never been easier to connect with like-minded people who share your passions and interests.
The Positive MOM community is a great place to get started. This virtual space is filled with moms around the world eager to help each other succeed in their roles as entrepreneurs and mothers.
Amid inspiring stories and positive words of encouragement, this unique community is perfect for those looking for tools and resources that instill health and happiness in motherhood while growing your home-based business.
Plus, you don't need to miss out on being part of an active peer group; you can join conversations on relevant topics such as healing, parenting strategies, emotional self-care, branding, marketing, success principles, and much more.
With the Positive MOM Community, building meaningful relationships with other mamas while achieving success as a mom entrepreneur has never been easier!
I created this space because I know that we can thrive together as moms and entrepreneurs. I want to give back and support as many moms as I can around the world, and I love learning from other moms, too!
So come over to our virtual village – we can't wait to see you there! Join the Positive MOM Community today – it's a FREE place to belong!
What do you look for in a mom community? Share with us in the comments below!