On Friday, July 22, my daughters hosted a viewing party to celebrate a long-awaited event: the unveiling of a the FIRST EVER Disney Latina Princess: Elena of Avalor.
Elisha and Elyssa gathered some of their closest friends to welcome Crown Princess Elena Of Avalor as the series premiered on Disney Channel and Disney Junior.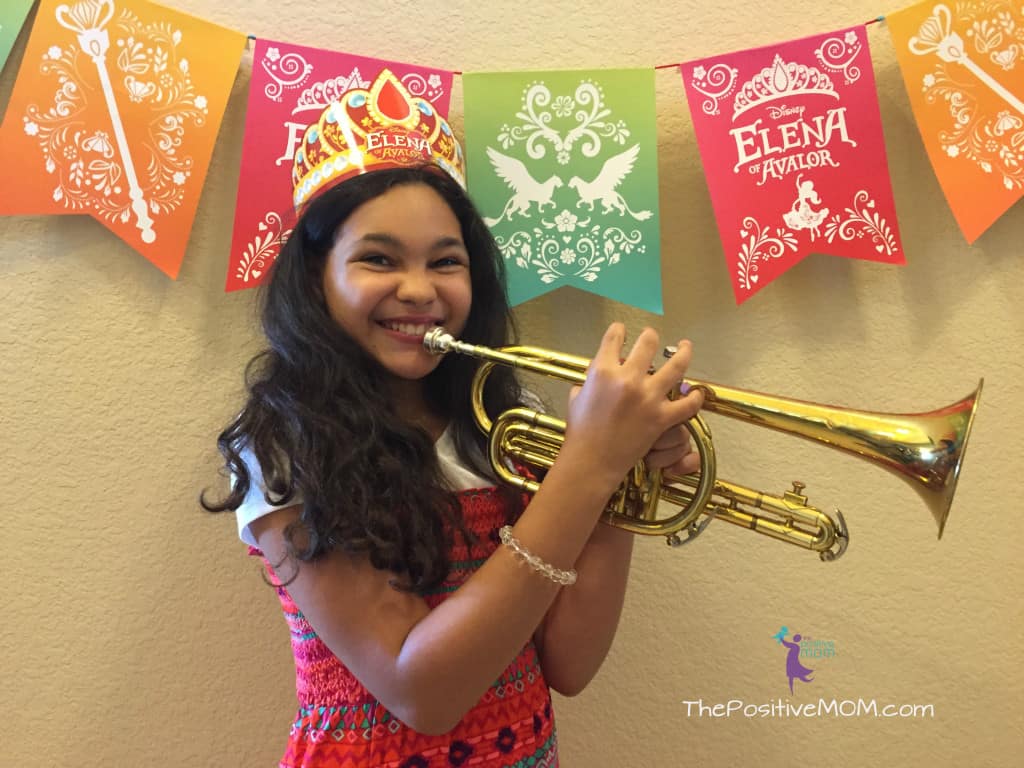 My daughters were excited to decorate the space with flag banners, mini posters, and artwork from the Elena Of Avalor Party Kit we received from Disney Channel and to create royal scepters, bracelets, and paper Jaquins with their special guests. They were all wearing Elena Of Avalor paper crowns, too!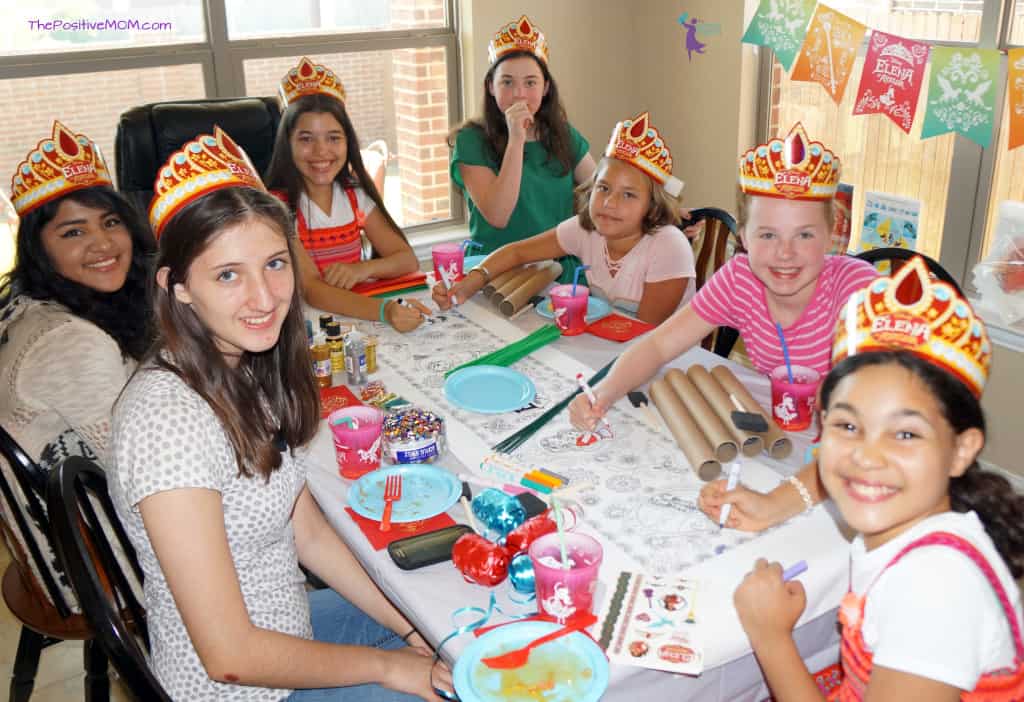 All the girls enjoyed two back-to-back episodes of Elena of Avalor, and fell in love with Elena and the multicultural inhabitants of the vibrant fairy tale kingdom of Avalor. Elena represents what it means to be Latina and Avalor is a rich diverse land that features Latin and Hispanic architecture, food, music, traditions, and melodic accents.
But besides my excitement to listen to merengue and have a Disney Princess that represents me and my daughters, the real magic behind the Elena of Avalor series is that Elena is learning to become a strong leader, while staying true to herself, honoring her family, and being a good friend.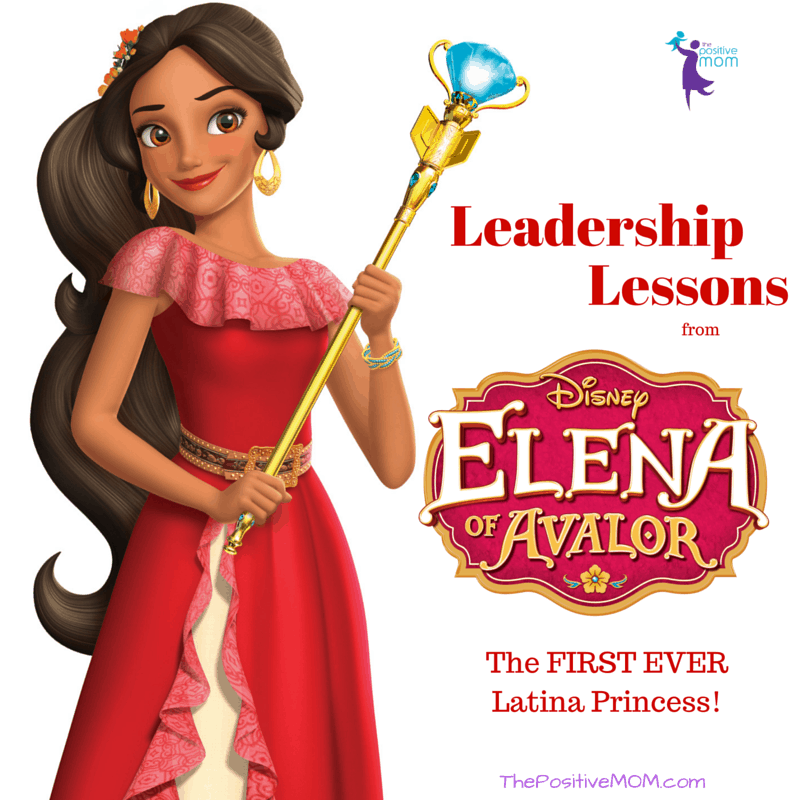 I am overwhelmed with joy because my dream of seeing a Latina Princess has come true, and she's a great role model for our daughters – and sons – everywhere!
Between mango salsa and Morir soñando (a Dominican orange juice and milk drink), crafts, and laughs, the girls watched just two episodes, and Elena's shining light already inspired those young girls to be confident, self-sufficient, and determined to rule.
On Elena of Avalor, Episode 1, "First Day of Rule" you can see Elena overcoming obstacles and learning leadership lessons, before she officially becomes Crown Princess.
On Elena Of Avalor, Episode 2, "Model Sister," Elena learns about priorities and how to balance her royal commitments with her personal relationships.
I am very selective when it comes to media influence, because it shapes beliefs and encourages behaviors. I believe that Elena of Avalor contains positive messaging that will teach your daughter to be a strong leader and to adopt a positive self-image, all while enjoying the magic of childhood!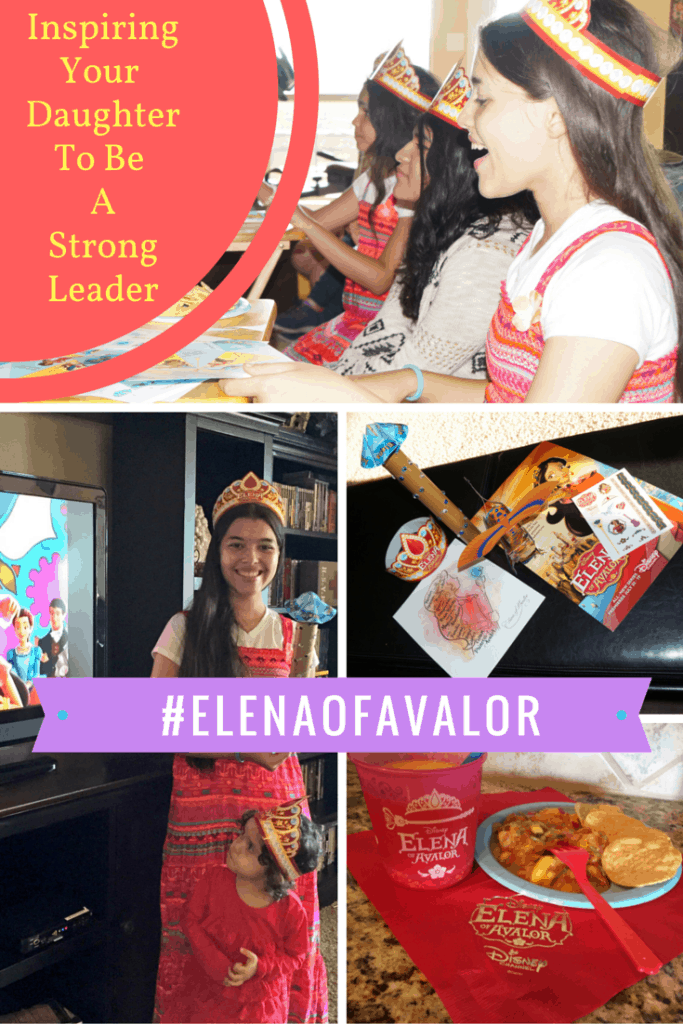 13 Critical Traits For Your Daughter To Become A Strong Leader
Elena feels ready to be the leader she knows she can be, yet her wise grandfather, Francisco, teaches us that "There's more to leadership than it seems." As our daughters are traveling along Elena's journey to become a leader, these are the top thirteen leadership skills my daughters and their friends already learned in the first two installments:
Collaboration. Teamwork and partnership are essential to achieve any goal. Elena learns that involving her trusted advisors can help her make the best choices for herself, her family, and her kingdom. Elena's Grand Council offers diverse strengths and perspectives.
Constant Learning. While Elena doesn't need permission to rule, she understands that being coachable is a sure way to avoid mistakes and reach a desired result. Abuelo Francisco's lyrics teach us: "if you listen up more than you speak, you will gain the wisdom you seek."
Communication. A true leader shares her plans, her vision, and her strategy with those she chooses to be on her team. When Elena is honest, open, and direct about her priorities, she finds out everything becomes simpler and easier to manage.
Creativity. I loved Isabel's curiosity, resourcefulness, and passion for innovation. Problem-solving and intuitive creativity are traits every leader must cultivate and encourage. Elena teaches us that we must test our ideas, and that glitches are opportunities to get them right.
Courage. Even when afraid, a leader follows her corazón to do what is right and rises above the challenges. Elena may make mistakes, but she is willing to learn from them, and say "I'm sorry!" She is brave enough to be herself even when disapproving voices say "that's no way for princesses to behave."
Contribution. A leader serves and gives back to her team and to her kingdom – or community.
Cheerfulness. Abuela Luisa teaches Elena there's always a bright side. She's a positive grandma – and the Crown Princess is learning from her. You know I believe that when you are positive, you can become powerful, because you open your heart to greater possibilities.
Commitment. Elena had saved her kingdom already, but she vowed to consistently and continually protect it. Embracing your duty and taking personal responsibility are essential characteristics of a true leader.
Confidence. Elena is a confident Latina Princess, and she learns that trying to prove yourself is not enough. You must be patient and exhibit humility in order to be an inspiring leader.
Clarity. Becoming self-aware and crystal clear on your vision and mission will allow a leader to focus and succeed. Elena learns that being authentic and saying

YES

to what matters most is necessary to succeed in her endeavors.
Care. Having a genuine concern for others is not only a leadership quality, but a great human value. I am excited to see the Latin passion played out in Elena of Avalor and to know that our children have such a caring animated role model. I actually cried to see the emphasis on sisterly love!

Compassion.

Elena is not only thoughtful, she is also compassionate. A strong leader is also vulnerable and sensitive to the needs of others.

Celebration.

Taking time to celebrate is an underrated leadership practice. Fiesta and siesta are two of the best Hispanic traditions; and necessary to bring fun and balance to life's everyday demands.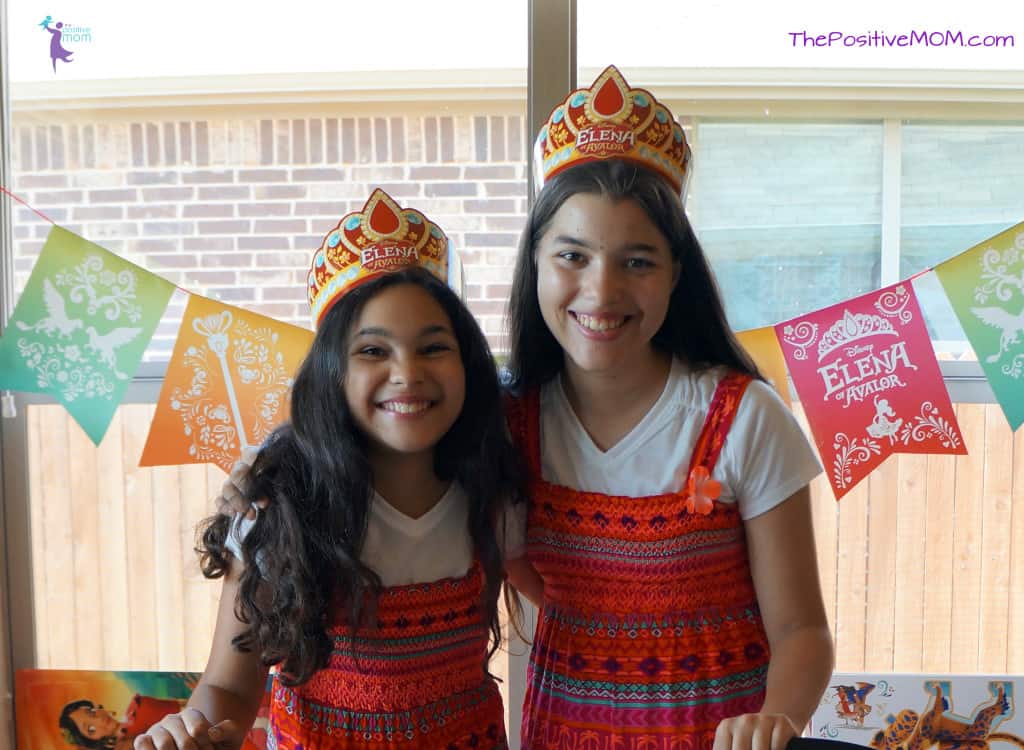 I am so excited for my daughters to continue watching the adventures of teenage princess "Elena of Avalor" and learning leadership principles and life lessons from her, her sister Isabel, her friends, and mystical creatures.
How do you teach your child to be a strong leader? You can start by watching Elena of Avalor, airing every Friday at 7:30 PM / 6:30 PM CT on Disney Channel and Disney Junior. Share your thoughts with us!
[ela]