Oh my goodness! It's been a wonderful week of sharing everything that happened during my secret visit to the set of Lady and the Tramp in Savannah Georgia.
Today, we'll talk about my chance to interview the people who are making the retelling of our favorite Disney classic possible, director Charlie Bean and producer Brigham Taylor.
ForCharlie Bean, the reason he wanted to do Lady and The Tramp goes back to his roots in animation. As he was developing and growing as an animator, he realized how important it was in its design, style, and animation, in its time.
It [Lady and The Tramp] just sits in a really, really special place in my memories, nostalgic memory. It's such a beautiful love story. It's timeless.
He loves how the story is very raw, very real, and how the animals and humans get that chance to coexist and interact. That was one reason why he was so attracted to the idea of remaking Lady and The Tramp.
We're allowed into their world, and we're allowed in viewing how they communicate with each other. You can see how communicative animals are. They talk to each other, and there's so much of that going on. This is a window into their world and how sophisticated their world can be.
Charlie Bean's favorite part was also the most challenging part – the task of taking Lady and The Tramp, and shifting it into live action. It was a huge undertaking.
It's a tough movie – with live animals and real babies and horses. And it's a period piece!

It has all these really difficult moving parts that I had probably naïvely took on. But that's been the most exciting part of it and also the most challenging for sure.
We had already been talking to the leading ladies and the leading men of Lady and The Tramp, and there were nothing but positive words aboutCharlie Bean. They talked about how dedicated and talented he is, and not just that, but how kind and authentic he is. I definitely saw that shine through in his personality.
I love working with the actors. Everyone's been really great. It's been a dream.
Brigham Taylor was very eager to talk about their chance to retell the story. He gave us a bit of an overview before we asked him questions, and he said that Lady and The Tramp was not based on a fairytale, it was an original based on and put together to tell a story about two different characters from the opposite sides of the tracks.
It became a classic at that point in 1955 on. It was a banner year at Disney because it was the same year they opened Disneyland.

The original film was very influenced by Walt's upbringing in Marceline, Missouri, it was set in this sort of beautiful story book. We were really excited to be able to retell this story in a way that we felt like when you tell things in live-action, you get a different layer of emotion and you have a different sort of relationship to that.
He told us that the story was really based on their love for their own pet dogs. Awwww, right?
It's very time-consuming and costly to create photo real digital animals. It's one of the most expensive things you can do in visual effects.

I kept wondering, what would the balance be? And we finally realized the balance would be whenever a dog is doing what a dog can do on camera, especially interacting with a human, we can get it for real. And so, we realized it would be about a 50-50 split.
Brigham Taylor also told us the importance of telling this movie as honestly as possible from two perspectives. The human perspective, where they interact with each other and with the dogs, and they hear the dogs barking, and the dog's perspective, where we hear them communicate to each other.
We had very specific performance needs, emotional needs, specific timing needs. Our goal was to make sure that we can create a digital model that will match perfectly with our photographed dogs. So, that's what we're doing now and hopefully that'll be a seamless magical effect when you see Lady and The Tramp.
All in all, there are 16 dogs in the cast, that are trained dogs, not just background dogs. That's a lot of furry friends! In the pound, there are obviously, many dogs, but in terms of speaking roles, there are 7 dogs with speaking roles.
I think the biggest challenge was finding and casting these dogs, finding ones that we felt like would really be reminiscent of the characters that we knew because they're pretty iconic. Lady is a purebred cocker spaniel and that was about finding one that we felt like was the right version.

Tramp is a mutt, and we knew what he was supposed to look like. He has these perky ears that come up and a scruffy sort of beard and a gray'ish hue. But we also knew that we wanted to rescue these dogs. Once we found Monty, he had this amazing face and he had all those sort of attributes that we wanted.
We've talked several times about how these dogs are rescues, or at least, most of them are. It was very heartwarming to hear Brigham speak about that process, and why they were so passionate about bringing in the dogs.
We knew Tramp had to be a rescue. That's his story. That's his character. We wanted to tell the same story in terms of finding the dog. Both Monty and Billy, his backup, were abandoned, found, rescued on the sides of the road.

Rose was sort of an in between story. She is our Lady, a cocker spaniel. She was with a family but that was looking to sell. She had sort of been trained to hunt, and her coat was shorn down very shortly and we had to look past that to see the opportunity for our character.

Our two bloodhounds that play the character of Trusty, have amazing stories. Our goal was to try to rescue as many dogs as we could for this movie.
Brigham Taylor mentioned that they realized it needed to be told in period times, 1910, for
that classic sort of timeless storybook feel. That is what brought them to Savannah, Georgia, and amazing historic town.
We were able to take advantage of all these locations and this place is just so wonderfully preserved. When you walk around and everywhere you look, it's from 100 years ago.
Since it was evidentBrigham Taylor had history with dogs, we just had to ask him if he had any friends with tails at home, too.
My wife is in love with dogs. I didn't grow up with a dog, but when I got married. I've been married for 28 years almost, we brought dogs into our family and we have two big Bernese Mountain dog that just bring a lot of joy into our family. All my kids are huge dog lovers.
Event though there are many surprises and changes in Lady and The Tramp,Brigham Taylor told us that it's a very faithful retelling, through and through, with just minor adjustments and tweaks.
We've enhanced some certain character stories but all within the framework of the story you're very familiar with. We want to emphasize certain aspects of the story, like Tramp's story. We also wanted to make sure that Lady, is less naïve in this telling because we wanted someone who had a certain level of strength and give us I think more fun romantic tension between the two characters.
Brigham Taylor could've talked to us alllll day. He is incredibly thorough and detailed, and it was really an honor to talk with him about the creative process of Lady and The Tramp.
The reason storybook tales and fairy tales get retold is because there's always a way to adapt it slightly for our time. We're telling a dog story. And, every day you get here and get to interact with these amazing animals and that's its own pleasure.
Disney+'s "Lady and the Tramp," is a timeless re-telling of the 1955 animated classic, combining live action and photorealistic animation.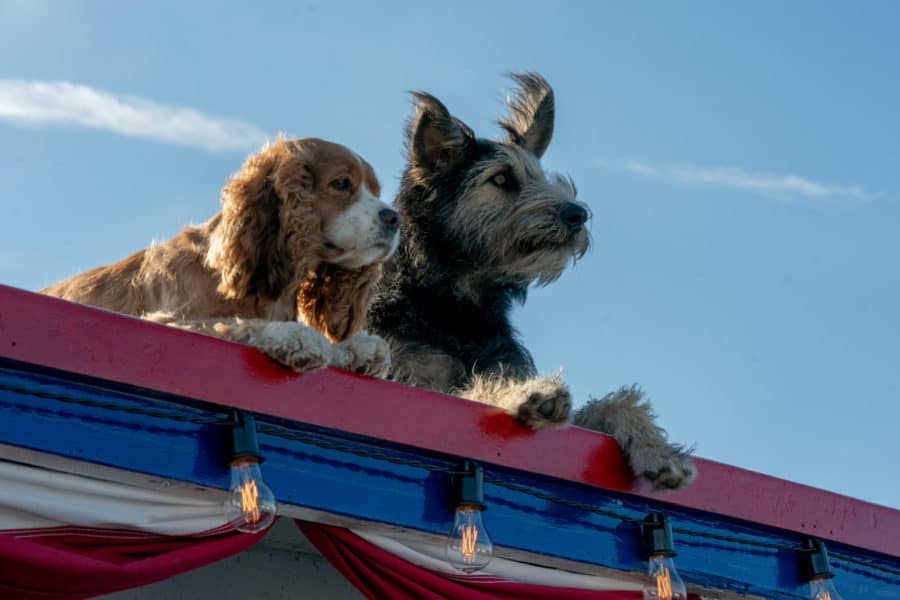 "Lady and the Tramp" features American Cocker Spaniel Lady (Tessa Thompson) whose owners Jim Dear (Thomas Mann) and Darling (Kiersey Clemons) spoil daily and tough but lovable stray, Tramp (Justin Theroux), as they embark on an unexpected adventure and, despite their differences, grow closer and come to understand the value of home.
When a baby enters the picture, Lady is no longer the center of attention, and the arrival of cat loving Aunt Sarah (Yvette Nicole Brown) only complicates matters.
A heartwarming romantic adventure that seamlessly combines live action and photorealistic animation, "Lady and the Tramp" also stars: Janelle Monáe as the voice of Peg and Sam Elliott as the voice of Trusty.
The film is based on a screenplay by Andrew Bujalski and Kari Granlund, with Diane L. Sabatini serving as executive producer.
Remember to follow the "Lady and the Tramp" adventures using #LadyandTheTramp and #DisneyPlus, and like Lady and the Tramp on Facebook, follow Disney+ on Facebook, Instagram, and Twitter!
[ela]