My father would always tell me the story of how he chose my name. He saw a beautiful woman in a movie he loved and he knew when he had a daughter, he would name her Elaine.
I hadn't seen The Graduate until last year, but I knew Dustin Hoffman was in it and Simon & Garfunkel sang the soundtrack. I had been a bit shocked that the movie that inspired my name included the song "The Sound of Silence."
Thankfully, my name has nothing to do with darkness. Elayna, my name, actually means "brilliant" or "bright light" and I love it. But that wasn't always my name – it's not even my first name!
My father named me after him and settled to have "Elayne" be my middle name, after some opinions were given. Most people that met me as a child still think that's my name, but when I turned 15 and graduated from high school, I was shocked to find out that they had misspelled it on my original birth certificate and that's where "Elayna" began.
When I became a Naturalized Citizen after almost 6 years in the USA, I took advantage of the fact that you can call yourself whatever you want in your new blue passport life, and went from my original four names (first name, middle name, and two last names) to just two, becoming simply Elayna Fernández.
Sometimes I am sensitive about my name, because many people in the USA pronounce it wrong and I feel like I've had so many names over the years!
There were three things going for "Elayna" and why I chose it as my forever name, after struggling to embrace it at first: it starts with E, just like my other siblings' names (I'm the oldest of 5), it is closer to the name I saw as my identity growing up, and it is the most meaningful name, with a meaning that I aspire to live up to every day of my life.
Matthew 5:16, my favorite Bible verse reads:
Let your light so shine before men, that they may see your good works, and glorify your Father which is in heaven.
My name inspires me to shine my light bright, to inspire others, to continually seek and spread truth, to bring joy, and to build a legacy.
Besides, having a new name it was like a new beginning. Like somehow, I was shedding the identities that I had growing up. Elayne was "bad," but Elayna could be a new person- a good one, perhaps.
I now think back to it and it's similar to how Saul started using Paul as a new version of his name when he adopted a new identity and began a new journey in his ministry to "the gentiles." (Acts 13:9)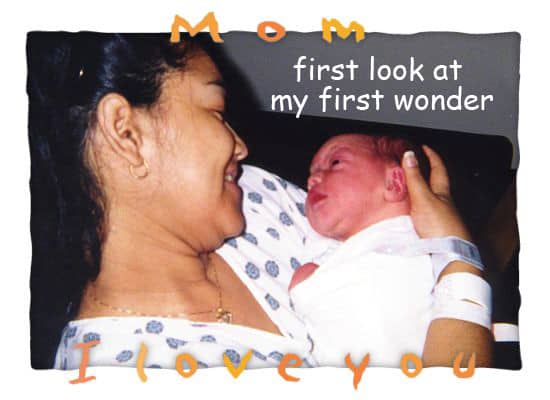 When I found out I was expecting my first baby, who also happened to be the first grand-baby in both families, I knew I would use an "E" name to continue the family tradition my dad had started.
Choosing a baby name is not an easy parenting task, because names are part of your identity. There are so many options and so many preferences, especially when you have a bicultural or multicultural family.
If like me, you're less into trends and more into meaning, it's easy to narrow down the list because some pretty sounding names can actually have undesirable meanings (like hopelessness or misery – yikes).
A meaningful name is one that is chosen carefully, after thought, pondering, meditation, and even prayer.
That's not to say you can't Google baby names and scan baby name lists for inspiration. That's actually part of my process!
I look for baby names that start with E (both boy names and girl names) and write down those I find beautiful on a list.
I find the meaning behind each name on the list to eliminate ones that have no special meaning. When you want a positive meaning, the decision is simplified.
I pray to know which name is more suited for the baby I'm expecting. Also, it must match the last name, be easy to pronounce and spell, and not make the child a target for unpleasant nicknames.
I have always been in an urge to find out what the gender of my baby is – so far all girls – because I wanted to decide what her name would be and write a name acronym and name poem.
One thing I have discovered in the baby naming process is that asking for input on baby names is an invitation to disaster. Everyone will have an opinion and it's hard to not be disappointed when you're met with disapproval. Once they meet the baby, they will get used to the name because they will love its tiny carrier!
Some parents love a name that's really popular, while others don't want one that's too common. The Social Security Administration has lists of the top baby names for any particular year.
Bless Your Baby With A Meaningful Name
I believe the most meaningful name you can select for each of your children is one that speaks life into them.
What are your hopes, dreams, and wishes for your child?
What specific gifts, traits, or values would you like your child to possess?
What feelings does bringing this new baby into the world evoke for you?
You can match those with the baby meaning. If you don't particularly love the name that goes with the meaning, you can change it up a bit or search for a name with a similar root.
You are a MARVEL
Pablo Casals wrote a poem called "You are a MARVEL" that reflects how I feel about my babies and how I want them to feel about themselves:
Each second we live is a new and unique moment of the universe,
A moment that never was before and never will be again.
And what do we teach our children in school?
We teach them that two and two make four
And that Paris is the capital of France.

When will we also teach them what they are?
We should say to each of them:
Do you know what you are?

You are a marvel. You are unique.

In all of the world there is no other child exactly like you.

In the millions of years that have passed, there has never been a child like you.

And look at your body- what a wonder it is!
Your legs, your arms, your cunning fingers, the way you move!

You may become a Shakespeare, a Michelangelo, a Beethoven.
You have the capacity for anything.
Yes, you are a marvel.

And when you grow up, can you then harm another who is, like you, a marvel?
You must cherish one another
We must all work-
To make this world worthy of its children.
My children are a marvel and I marvel at them each day. All children are marvels and a child's world changes when they know just how precious they are and to cherish others for their uniqueness.
When we choose a meaningful name for our baby, we bless that baby to understand their divine, sacred, and beautiful nature as they grow. We are all marvels!
The EF Girls Name Meanings
All my babies' names (just like mine) start with EL and end in A and are exactly 6 letters long. They all have the F initial as their last name, and none of them have a middle name.
Their name meanings each include the word God in them, which gives me even more joy!
ELISHA means "Protected by God"
E excellence
L love
I intelligence
S stunning
H happiness
A amazing
Elisha and Elyssa are 1 year and 7 days apart and now that they are teenagers, it's really surprising that the acronym I wrote while each was in the womb perfectly reflects their personality, their gifts, and their identity.
ELYSSA means "Miracle of God"
E easy going
L lovable
Y young and sweet
S special
S smart
A adoring
After going through ovarian cancer and being single for 8 years, I didn't think I'd ever have another baby, and then Eliana came along. I could have sworn she was my last, too!
ELIANA means "God has answered."
E energetic
L loving
I impeccable
A adorable
N noble healer
A adventurous

When I found out I was having my fourth girl, I decided to follow the E tradition and to honor my grandmother, Lidia Fernández, at the same time.
Linking your baby's name to your heritage, your background, and your family tree is another way to make it meaningful. You can find creative ways to freshen up an ancestor's name – I replaced the i with a y to follow a pattern: Elisha – Elyssa – Eliana – Elydia.
ELYDIA means "Light of God"
E expressive
L light
Y yearns for peace
D determined
I insightful
A active
I pray that my daughters always live up to their name meanings and that they continue the E name tradition. I pray that my posterity will be blessed like I have been by having a meaningful name that inspires me to learn, improve, and grow.
I believe that when you give your baby a meaningful name, you can help shape a child's life. Speaking life into your child, you let that precious being know what a marvelous creation he or she is.
Did you bless your baby with a meaningful name? Share your favorite baby names and what they mean in the comments below!

© Elayna Fernández ~ The Positive MOM
Be sure to Subscribe to blog post updates, so you never miss a thing!