I always call myself a Disney mom, and right now, my Disney mom heart is bursting with joy! I could spontaneously sing right now – oh wait, I just did LOL
A couple years ago I had the honor of going to beautiful Anaheim, California and attending the D23 Expo. I was a little sad I could not make the journey this year, since I am growing a tiny human and all, but thanks to social media, I don't have to miss out on the announcements!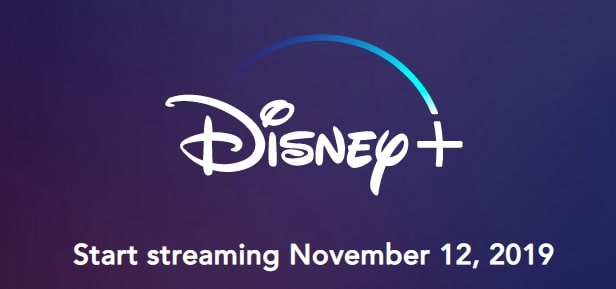 Among all the incredible announcements, we learned more details about Disney+ and I'm excited to share the scoop with you.
What exactly is Disney+?
the new Disney streaming service set to launch in the U.S., Canada, and the Netherlands on November 12, 2019, followed by a launch in Australia and New Zealand on November 19, 2019.
In addition to getting access all the Disney content we all know and love, Disney+ will be producing new original feature films and original television series both scripted and unscripted, and short-form content for the Pixar, Star Wars, and the Marvel Cinematic Universe franchises, that we can all enjoy from the comfort of our casas!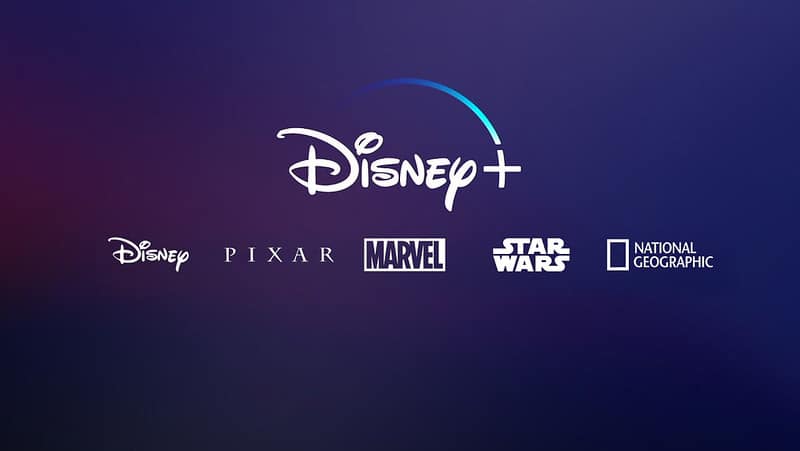 According to D23, by the end of year one, Disney+ will house more than 7,500 episodes of television and 500 movies. It's mind-blowing!
Disney+ will immediately be one of the most affordable streaming services on the market! My daughters and I were really pleasantly surprised at how low-cost it is. Disney+ will be available at the following price points:
U.S.: $6.99 per month or $69.99 per year
Canada: $8.99CAD per month or $89.99 per year
The Netherlands: €6.99 per month or €69.99 per year
Australia: $8.99AUD per month or $89.99 per year
New Zealand: 9.99NZD per month or $99.99 per year
The Disney+ Founders Circle
Many of my friends were in attendance at D23 Expo and were able to sign up to be a Disney+ "Founders Circle," which is a special promotion that gets you $23 off per year when you sign up for a 3-year commitment to Disney+, which will be about 33% off the service annually!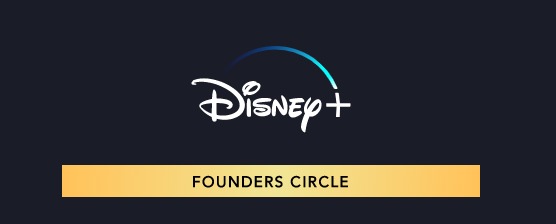 You can join Disney+ is right now and take advantage of an amazing deal – and the best discount you'll ever get, through D23!
I've had a D23 account for a while, but you can open a free account right now and take advantage of the Disney+ deal.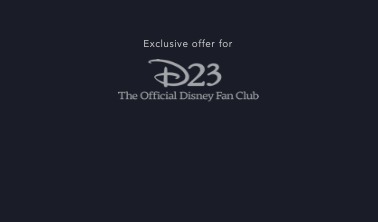 You don't need a Gold Membership (although I recommend you get one anyway), all you need is a D23 general account. The memberships to D23 are $99.99 per year for a single plan, or $129.99 per year for a family membership.
I wasn't seeing the Disney Plus Founders Circle offer on my account, so I contacted a D23 representative and they got it all figured out for me within minutes. So much magic.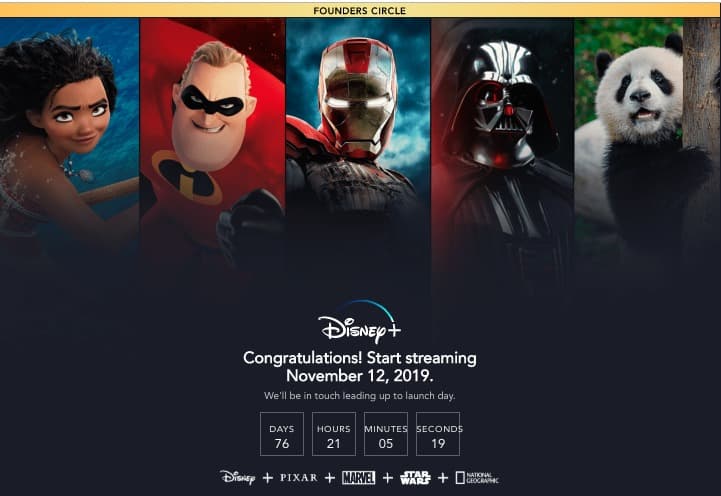 I'm in! I'm excited out of my mind!
How to Join The Disney+ Founders Circle
Login to your D23.com account (or create one!)
Go to your 'My Account' section
You will see the exclusive offer for D23 members with the Disney+ logo
Click Redeem Now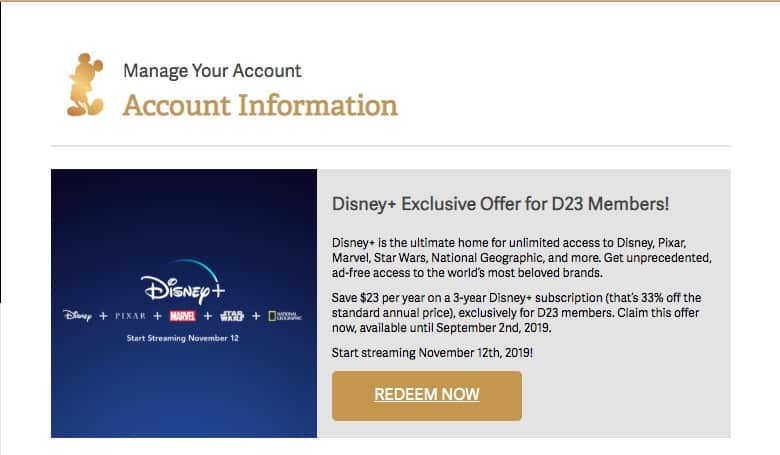 Enter your information
and you are all set!
The Disney+ Founders Circle limited-offer is open through September 2nd and you have the chance to get an exclusive Disney+ Founders Circle pin, while supplies last. I can't wait to get mine and take pictures to show you!
How To Access Disney+
At the U.S. launch on November 12, users will be able to subscribe to Disney+ directly or via in-app purchase. Then, they can stream from a variety of mobile and connected platforms and devices:
Apple (iPhone, iPad, iPod touch, and Apple TV, and fully integrated with the Apple TV app; customers can subscribe to Disney+ via in-app purchase)
Google (Android phones, Android TV devices, Google Chromecast, and Chromecast built-in devices)
Microsoft (Xbox One)
Sony/Sony Interactive Entertainment (all Android-based Sony TVs and PlayStation®4)
Roku (Roku® streaming players and Roku TV™ models)
Many U.S. based consumers are excited about the Disney+, ESPN+, and Hulu bundle, which will only cost $12.99!
Exciting Disney+ Original Programming
The Disney+ Showcase during D23 Expo 2019 at the Anaheim Convention Center was incredible, where fans got exclusive content preview, and we were all back home going crazy with all the amazing announcements.
I had the amazing privilege to interview Ewan McGregor during the premiere of Disney's Christopher Robin, so when I heard he made a surprise appearance at D23 Expo to announce he would return as Obi-Wan Kenobi in a new untitled series from Lucasfilm, I was ecstatic.
And I was fan-girling when I heard that Hillary Duff will play in an all-new Lizzie McGuire series. I confess I didn't just watch it for the kids and I feel this time will be even better! I have so many questions and theories!
And you know I'm a BIG TIME Kermit the Frog and Miss Piggy fan, so I just screamed and jumped when I found out that Disney+ would feature their first-ever unscripted short-form series, Muppets Now.
Kevin Feige had announced WandaVision, Hawkeye, and Loki series, which you know just sealed the deal about Disney+ for me, discount or no discount, because he is my favoritEST.
At D23 Expo, Kevin Feige also announced three new live-action series: Ms. Marvel, Moon Knight, and She-Hulk! WHOA!
Disney+ Original films:
Flora & Ulysses (TBD)
Lady and the Tramp (available at launch)
Noelle (available at launch)
The Phineas and Ferb Movie (working title, year one)
Secret Society of Second Born Royals (year one)
Stargirl (year one)
Timmy Failure (year one);
and Togo (year one)
Disney+ live-action series
Diary of a Female President (year one);
The Falcon and The Winter Soldier (year one);
High School Musical: The Musical: The Series (available at launch);
Love, Simon (TBD);
The Mandalorian (available at launch);
Untitled Cassian Andor Series (year two);
and WandaVision (year two).
Disney+ animated series and shorts
Chip 'n' Dale (year one);
Forky Asks a Question (available at launch);
Lamp Life (year one);
Marvel's What If…? (year one)
Monsters at Work (year one);
Short Circuit (year one);
SparkShorts (available at launch);
and Star Wars: The Clone Wars (year one).
Disney+ documentaries, unscripted series, and live specials
Be Our Chef (year one);
Dolphin Reef (year one); Earthkeepers (working title, year two); Encore! (available at launch);
Ink & Paint (year two);
Into the Unknown: Making Frozen 2 (year one);
Magic of Animal Kingdom (year one);
Marvel's 616 (year one);
Marvel's Hero Project (available at launch);
Prop Culture (year one);
(Re)Connect (year one);
Rogue Trip (year one); Shop Class (working title, year one);
Untitled Walt Disney Imagineering Series (available at launch);
and The World According to Jeff Goldblum (available at launch).
One Day at Disney, a collaboration between Disney+ and Disney Publishing Worldwide showcasing the talents of people all over The Walt Disney Company. Both the book and documentary will arrive on December 3.
Recent Disney Releases on Disney+
Some of the recent Disney releases that will be available on Disney+ include Captain Marvel, Dumbo, Avengers: Endgame, Aladdin, Toy Story 4, and The Lion King, and the upcoming Maleficent: Mistress of Evil, Frozen 2, and Star Wars: The Rise of Skywalker.
This is amazing and I seriously cannot wait!
Are you looking forward to Disney+? Will you be signing up for the Disney+ Founders Circle? Let us know in the comments!
Visit DisneyPlus.com to register your email and stay informed on the latest updates, and follow Disney+ on Facebook, Instagram, and Twitter to get all the best details and join the excitement!
[ela]