I was recently interviewed by Roger Bush on the Entrepreneur By Faith podcast. It was a great experience for me because I deeply believe that FAITH is one of the main ingredients to succeed at anything.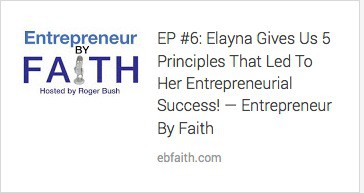 I always call myself an EntrePRAYneur or a MomPRAYneur. My 8 years as a single mom are mostly a blur because I truly got through the hard moments one prayer at a time.
When my ex-husband left us, the last thing on my mind was to start a business. I just wanted to go HOME and I felt so alone and hopeless!
Unable to go back to my homeland without custody of my one and two year old girls, I had to think of Plan B. I walked daily to the library with my double stroller, got the fax numbers to the jobs I felt were fitting, and sent them by e-mail to my sister so she would fax my resume to them from the Dominican Republic!
I soon started working as a receptionist at a law firm, and quickly moved up and more than tripled my salary, so it was steady income that I desperately needed. Working 40+ hours a week and my girls in daycare, I would dream of having my own business…so I could enjoy the freedom and flexibilities of being with my daughters.
Early on, I had discarded the thought of designing websites. I had marketing and coding skills, but not only I did not have any money, or credit background, I had no computer, either. As you can imagine, I also doubted myself, especially never having owned a business in the United States and with everything that it entails.
The SECURITY of where I was and the INSECURITY of where I wanted to go were holding me back.
I didn't have a plan. But God did…
…and a friend needed a website and proposed to buy me a computer in exchange. And that's how I designed my first "paid" website. With a desktop computer on my nightstand; working offline, so I could use the library's Internet connection on Saturdays.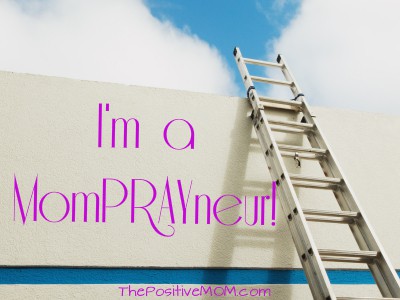 After the project was finished, I had a computer, a sample of my work, and even a testimonial! Everything I was learning at the law firm helped me navigate the legal aspects of starting my business, and little by little, I designed my business logo, website, and business card.
I started to promote my business, and not having a printer didn't stop me from promoting. It turns out my prospects considered my handwritten notes "a memorable touch," and many said "YES" to working with me. It was a miracle unfolding.
When I finally quit my job and started to work at home full time, I worked with clients who were happy to let me bring my kids to our appointments. I also partnered with my children to stay quiet during my telephone conversations (prospecting, free consultations, and coaching calls), and rewarded them with loud silly wiggly time at the nearby park.
How did I do the RIGHT thing at the RIGHT time? During the Entrepreneur By Faith podcast interview, when Roger asked me what my favorite scripture for entrepreneurship was, I had to say James 1:5:
"If any of you lack wisdom, let him ask of God, that giveth to all men liberally, and upbraideth not; and it shall be given him."
That's my not-so-secret secret to success as an entrepreneur: being a good listener to God's wisdom. When we stop, pray, and ponder about each decision, as mundane as it may seem, we will get clarity that will guide us to the next right step to take. He speaks to each one of us directly to guide us and to bless us. We are counseled to not lean in our own understanding because the first step is to recognize that though we do lack wisdom, we have access to it whenever we seek it.
Without a doubt, my faith has been my most valuable asset overcoming doubts, fear, and uncertainty, and my journey has required great faith through every step to move forward. It's such a miracle to look at your life events and see God's plan unfold, recognizing that those moments we then see as tragic are actually a giant piece in the eternal puzzle, extremely necessary in order for the glorious and sacred purpose God has for us to come to pass.
It makes me think about one of my favorite Bible stories, which we were recently studying during our family night. The story of Joseph in the Old Testament.
If Joseph had not endured in time of persecution, slavery, and imprisonment, and gracefully overcome temptation, not only had not he become a ruler in Egypt, but he would not have been able to deliver his family and his country from famine. I could not compare my trials to that of Joseph's but he comes to mind as a great role model of faithfulness through dark moments that seem to not make sense in our lives.
Being a mompreneur MomPRAYneur has brought so much joy in my life and my daughters' lives have been transformed. It has allowed me to give them both presents and presence. I now love to mentor moms to do what I did so you can achieve what I have: Success On YOUR Own Terms!
You can listen to the Entrepreneur By Faith podcast interview.
My mission is to help moms find peace, break cycles, and feel whole so they can be present, peaceful, and positive moms. To receive a gift that can get you started on that journey click HERE.