As caretakers, we have a natural and noble desire to protect our children from painful news and painful experiences, but this is not always healthy. We may not always be able to shield our kids from harm, trauma, and discomfort because they are part of life.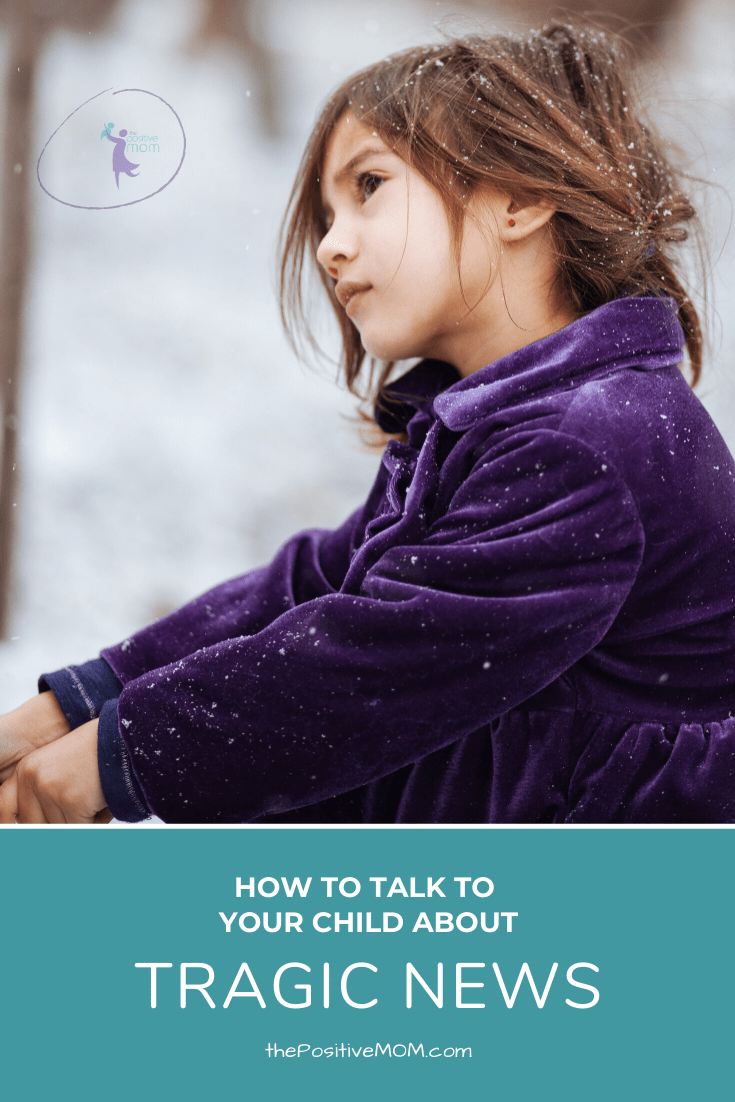 Children are exposed to tragic events frequently, no matter how much we try to shelter them or keep "bad things" away, but how we can buffer the negative impact and influence them positively with our response, so they can successfully bounce back from them.
Do you ever wonder how to talk to children about difficult news in a way that helps them calm their anxiety, panic, and fears?
Many moms struggle with what to say and what not to say, and well, I admit it's scary to talk about difficult topics. It's uncomfortable and not easy by any means, so no judgment here because I've been there.
Being open and available to have the uncomfortable talk when kids come to us with questions, anger, and confusion is actually what they need most from us, whether we have the right words or the exact answers or not. In contrast, a mom's silence (even the most well-intended mom) can be misunderstood and wreck havoc.
7 Rules To Talk To Your Child About Tragic News
This short guide offers insights and suggestions to help you take a proactive approach to minimize the negative thoughts and negative beliefs on their mind, so we can support our child's resilience in times of crisis, tragedies, and traumatic events.

Prepare, Practice, Plan
Take a little time to get as informed as you can before you have the conversation and practice what you are going to say.
I'm serious. I do this all the time.
You know in the movies, when the guy is practicing how he's going to ask the girl out or how he's going to propose marriage? Kinda like that.
Practice doesn't make perfect and doesn't assure that you'll get it right, but it does help ease the nerves and reminds me that I'm a beginner who needs grace.
If you can help it, it also helps to plan your talk for an uninterrupted, quiet time. Don't wait for the best moment or the right moment – because that is a figment of the imagination, but do make sure that your children are the center of attention during the talk.

Ask what they know
Even though you may not have had talked to the kids about what may be going on in the home, the community, or the world, it is likely that they have heard about it in the news, at school, on social media discussions, or from friends or peers.
Find out what they know by asking: "What have you heard about this?"
My daughters are homeschooled and don't have phones, and yet, by the time I summon the courage to bring the news up, they've not only heard about it, but they also have formed an opinion, and taken a stance.
Young children, children with developmental delays, and children on the autism spectrum, also hear about mayor crisis events, and it is harder for them to make sense of tragic events, often thinking what happens around them is their fault or they can fix it. Thinking that "they are better off without this burden" can be potentially dangerous and damaging.

Ask what questions they have
Asking first what the kids want to know, in a straightforward manner, helps you guide the conversation in a more natural, effective, and positive way.
It's best when we actually know our kids' real concerns and don't assume or speculate.
It's natural for kids to ask what caused the tragedy, and they often wonder whether it is their fault or what they could have done to prevent it.
I make it a point to address these questions even when my daughters don't ask them, and to remind them that blaming gives us a false sense of control when uncomfortable feelings arise, but real empowerment starts when we focus on what could we could do now.

Be Present
Letting kids express their feelings without interrupting to "save" them is harder than I ever thought it would be.
Active listening consists of holding space for them to share their fears and worries so they can feel heard, seen, and validated.
We can definitely ask for more information when appropriate, but keeping the invisible tape over our mouth is an essential task of motherhood.

Be Honest
It's tempting to be vague for fear of saying too much, but I've found that the more direct, simple, concrete, and clear the explanation of what happened, the less you actually have to speak about it.
Using age-appropriate language is a must, but you're a pro at this already. You don't have to be nervous about this, because you do it on the daily.
I guess something that can help is to ask yourself whether something is helpful or not. For example, the news coverage during a crisis can easily overwhelm a child. It's good to spare unnecessary exposure to graphic footage containing details, imagery, and sounds that can increase trauma and serve as haunting reminders of danger and hatred.
Something else I've learned over the years is that kids always want to know if their life will change or be impacted and how.
This reaction is not selfish or uncaring. In fact, The National Traumatic Stress Network says we must tell children exactly how the crisis, disaster, or tragedy will affect the family, the community, and the world, even.

Be Calm
You know the old saying: "it's not what you say… it's how you say it," right? Ay, ay, ay!
Your level of stress – and that of any adults around the kids – is going to send signals of how you're really feeling, no matter what you say.
When Elisha and Elyssa were little, I used to try and fake that everything was bliss, joy, and happiness, but tone and body language speak louder than words.
Denial can increase the kids' anxiety and threaten their sense of security even more than what's going on.
Of course, I know it's easier to have a talk when you are not tired, overcome by darkness, or dealing with uncertainty and a lack of control, but it's not impossible to keep calm.
Turning off the news, taking a break, engaging in pleasurable physical activities, doing something that raises your energy, or simply reciting some positive affirmations can help you in keeping a positive attitude and speaking in a more collected manner.

Be Reassuring
Children always need attention and reassurance to feel secure and connected – don't we all? – but this is especially critical during hard times.
Traumatic events can cause children to think the world is a scary, threatening, unsafe place. This can lead to nightmares, headaches, regressive behavior, and other issues.
During our latest hardships, I've had lots of conversations with my daughters to make sure they know we have our God, we have each other, and we have a strong support system, as small as it should seem.
They know that even though I don't have all the power, I will always do anything in my power to keep them safe.
Reassuring is not about infusing false hope and information, but letting the kids know that we are available, supportive, and bothered by the same matters.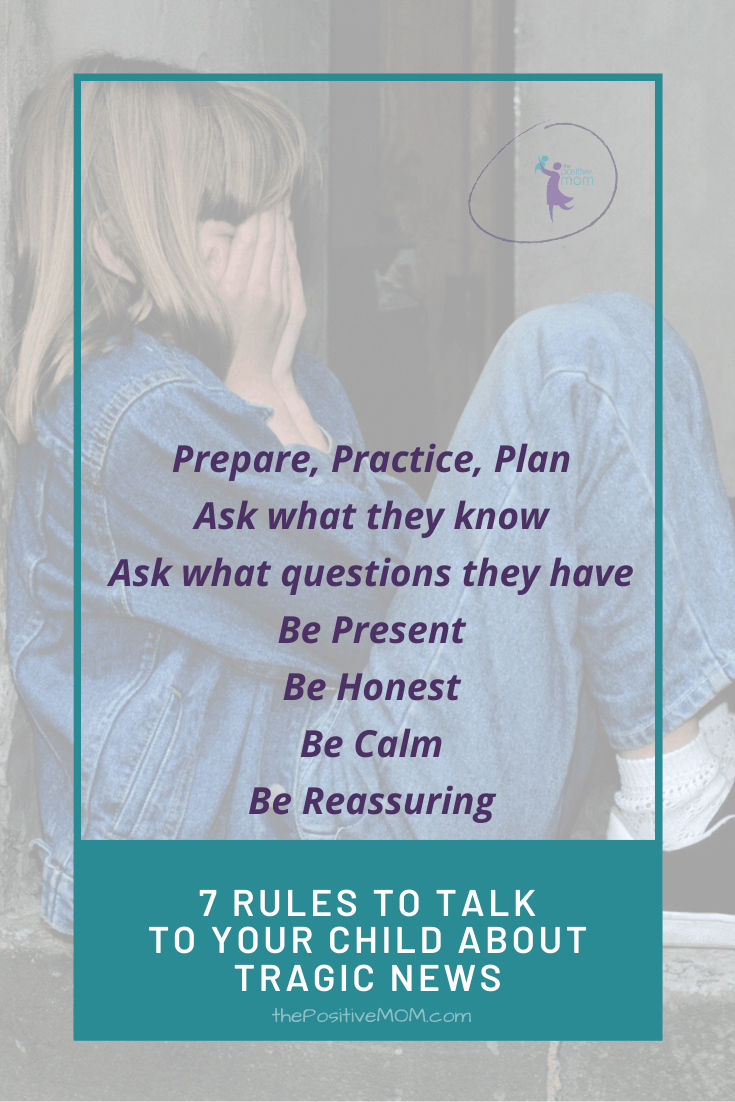 When we, as moms, are brave and answer their questions and address their concerns in a way that eases their fears and that they can understand, they will be better able to cope with any other upsetting news in the future.
How do you talk to your child about tragic news? I'm looking forward to your stories and experiences.

© Elayna Fernández ~ The Positive MOM
Be sure to Subscribe to blog post updates, so you never miss a thing!