I recently participated in a DreamWorks virtual press junket for Madagascar: A Little Wild!
I had the honor of interviewing executive producer Johanna Stein, who is an award-winning writer-producer-director-actor whose work has been seen on Amazon, Netflix, Comedy Central, The Disney Channel, Nickelodeon, PBS, BBC and all over the world.
Though her background is in comedy, Johanna has also written about parenting, with columns like this one in the NY Times.
Johanna's bestselling book, "How Not to Calm a Child on a Plane" – a humor book about being a parent – was optioned by Will Arnett as a television pilot for CBS; and her viral video short, "Momhead" was featured in international media including The Today Show, The Doctors, and CNN, and adapted into "JojoHead" for the CW, the first-ever scripted series featured on Instagram's "Stories".

I also had the privilege to interview Dana Starfield. She got her start as assistant to Working Title co-chairmen Tim Bevan and Eric Fellner.
She attended UCLA's Professional Program in Screenwriting, and shortly thereafter landed her first studio job, writing Disney's Beverly Hills Chihuahua 3.
She then went on to write on several other projects at Disney including an original musical feature called The Three Mariachis, freelancing on Sofia the First for Disney Channel, helping develop Descendants: Wicked World, and writing an original movie set in the world of K-Pop music for Disney Channel Original Movies.
Dana has since written the feature Welcome to Monster High for Mattel, has written for several series, including Hasbro's Hanazuki, HBO Kids' Esme & Roy, and Mattel's Barbie, and is now the co-executive producer of Madagascar: A Little Wild for Dreamworks Animation.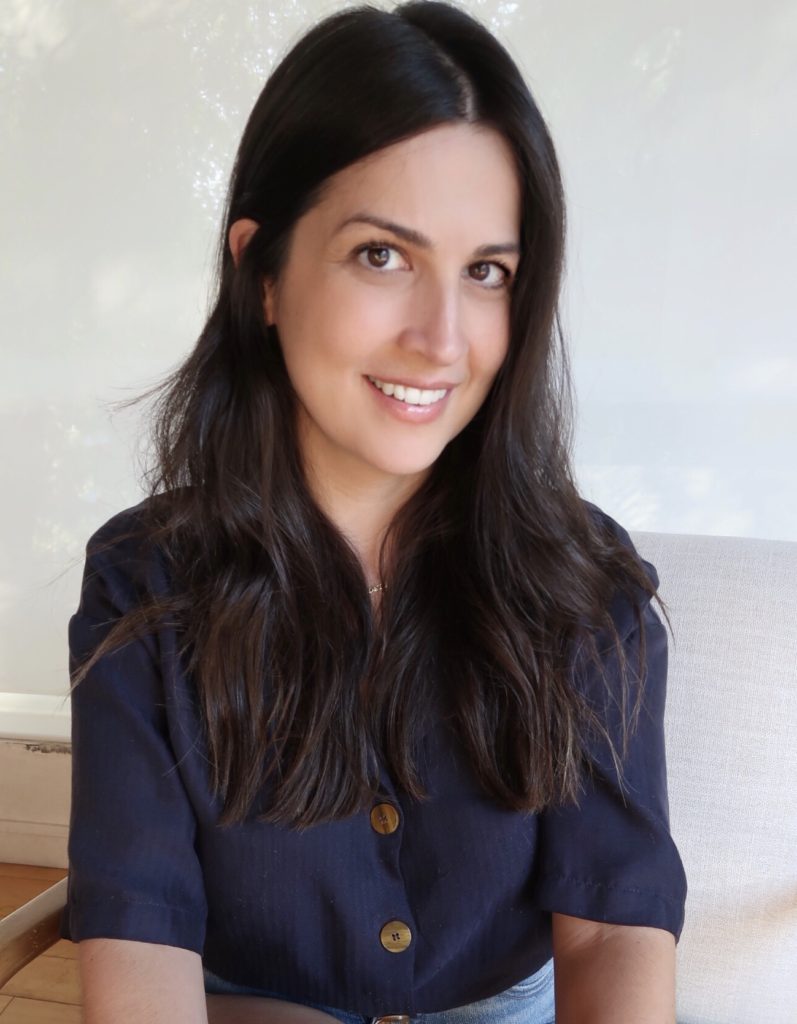 The series is adorable and my 6-year-old daughter (who is now 7) loved the characters and the lessons she learned.
I was an instant fan of the diversity represented in the series, and then I fell in love with the messaging, teaching kids to develop a Growth mindset.
Both are moms, so they drew on their own childhood and what affected them as a kid and reflected on what they want their own kids to know and brought that to the series.
The episodes in Madagascar: A Little Wild have the themes of adopting positive mantras:
'Keep going and going even when nobody's ever done it, when I feel can't do this, and the world is telling me I can't do it. I know in my heart I can do it with persistence and grit."
Be the best you – you don't need to compete.
Besides the amazing messages, it is really wonderful and refreshing to see women producers, moms creating for moms, and employing moms on the show.
We talked about how all the writers in the show are female, when the world of comedy has been male dominated for so long. It's great to see a shift and that's why Johanna and Dana are committed to mentor women.
As moms, they bring a different point of view to the screen. When they became moms, they realized just how hilarious the toughest motherhood moments could be.
"Why isn't anybody talking about these experiences? Their voices are not just welcome, they are necessary."
If you're familiar with the original Madagascar, you may be wondering what is different.
They told us the series is franchise-informed but they created their own version of these characters look like in their world.
"We are grateful for the inspiration," they said.
They loved the movies and thought the animation was brilliant. They mentioned how the movies evolve in style of animation, too!
However, this is a new concept in itself. The music, the setting, the lessons. It's masterful!
"NYC is a character in itself. People from New York are known to go straight for it, be a little reckless, to believe that anything is possible, and the attitude of 'nothing's gonna get in my way!'"
Inspiring a Growth Mindset
Johanna and want to inspire a Growth Mindset with the show.
They both grew up with Mr. Rogers and were inspired by him. They loved that he brought topics to television that weren't even discussed at home.
The episodes in Madagascar: A Little Wild! answer the question:
"What are some of the topics kids need to hear about that will make them say: ' this put words to my feelings'?
I asked them both to share a moment in which they learned one of those lessons they wanted to share in the show:
She was interviewing for a job with executive Vanessa and she didn't get the job.
However, they had a great connection, and that crushing moment led to creating the series!
"Failures are step in your little cobblestone of life — they instruct you," she believes.
For —, she had dedicated a year of her life to write a project, and then she took maternity leave and ended up being replaced!
"Your very first flop was your most raging success," she says.
These amazing women have a Growth Mindset and I am excited to see animated shows that help kids become stronger, more persistent, and more resilient in the face of obstacles and adversity.
What is a growth mindset?
After many years of research, Stanford professor Carol Dweck, PhD, coined the term growth mindset tin her book Mindset: The New Psychology of Success to explain that children who grow up to become successful adults have similar beliefs about their intelligence, their abilities, and their potential.
And as we know, your beliefs can influence your feelings and your feelings can determine the actions you take (or don't take).
A growth mindset is the belief that our intelligence and abilities can continually and consistently grow, improve, and be developed and strengthened through practice, effort, and the use of the right tools and strategies.
How To Spot Someone with a GROWTH MINDSET:
Someone with a Growth Mindset perceives a mistake or a failure as an opportunity to grow and learn.
Someone with a Growth Mindset keeps on going with stronger determination when challenges arise.
Someone with a Growth Mindset is inspired by someone else's success, because it indicates to them that their own desired outcome is achievable.
What is a fixed mindset?
A fixed mindset is the belief that our intelligence and abilities are set, stable, and unchangeable through effort.
How To Spot Someone with a FIXED MINDSET:
Someone with a Fixed Mindset takes a mistake or failure personally, as a personal shortcoming.
Someone with a Fixed Mindset avoids taking risks or facing challenges, or quits easily because they fear showing vulnerability or exposing perceived weaknesses.
Someone with a Fixed Mindset feels jealous, resentful, or insecure when someone else achieves success, because they feel it will never be for them.
Why do kids develop a Fixed Mindset?
Little babies are not hard on themselves, and yet, we can see how, early on they start to judge themselves, to feel frustrated about what they can or cannot do, and to give up on themselves becase they may feel inadequate or unqualified.
Sometimes you gotta wonder where that mean, disempowering, and judgmental inner voice comes from.
If grew up with critical parents who had impossible standards and thought that if they praised you, you'd "stop trying," you'll find truth in the statement that a parent's voice becomes a child's inner voice.
But what about those kids who have affectionate, supportive, and caring parents?
We are all bombarded with messages encouraging comparison, competition, perfection, and objectification.
There are other people who influence our children (like teachers and peers).
How you treat yourself and what you say to yourself speaks louder than how you treat your kids or say to them.
OUCH.
I know.
It hurt for me, too.
Now that I have teens, it's easier for me to see my part in it all. Not from a place of guilt, but from place of "where can I grow to make it better?"
I've seen what I am really teaching them when I've told them: "beauty comes from the inside out" and yet I criticize myself in the mirror.
I've seen the message I'm sending loud and clear when I settle for someone's approval, rather than going for what I really really really want.
I've noticed where I've had to shift the way I praise them, so it can work for them and not against them.
Okay, that's covered below.
5 Ways To Inspire Our Kids To Develop A Growth Mindset
I believe encouraging a Growth Mindset is important because when self-esteem is attached to achievement, kids really take things personally.
This was a failure becomes "I am a failure," and "this was a success" becomes "I am a success."
Both extremes are damaging because both are part of life and should not be attributed to their nature. These limiting beliefs lead to depression, anxiety, and hopelessness.

Teach your child about how the brain works. When kids learn that the brain can grow and develop from consistent effort, and about brain plasticity, they don't get stuck in the Fixed Mindset.
When we understand that our brain forms new neural pathways when we practice something, it encourages us and gives us a hopeful outlook on what we can achieve.
A child that may have thought "I'll never get this. I'm a lost case," could now think "I can rewire my brain and be better with each try!"
That child will understand that "mistakes" and challenges can help their brain become stronger and grow, rather than feel like a failure or beat themselves up.

Teach your child about growth and fixed mindsets, and encourage them to work with you so you can both develop a growth mindset.
I always work with my daughters and become accountable to them so that they can help me grow as much as I help them.
This has worked for me because they see me as someone that is a work in progress, just like them.
I've found it to be healthy for me to show them where I struggle, where I'm hard on myself, and how I course-correct, when necessary.
I like to reframe my mistakes as lessons and opportunities to grow,
I love it when we remind each other that we're working toward speaking and acting from a growth mindset, focusing on our goal, without guilt, shame, or blame.

Something that gets my blood boiling is what I call shameful motivation.
Sure, I get it. We want to encourage our children to challenge their negative inner thoughts – their inner bully.
And yeah, I am one who teaches my own children to use positive mantras and positive affirmations.
But I have made it a point to honor their emotions and let them know they are valid.
You know, that mentality of "no excuses" or "don't quit" or "if you don't like something, change it," can be harmful.
Some obstacles are real and others really do feel real, and telling someone how their issue doesn't exist or isn't valid doesn't help.
When my child is frustrated, it's not helpful to tell her not to be frustrated as if her feelings are a capital sin.
Acknowledging her frustration and holding the space for her to find a way out of it is better than cheering her on with positive quotes, cheers, or affirmations that feel fake.
A growth mindset doesn't mean feeling optimistic, positive, and enthusiastic at all times, but being able to feel all emotions and bounce back relatively quickly when they are not productive any longer.

Demoralizing labels (like "you're dumb") are wrong and we all know that.
But there are labels that are wolves in sheep clothing. I feel about "good girl" and "good boy" by now a– and if you don't read more here.
However, most labels can be damaging because we are dynamic beings with characteristics that have opposing nature.
What I mean is that everything we are can be compared to a knife: it can used for a nurturing activity (like food prep) or a damaging activity (like injuring or murdering!).
Our abilities also can work well in a situation and not so well in another – and they can be true in one way and not true in another.
"You're so smart," is not really a compliment but rather an imposed identity that can create limiting beliefs that will hold a child back and set them up for disappointment (because they can't be smart all the time, with everything, 100% of the time).
What we praise helps determine what kind of mindset our children develop.
Carol Dweck collaborated with researchers from the University of Chicago and found "that process praise predicted the child's success in school and desire for challenge."
Process praise focuses on effort, rather than outcome or ability, or a seemingly permanent or fixed characteristic.
For example, rather than saying "you're so brilliant," we can try saying "you were very disciplined and persistent."
I try to stay away from "you worked so hard" type of compliments, because not all work has to be hard and not all hard work yields results.
And then there is the praise that really gets to me… the "you're so pretty," type of praise that's absolutely objectifying.

Add the magic word. The word "yet," can drastically shift the energy and the meaning of a hopeless fixed mindset phrase into a growth mindset statement.
For example, when your child says "I can't do math," it sounds final and an irreversible fact or truth about the child's ability.
"I can't do math yet," tells us there is hope and with strategies, effort, persistence, support, or a system, it could be done in the future.
Every time I personally add "yet" to what I feel are my limitations, it feels so empowering, and it does for my children, as well.
What do you think of the word "yet"? Do you use it often?
Madagascar: A Little Wild!
Inspired by the blockbuster franchise, Madagascar, reunite with the fun-loving Zoo Crew – Alex, Marty, Melman and Gloria – as they navigate the Central Park Zoo and the big city in the all-new series DreamWorks Madagascar: A Little Wild, debuting on Hulu and Peacock September 7.

Filled with original music and dance worthy songs, the lovable foursome Alex the Lion, Marty the Zebra, Melman the Giraffe and Gloria the Hippo steal the show in Madagascar: A Little Wild. Capturing the iconic personalities of the four dynamos, Madagascar: A Little Wild showcases the team as kids residing in their rescue habitat at the Central Park Zoo. They might be small, but like everybody who lands in New York City, these little guys have big dreams and Madagascar: A Little Wild will follow all of their adventures.

From executive producer Johanna Stein (Kung Fu Panda: The Paws of Destiny) and co-executive producer Dana Starfield (Monster High: Welcome to Monster High), Madagascar: A Little Wild features the voices of Tucker Chandler (I Lost My Body) as "Alex," Amir O'Neil (Mann and Wife) as "Marty," Shaylin Becton (Fast & Furious: Spy Racers) as "Gloria," Luke Lowe (Big City Greens) as "Melman," Jasmine Gatewood (Animal Kingdom) as "Kate" and Eric Petersen (Kirstie) as "Ant'Ney."

From the moment that Alex, Marty, Melman and Gloria set sail from New York City and landed on the infamous island deep in the Indian Ocean, fans have been transfixed by the unlikely friendship and globetrotting adventures of the beloved lion, zebra, giraffe and hippo. Spanning four feature films that have made more than $2.2 billion at the worldwide box-office, cherished shorts, holiday specials and the Emmy Award-winning series All Hail King Julien, the Madagascar franchise has dominated over the past 15 years.
The series release 9/7 on Hulu and Peacock. Will you be watching it? I hope you will, because it helps children truly develop a growth mindset and open up those conversations you want to have with them.
How do you inspire your children to have a growth mindset? Share with me in the comments below.

© Elayna Fernández ~ The Positive MOM
Be sure to Subscribe to blog post updates, so you never miss a thing!