The word adaptability has roots in the Old French adapter (14c.), the Latin adaptare "adjust, fit to," from ad "to" (see ad-) + aptare "to join," from aptus "fitted."
The intransitive of adaptability meaning "to undergo modification so as to fit new circumstances" dates from 1956.
The dictionary defines adaptability as the trait that allows something or someone to change according to need or environment. It also means "the quality of being able to adjust to new conditions."
Some synonyms of adaptability are flexibility, versatility, compliancy, and adjustability.
Antonyms of adaptability include inaptitude, uncreativeness, rigidity, obstinacy, resistance, stiffness, tension, stubbornness, unyieldingness, and inflexibility.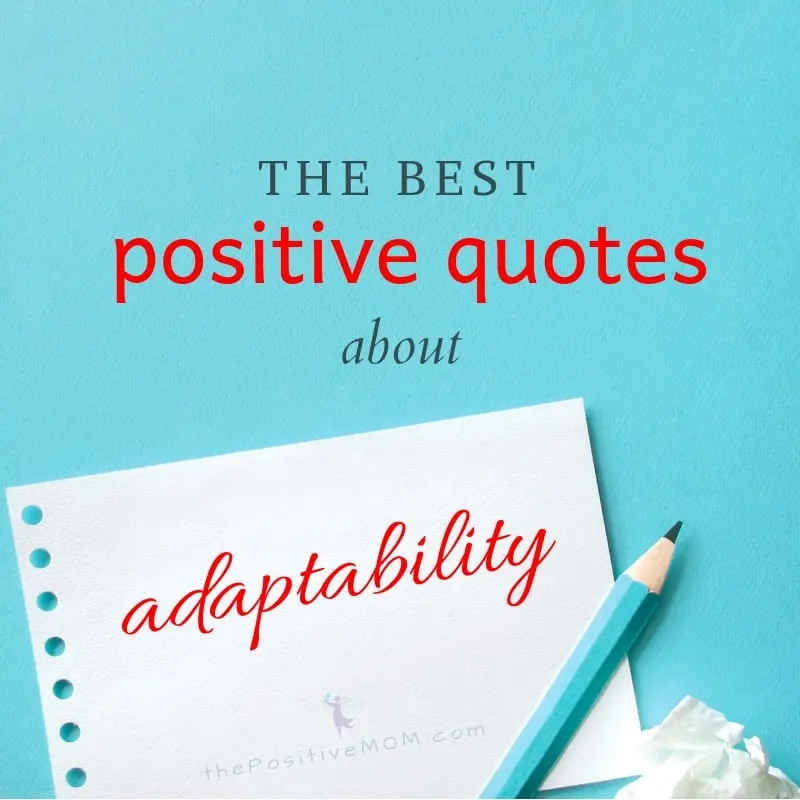 As humans, we are fully and uniquely equipped to adapt to change, and yet, it change is something we often resist and rarely embrace.
Heraclitus, the Greek philosopher, said "The only constant in life is change," and the seasons of nature and the seasons of life prove his wisdom right.
Whether the change is scheduled and expected or sudden and unexpected, it impacts us and our family.
Therefore, adaptability is a great quality to cultivate and model for those we mother and lead.
Positive Quotes About ADAPTABILITY
"It is not the strongest or the most intelligent who will survive but those who can best manage change." ~ Charles Darwin
"The measure of intelligence is the ability to change." ~ Albert Einstein
"There's no such thing as a mistake, really. It's just an opportunity to do something else." ~ Ralph Steadman
"When we can no longer change a situation, we are challenged to change ourselves." ~ Viktor Frankl
"There is no such thing as bad weather, only inappropriate clothing." ~ German Proverb
"Human nature is water, not stone." ~ Marty Rubin
"I accept the things I cannot change, I have courage to change the things I can,
I have wisdom to know the difference." ~ Reinhold Niebuhr, Serenity Prayer
"You can't just keep doing what works one time, everything around you is changing. To succeed, stay out in front of change." ~ Sam Walton
"While you can't always control what happens to you, you can always control how you respond to it" ~ This Too Shall Pass
"We cannot direct the wind, but we can adjust the sails." ~ Dolly Parton
"Learn to adjust yourself to the conditions you have to endure, but make a point of trying to alter or correct conditions so that they are most favorable to you." ~ William Frederick Book
"Change is inevitable, progress is not." ~ Max McKeown
"Be the change you wish to see in the world" ~ Gandhi
"The price of doing the same old thing is far higher than the price of change." ~ Bill Clinton
"If you live in the river you should make friends with the crocodile." ~ Indian Proverb
"I change my thoughts, I change my world." ~ Norman Vincent Peale
"Human beings can get used to virtually anything, given plenty of time and no choice in the matter whatsoever." ~ Tom Holt
"One learns to itch where one can scratch." ~ Ernest Bramah
"Nothing that remains static is truly ever alive. Nature does not abide idleness." ~ Kilroy J. Oldster
"Take the world as it is, not as it ought to be." ~ German Proverb
"What you're supposed to do when you don't like a thing is change it. If you can't change it, change the way you think about it. Don't complain." ~ Maya Angelou
"Set patterns, incapable of adaptability, of pliability, only offer a better cage. Truth is outside of all patterns." ~ Bruce Lee
"All failure is failure to adapt, all success is successful adaptation." ~ Max McKeown
"Each of us has the opportunity to change and grow until our very last breath." ~ M.F. Ryan
"Nobody likes to change. There will always be resistance to change, and there always will be change. And the quicker you get to that, the easier it is. It's not such a difficult thing. If you entrench yourself and go, 'By God, I will not change, I will not have this.' Then, you're a dead man. We're great at adaptability. It's our strongest suit." ~ Nick Nolte
"Every time you are tempted to react in the same old way, ask if you want to be a prisoner of the past or a pioneer of the future." ~ Deepak Chopra
"To find out what one is fitted to do, and to secure an opportunity to do it, is the key to happiness." ~ John Dewey
"Tactics, fitness, stroke ability, adaptability, experience, and sportsmanship are all necessary for winning." ~ Fred Perry
"I don't think of myself as unbreakable. Perhaps I'm just rather flexible and adaptable." ~ Aung San Suu Kyi
"Action and adaptability create opportunity." ~ Garrison Wynn
"Individuals, too, who cultivate a variety of skills seem brighter, more energetic and more adaptable than those who know how to do one thing only." ~ Robert Shea
"The more you adapt, the more interesting you are." ~ Martha Stewart
"Adaptability is about the powerful difference between adapting to cope and adapting to win." ~ Max McKeown
"When something goes wrong in your life, just yell 'Plot Twist' and move on." ~ Anonymous
"When we allow ourselves to adapt to different situations, life is easier." ~ Catherine Pulsifer
"If something is not to your liking, change your liking." ~ Patricia Ryan Madson
"All failure is failure to adapt, all success is successful adaptation." ~ Max McKeown
"Accept the fact that nothing is certain and no law is fixed. The best way to protect yourself is to be as fluid and formless as water; never bet on stability or lasting order. Everything changes." ~ Robert Greene
"Adaptability enforces creativity, and creativity is adaptability." ~ Pearl Zhu
"It is a wise person that adapts themselves to all contingencies; it's the fool who always struggles like a swimmer against the current." ~ Unknown
"You humans have a certain talent for adaptability – at least in the short term." ~ Carl Sagan
"A wise man adapts himself to circumstances as water shapes itself to the vessel that contains it." ~ Anonymous
"Man adapts himself to everything, to the best and the worst." ~ Jose Ortega y Gasset
"And the most successful people are those who accept, and adapt to constant change. This adaptability requires a degree of flexibility and humility most people can't manage." ~ Paul Lutus
"As the world we live in is so unpredictable, the ability to learn and to adapt to change is imperative, alongside creativity, problem-solving, and communication skills." ~ Alain Dehaze
"It is not balance you need but adaptability." ~ Erwin Raphael McManus
"You must always be able to predict what's next and then have the flexibility to evolve." ~ Marc Benioff
"The sword doesn't change. So you have to adapt to the sword. You can't change your surroundings. They can only change once you have changed." ~ Bjorn Aris
"The most amazing thing about little children was their fantastic adaptability." ~ Kristin Hunter
"When you're finished changing, you're finished." ~ Ben Franklin
"Forgive, Adapt and Evolve, because holding on stagnates your opportunity of being better." ~ Sachin Kumar Puli
"The art of life is a constant readjustment to our surroundings." ~ Kakuzo Okakaura
"Adaptability is about the powerful difference between adapting to cope and adapting to win." ~ Max McKeown
"Adaptability is not imitation. It means power of resistance and assimilation." ~ Mahatma Gandhi
"All changes, even the most longed for, have their melancholy; for what we leave behind us is a part of ourselves; we must die to one life before we can enter another." ~
Anatole France
"The key to success is often the ability to adapt." ~ Anthony Brandt
"Intelligence is ongoing, individual adaptability. Adaptations that an intelligent species may make in a single generation, other species make over many generations of selective breeding and selective dying." ~ Octavia E. Butler
"Change is positive, even when it hurts." ~ Elayna Fernandez ~ The Positive MOM
"A wise man adapts himself to circumstances, as water shapes itself to the vessel that contains it." ~ Chinese Proverb
"To exist is to adapt, and if one could not adapt, one died and made room for those who could." ~ Louis L'Amour
"Blessed are the hearts that can bend; they shall never be broken." ~ Albert Camus
"Everything flows, nothing stands still." ~ Heraclitus
"Adaptability is being able to adjust to any situation at any given time." ~ John Wooden
"The strongest will is the will that knows how to bend." ~ Alice Duer Miller
"Adaptability to change is itself a hallmark of successful education." ~ Peter Hilton
"Adaptability is a great asset to have because life is so unpredictable, and things can change overnight for any of us." ~ Chanda Kochhar
"Adaptability is the simple secret of survival." ~ Jessica Hagedorn
"If they lacked flexibility they wouldn't be able to adapt to different situations and come out winning. When you're flexible, you're willing to consider the best approach for each particular situation." ~ Wendy Hearn
"Be flexible and adapt easily to new things." ~ Sunday Adelaja
"Adaptability has been an essential ingredient for surviving and thriving for every species of life, from life's beginning on earth." ~ Ronald Heifetz
"You can always alter and adapt your plan, provided you have one." ~ Manoj Arora
"Adaptability is a most desirable habit or quality for success in life." ~ Sivananda Saraswati
"Fall. Stand. Learn. Adapt." ~ Mike Norton
"All fixed set patterns are incapable of adaptability or pliability. The truth is outside of all fixed patterns." ~ Bruce Lee
"To the man who only has a hammer, everything he encounters begins to look like a nail." ~ Abraham H. Maslow
"Courage means being willing to take responsibility for your life, and knowing that you have the power to change or alter it for the better." ~ Michael Hetherington
"To adapt, is to move ahead." ~ Byron Pulsifer
"Change is inevitable . . . adapting to change is unavoidable, it's how you do it that sets you together or apart." ~ William Ngwako Maphoto
"The reasonable man adapts himself to the world; the unreasonable one persists in trying to adapt the world to himself. Therefore all progress depends on the unreasonable man." ~ George Bernard Shaw
"Adaptation is a profound process. Means you figure out how to thrive in the world." ~ John Laroche
"Intelligence is the ability to adapt to change." ~ Stephen Hawking
"Life is neither static nor unchanging. With no individuality, there can be no change, no adaptation and, in an inherently changing world, any species unable to adapt is also doomed." ~ Jean M. Auel
"Only those who are able to adapt to changing scenarios will continue to survive and prosper. Success is directly proportional to the degree of positive adaptation to change." ~ Vishwas Chavan
"Be willing to change because life will inevitably change you." ~ Elayna Fernandez ~ The Positive MOM
"Change is the only constant in life. One's ability to adapt to those changes will determine your success in life." Benjamin Franklin
"Adaptation is the skill to compromise, the will to change, and the opportunity to evolve." ~ Theordore W. Higgingsworth
"Adaptability cushions the impact of change or disappointment." ~ Marvin J Ashton
"Be flexible like trees; when the wind blows bend, but do not break." ~ Matshona Dhliwayo
"Life isn't about waiting for the storm to pass. It's about learning how to dance in the rain." ~ Vivian Greene
"We are always people that are in the making, constantly adapting to accommodate the roads we walk. As we learn, it changes us." ~ Kat Lahr
"Enjoying success requires the ability to adapt. Only by being open to change will you have a true opportunity to get the most from your talent." ~ Nolan Ryan
"We must cut our coat according to our cloth, and adapt ourselves to changing circumstances." ~ William Ralph Inge
"I found out that if you are going to win games, you had better be ready to adapt." ~ Scotty Bowman
"Change. Adapt. Bend so as not to be broken. Let opportunity guide your actions." ~ Wayne Gerard Trotman
"Your future has no room for your past." ~ Joyce Meyer
"During periods of discontinuous, abrupt change, the essence of adaptation involves a keen sensitivity to what should be abandoned – not what should be changed or introduced. A willingness to depart from the familiar has distinct survival value." ~ Peter F. Drucker
Change is happening around us and within us and it is for our highest good. When we invite change, we invite growth, peace, and joy.
What is your favorite positive quote about adaptability? Tell us which of these adaptability quotes made an impression on you and why!
[ela]