We're all familiar with it, we've all made one, we've all striven to complete it, and we've all failed… miserably.The dreaded to-do list is every mom's worst enemy.
You're probably thinking "I'm a list person… I like to check things off." And I'll give you that. The issue is that we become list slaves, placing our value, our worth, and our sanity into what we did or didn't get DONE during a given day. If that's where you're at, it's time to trash your to do list… today…NOW!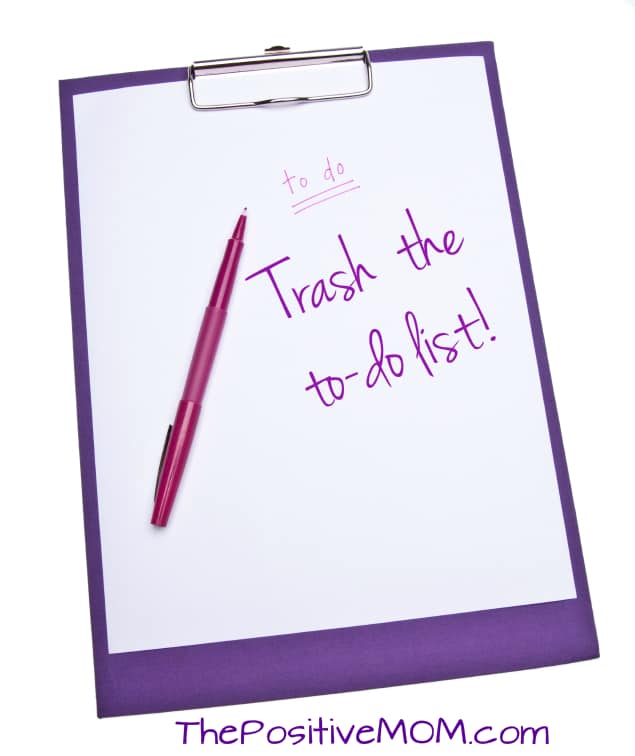 I'm sure I'm not revealing shocking news here: trying to DO everything…for everyone leaves moms frustrated, overwhelmed, and depleted. It produces mommy guilt and letdown because "checking everything off," "pleasing everyone," or "meeting everyone's needs" are all unattainable goals. If someone ever told you they achieved any of these, they lied…blatantly and mercilessly.
Do you want to know the ONE secret to instantly eliminate OVERWHELM, struggle, and burnout?
It's no secret at all, but rather a clarification of a huge misconception. To infuse a little suspense here, I'd like you to ask yourself these 3 questions:


Who do I want to help?
What do I want to help them achieve?
Who do I need to BE in order to do that?
LOVE is about whom you can BE for the people who matter most to you and NOT what you can do "for them." Instead of a to-do list, we must intentionally, consciously, and purposely list whom we want to BE, instead. After all, we are human BEings, not human doings!
I came across this concept during a moment in which I was literally clueless about what I was going to do with my life. I didn't know the next step. I couldn't really come up with an action plan. Writing a to do list didn't even cross my mind. Almost out of survival, I decided what I could BE… and I wrote a TO BE LIST for myself, instead. It completely transformed my life experience.
Life is not something you DO or get DONE. Life is a journey, an experience. If you are tired of struggling with the juggling, living on autopilot, and always in catch up mode, then it is time to stop doing and start BEing!
To write your TO BE LIST, you must identify the qualities, virtues, and characteristics you most want to embody.
Are YOU… joyful, balanced, engaged, responsive, nurturing?
Do you wish to be empowered, serene, and loving?
Do you crave feeling passionate, adventurous, and playful?
Your TO BE LIST will be filled with words of YOUR CHOICE that will empower you to be mindful of your choices, and careful about the activities and events you will choose to participate in, the people you will choose to be around, the places you will choose to go to, the conversations you will engage in… everything you will choose to say YES to and NO to throughout your day.
Even though our beautiful tender nurturing nature is a blessing, it could often turn against us, leaving us depleted, depressed, and defeated. We must shift our mindset! The people who truly love you hate to see you like that… especially when it's "for them." They CRAVE to see you happy, excited, anxiously engaged in a good cause!
Remember what I always say: The Best Gift You Can Give The People In Your Life Is A Happier YOU!

Children often do not even acknowledge all you do, do, do — or forget it much too soon. They love for you to be fully present, in deep engagement, and sharing authentic joy.
I challenge you to trash your to do list and create a TO BE list that is in alignment with your passions, core principles and values. It makes for a very first step on your journey to JOY, BALANCE, and SUCCESS on YOUR own terms.
Have the courage to be the best version of YOU you could possibly be, while remembering that PERFECT is not allowed on your To-BE list and that it is NOT a "Supposed To BE" list either!
BEing the Best You you can be is the first step to BEing the best anything you want to be: mom, wife, colleague, friend, leader, blogger, woman… human BEing. It will expand, enlarge, and magnify your life experience… and you will inspire others (including your kids) to do the same!
[ela]