Childhood is supposed to be a magical time and the new Disney Junior original series is perfect for our preschoolers and the whole family!
"Mickey Mouse Funhouse" premieres FRIDAY, AUG. 20, with a simulcast on Disney Channel and Disney Junior (8:00 a.m. EDT/PDT), highlighting Disney's #1 star, Mickey Mouse, and his pals for the preschool audience.
Funny the Playhouse
"Mickey Mouse Funhouse" introduces a new character, Funny, an enchanted talking playhouse who takes them on adventures to unique lands that inspire the imagination, introducing a whole new generation to the captivating world of these beloved characters.
Funny is voiced by Harvey Guillén ("What We Do in the Shadows"), and other stars in the series guest cast includes Jenifer Lewis (ABC's "black-ish") and GRAMMY® Award nominee Mickey Guyton.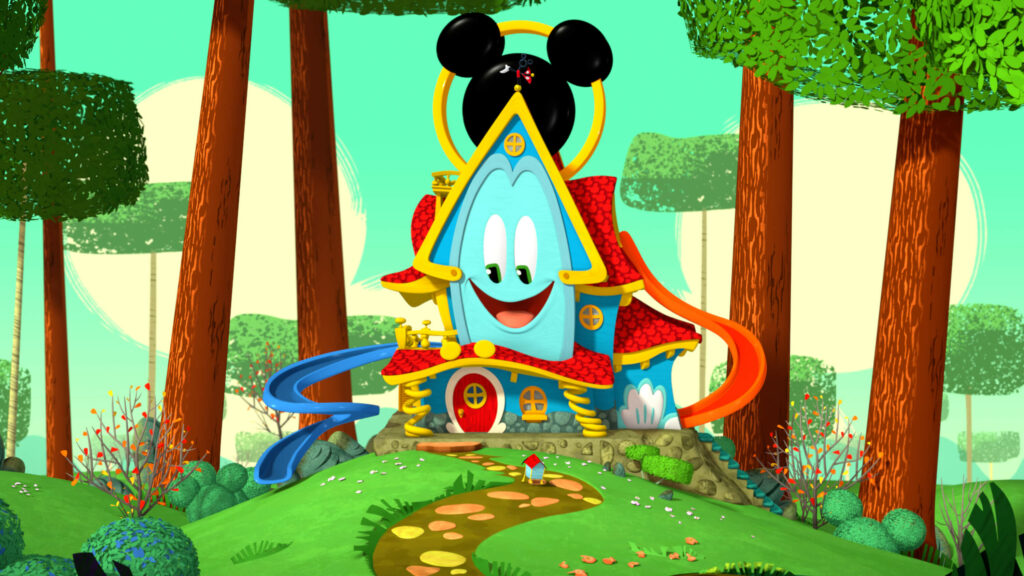 Eliana had a lot of fun decorating a Gingerbread House version of Funny ALL ON HER OWN as you can see on her YouTube channel @elianasplanet!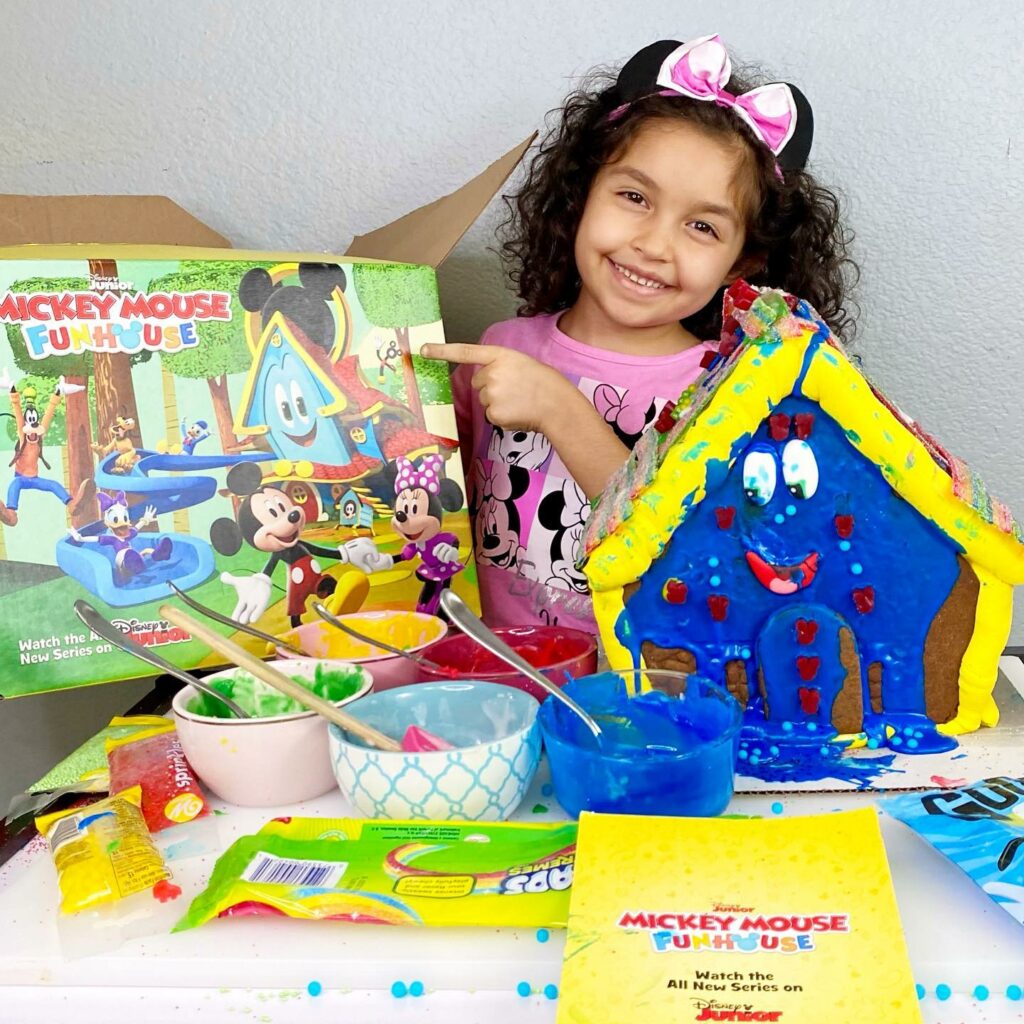 And we also had the opportunity to be part of an Private Advance Screening Event, which included a "Stretch Break" Dance Party!
"Mickey Mouse Funhouse" Series
In this whimsical animated series, Funny transports Mickey and the rest of the Sensational Six (Minnie, Goofy, Donald, Daisy and Pluto) to magical lands where they embark on these new adventures together in unique worlds that inspire the imagination.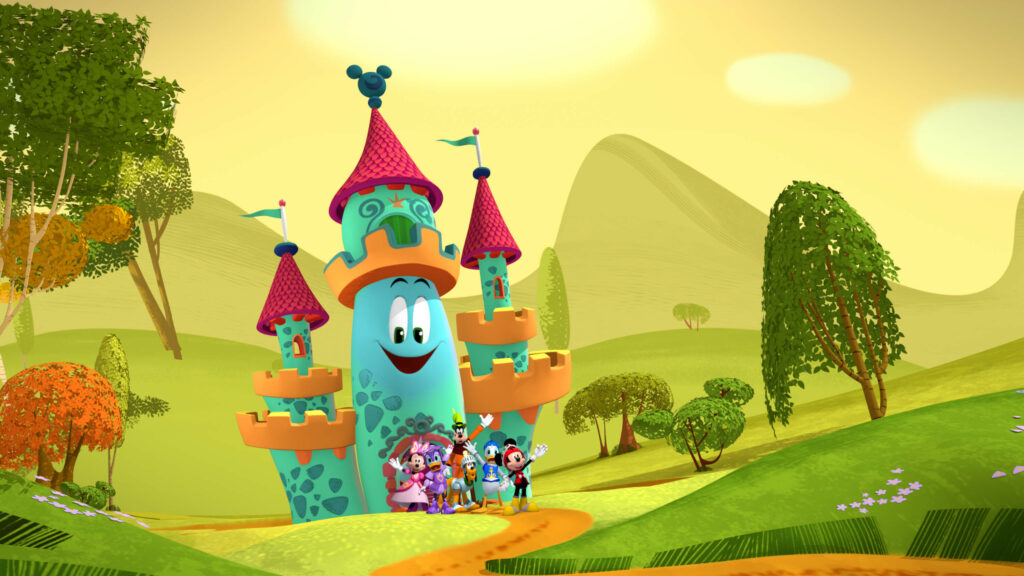 It's perfect for preschoolers, with two 11-minute stories with a midway dance break in the middle! That's our jam!
"Mickey Mouse Funhouse" features stories which demonstrate creative play, encourage wish fulfillment and impart social and emotional lessons about friendship, creativity and ingenuity.

Geared to kids ages 2-5 and their families, each episode features two 11-minute stories with a midway dance break separating the two.
Phil Weinstein is executive producer and supervising director, Thomas Hart is co-executive producer and supervising story editor, and Mark Drop is story editor—all from the Emmy®-nominated "Mickey and the Roadster Racers."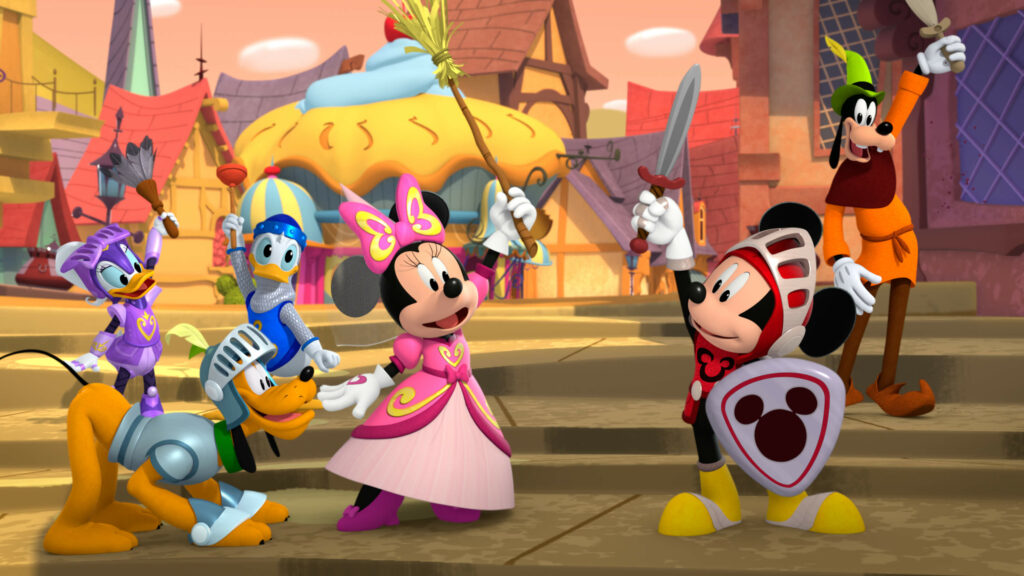 Emmy Award winner Alan Bodner ("Rapunzel's Tangled Adventure") serves as art director, and Steve Walby ("Mickey Mouse Mixed-Up Adventures") is producer.
Beau Black ("The Lion Guard") is the series composer and co-writes the original songs with Loren Hoskins ("Jake and the Never Land Pirates"). The series is a production of Disney Television Animation.

Mickey the Brave!"
"Mickey Mouse Funhouse" debuts with a primetime special "Mickey the Brave!" (7:30 p.m. EDT/PDT).
If you've got littles (or are a grown Mickey fan!) then you've gotta tune-in!And mark the date for Friday, August 20, when the series officially premieres on both Disney Channel and Disney Junior (8:00 a.m. EDT/PDT).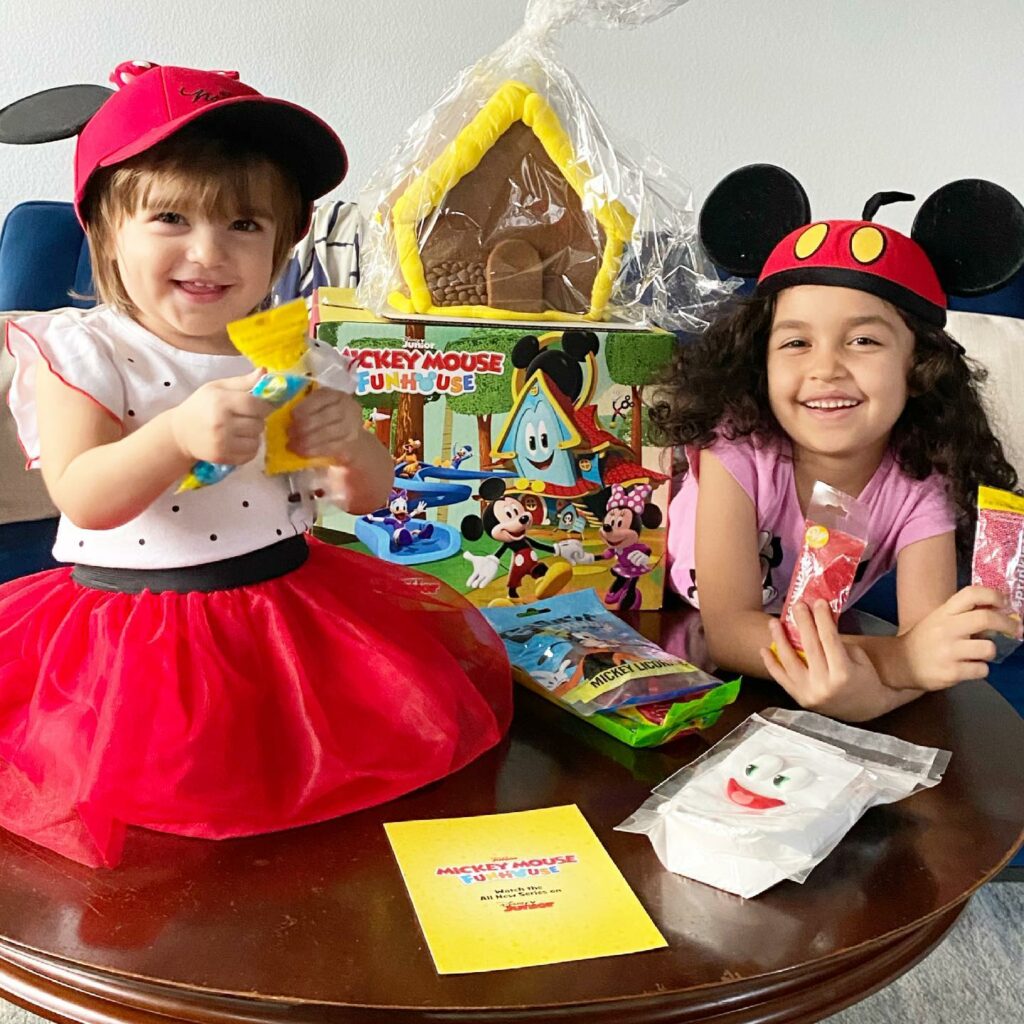 The series will be available in DisneyNOW and will begin streaming on Disney+ shortly thereafter.
In the special, Mickey Mouse and his pals meet new friend Funny, an enchanted talking playhouse, who transports the gang to the Kingdom of Majestica, where they encounter Farfus, a dragon who's been causing trouble in a village. *Harvey Guillén ("What We Do in the Shadows") voices Funny the Funhouse.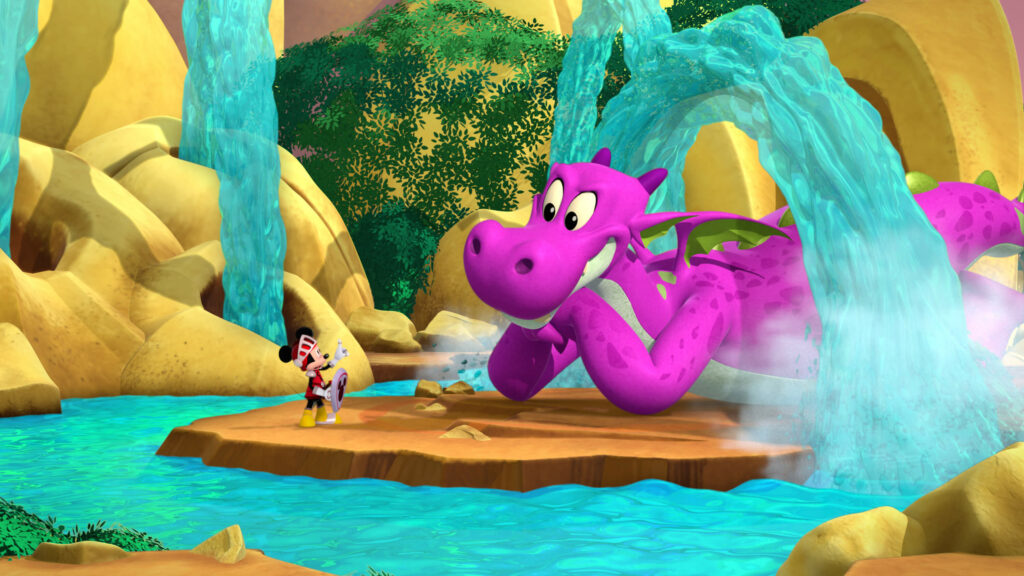 We loved watching this episode – it is fun, sweet, and teaches the little ones very heartwarming positive lesson
Mickey Mouse Funhouse Toys and Fun
The new Mickey Mouse Funhouse series will have robust off-air offerings to enhance the experience for the preschool audience.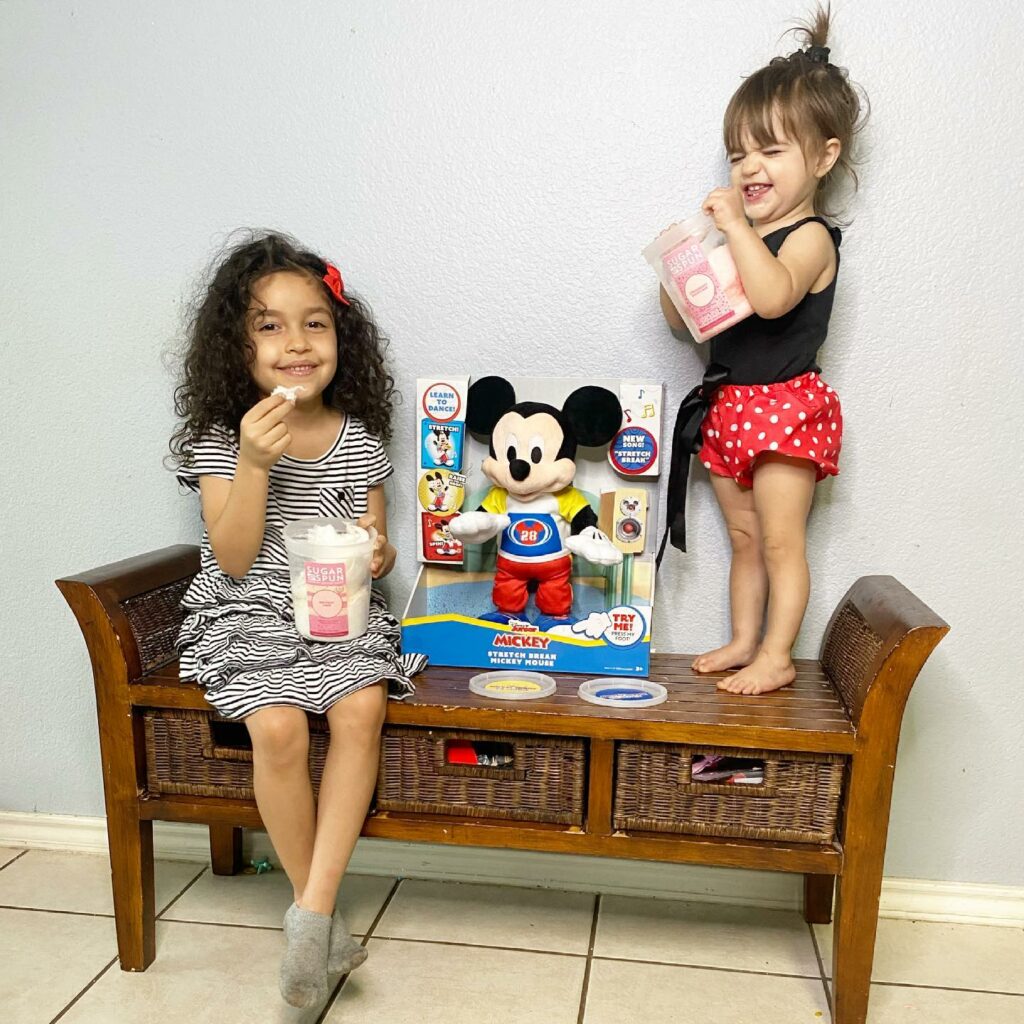 An assortment of children's books from Disney Publishing Worldwide will be available nationwide later this summer; playsets, figures, apparel, plush, home décor and more will be available at shopDisney.com, Disney store and retailers nationwide, with a global rollout planned "Mickey Mouse Funhouse."
Elydia has not stopped playing with her new Stretch Break Mickey Mouse toy!
We are so thrilled to get the Walt Disney Records release of the digital soundtracks "Disney Junior Music: Mickey Mouse Funhouse Vol. 1" on July 16, too!
The Four Pillars Of A Preschooler's Life
You know the old saying: to a child, LOVE spells T-I-M-E? It's so true, isn't it?
But it's quality time!
My little ones feel most loved when we are having wiggle time, learning time, giggle time, and fun time of some sort.
Wiggle time: dance, jump, stomp, or have a calming stretch break.
Giggle time: watch a silly show, sing a silly song, and just be silly together.
Learning time: read together, watch educational shows together, and discuss the life lessons learned.
Fun time: schedule time for fun, whether it's playing with toys or using your imagination, take a break from it all to just enjoy each other.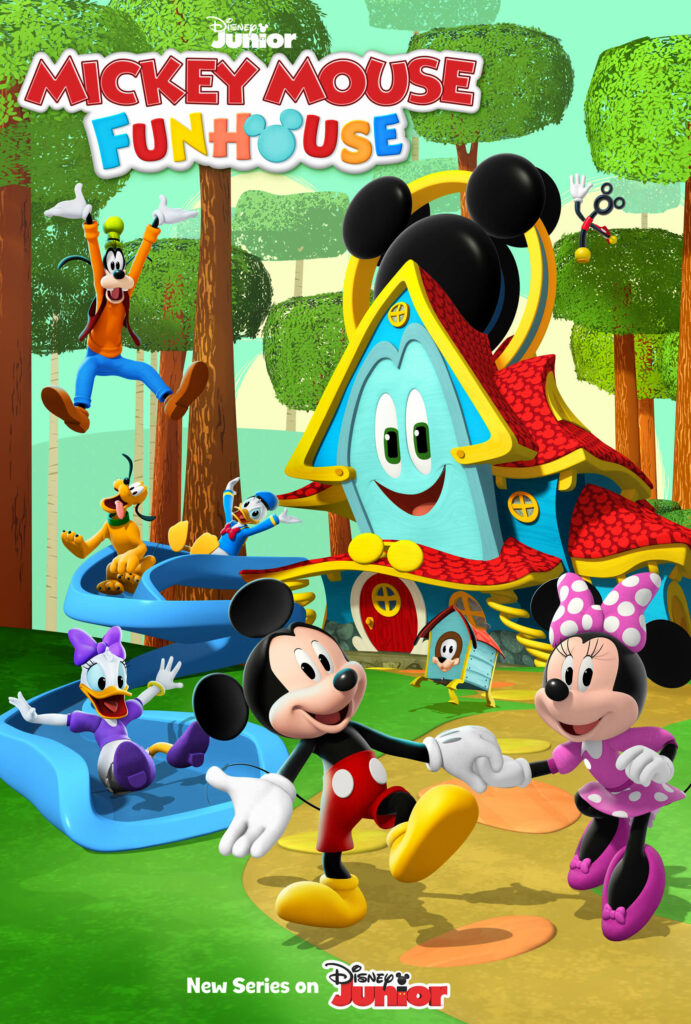 We are so grateful to Disney Junior for these magical experiences and we invite you to join in the fun with your little ones.
You can also follow the conversation on your favorite social platform with #MickeyMouseFunhouse #DisneyJunior!

© Elayna Fernández ~ The Positive MOM
Be sure to Subscribe to blog post updates, so you never miss a thing!