Publishing is one of the modules I teach moms through my G.P.S. program because it is a fantastic way to monetize your passions – plus it is rewarding, fulfilling, and a contribution to others! One of my favorite pieces in the publishing process is writing non-fiction book back cover copy; and that's where we are at right now for my own daughters' book, I Love ME! Self-Esteem in Seven Easy Steps.
Most authors actually dread writing their back cover copy – also known as blurb – because, well, it is a lot of pressure… and a big deal: your book back cover copy is the welcome mat on your book's front door.
Is the Book Back Cover Copy really THAT important?
When was the last time you bought a physical book at the book store? We all go through the same motions:
We look at the spine – if the title and subtitle intrigues us, we pull the book off the shelf.
We judge the book by the

cover

. Your front cover artwork and design draw target readers in.
We inevitably turn to the

back cover

before we make a purchasing decision. If the book back cover copy certifies that the content resonates with us, addressing the problem we want solved or the goal we long for, the back cover copy closes the sale!
And, if you think about it, due to Amazon's "Look Inside!" feature, your odds increase online, too!
Since the book back cover copy is one of the first interactions with your book that a potential reader will experience, you want to be very strategic so that it can capture their attention and interest. In summary, powerfully written book back cover copy turns a book browser into a book buyer!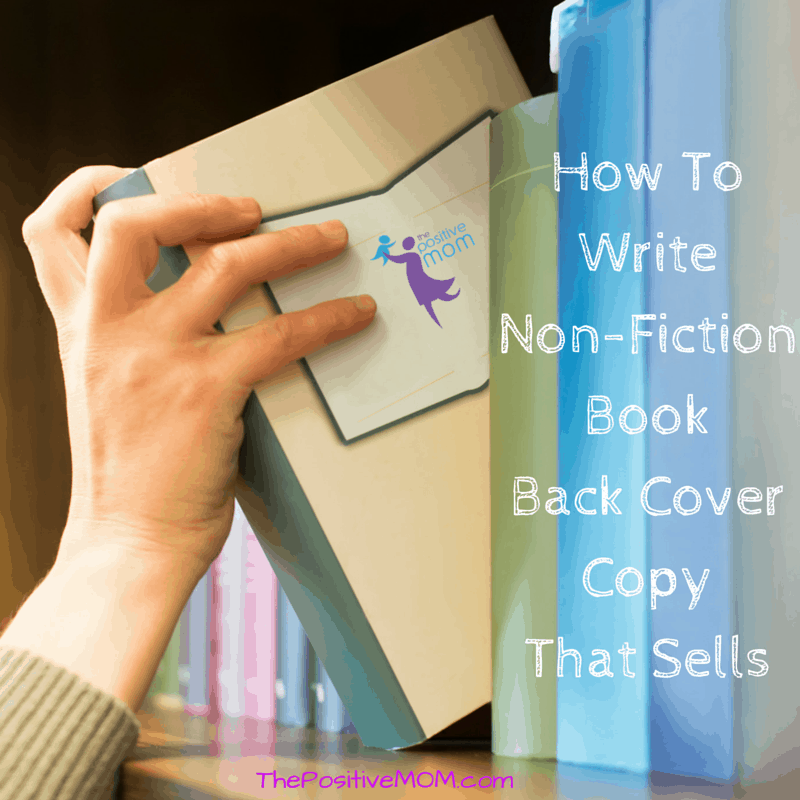 What Goes On The Back Cover?
Your book back cover copy must be 300 words or less. It is a very concise collection of what is important essential to say about your book and that will hook the reader in. Your book back cover copy's mission is to entice readers to buy the book, similar to what a movie trailer achieves for box office sales.
A powerful statement that describes the book ~ Also called a "sales handle," which is like a tag line or short elevator pitch for your book (5-7 words) summarizing what the book will help the reader achieve, and why it's unique and engaging.

A list of the main takeaways ~

Highlight what the reader can expect to learn from your book content. You want a no-fluff list of 5-7 bullet points with all the benefits, answers, solutions, and results your book delivers. It's also highly beneficial to spotlight the charts, checklists, graphs, tables, illustrations, tools, and resources the book contains.
A 25 or 50 word author bio ~ Your background and credentials are important, but please don't type up your resume! Share specifically why you are qualified to write your book – THIS book – in terms of your passion, experience, and work around the topic.
A shocking statement, question, or statistic ~ Shocking facts and stats make for great attention grabbers, and make your reader think – and therefore, hold on to the book a bit longer.

A few endorsements from notable experts ~

Endorsements, testimonials, and reviews provide added credibility to your book. We received testimonials from Jack Canfield, Brian Tracy, T Harv Ecker, and other world-class experts for my daughters' book, but if this is out of realm right now, you can even insert clips and snippets from any praise your receive from a reader, fan/follower's post, a peer, or colleague.
A professional head shot ~ If your photo encourages the reader to make a purchase or your face is not on the cover, then consider using it. I personally think it's great to put a face to a name and find ways to strengthen your personal brand.
A bar code and ISBN number ~ You will need a bar code and pricing, and the ISBN is crucial (even if you are self-publishing).
 7 Tips To Write Compelling Book Back Cover Copy That Sells

Communicate the mood, voice, and tone of the book
Establish the right expectations
Use words you would want to hear as a reader, not as a writer – you must appeal to the reader!
Get unbiased objective feedback from your target audience and trusted experts
Carefully study back covers of bestsellers in your genre
Avoid cliches or jargon or being too vague for the lay reader
Read back covers of the books in your shelves and ponder on what persuaded you to buy those books when you did.
Now that you are clear on how book back cover copy works, you won't struggle with it that much. Just remember you are crafting a provocative selling tool that will tease your book content as an open invitation to the reader that makes difference between sealing the deal or sitting on the shelf.
If your attempt is not quite successful, do not be discouraged. There are nerdy people like me in the world who love that stuff and would love to take it off your hands hehe… 🙂 or leave a comment below if you have any questions. I'd love to offer some answers!

© Elayna Fernández ~ The Positive MOM