Have you ever been bit by the Mommy Guilt bug? Of course you have! We've all tried to be the perfect mother only to fail miserably at it. We tend to think that everyone else has it together and we are alone in our mess. So NOT so.
I have a theory that if you sometimes feel like a horrible mother, it is a sign that you are not.
I'll explain that. Mommy guilt is a sign that you care. Mommy guilt means that you want to do your best and — since there is no manual — you second guess yourself. Mommy guilt means that you love your children and you want to do such an amazing job at raising them that you fall into the trap of obsessing into being the perfect parent.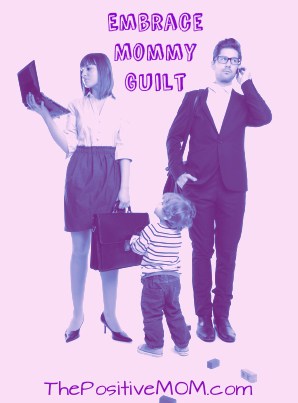 Guilt is an emotional experience that makes us feel wrong. It happens when we believe that we have violated a moral standard, which produces regret or remorse. I feel this literal definition is not accurate when it comes to motherhood. Mommy Guilt usually comes from our desire to become a better mom. With that being said, if you are and I believe you are a good mom, getting rid of mommy guilt is right there with being a perfect mother: completely impossible.
Yes, there are ways to feel LESS guilty and free yourself up from negative emotions, but when you acknowledge that mommy guilt is going to be an inevitable constant companion, I believe embracing it and becoming friends with it is a more productive practice: it require less effort and pays off better returns.
"Stop feeling so guilty — you're doing your best!" sounds like wise advice, yet I would encourage you to "embrace your mommy guilt," instead:
Remind yourself WHY you are feeling mommy guilt: you want to become a better mom and do what is best for your kids.

Forget the supposed to's and the

should

s and feel proud of yourself for being a mom who cares.

Acknowledge that as you let go of perfection, you're teaching your kids to do the same.
Society has set the bar ridiculously high on parenting, and today's pressures and expectations of motherhood are unachievable, at best. If your children feel loved and lovable, then what you are doing is enough, what you're giving is enough, who you are is enough.
Adopt this mantra:
"All you can do is all you can do. And all you can do is enough. But you better make sure you do all you can do." A.L. Williams
What loving mom do you know that is not wrestling with constant guilt?
What loving mom do you know that doesn't feel like they always come up short or never measure up?
What loving mom do you know that doesn't feel doubt, anxiety, and stress about "doing it right"?
The truth is no one I know or know of claims to have the perfect formula for parenting or motherhood. There is no proven right way.
I believe in my heart every mom is doing the best job they can given the information, resources, and experience they have and they are worthy of encouragement, not judgmental remarks and snide eyebrow raises.
That includes YOU…and yours truly. It's time to stop beating yourself up over beating yourself up. Embrace Mommy Guilt and make it your friend. Don't let this bug bite and drain the joy out of motherhood, use it as a tool to remind you that just what a caring mom you are and how much you love your kids!
[ela]