Surviving a road trip with small kids can be challenging, stressful, and messy. There was a time when I was terrified when driving and the added chaos was overwhelming – I dreaded  and avoided car rides as much as I could. What are the essential survival strategies to keep your sanity when traveling with kids?
Every kid is different, but these five strategies can help you establish a good foundation to make your road rip more enjoyable and mess free:
Plan Ahead. It takes courage to be spontaneous, and though it is definitely something I have embraced, I definitely think some planning has to be done so you can set yourself up for success. It starts by making sure your car is road trip-ready, you pack everything you need, your trunk is organized, and you have your accommodations and itinerary set up.
Bring a first aid kit – you never know when an injury is waiting to happen.
Let your kids make noise and play right before you get in the car so they will be a bit worn out and quieter for the trip. 
Bring paper towels, a plastic bag, baby wipes, hand sanitizer, etc., especially if you believe your child may get sick. Bring a nursery potty, if you feel someone will need it. 🙂
Nighty-night! Even though driving at night was not any less scary for me, when I realized how easy it was for kids to fall asleep in the car and how quiet and peaceful it was! I decided to start my road trips at night, especially during the hot summertime. They usually wear their comfy pjs and I bring their pillows and blankets for their comfort. They snooze and I am more able to focus on the road and to feel less anxiety. There is usually less traffic at night, as well. The trick lies in making sure they wake up on their own. 
"Despacito." Most people that sing and hum that song don't know what it means and if you are one of them, don't Google the lyrics – trust me on that one! My tip is that you must allow yourself to make frequent stops and travel at a slower pace, leaving room for rest stops for bathroom and stretching breaks. 
You may also plan to stop at playgrounds at a school or park on the way to your destination or at a restaurant that has a playrooms for the kids to burn off some of their energy.  
Something we always do is go to the grocery store and buy ingredients to eat picnic style. It's money savvy and also a great way to let kids run around in the grass and breathe the fresh air.
Healthy Snacks. Snacks are always a great idea to keep the little ones nourished, but if those snacks are packed with sugar, it is the recipe for a chaotic car ride! Tree Top Apple Sauce Pouches are the perfect snack option for families on the go this summer – they are on anywhere, anytime, no mess snack made with pure fruit, no high fructose corn syrup, BPA free packaging, and nothing artificial.
Parents can feel good about feeding Tree Top products to their families because they are made from simple, wholesome ingredients, and 100% USA from local growers. They are available in a variety of great tasting fruit flavors and come in 4-count or 12-count cartons of 3.2 oz. individual pouches.  We love convenient, packable snacks that are healthy and refreshing.
Since 1960, Tree Top has been making products and ingredients that reflect the company's passion, attention to quality and craftsmanship. Located in the heart of Washington's apple country, Tree Top is a global business firmly rooted in the co-op's small town heritage and rural values. With more than 1,000 growers, Tree Top products wholesome products including top-quality juices, sauces and premium ingredients.
Entertainment. Your child has a short attention span, so it is imperative to know how you will entertain him/her while driving. A few books and toys may do the trick, but also be creative in getting the child to look out the window and learn from her surroundings. It's okay to play a movie or songs here and there, but that shouldn't make up the entire trip!
Packing a special backpack for each child with activity sets, crayons, coloring books, and games can keep your kids out of boredom. I received a custom curated-box filled with essentials for a fun car ride with my children, courtesy of Tree Top, and I really loved them. We drove to Houston for Hispanicize Texas and Eliana was both nourished and entertained with Tree Top Apple Sauce Pouches during our family excursion.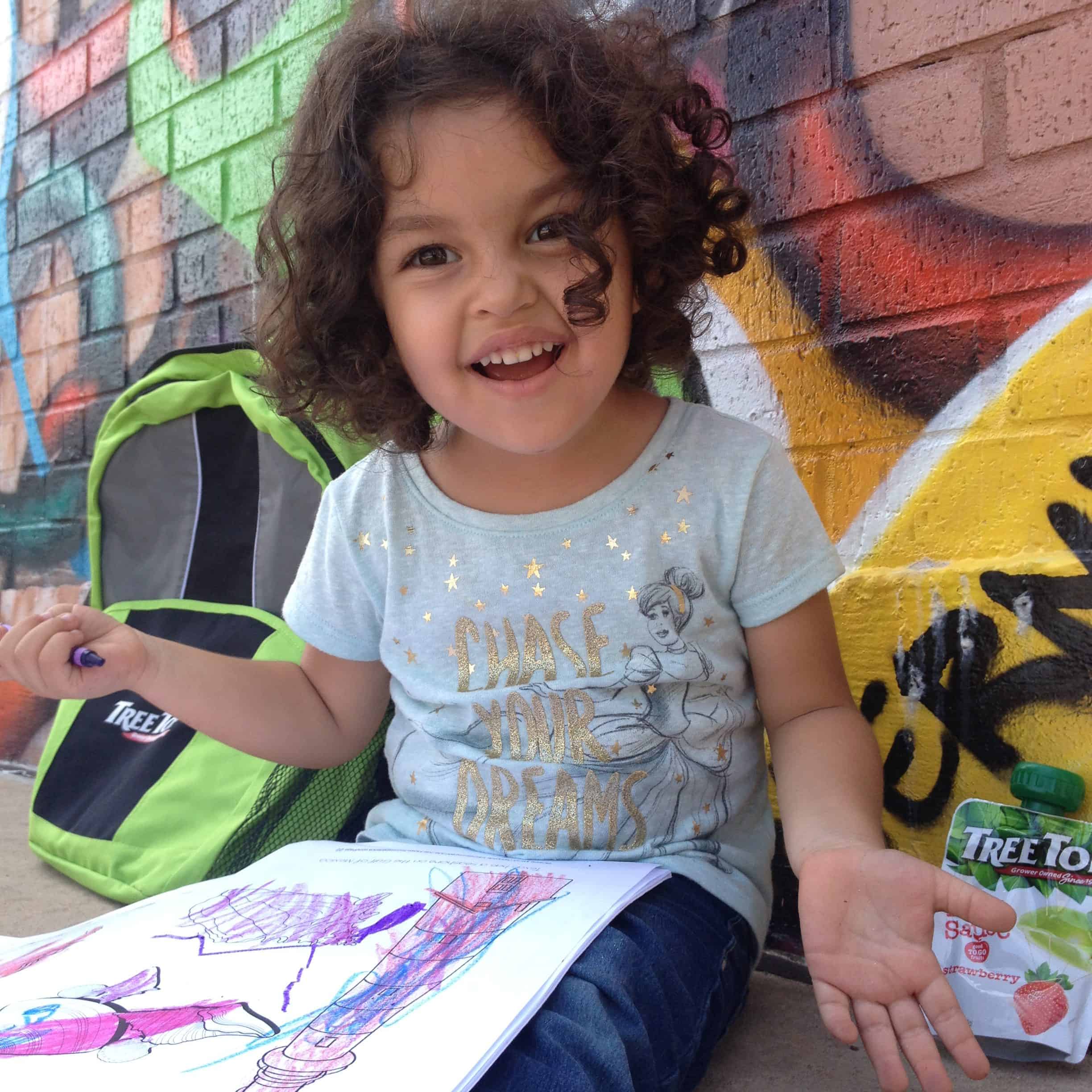 When you do stop for a break, it would be wonderful to get in the backseat with them and play with your children, color with them, or read out of their favorite book. Those ten minutes of connection could save you lots of stress and save your child a lot of heartache.
Car travel with kids seems daunting, but it is something you can master, even with young kids. Make sure your plans don't own you and you are able to keep positive and deserving. There's no perfection in road trip – or in motherhood – so it's all about keeping an open mind and a sense of humor.
What are your top tips to make road trips more enjoyable and stress free for yourself and your kids? Share with us in the comment area below!
For more info, follow Tree Top on Facebook, Twitter, and Pinterest and be sure to use the #NoMessInTexas hashtag.

© Elayna Fernández ~ The Positive MOM