In January of 2009, I was in Las Vegas for a business convention where I met Scott Bedbury and heard him talk about his vision in creating the Starbucks brand:  
"We are not in the coffee business serving people; we're in the people business serving coffee".
I believe that, because even though I don't drink coffee —or caffeine!— I am a Starbucks regular!
As a success guide, I help moms develop a visible, credible, and profitable personal brand, and I am a firm believer that if you create an experience around your charisma, unique personality, capabilities, gifts, and talents, and your experiences and stories, then you will be successful in any business, any market, and any economy, especially when you're passionate about what you do!
Because we all evolve, I always encourage my clients to brand themselves in a way that no matter what they decide to do, or the direction they decide to go, their customers will follow.  It's called being in the people business!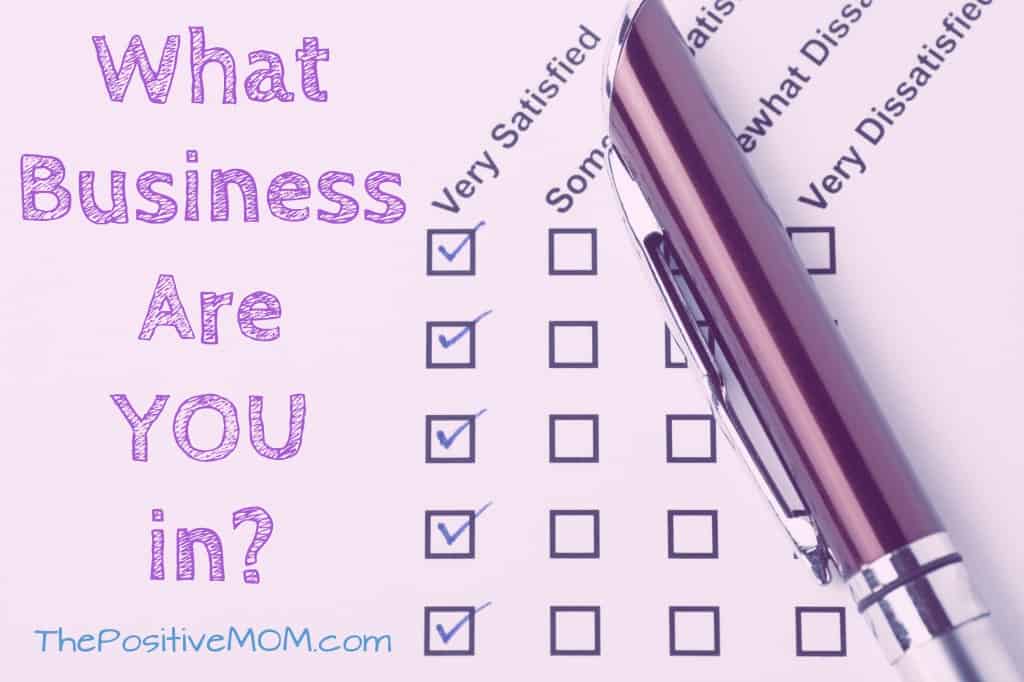 What business are you in?
Are you in the business of a pleasant sensory experience? If your office looks messy, your car smells 'weird', the restaurant you take them to lunch serves horrible food, or you say something they judge inappropriate, the experience you provide could be at stake. If your business is online, is your web presence sending the right message?
Are you in the business of delivering excellence? If you promise quality, you simply must deliver quality. When a customer knows, likes, and trusts you the degree of doing business with you, you know your branding is working for you and you connected with them.  Yes, YOU, it all comes down to you!
Are you in the business of improving yourself?  Denial is a capital branding sin.  No brand is perfect!  However, those who are successful know to capitalize on their strengths and find the opportunity on their weaknesses. My advice is: reinvent yourself constantly, learn, improve your strategy, and be consistent in what you're doing well!
Are you in the business of providing benefits?  Let's say you're a mommy blogger… What are the benefits you provide?  What are the results you promise? What's in it for your readers, visitors, and subscribers? Could they be laughter, learning, motivation?  Could it be that you're saving them money through your unique ability to spot deals? Or most importantly, would this mean that their lives will be easier, safer, more comfortable…happy? If you are a coach, what is the transformation you offer?
Acknowledging the real benefits will show you listen and you care! It's the old "I don't care how much you know until I know how much you care!" attitude that is true for most humans. 🙂
What unique experience comes naturally with your product, service, or information?  I can't wait to find out!

© Elayna Fernández ~ The Positive MOM