If you have a little one, you'll be excited about this amazing giveaway! Tiny Wonders recently sent me the Baby Stroller Light Weight Portable for little Eliana and she's loving it!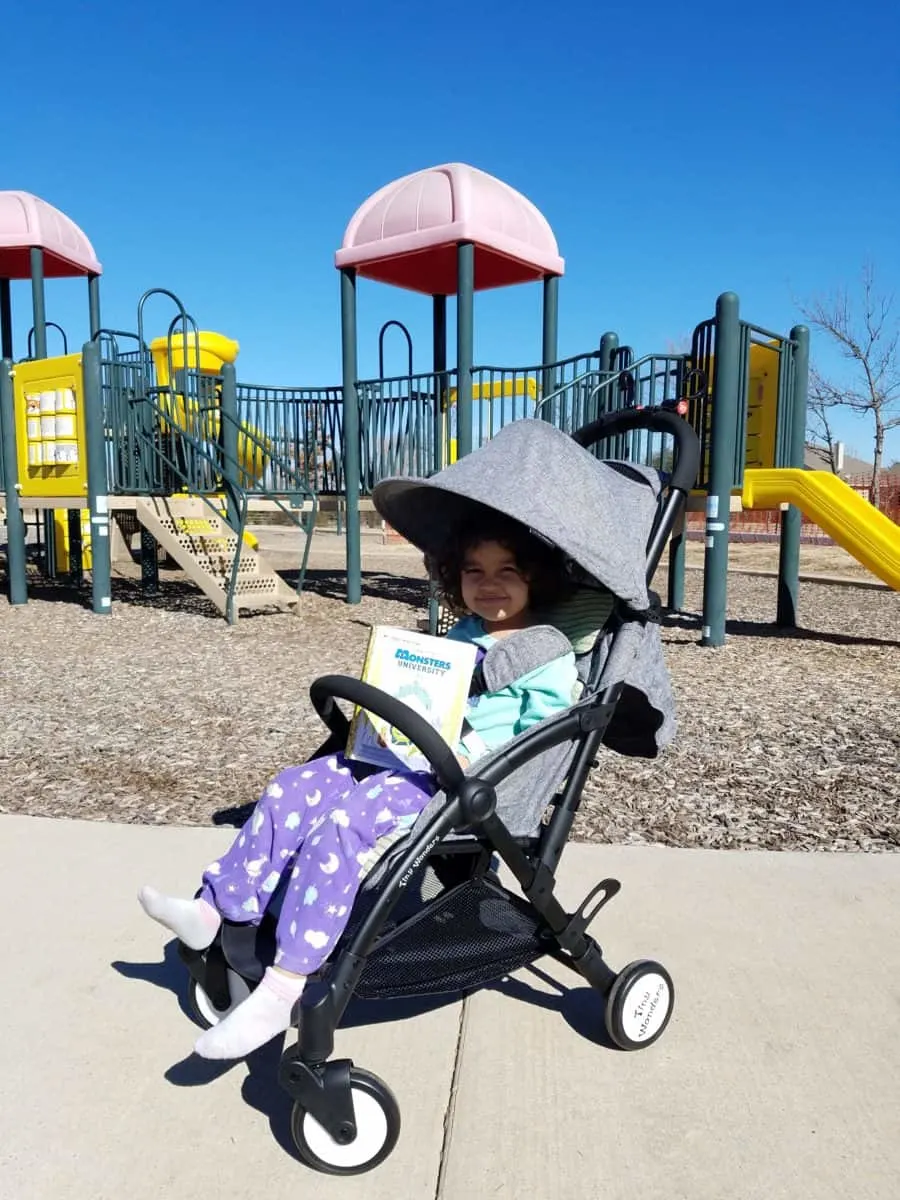 What I love most about the Tiny Wonders single baby stroller is that it has a mosquito net and a safety bar! It is so fun to go outside with my girls, but Eliana usually gets bitten by mosquitoes, so now she will be protected and we can still enjoy the beautiful Texas weather.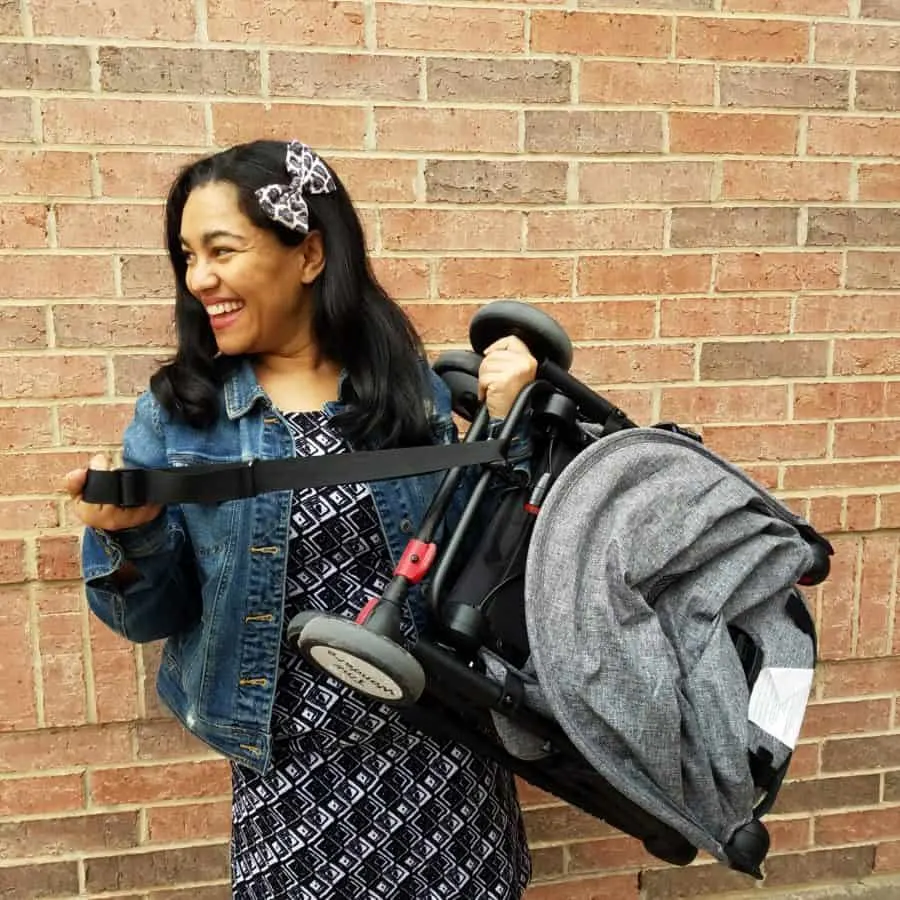 The safety bar is wonderful because most lightweight strollers don't have one and my little one is really active – and not so little anymore.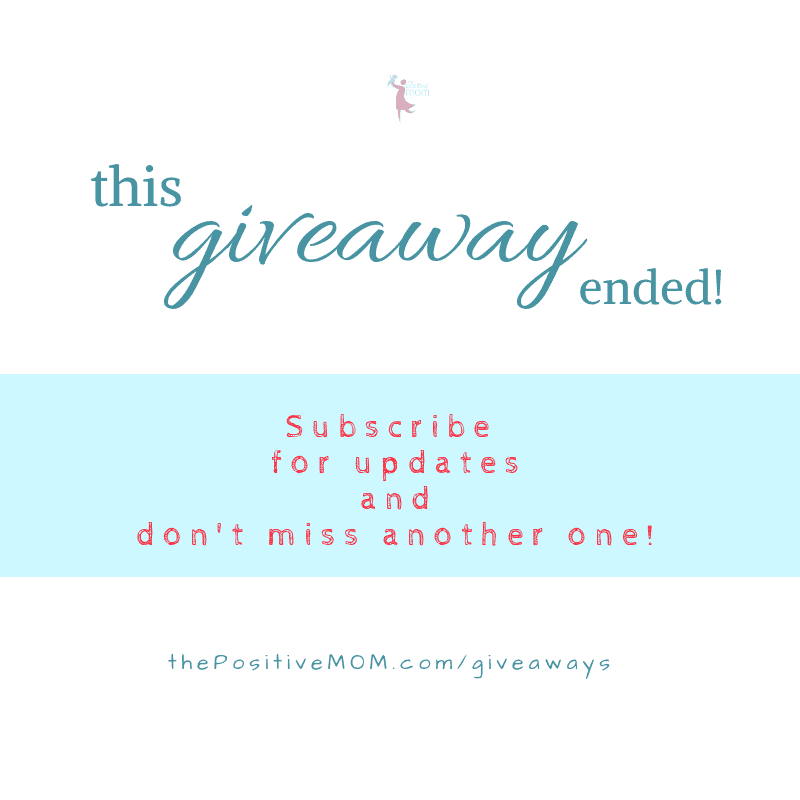 The Tiny Wonders single baby stroller is dual-brake with a large and comfortable cotton seat area, which is fully removable and washable – thanks Heavens!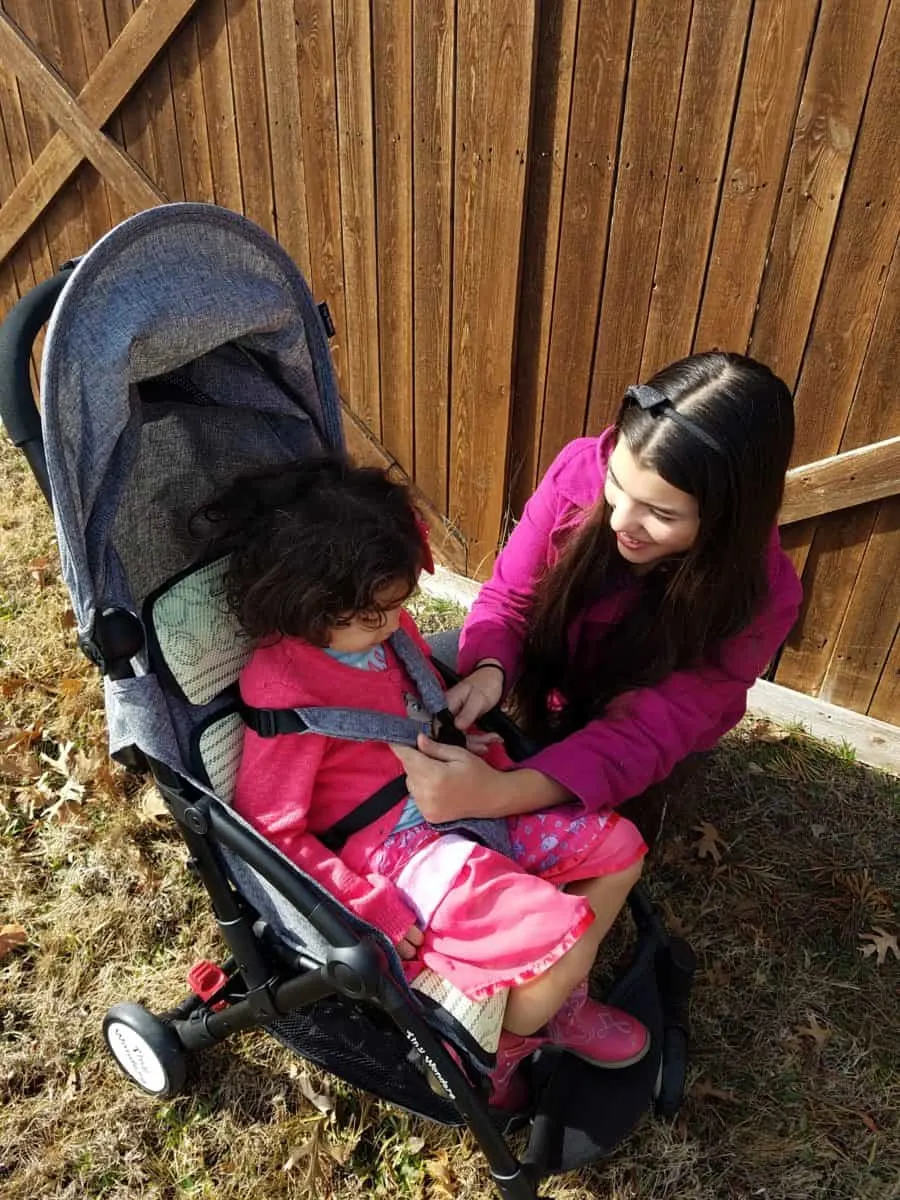 I like the 5-point safety adjustment seat belt and pads because I feel the harness keeps Eliana restrained, safe, and comfortable. The Tiny Wonders stroller accommodates children up to 50 pounds.
Other features that are quite wonderful in the Tiny Wonders stroller are the cup holder (good for a water bottle, too), stroller hooks to hold essentials, and a stroller strap and storage bag for easy carrying. It folds out to be quite little and it would fit in an airplane overhead compartment, which is very convenient if you're a mom traveler, like I am.
If you have a little one or are not a little one, the Tiny Wonders stroller can be managed with one hand while holding the baby in the other. What I mean is, I'm 4'8″ in stature and Eliana is now 4 years old, but as you can see in the picture, it's very compact and manageable.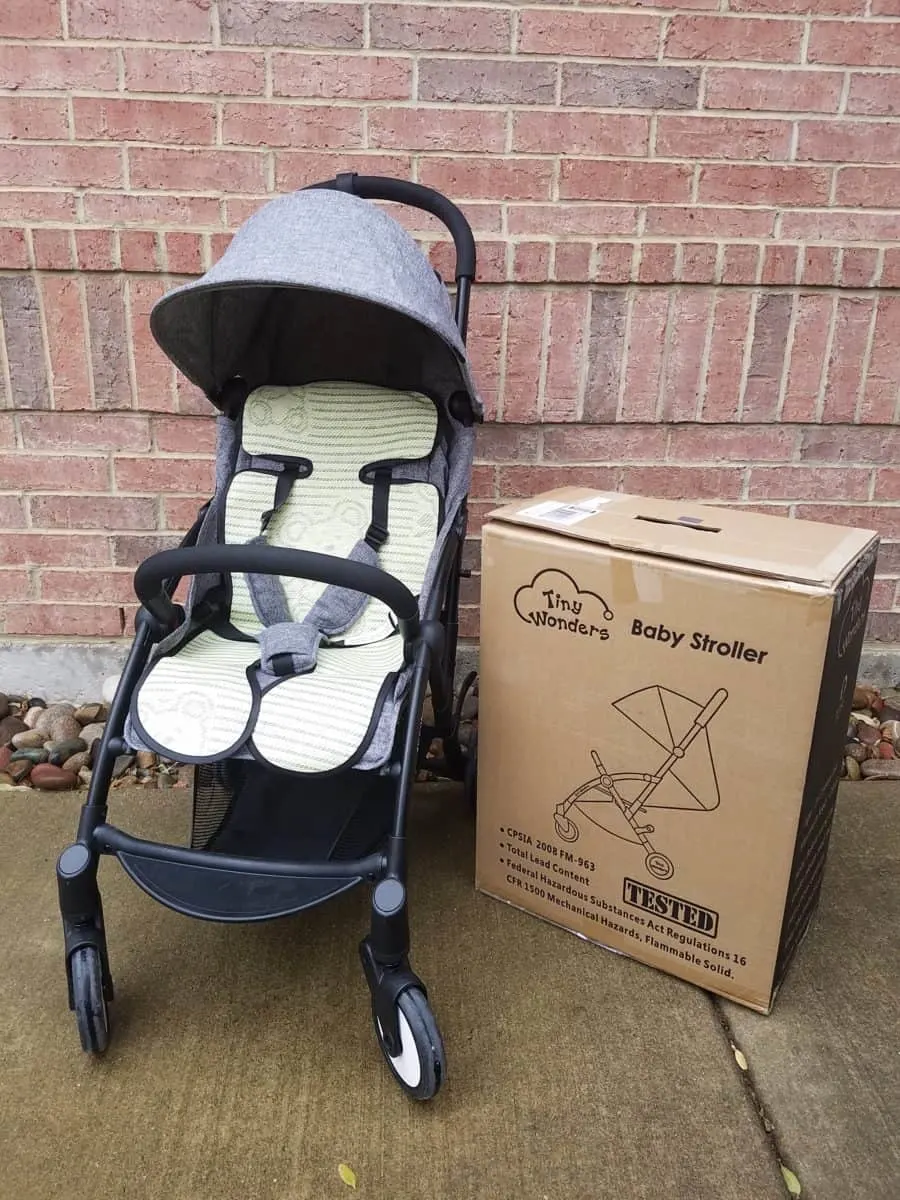 The Tiny Wonders stroller is also very easy to maneuver. It's a one-hand folding and unfolding motion: to open it, you just lift the locking mechanism, hold the handle, and give a slight flick; to close it down, you lift locking mechanism and lightly push the handle down.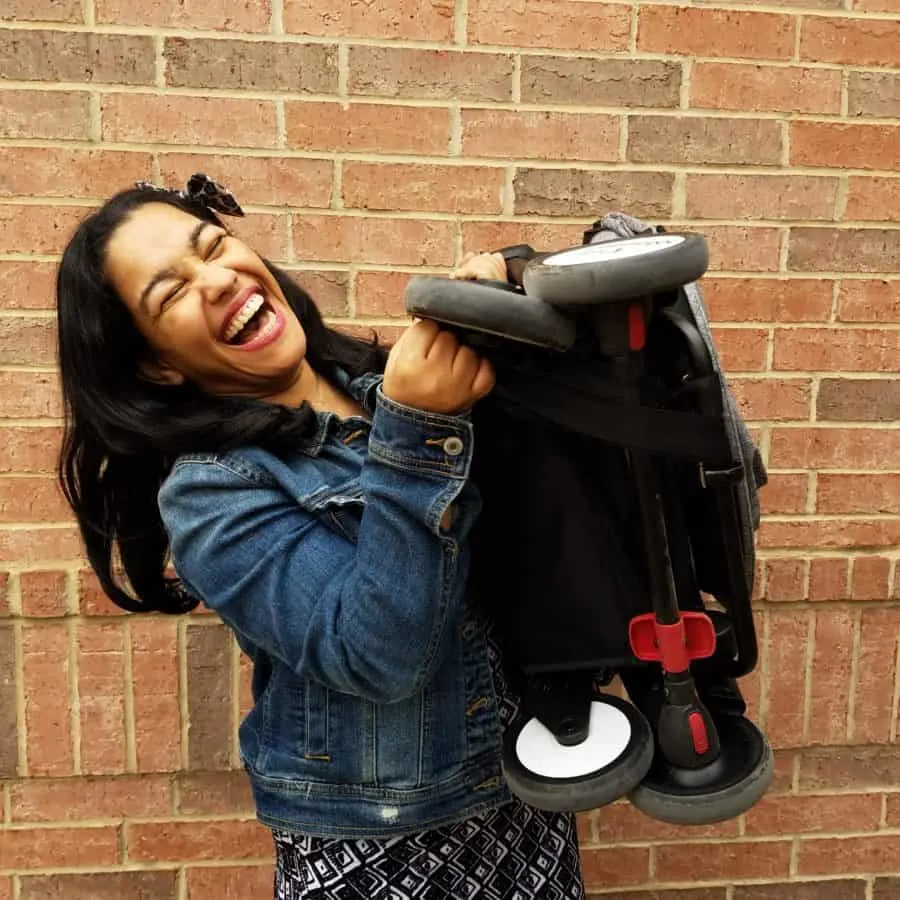 One feature I think you will love about the Tiny Wonders stroller is that it has a 3-position reclining seat. This is definitely a perk because most lightweight strollers are not multi-position and it's uncomfortable for baby or toddler. I like that the Tiny Wonders stroller allows Eliana to be either sitting, reclining, or sleeping and she's fully supported.
And last, but not least, the cutest feature of the Tiny Wonders stroller is the peek-a-boo window so you can connect with your kiddo even through the canopy. The three-tier canopy is adjustable and extended for maximum UV protection, or even a small light rain.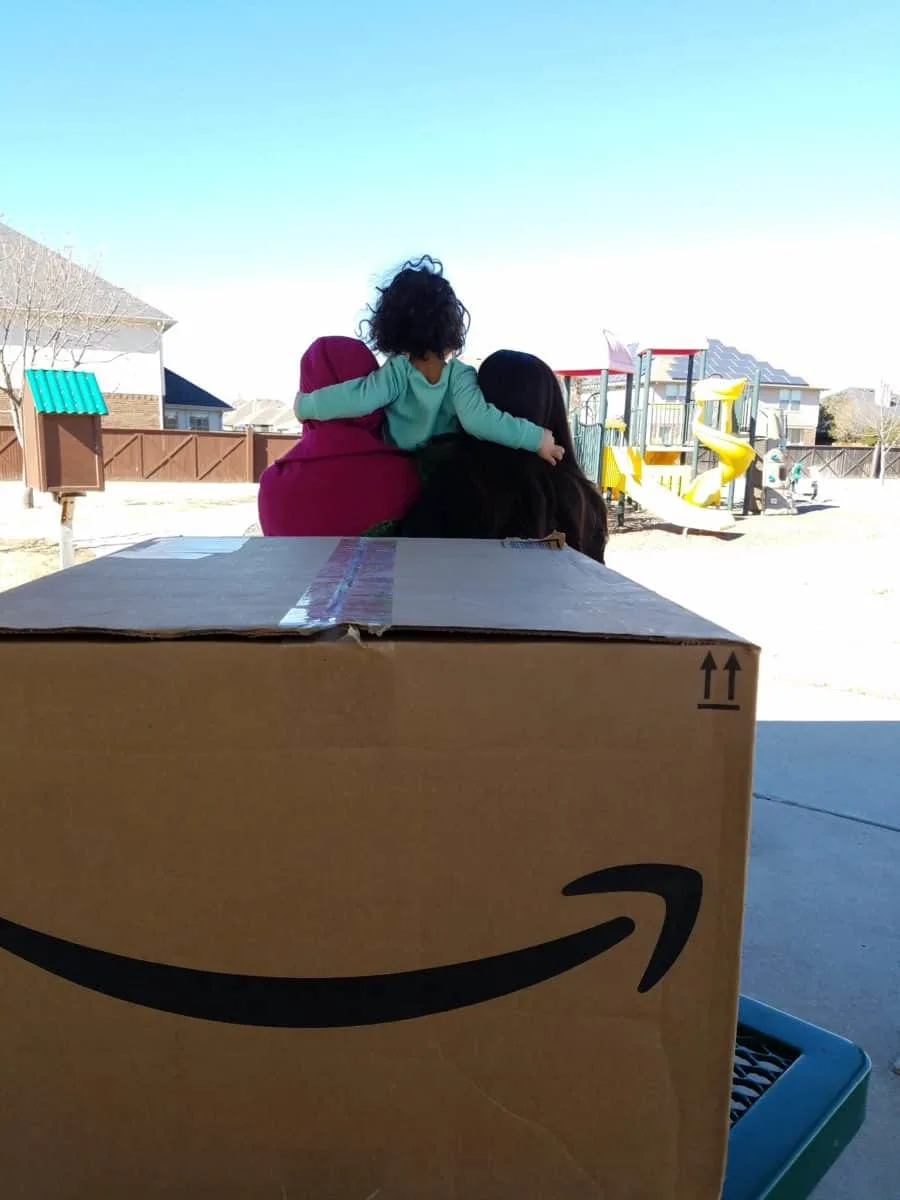 The stroller wheels rotate 360 degrees and features an extra-large easy access storage basket, enough to accommodate and to hold what you need for your walk or day trip. We love carrying books under the stroller seat!

I'm so excited that Tiny Wonders sent me this luxury lightweight stroller through Amazon and even more excited that they will send a FREE Baby Stroller Light Weight Portable, available in 4 modern colors, to one lucky winner! Will it be YOU?
Enter TODAY for a chance to win your very own Tiny Wonders stroller and take advantage of the daily bonus entries! This giveaway will run through 2/19/2018!
[ela]