Earlier this week, my girls and I had the pleasure to read "Mama's Purse" by AJ Irving, a positive mom of two preschoolers in Boise, Idaho. Winner of the Honoring Excellence Mom's Choice Awards, this unique illustrated children's book is full of fun and surprises for young and, well not-so-young readers. Us book worms love great books!
"Mama's Purse" is very educational, introducing exciting new rhyming words for little ones, engaging them through a fun story, and encouraging them to exercise their imagination. I am a huge supporter of critical thinking, and I think embarking on a journey to mama's purse is a brilliant tactic to get started…with mama's permission, of course!
We must teach our kids how to think, not what to think!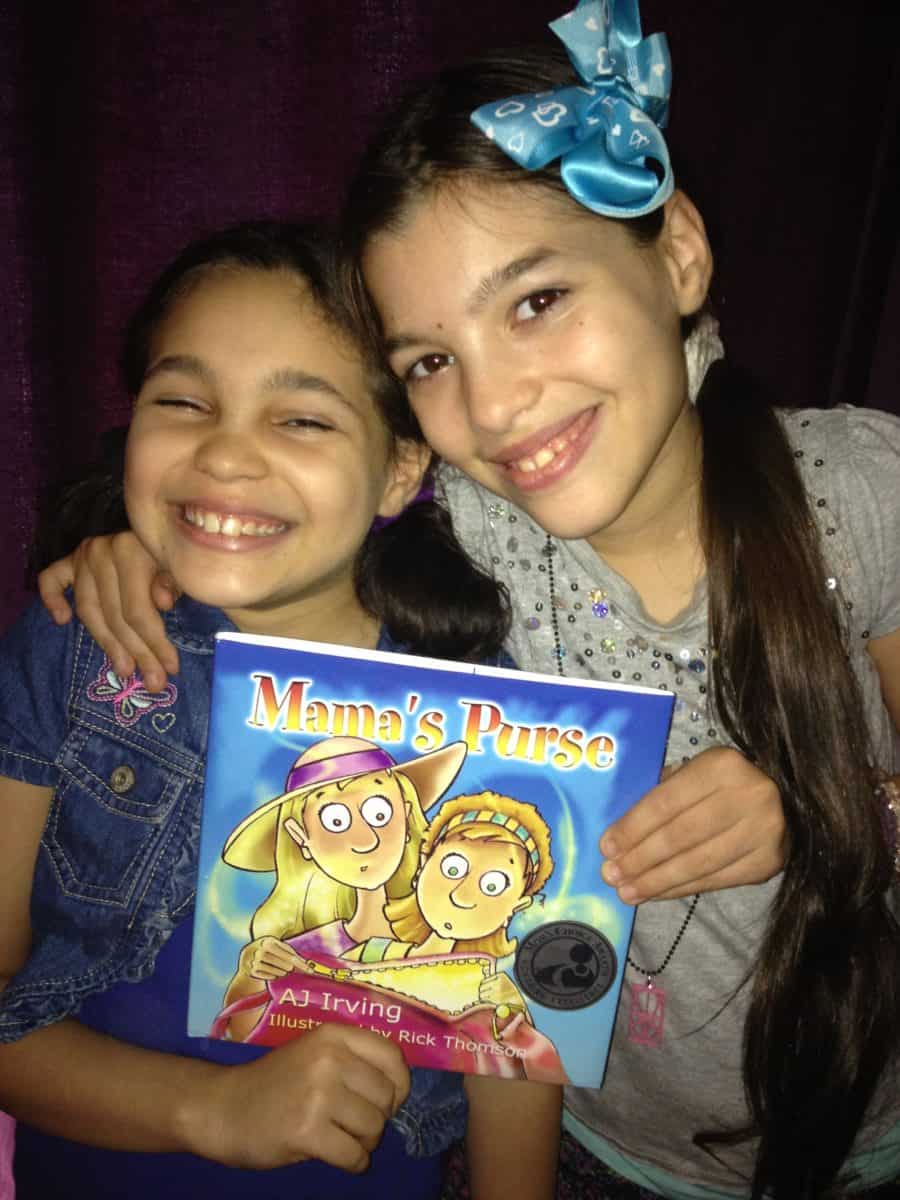 Elisha said: "I really liked the concept that you have you ask your mom before going in her purse and I really liked that it rhymed because it resembled Dr. Seuss."
Elyssa said: "I loved the out-of-the-box ideas. There were things that would never fit in a purse…EVER!, like a moose and a bear! I also liked that you need to ask permission before playing the purse game, because if you don't, that would be very disrespectful!"
We have my 6 year old stepdaughter this week, so she joined in the fun. She said she thought it was "really silly"… to a 6 year old, silly is AWESOME!
We can all agree that illustrations make a huge difference when it comes to children's books. I believe the illustrator, Rick Thomson, did an amazing job of blending bright colors and funny images. I liked how in his bio he specifies he isn't a mama, but he does carry a bag! I love it!
As I have been blessed with two artists and illustrators, they had very intelligent opinions about the colorful and playful illustrations in AJ Irving's book. They liked that they were "vibrant and with different colors… with lots of animals, and that matters to us because we love animals and we are vegan!"
"Mama's Purse" makes a great gift and a delightful addition to any child's library, as it is sure to bring smiles and conversation over and over again! I am passionate about family togetherness, unity and communication.
Find "Mama's Purse" on "Amazon.com" or the author's website and guide your child in answering the question What's in my Mama's Purse?
[ela]