Two of the most popular systems for time management are the bullet journal and the planner. But when you compare bullet journal vs planner, how do you decide which one is better for mom business owners?
As a mom entrepreneur, you probably have the most things to juggle out of almost anyone and don't precisely think you have a lot of time to spare.
Being organized is really important because you have your family affairs, your personal endeavors, and all of your business commitments to manage.
And I know that staying organized can be hard, especially if you're going through hard times or struggling with your mental health. This is a constant for me.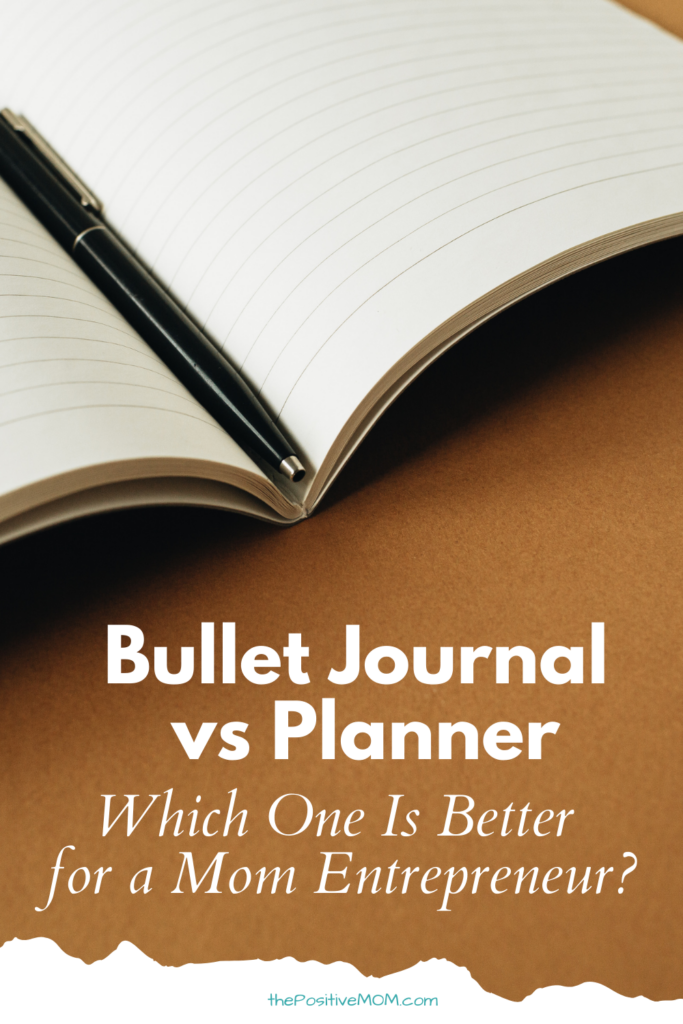 So let's compare these two planning systems to help you choose which one is right for your specific needs and personality.
How do you know when to reassess your organizational system?
Before we start the comparison, let's take a moment to consider when you should look at your organizational system or reassess it.
Some good questions to ask yourself include:
Do you sit down to do things and feel disorganized?
Have you missed out on appointments, events, or any other important thing you wanted to do because you don't have a clear system to organize it all?
Do you have loads of different to-do lists, sticky notes everywhere, and things pinned to bulletin boards?
Or maybe you struggle to locate important information, remember things, or keep track of what is happening when?
If you answer yes to one or more of these questions, then number one, you are not alone. Hi twin!
Number two, moving beyond your current to-do list system or task lists is going to be a big help. I personally don't believe in to-do lists, and that's where either bullet journaling or a traditional planner can help.
Things to consider with planners
Planners come in a variety of different sizes from small, handbag sizes to large desk sizes so a type of planner for every taste.
You can buy planners from big brands like Happy Planner or Filofax or find something that's a little more specific. Many of my mom entrepreneur friends love the Erin Condren planners.
With a planner, there's usually some kind of binding. With the Happy Planner, for example, they have a disc system that lets you move pages around within the planner. You can add things and remove them.
So if you want habit trackers next to your monthly calendar, you can simply add them in.
Planner pros and cons
With planners, there's a huge range of styles and variety of sizes and most have a predetermined layout. That means you can quickly get started in using them for the events of the day.
Different types of planners will include everything from monthly and weekly spreads to blank spaces for you to doodle and write notes, or any other creative ideas you may come up with in the spur of the moment.
Open them and they are ready to go with minimal work. All you need is a pen and your planner is into action.
They are usually professionally designed and have a pleasing look to them with many ranges offering different styles to suit all tastes.
There are also so many accessories to use with the planner! Planner stickers are one example and these come from both the makers of the planners but also from many independent shops on places like Etsy.
These can be overlaid onto the pre-printed planner to personalize it and add extra features. You can decorate it in creative ways, like using washi tape to make it even prettier.
The main downside with planners is the predefined layout. If you can't find one that quite meets your needs or there's never enough space, you may not be a planner person and a planner may not be your personal preference.
Because of their ease of use and fancy design, planners do tend to be more expensive than a bullet journal too.
Things to consider with a bullet journal system
A bullet journal is definitely a great option if you are looking for a creative outlet as well as an organizational system.
They are much more flexible than a planner. You can use something as simple as a child's exercise book to create yours. Although most people will grab a nice notebook, any blank notebook, or even a specific Bu-Jo book to do it. I found out that's the short way to say Bullet – Journal and I like it!
With the bullet journal method, bullet journalers can create anything they want. Most come with pre-printed paper in either lines, grids, or dots so you have some foundation on which to work. Then you can start to create your own spreads depending on what you want.
Bullet journal pros and cons
The fact that the bullet journal is completely customizable is both a pro and a con, depending on your tastes!
For some people, taking the time to create a beautiful spread is part of the journaling process and helps them. For others, they create a very simple option that is functional – even bulleted lists of tasks can work.
Bullet journaling is very flexible and can adapt to your specific needs. If a page needs to be both a business planner and an academic planner to track what's happening with the kids' education, this is easy to do. You can make it as you want and it is usually less expensive than a comparatively sized planner.
The main downside with bullet journals is the flexibility that we're talking about. Sometimes we can get frozen looking at the blank page and then it becomes a hard task to start using it, which defeats the whole purpose of this. Ay ay ay… Am I right?
With a planner, there's a pre-printed layout to get you started. You can still use planner stickers and washi tape with a bullet journal just the same as with a planner.
Planner vs bullet journal: which is best?
The answer to this question depends entirely on what you like, what you need, and what works best for you.
A planner is a good bet if you want a quick start system to organize life and don't want to create something from scratch. With a simple monthly planner and additional sections, you can organize both home and work life quickly and simply.
The best way for me to say it is you may need a planner when you are not a planner. And you might have guessed it: I am not a planner! LOL
But in the journals vs planners debate, if you want more flexibility and don't mind spending a little time preparing your system, then a bullet journal may work best and be your best option.
You can use the Bu-Jo for different things – almost anything: those regular jobs that come up, your day planning, grocery lists or meal planning, and even for special events such as packing lists if that's your thing.
I personally use both – maybe because I am both right brain and left brain. There are days in which I need a bit of structure and other days when my soul just wants freedom. the best way for me to process my emotions is a blank journal. I've also been writing a gratitude journal for a long time in order to raise my vibration.
So when you're deciding between planner vs bullet journal, remember that your system doesn't just have to include a to-do list, weekly calendar, habit tracker, or grocery list. Decide exactly what you want and don't settle until you find it – or create it!
The Key to Finding the Right System
The key with any organizational system is that you need to find something you'll use and that helps you be more organized.
You don't want something that just takes time away from your busy schedule so testing the two systems may be the best route if you are unsure. This shouldn't take much time and it will be worth it.
Then, once you find the right path, keep refining that system to make sure it works perfectly for you (well, no planning system – or anything in this world- will ever be perfect, but if it meets your own needs, then it kinda is!).
Journaling and planning your day can be a great way to do a brain dump because there's not much room to pour all your thoughts and feelings onto a sticky note. Having everything in a great place to review later is a safer and better option than doing this on random blank pages.
Time is life, having the right system to keep track of important dates, daily plans, monthly goals, and even your plans for the entire year.
Whether we use it at the start of the day or at the end of the day, having the right planner or right journal and using it the right way can be transformative in our daily lives.
Now it's your turn: Planner vs bullet journal, which one do you prefer? Tell us why in the comment section below. xoxo


My mission is to help moms find peace, break cycles, and feel whole so they can be present, peaceful, and positive moms. To receive a gift that can get you started on that journey click HERE.