2009 was a year of much growth, almost like a rebirth for me. Being in remission meant that I could focus on building my life again, rather than just staying alive.
I started my speaking career mentored by Les Brown, I published another marketing book, I attended my first Tony Robbins event where I literally walked on fire, and when my grandpa died, I refocused my work to only work with moms and to make a positive difference in the world.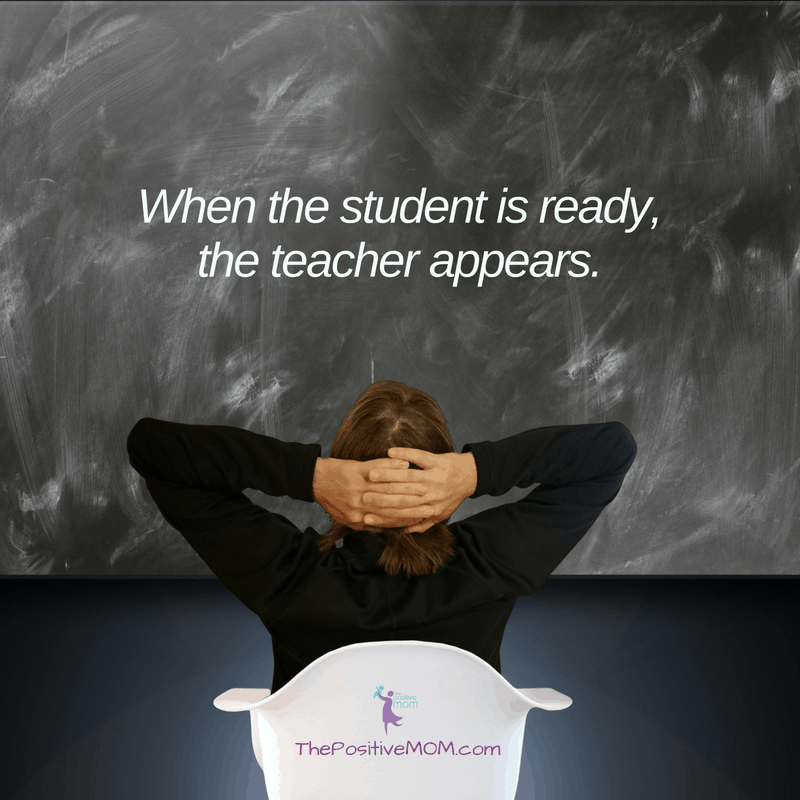 And you know how they say "when the student is ready, the teacher appears." I was growing, healing, and embarking on a journey of service to others, so I started to see blessings I had been praying for for years to start to be poured into my life.
I was at an author conference and I gravitated to this really happy guy. I love being around happy people, so I approached him and I got to know about him for a bit. I was impressed and fascinated.
I consider myself an outgoing upbeat person, but there was something about him and I somehow I knew I needed to ask him what the secret to his happiness was. There had to be one!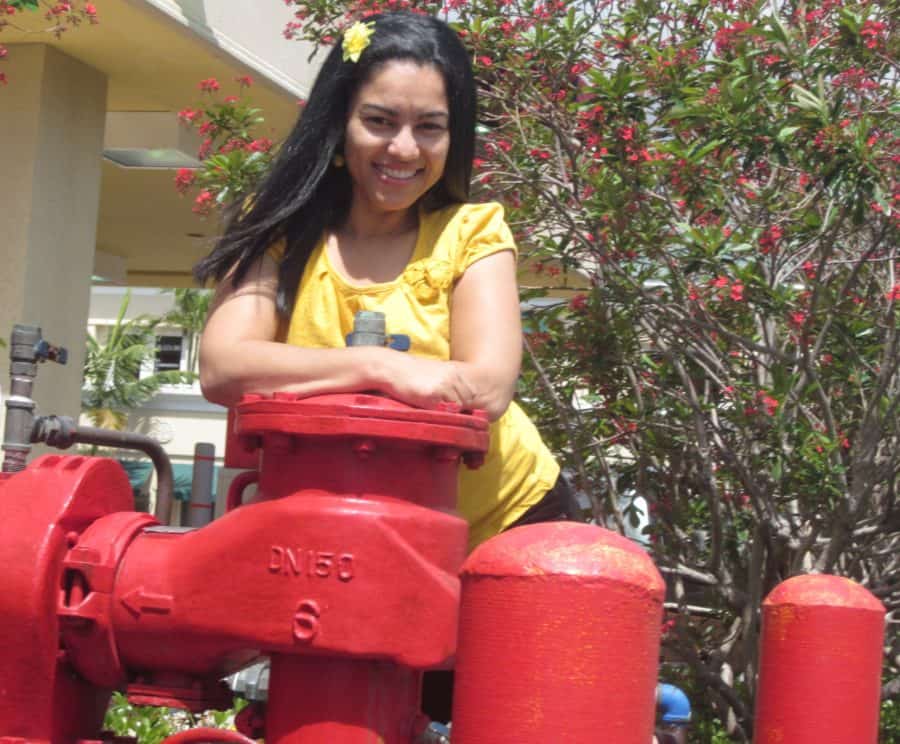 I was very surprised when he handed me a card and said he owed his peace and happiness to the exercise contained in it!
He shared with me that he had issues with his mother for 30 years and, after repeatedly doing this exercise, his relationship with her was restored and there is finally peace between them. This had brought him happiness and freedom in his life. This resonated with me because there was a sad little girl inside me that still felt trapped and I had tried, unsuccessfully, to set free.
Just as I thanked him, they announced our break was over and the sessions were about to begin again.
Without looking at the card, I put it in my bag and headed quickly to the bathroom, which was my original destination. I would certainly read it later that night at my hotel room, I thought. I have wondered why I didn't just postpone everything and just dove into it with avid curiosity, but I think I was skeptical, maybe even thinking he was trying to sell me something. I myself was selling books, courses, and web design and web marketing services, so that was okay.
I got sidetracked meeting other friendly authors and aspiring authors. I love learning and teaching about publishing and storytelling. It was a great event and after traveling back to Naples, FL from Southern California, I procrastinated unpacking and following up, I focused on some needed rest and time with my two little ones.
When I found the card, I smiled with curiosity. I read it and wondered: could it be that simple?
I gave it a try.
It worked.
I was in tears.
I'm sharing the contents of the card with you and encourage you to try it too. Now I must say this is a copyrighted excerpt of works by Harry Palmer and I copied word for word from the back of my new friend's card. The card mentions "Star's Edge, Inc. Avatar®, and ReSurfacing®;" while I am not affiliated with these persons or groups, I love this concept and what it makes possible.
The Compassion Exercise
Objective: To increase the amount of compassion in the world.
Expected Result: A personal sense of peace.
Instructions: This exercise can be done anywhere that people congregate (airports, malls, parks, beaches, etc). It should be done on strangers, unobtrusively, from some distance. Try to do all five steps on the same person.

Step 1: With attention on the person, repeat to yourself:
"Just like me, this person is seeking some happiness for his/her life."

Step 2: With attention on the person, repeat to yourself:
"Just like me, this person is trying to avoid suffering in his/her life."

Step 3: With attention on the person, repeat to yourself:
"Just like me, this person has known sadness, loneliness and despair."

Step 4: With attention on the person, repeat to yourself:
"Just like me, this person is seeking to fulfill his/her needs."

Step 5: With attention on the person, repeat to yourself:
"Just like me, this person is learning about life."
Variations
Done by couples and family members to increase understanding of each other.
Done on old enemies and antagonists still present in one's memories.
Done on other life forms.
I was at home when I tried the Compassion Exercise for the first time, so I did one of the variations (about my mother) and I felt so much lighter. I went on to use it on anyone that I had perceived as having hurt me or wronged me during a given day. It softened my heart to see that we were more different than we were alike.
It humbled me to see them more as God must see them, rather than as "that selfish guy that cut me off in traffic" or even "that evil monster who raped me," to name two different types of examples.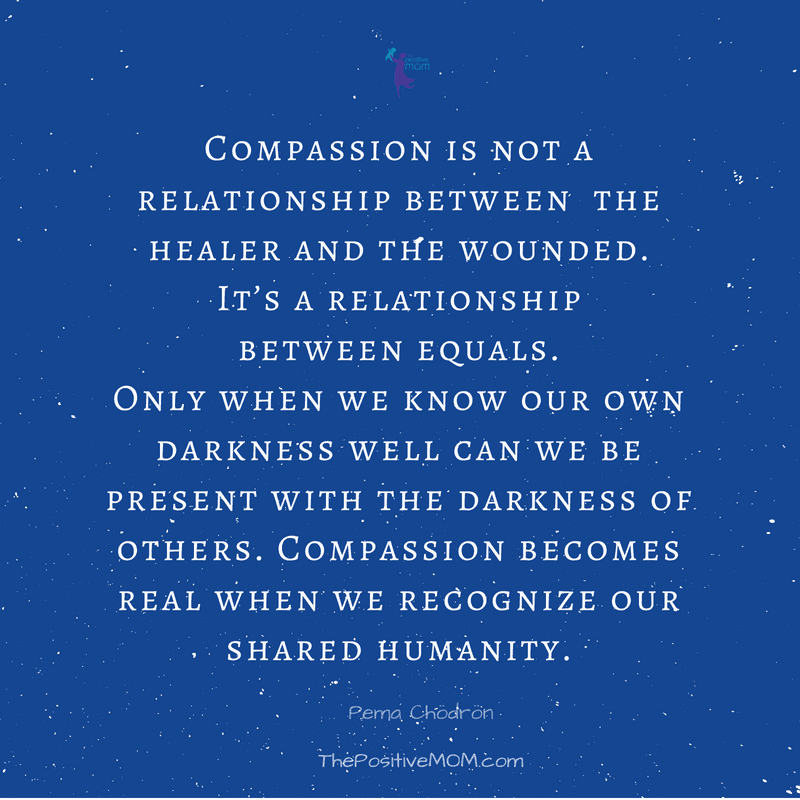 Pema Chödrön teaches that "Compassion is not a relationship between the healer and the wounded. It's a relationship between equals. Only when we know our own darkness well can we be present with the darkness of others. Compassion becomes real when we recognise our shared humanity."
It blew my mind to realize that I hadn't considered these people's quest to be happy, to free themselves from their own pain and suffering, and to fulfill their needs. Why hadn't I considered that these people had their own dreams and fears? Could I look at myself with complete honesty and accept them as my equals?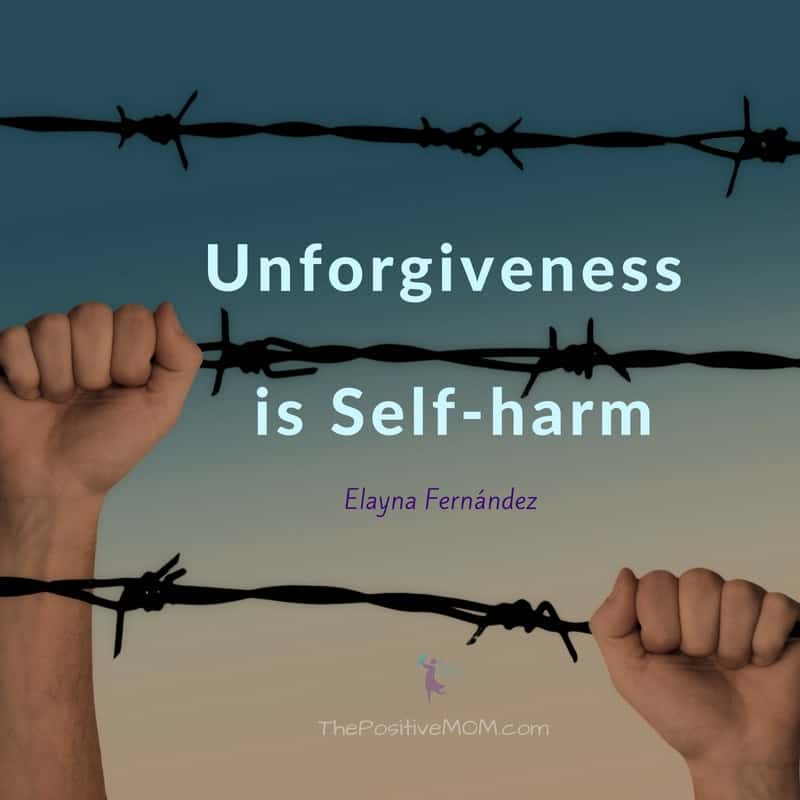 The beauty is that in giving up my self-righteous view of myself, I also give up the poisons of anger, resentment, and blame. I believe that unforgiveness is self-harm and forgiveness starts with questioning our judgments to create a space where compassion can exist.
By definition, compassion "creates a desire to alleviate someone else's suffering." After doing the Compassion Exercise countless of times, I've come to the conclusion that compassion is only complete when we take loving action toward someone else. Becoming aware of someone's needs (whether in your mind or your surroundings), for example, is an invitation to help fulfill them in some way.
Today, this is my Desktop Background – you are free to download it and use it for yourself, as well.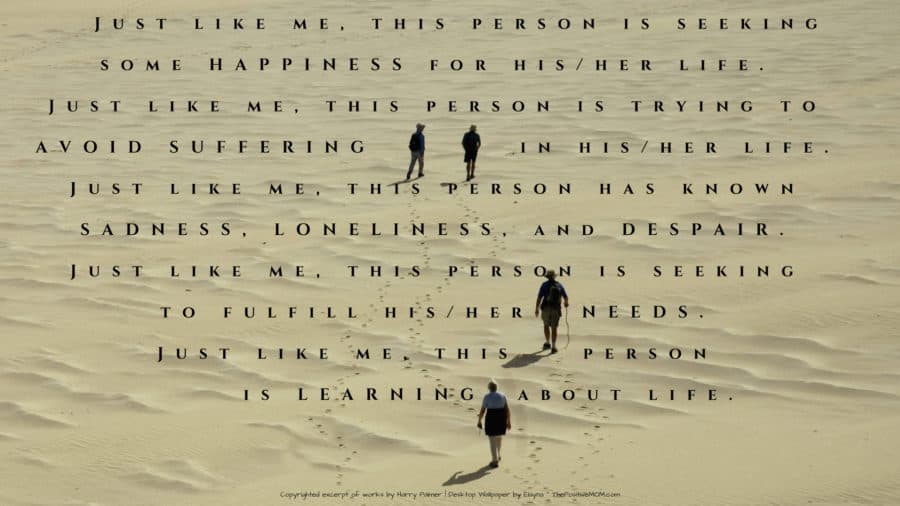 The beatitudes in Matthew 5 were a huge part of my launch into single motherhood and my decision to become a positive mom, and compassion helps us be meek, poor in spirit, merciful, peacemakers, and pure in heart. I strive to extend compassion as soon as I possibly can, and that helps me be a more connected, present, and patient mom.
Are you willing to try the compassion exercise? Share how you cultivate empathy and practice compassion in motherhood.

© Elayna Fernández ~ The Positive MOM
Be sure to Subscribe to blog post updates, so you never miss a thing!