Do you have a dream? Or a few? Of course you do! We all have dreams, goals, and aspirations – whether we're willing to admit it out loud or not. Dreams can seem scary, impossible, or crazy. Dreams may require a great deal of investment of time, energy, and money to come true… or at least that's how we logically understand it.
Isn't it amazing that we live in a time with unlimited resources and there is such an abundance of tools that allow us to make our dreams come true? To me, it seems like not achieving my dreams is NOT an option, because we are blessed with so many opportunities.
No matter what your dream project is, you can launch it with the help of crowdfunding. Crowdfunding is raising money online for a cause, modern day fundraising. It's a great alternative to lemonade stands, borrowing money from banks in Norway or seed funding (or giving up on your dream because it's expensive and you have bills to pay).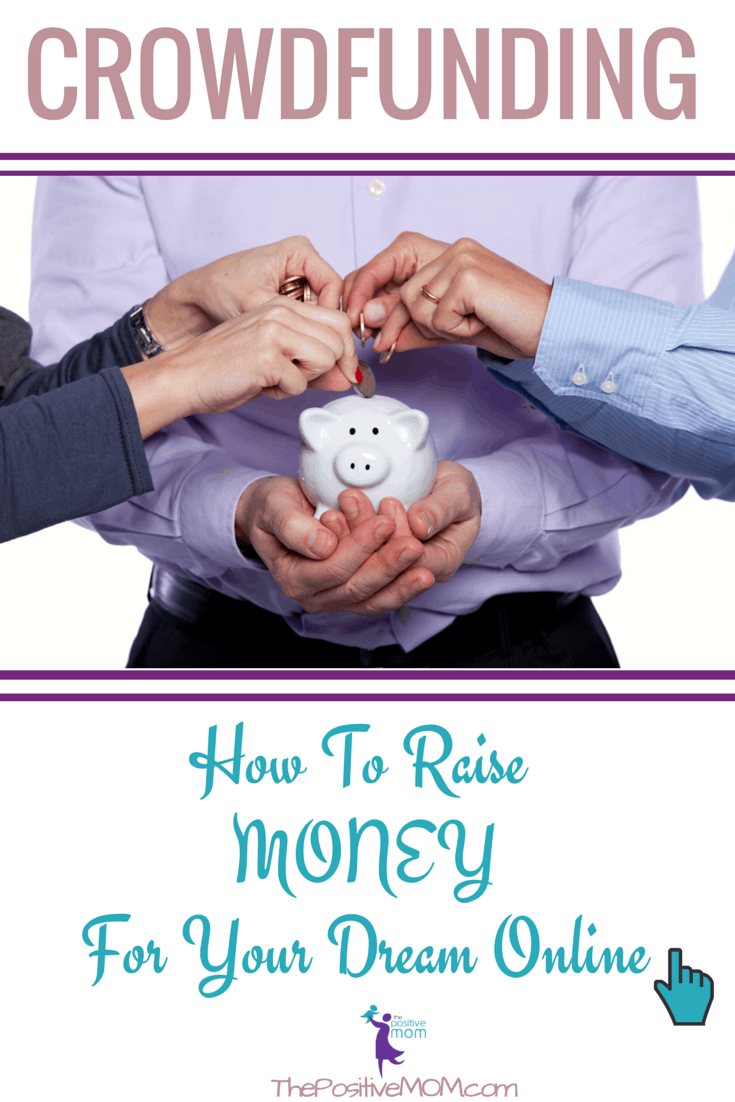 I used crowdfunding to create my non profit and my daughters used crowdfunding to fund their book for self-esteem for kids. Many of the moms I mentor have also raised funds for their brands, books, and businesses by using crowdfunding sites like Indiegogo, Kickstarter, and GoFund Me. I am really passionate about this option because it is an effective way to get started but also a way to validate that there is a market for what you are passionate about or have a burning desire to create. It's just brilliant!
And it's easy. You can fund your dreams in just 3 simple steps:
Pick a crowdfunding platform (a site that allows people to collect funds online)
Set up your crowdfunding campaign
Promote your crowdfunding campaign
A campaign is really a page you create to let others know what they're helping you achieve, how they can support you, and most importantly, why.
Creating An Effective Crowdfunding Campaign
Plan Your Campaign Strategy ~ Your campaign must be crafted carefully and almost expertly in order to work for you. Plan your campaign from day 1 to deadline. Promotion is step 3 in the process; however, it comes first in the planning stage. I suggest that you don't go it alone and work with a mentor and a team to help you achieve your goal. If you have 4 or more people on your team, you'll raise 70% more money than if you go solo.
Some things to think about: What will you name the campaign to make sure people get it right away? What social media channels will you use? Who will you partner with to spread your message? What time will messages be sent out? It all matters!
Luckily, crowdfunding campaigns stay online past their deadline, so you can research successful campaigns to get ideas… and research the ones that weren't quite successful so you can avoid mistakes.
A great advice I received about setting up my campaign was to have some people commit to funding immediately at launch, because people like to jump into a moving train!
Tell Your Story ~ When you authentically describe your project, book, product, or idea, make sure you talk about why it matters to you and why you are passionate about it, because that will help contributors catch your enthusiasm and know that they are going to be part of something big, important, and powerful. By adding a 2-3 minute video you'll raise 114% more funds, so get filming!
The most successful crowdfunding campaigns out there include a compelling personal story, because, at the end of the day, people support people they believe in, like, and trust. People fund people.
Explain What You Need ~ You will need to set a funding goal, you know, a target amount you'll need to make your dream a reality. Something I learned the hard way is that I didn't include the campaign fee in the funding goal, so remember to add that percentage to what you want to raise.
I suggest that you explain exactly where those funds you'll go. Are they funding your entire project or will you break down your funding into stages? When you explain your goal in detail and in a transparent manner, they understand where their money is going and what they are making possible. You'll also need to set a deadline and emphasize the sense of urgency it implies. There are different types of campaigns, flexible – that allow you to keep the funds if you don't meet the goal, or fixed – where the money goes back to the funders.
Detail What Backers Get ~ Many platforms allow you to add perks so that your backers can be rewarded for their contribution. Campaigns that offer perks raise 143% more money because they are based on reciprocity!
When Elisha and Elyssa raised funds for their book I Love ME!, you could get their autographed book before their publication date on Amazon and book stores, as well as getting other freebies, like their I Love ME! pledge, just for a $20 contribution, and backers who funded the project with over $50 ended up being in the acknowledgment section of the book.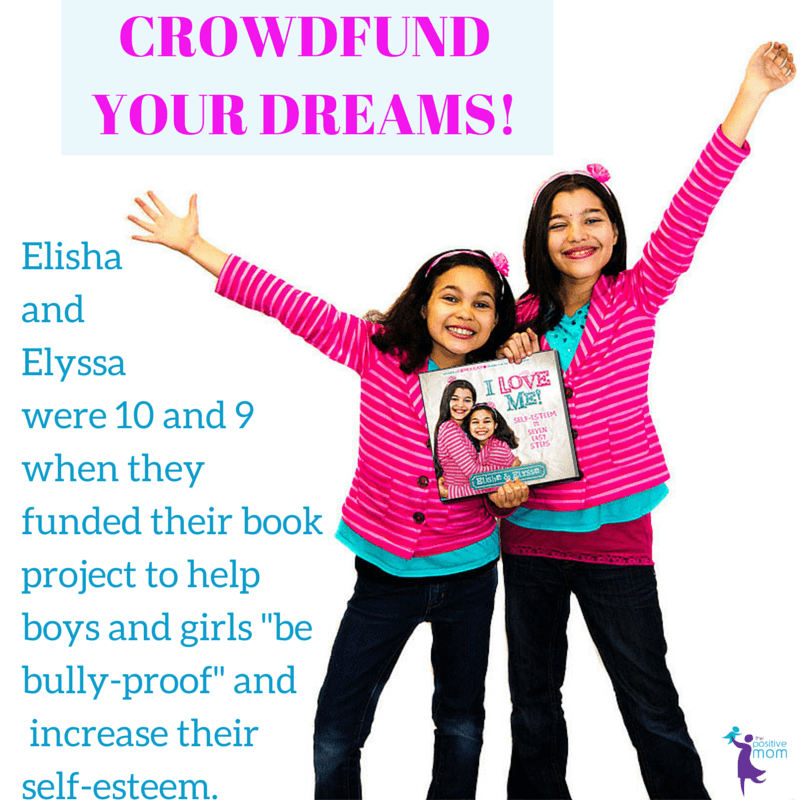 Think about what would make your funders feel special and is easy (and inexpensive) to fulfill during the busy time of fundraising. And remember, there are many ways people can help to spread the word about the campaign, even when they are not able to contribute financially.
State The Difference Your Dream Will Make ~ Let your contributors know the impact of your project (and similar projects before yours) in the world. Your cause or your mission must be appealing, compelling, and resonant to the audience, so let them know exactly what it will achieve and what is in it for them by conveying what a great thing they are doing and how great they will feel by doing participating in it. I love what my daughters wrote at just 9 and 10 years old to raise over $2k for their book and cause:
"Just imagine a world full of children that know how to believe in themselves, give back, and do their best! This would not only mean helping this generation, but future ones as well! With your help, we can save the millions of lives that suffer from low self-esteem today!"
I think it's also cool that as a contributor, I've learned the ins-and-outs of what it takes to make stuff happen, it's like being a VIP guest behind the scenes – all while making a difference.
Engage Your Audience ~ A crowdfunding campaign will be more successful as you post comments and updates, send e-mail messages, use video, and closely listen to feedback. Stats show that if you post an update for backers and potential backers every 5 days or less, you will raise 4 times more money!
With permission, you can always share your most passionate comments on your social outlets and even on your idea, book, or project's website as testimonials. Which reminds me, you also want to make sure your campaign is easy to share, have a short link, and a hashtag to keep track of traffic, too! .
I once read that your crowdfunding success depends on four Ps: passion, perks, participation, and pride, so make sure your audience can see these at play when you come up with your crowdfunding campaign.
With crowdfunding, lack of money is no longer an excuse to shelf your dream! Now that you know how to effectively raise funds online, will you use crowdfunding to make your dream come true? What can you add to my crowdfunding tips?
[ela]