Many, many, many years ago, Earl Nightingale developed a program called The Magic Word. It isn't "please." It isn't "thank you," either – that is two words! The magic word gives you power… the power to create your own day, moment by moment, and the power to create your own life, day by day.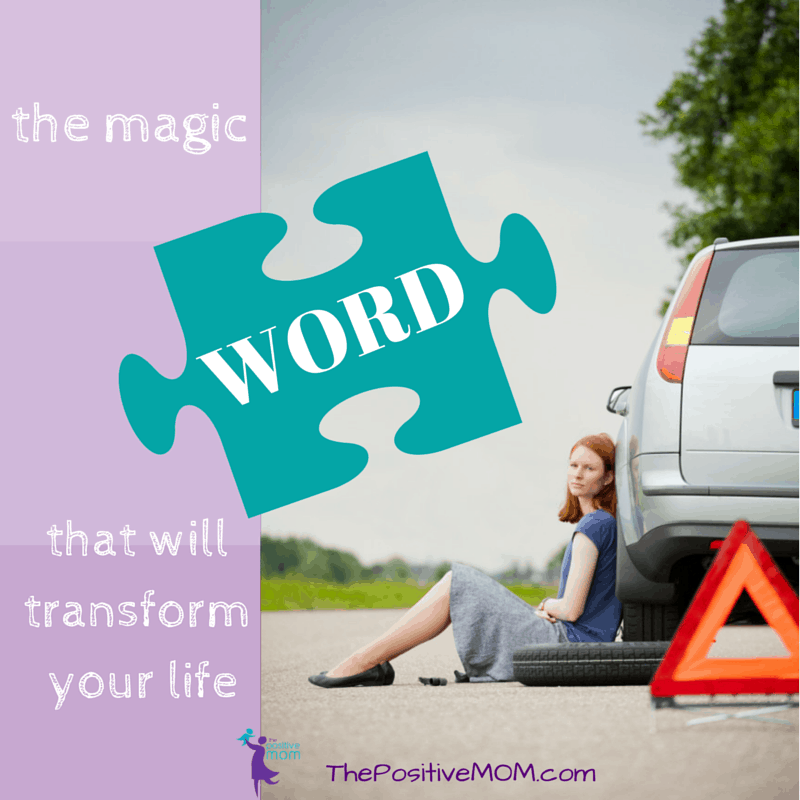 I thought about the magic word today as I was stressing about everything that was wrong with the car. I could try to speak intelligently about it, but I wouldn't know how to. All I know is that the alternator was emitting too much electricity and cables were melting, which could cause a fire. YIKES. The catalytic converter had issues, and so did some valves, shocks, and spark plugs. Don't ask me to translate what that means or to explain what that is.
A lot of time, energy, and money later, I was feeling discouraged. I let out a big sigh and breathed deeply… and that's when it dawned on me:
I did not HAVE TO fix the car, I chose to because I value my family's safety, and I value having reliable transportation.
In that moment, I chose to feel grateful for having car problems by remembering that just a little over a decade ago, I was feeling stuck with my two toddlers because I didn't have a car and didn't know how to drive one. Having a "sick" car, is a GIANT blessing… because I have one and I am empowered to use it. Yes or YES?
Have you guessed what the magic word is? It is ATTITUDE.
They say a bad attitude is like a flat tire. You can't go anywhere unless you change it. And speaking of tires, as my car was being aligned, so was I. I aligned with my core values: gratitude,balance, joy.
After years of research to find out why some people succeed greatly in life, while others simply do not. It is a matter of one's attitude. Wherever you find a person who is doing something remarkable and getting great results at it, you will find a person with a healthy positive attitude.
[Tweet ""A bad attitude is like a flat tire. You must change it before you get anywhere" #motivationformoms"]
Successful people in any occupation, profession, or field of endeavor come in all shapes and forms and possess varying degrees of intelligence, but they all have something in common: they have the right attitude and find the best in each situation. Others call them successful, fortunate, outstanding, brilliant, blessed, gifted, chosen, and lucky, simply because they choose to believe can achieve and act according to that belief.
William James, a Harvard professor, said "the greatest discovery of my generation is that human beings can alter their lives by altering their attitude of mind." I altered my life today as I used my attitude to turn anxiety into gratitude.
[Tweet "You can alter your life today by altering your attitude of mind. #motivationformoms"]
Our environment is really a mirror of our mental attitude. If we don't like our environment we need to change our attitude first. And because actions trigger feelings, just as much as feelings trigger actions, we must need to train our attitude patiently day by day.
Do you know the secret to improving your mental attitude? It is to act as though you are already the person you want to be. A person must act and look successful, and made themselves an embodiment of that which she seeks before she feels successful. I think this makes all the sense in the world, don't you think? We find within ourselves what we want to be, because we already are it.
[Tweet ""Find within yourself what you desire to be… you already are IT" #motivationformoms"]
The craziness I experienced with all the car problems: fear, anxiety, and disappointment, inspired me to take Earl Nightingale's 30-day challenge so I can continue to improve my attitude and feel joyful, balanced, and successful through the ups and downs of a mom's life. When you do something for 30 days, it can become a habitual practice.
The Positive Attitude Challenge
Our attitude at the beginning of a task which, more than anything else, will affect its successful outcome.
It is our attitude toward life which determines life's attitude toward us.
We are interdependent. It is impossible to succeed without others; and it is our attitude toward others which will determine their attitude towards us.
Before a person can achieve the kind of life she wants, she must become that kind of individual. She must think, act, talk, walk, and conduct herself in all of her affairs as would the person she wishes to become.
The higher you go in any organizational value, the better will be the attitude you will find.
Your mind can only hold one thought at a time, and since there is nothing at all to be gained by being negative ~ BE Positive!
The deepest craving of human beings is to be needed, to feel important, to be appreciated. Give it to them, and they will return it to you.
Look of the best in new ideas. You can learn something from everyone.
Don't waste valuable time broadcasting personal problems. It probably won't help you; it cannot help others.
Don't talk about your health unless it is good.
Radiate the attitude of well-being, of confidence of a person who knows where they are going. This will inspire those around you will find that good things will start happening to you.
For next 30 days treat everyone with whom you come in contact as though they were the most important person on Earth (because even though no one will admit it, to each of us, that's just what we are).
[Tweet "I'm joining the 30-day challenge to cultivate a positive attitude! #motivationformoms Join here!"]
Even though I know you and I strive to do, be, and have most of this, doing every single thing on this challenge is not easy. It takes a great deal of effort because life ~ and people ~ can be difficult. Dishes and laundry may pile up, and I may have cramps or a headache, kids may be especially clingy or not feel well that day, yet I know this to be true: when it seems we don't have the time, the energy, or the money to do something is when we most need to do it, because it's usually that very thing that will provide the freedom we seek.
Will you join me in this 30-day challenge? Let's be positive… so that we can access the power that is within each of us.
[ela]