If you're looking for a way to change your life for the better, a simple and effective tool is daily affirmations! Affirmations are positive statements that help to reprogram your subconscious mind.
Using daily affirmations can have a powerful effect on your life because they can create positive change. That's why in this blog post, I will discuss the benefits of using affirmations and provide a list of Daily Affirmations for Success that you can use to improve every area of your life.
The Importance of Positive Affirmations
Positive affirmations can be beneficial tools to help build self-esteem, confidence, and resilience. By repeating positive mantras and realistic affirmations to ourselves and our children in an encouraging voice, we can slowly begin to reshape our inner dialogue for the better.
Good things happen when we focus on affirming our lives with phrases that express love, appreciation, hope, and success instead of focusing on the detrimental negative talk that often swirls around in our heads.
With repetition and dedication, positive affirmations will eventually become second nature and become a powerful tool to create a more balanced view of the world by developing complete self-awareness.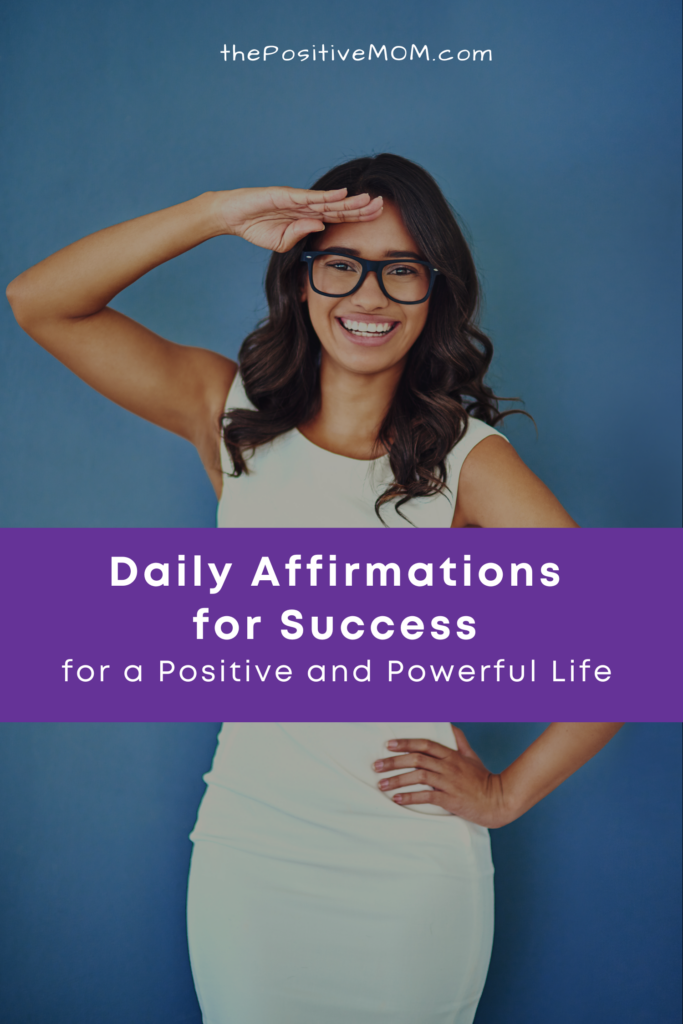 In short, positive affirmations are a powerful means of maintaining mental health and inspiring others around us. These powerful affirmations come from our true selves to those parts of ourselves that are hurt. These voices plague us with negative thoughts, sharing negative beliefs they have adopted because of trauma.
Using positive thoughts in the present tense can help us foster a positive mindset because it reminds us of who we are today, in spite of what we've been through before. We start to look at ourselves in a new way and give ourselves an opportunity for a fresh start each day.
What Does Success Mean?
In working with moms in so many countries and from so many cultures and backgrounds and stages in life, I've found that success means something different to everyone.
Many moms define success as advancing in a career, living a happier life, or even simply learning something new or pushing a comfort zone.
Success can be defined in a negative way, as well. Sometimes our idea of a good life is created from our need to prove ourselves to others or to please others in ways that are not online misaligned with ourselves, but also detrimental or harmful.
For many people, negative self-talk is a motivator because it is how their younger self achieved or even survived. It is essential to look at your own definition of a successful life and assess whether it's coming from love or fear.
When I say fear, I don't mean you are not a strong individual with a positive attitude. What I mean is that it's easy for us who have been through adverse circumstances to do what will avoid rejection and emotional pain. In creating your definition of success, seek to describe a vision for your dream life, a vision where you love every aspect of your life, as imperfect as it might be.
Successful people know that their wildest dreams are possible and trust that there are new possibilities available at every turn in their lives.
Using affirmations is a great way to remind yourself of what your personal success looks like. Yes, we will all face failures or obstacles in our way, and it's healthy to feel those normal emotions (that many call negative emotions). It's also important to seek professional help when we feel that we are unable to process these so-called negative feelings.
We don't use affirmations to bypass our pain or to distract us from it. We use the power of affirmations to activate those parts of us that can help us focus in the direction of achieving success.
Daily positive affirmations can remind us of the positive impact we want to make in the world and remind us why we want to put the effort into reaching success. Success affirmations can help us generate positive energy to make smart decisions and achieve wonderful things.
My Favorite Positive Affirmations for Success
I've put together a list of positive affirmations that you can use on a daily basis. These morning affirmations can help you create a great day. Make these affirmations part of your daily routine!
Affirmations for Success and Abundance
I am worthy of success and abundance.
I have the ability to provide for my family.
I am capable of achieving my goals.
I can trust myself and my capabilities.
I am actively creating a life full of abundance and joy.
My potential is limitless and unlimited.
I can expect positive outcomes in the pursuit of my dreams and aspirations.
My efforts pay off and bring me success and prosperity.
I am guided by inner strength and intuition toward a life full of abundance and joy.
God is always supporting me as I take steps forward in creating success for myself and my family.
Affirmations for Confidence
I am confident in my abilities and power.
I can trust myself to make the right decisions for my family.
I choose to remain positive and strong in difficult situations.
I am capable of achieving great things and making my dreams come true.
I have the courage to follow through on my plans and ideas.
I believe in my potential and worthiness of success and abundance.
My inner strength guides me every day toward success for myself and my family.
I move forward in life with confidence, knowing that I am destined to achieve greatness.
Every day is an opportunity for me to grow, learn and become more confident.
I have the self-belief needed to make bold moves that will bring me closer to achieving my goals
Affirmations for Success in Motherhood
I am capable of raising my family with love and success.
I can trust my parenting instincts to navigate any challenges that come our way.
My children are strong and resilient, and they have the power to create a beautiful life.
Every day is an opportunity for me to grow closer and stronger as a family.
I have the courage to make decisions that will lead us onto a path of success, abundance, and joy.
I accept and respect who my children are meant to become in this world. I can give them all my support along their journey of life.
I am confident in my ability as a mother to provide for myself and my family.
Motherhood is beautiful, rewarding, and fulfilling for me every single day. We've come far together as a family unit.
My love for my children is unconditional, and it provides me with the strength needed during difficult times in motherhood
I strive each day towards creating positive experiences within our home that foster growth & happiness for us all
General Positive Affirmations for Moms
I am a strong, independent mom and I can trust in my decisions.
I have the power to create inner peace for my family and myself.
I am capable of achieving great things no matter what comes our way.
Every day is an opportunity for me to learn and become a better mother and individual.
My inner voice guides me toward the right path for both myself and my children.
I have faith in the process of life. I believe that all situations can be improved given time, patience, and love from within me.
When faced with stressful situations, I can remain centered and calm.
The love between us is unconditional, providing us with strength when times are tough and joy when all is at its best.
With each new challenge, I grow in confidence as I trust in myself to lead my family toward success and fulfillment in life.
I know that anything is possible if we work together as one unit united by love, courage, and perseverance no matter how hard it might get!
The Power of Positive Affirmation
Adopting a daily habit of reciting positive affirmations can help moms navigate their way through difficult times. They can help them and lead their families to true, lasting success.
By tapping into the power of positive thinking, we can create inner strength and resilience. And we can live a happier present!
Affirmations offer us an opportunity to learn more about ourselves as individuals, parents, and members of society. We can be better equipped with the skills needed to take on any challenge life throws at us.
Do you believe that through positivity and self-belief, anything is possible? Choose your favorite affirmations from the positive affirmation list above. And be sure to share your own affirmations with us in the comments below.