I was probably about 5 years old when I first heard about Jesus. He wasn't a topic of conversation in the slum where I grew up, but whenever I saw my grandma, she told me about how Jesus died for me.
"He loves you," she would say. I didn't believe that anyone loved me, and I wondered why I had to endure so much pain and suffering if someone died to take them away from me.
My brother and I had an old beat-up Bible that we read from cover to cover at least 7 times before my 11th birthday.
We went to every existing church in town, trying to find out more about Jesus. He sounded quite amazing in the New Testament, but to be honest, we didn't see that those who claimed to follow Him were following in His footsteps.
We may not have articulated these feelings back then, but they were real.
I remembered those times as I watched a film called "Jesus Revolution." The title intrigued me, and it also scared me a bit. Revolution is one of those words that have become ambiguous, and I figured it could go either way.
I'm all for watching anything that has to do with Jesus, and it came recommended by people I trust, although I always insist on no-spoilers, and I try to avoid trailers as much as possible.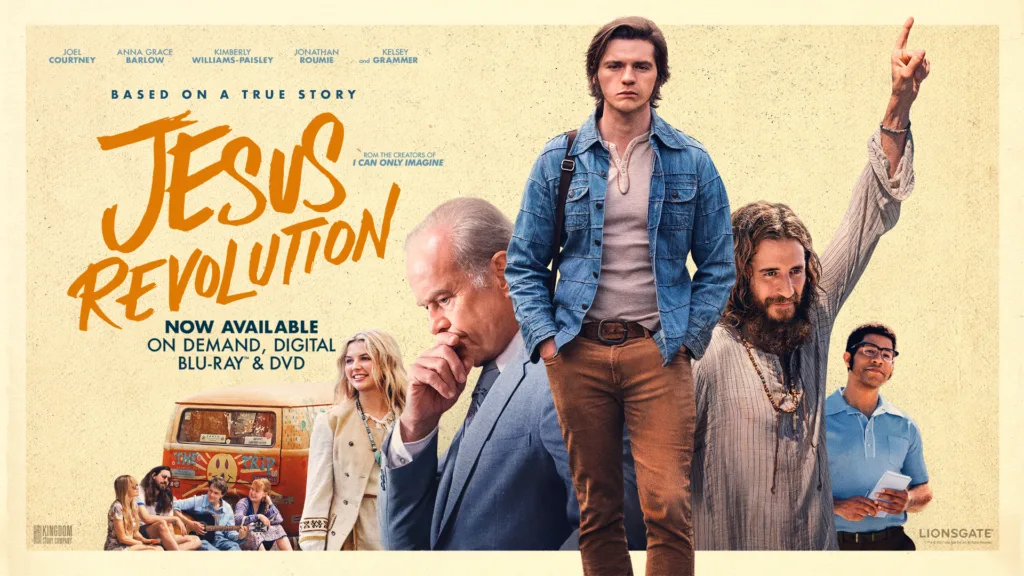 "Based on a true story"? As I read this, I knew I had to watch it – and I did.
Overall Impressions of the Jesus Revolution Movie
Spoiler alert: I give Jesus Revolution a 5-star rating. It was a really beautiful film, and the story was deeply moving. Everyone must watch this movie because it tells the true story of people who created a movement of love, acceptance, and peace. It is something that we still – and quite desperately – need nowadays.
What is the JESUS REVOLUTION movie about?
In the 1970s, young Greg Laurie (Joel Courtney) is searching for all the right things in all the wrong places: until he meets Lonnie Frisbee (Jonathan Roumie), a charismatic hippie street preacher. Together with Pastor Chuck Smith (Kelsey Grammer), they open the doors of Smith's languishing church to an unexpected revival of radical and newfound love, leading to what TIME Magazine dubbed a JESUS REVOLUTION.
Greg Laurie is the senior pastor of Harvest Christian Fellowship with campuses in California and Hawaii and a featured speaker of public evangelistic events called Harvest Crusades. In 2020, and in partnership with Kingdom Story Company, Laurie premiered his first-ever cinematic crusade, A RUSH OF HOPE, viewed by over 2 million people in its opening weekend. Laurie's other films include STEVE MCQUEEN: AMERICAN ICON, HOPE FOR HURTING HEARTS, and LOST BOY. Laurie is also the host of nationally syndicated television and radio programs and the author of over 70 books, including JOHNNY CASH: THE REDEMPTION OF AN AMERICAN ICON.
What stood out the most about Jesus Revolution
The Jesus Revolution tagline is "When you open your heart, there's room for everyone." It was emotional for me to take that in.
The beautiful message of acceptance, no judgment, and no shame was a thread that ran through this film and every fiber of my being.
I felt that the Jesus in this film is my grandma's Jesus: one who took everyone in – no matter what.
I wept all through this film. I crave that feeling of being accepted, and I strive for the freedom of accepting others, no matter how they try to find God.
The Jesus Revolution History: Late 1960s / Early 1970s
JESUS REVOLUTION is a historical telling, bringing to life The Jesus Movement that swept the country in the late 60s and early 70s.
Not only was I born in 1976, but I am also an immigrant to the U.S.A. I am still catching up with the history. This revolution was not something I was familiar with, and I was able to experience it for the first time, which felt sacred.
I thought, How did the movie portray the counterculture movement of the late 1960s and early 1970s? What did you think of the cinematography and visual style of the movie?
The cinematography was captivating. The visual style was stunning, especially paired with the historical accuracy and the different point of view on the hippy movement, which I appreciated.
The Jesus Revolution Movie Cast
Joel Courtney (Greg Laurie)
Jonathan Roumie (Lonnie Frisbee)
Kimberly Williams Paisley (Charlene Laurie)
Anna Grace Barlow (Cathe Laurie)
Kelsey Grammer (Chuck Smith)
The cast was stellar, and their performances were phenomenal.
I am guilty of being obsessed with The Kissing Booth trilogy, and seeing Joel Courtney add depth to his portrayal of Laurie was incredible. I thought his performance was believable, and he added a feeling to the character that made it relatable. He had a way of stirring your soul!
Kelsey Grammer was outstanding as Pastor Smith. He delivered one of my favorite scenes in the film because his performance was so intimate, impactful, and powerful, instilling hope in the fact that anyone can change and open their mind and their heart to live the message that we are all Children of God, all precious in His Sight, and all worthy of unconditional love and understanding.
Jonathan Roumie blew us away with his excellence in playing the complex character of Frisbee. He did this with so much soul that we understood the search for happiness and purpose and the inner conflicts this brings.
The JESUS REVOLUTION Story
The Jesus Revolution film was written by Jon Erwin and Jon Gunn, directed by Jon Erwin and Brent McCorkl, and produced by Kevin Downes, Jon and Andrew Erwin, along with Josh Walsh, and Daryl Lefever.
The storytelling was very effective, engaging, and dynamic, and it rates high above many other movies about faith that I have seen. There was an overall feeling of peace that overcame me as I watched because it felt that what was being preached didn't have any agenda other than to
"spread the good news," as Frisbee's character put it.
The soundtrack truly brought the story to life and evoked laughter, tears, and some awesome dance moves, too!
JESUS REVOLUTION was incredibly well done, so it's no wonder it's nominated for the K-Love Fan Awards in the Film/TV Impact category.
The JESUS REVOLUTION Walk of Faith
This movie might challenge your beliefs about faith or make you think differently about faith. It was a confirmation for me that I must continue to grow on my journey through faith in life and to follow the Jesus my grandmother introduced me to when she was still alive.
In an interview about JESUS REVOLUTION, I shared that I am more determined to continue to practice acceptance and to be more like Jesus Christ: someone who loves, serves, and does not judge the path others are on.
Watching the JESUS REVOLUTION film inspired me to reflect on my own beliefs and relationship with God, to ask myself:
Where can I grow?
Who can I accept?
How can I open my heart more openly?
I've been praying on those questions since I watched the film, and my relationship with God has transformed for the better. And it's a journey, so I know it will continue to do so.
It's easy to accept and embrace those who have never hurt us or to claim acceptance from afar. But as a victim of a great deal of abuse, I know it can be difficult to forgive and easy to guard our hearts against others – and even to generalize our mistrust.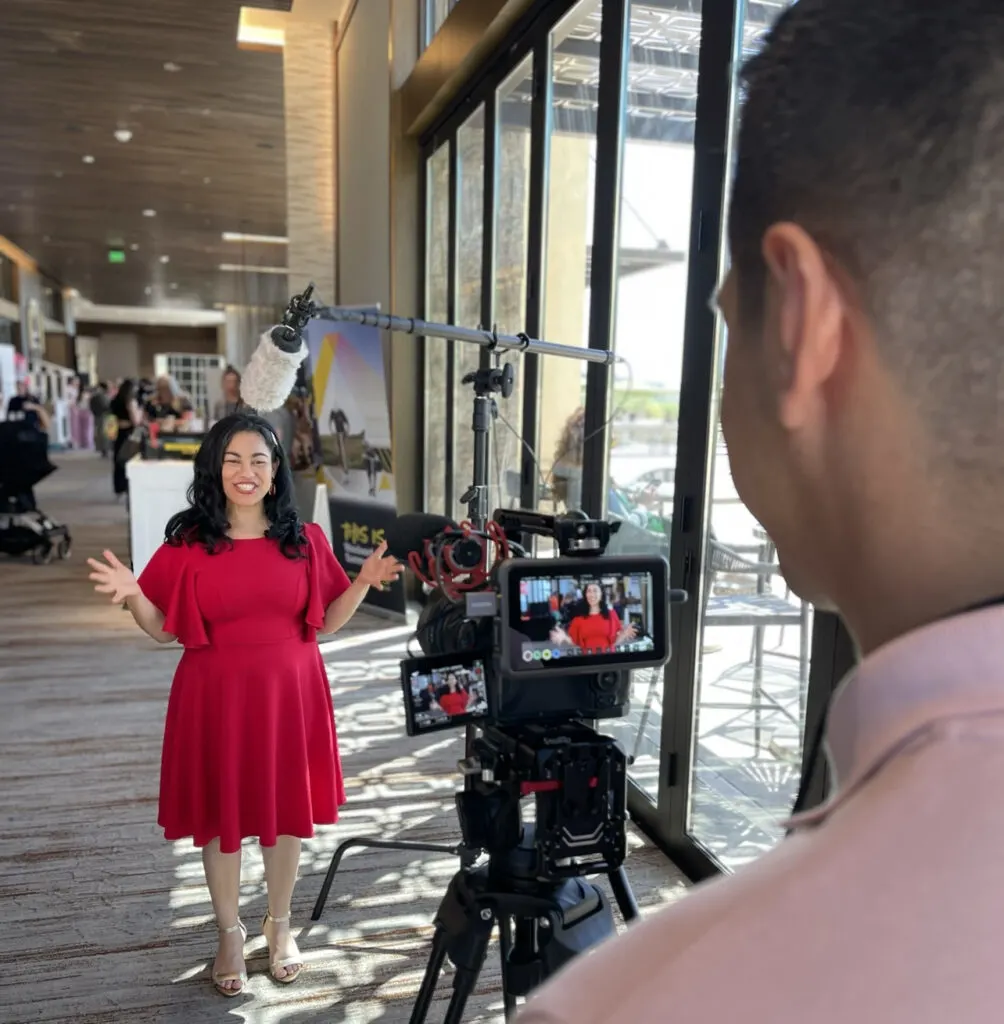 The movie accurately portrayed that struggle, especially when imperfect people preach perfect principles. We love the Gospel, where we've come to find joy, but feel that our places of worship or the people we worship with might not feel safe.
Positive Lessons From JESUS REVOLUTION
One of the scenes that particularly resonated with me was the one of Pastor Chuck washing the newly accepted congregation's feet. My heart was overwhelmed with emotion as he washed their feet one by one as a solution to a possibly stained carpet.
It's not just at church where we focus on the material and the letter of the law versus the principle of the law. When muddy feet come onto a recently cleaned floor or paint gets spilled on the recent pressure-washed carpet, do I dwell too much on the frustration and disappointment, or is my focus to serve, be present, and wash their feet?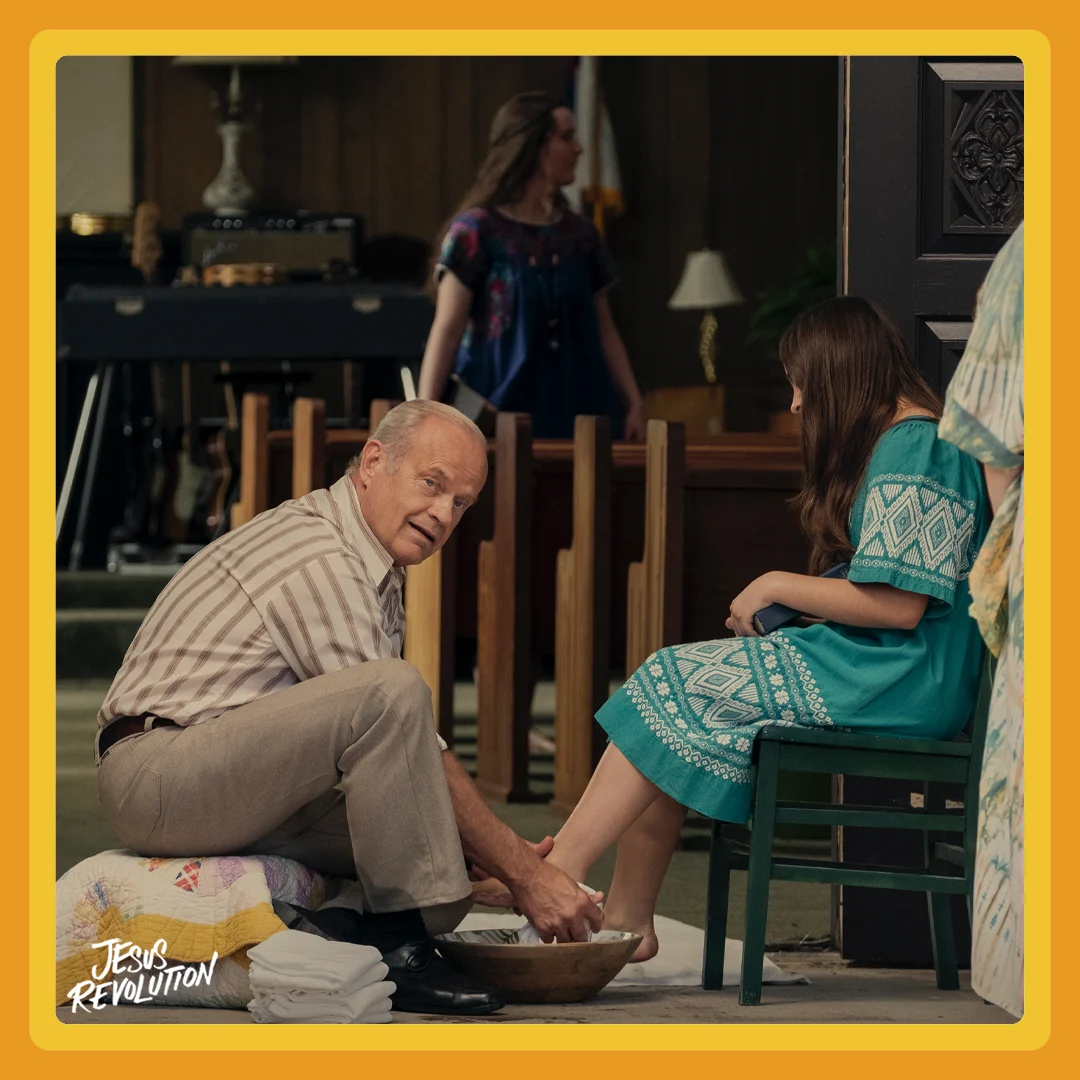 We can all do better – we can all use an inner Jesus Revolution. And I'm here for it.
One of the central themes in JESUS REVOLUTION was the quest for freedom. I had heard about the times of the hippies and its derogatory connotation, but I had never seen it from the perspective of people trying to find God.
I'm crying again as I write this because it hit me that this is our lifelong quest. I can relate to trying to find freedom, peace, and healing in places where none could be found. Having self-destructed and self-sabotaged countless times, I can relate to finding judgment rather than compassion when that has happened.
I was introduced to another side of history where "hippies" were heroes, not villains in the story. And isn't that the kind of perspective we gain from the New Testament? That is what it did for me as a "dirty slum girl" and outcast in my childhood.
And the third lesson I want to highlight is that of meeting people where they are at. It's so easy to overwhelm people with preaching and pressure. I've done that with my own children at times, and I can wholeheartedly report that it doesn't work. The love story of Laurie and the interactions with her father reminded me of what is important as a mother of 4 daughters, especially as a single mom.
Watch the JESUS REVOLUTION Movie
Well, if it isn't obvious by now, here's the call to action: I recommend you watch the JESUS REVOLUTION movie and that as you do that, you explore your faith and spiritual journey more deeply, especially if you are questioning, just like I did when I first heard about Jesus.
I am excited to learn more about the rich history surrounding this film, but even more about the message that Jesus is inclusive, that His doors are open to all, and that harmony and unity are what the world needs today.

Whether you are religious, a Christ follower, or would never count yourself as what they call a "Jesus Freak," I think this movie will uplift you and empower you to ponder on what the world needs today and how you can play a part in that.
JESUS REVOLUTION is available on Demand, Digital, Blu-ray™ & DVD, so make sure you get your copy here! You'll want to watch it over and over again.
For more information about this inspiring film, visit the JESUS REVOLUTION movie official site at jesusrevolution.movie, Follow on Facebook and Instagram at @JesusRevolutionMovie and on Twitter at @JesusRevMovie , and use the hashtag #JesusRevolutionMovie
What does JESUS REVOLUTION mean to you? I'm sure my grandma is proud of the one happening to me.
Elayna is a homeschool educator, single mom of 4, founder of the Positive MOM Community, award-winning Storyteller, Story Strategist, and Student of Pain. She's a bestselling author, internationally acclaimed keynote speaker, and 3x TEDx speaker. To receive a gift from Elayna, click HERE.

Want to support the Positive MOM blog?
The mission of the Positive MOM blog is to help moms break trauma cycles, find peace, and feel emotionally whole, so they can practice supportive parenting and create a positive and healthy environment for their children. If you found Elayna's content valuable, please consider donating a love offering to enable her to keep creating content and helping more moms worldwide. Donate HERE.