I recently got back from a 3-day live conference and I am still full from all the information and inspiration I received. I have been active in implementing so many ideas and following up with some of the amazing people I met.
Conferences are wonderful, and you have the power to make each event a productive experience for yourself and your business, to make the most out of a live conference!
Since I attend and speak at conferences all the time (sometimes every month), I've put together some ideas that will help you get set up for success so you can maximize your learning experience, make lasting connections, and have a joyful time!
Since we all have different goals and perspectives, go through the list, mark what resonates with you, and write down any ideas of your own that may come up.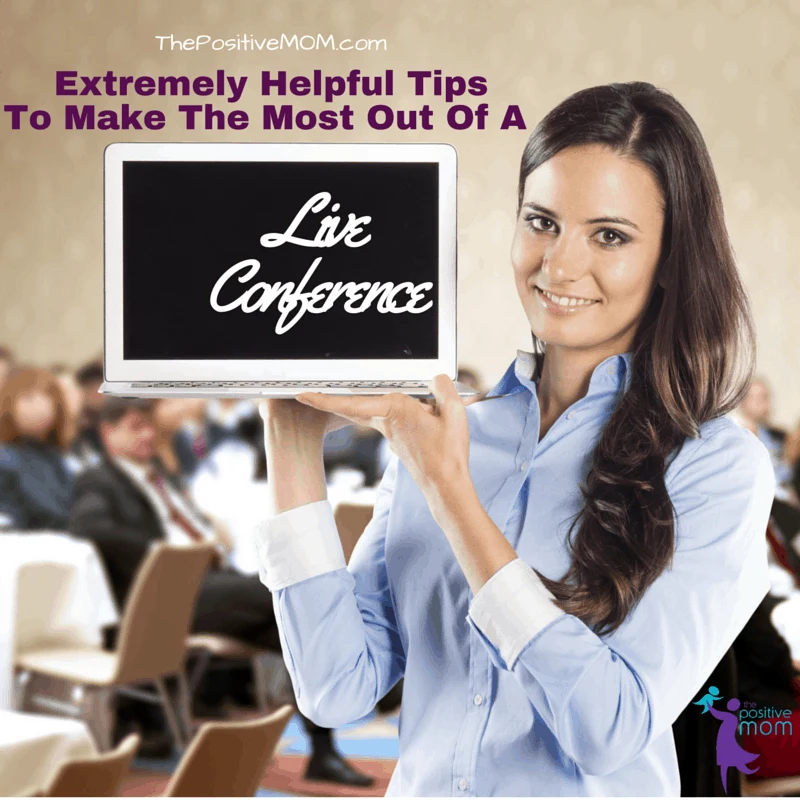 Pre-Conference
These are actions you can take before the conference starts.
Order business cards

.
This assures you bring too many instead of not bringing enough. I encourage you to make your cards stand out and add your photo, so your new connections can remember you after the conference is over, and to incorporate any brand elements you have established: colors, fonts, logo, etc. You can add a special offer or free gift people can access via a bit.ly URL or QR code on the card. If you're printing matte business cards, some white space to write notes is always helpful, if you have glossy cards, a sharpie or post-its to attach are alternative ways to write your comments.
Join the Facebook group

.
If there is a Facebook group available to attendees, do join it. You may visit the conference website or blog regularly, because most event planners post helpful information on a regular basis, including low-cost airfare alerts, special discounts available to attendees, any exclusive events, event sponsors, contests, information about the hotel and area, etc.
Check the agenda

.
This allows you to plan ahead for which breakout sessions and events you want to attend. Some events are limited, so you can reserve your spot nice and early.
Dress comfortably.
Always go for business casual, with layers to adjust to the room temperature. If you're not sure what to wear, ask what the dress attire is or search past events they have posted on their website, Facebook page, or Pinterest board to get ideas. Flats and wedges are great, and make sure you break the new shoes at home!
Update your online profiles.
If your business has evolved or changed, and have a picture that looks like you on there. You know 10-year-old-profile-pictures are a pet peeve of mine, but it's okay if you look the same way.
Set intentions.
Set goals for what you would like to achieve at the conference, or because of the conference, however, stay open and flexible to what may unfold.
Create your 60-second business introduction.
Or maybe update it if you have one that has evolved. Check out my formula to create the best elevator pitch ever here.
Join the social media conversation

.
Start interacting with the event by using the conference hashtag. Connect with other attendees in advance by following them on Twitter, Facebook, and Instagram.
Connect with any event speakers you resonate with, too. You can also contact key connections from last or prior years to see if they are attending and to make plans to connect again.
Block out the day on your calendar
Make sure you have no commitments the day you arrive (and the day after), so you can devote that day to sleep, recover, rest up, and follow up with your new connections. Being present is a must!
Create a budget for investing in yourself
This plan will allow you to consciously choose to take advantage of any exclusive or time-limited offers that may be presented as an opportunity to invest in your success. Remember that your clients will invest in you to the level you invest in yourself.
Ask questions.
Asking for clarification during sessions is great, but what I'm referring to is writing questions in advance that you will want the answer to.
The speakers could organically answer these, but if it's not part of the conversation, you can have a reminder, and you can use them as conversation starters when you run into the speaker – intentionally. LOL
Use a packing list

.
Your event packing list will include your essentials (they look different for each of us). Here are some ideas:
Business Cards
Name Tag and lanyard (they will provide you these, but you can use your branded one, if you prefer – I have a sparkly purple lanyard that is the perfect height for me).
You're more than likely get a tote bag, so bring an accessory or detail that will make it unique, so it doesn't get mistaken for another attendee's.
Bring your best PJ's, especially if you're rooming with someone else 🙂
Bring healthy snacks so you can maintain your energy high between meals
Bring note-taking equipment of your choice: a notebook and pen, 3 X 5, your tablet, your smart phone, or voice phone devices – if allowed. I love taking notes on a Google Doc because I can share my notes and easily copy-paste on my blog when I write my conference recap. Write your name and phone number on your notebook, just in case!
Something I love doing is bringing blank note cards that you can hand deliver or mail later. You can also bring a memorable giveaway, for example, when I went on the Disney Cruise (the best kind of event!), I brought every blogger and media member a Positive Mom t-shirt with bling all over. LOL
Leave plenty of extra room in your luggage for swag, especially if you're going to a social media or blogging conference. They will spoil you – and it will be fun!
If you're into photography, bring your DSLR. I often forget it, but I'm more committed to bringing it along in the future for speed, lighting, and phone battery saving.
That reminds me, you will need a portable charger because phones die quickly and power strips may not be available or may not be conveniently located.
Bonus Tip for Organization Lovers:
If you love everything organized, you can use a binder with tabs for sections on travel (air, ground), hotel reservations, conference schedule, and so forth.
You can add a section with 3 hole punched plastic business card holder so you can keep track of the cards, and even organize them by day!
A zipper pouch or resealable bag can also keep the business cards and receipts together (you want to keep track of all your expenses because conferences can be a write-off).
You can use this system to file any order forms, if you do end up enrolling for a training program or service, adding your notes of the pertinent details and bonuses or contact information that may not be clear or at all on the form.
At The Conference
The best thing you can do is make sure your energy level is up, you are focused on learning and making connections, and you keep yourself comfortable, hydrated, and well-nourished.
Don't carry your big purse everywhere you go.
You can use keep a few business cards in the plastic sleeve behind your nametag, and your phone in your pocket. (I guess that is a tip on what to wear: clothes with pockets!)
Attend as many sessions as you can and take notes!
Keep in mind what you came to do and take advantage of your time at the conference. It's all about access, resources, connections (and I'll admit it: swag is nice, too), but be kind to yourself, too! Balance!
Support the sponsors.
Thank them for investing to make the event could be a reality. Visit their booth or station, Tweet at them, use their hashtag, and if you're like me, give them a hug!
Don't be shy. Even if you are.
I don't mean changing your personality. It is a choice to decide that for the length of the conference, you will act as if you love starting conversations with people you don't yet know. You can tell yourself you will go back to being an introvert when you get on the plane. Taking
It will be worth it. If you feel drawn to a particular person, write it down or fold the corner of the business card, so you can remember it.
Ditch your girlfriend

.
Well, not really and not entirely, but do find new opportunities to sit with new people at the meals, elevators, bathrooms, and sessions. Your girlie girls and yourself can divide and conquer: introduce your new connections, share notes, and get excited each time you get together again. It's so fun!
Be on time.
Usually, the best announcements, tips, and stories happen at the very beginning. Don't get FOMO because of being late.
After The Conference
They say the future and the fortune is in the follow up – I'll add a third F for friendship. Relationships are all about follow up and follow through.
Rest, sleep, process what you learned, savor all the moments, and re-live them on Instagram, Facebook, and Twitter, as you click like and comment occasionally.
Write a recap, passing on the knowledge, sharing your story, or simply saying thanks to those who made it possible.
I love conferences.
I love speaking on the stage, facilitating workshops, connecting with women who invest in themselves, and with brands that are committed to supporting us.
I always ask if it's a family-friendly conference because homeschooling allows me to bring my daughters (they love conferences and are often booked as presenters themselves).
Some conferences include special sessions for all members of the family and even offer childcare, so if this is something you are interested in, don't hesitate to ask the event organizer.
I'd love to connect with you at a conference – which ones are you headed to this year?
Do you have any tips to make a conference more productive? Share it with us below!
Elayna is a homeschool educator, single mom of 4, founder of the Positive MOM Community, award-winning Storyteller, Story Strategist, and Student of Pain. She's a bestselling author, internationally acclaimed keynote speaker, and 3x TEDx speaker. To receive a gift from Elayna, click HERE.

Want to support the Positive MOM blog?
The mission of the Positive MOM blog is to help moms break trauma cycles, find peace, and feel emotionally whole, so they can practice supportive parenting and create a positive and healthy environment for their children. If you found Elayna's content valuable, please consider donating a love offering to enable her to keep creating content and helping more moms worldwide. Donate HERE.