The life of a mom is typically filled with drudgery, stress, and running on autopilot. It may be safe to say that our children's milestones and an occasional nap may be the only form of excitement we experience.
But sometimes we make ourselves have fun. As in "we force ourselves" to think about our own needs and if we do go through with the plan to take time for our self-care and enjoyment, the mommy guilt eats away at our soul.
You end up concluding that you just have to wait for the "family vacation" to be able to hopefully relax AND spend meaningful time with the family!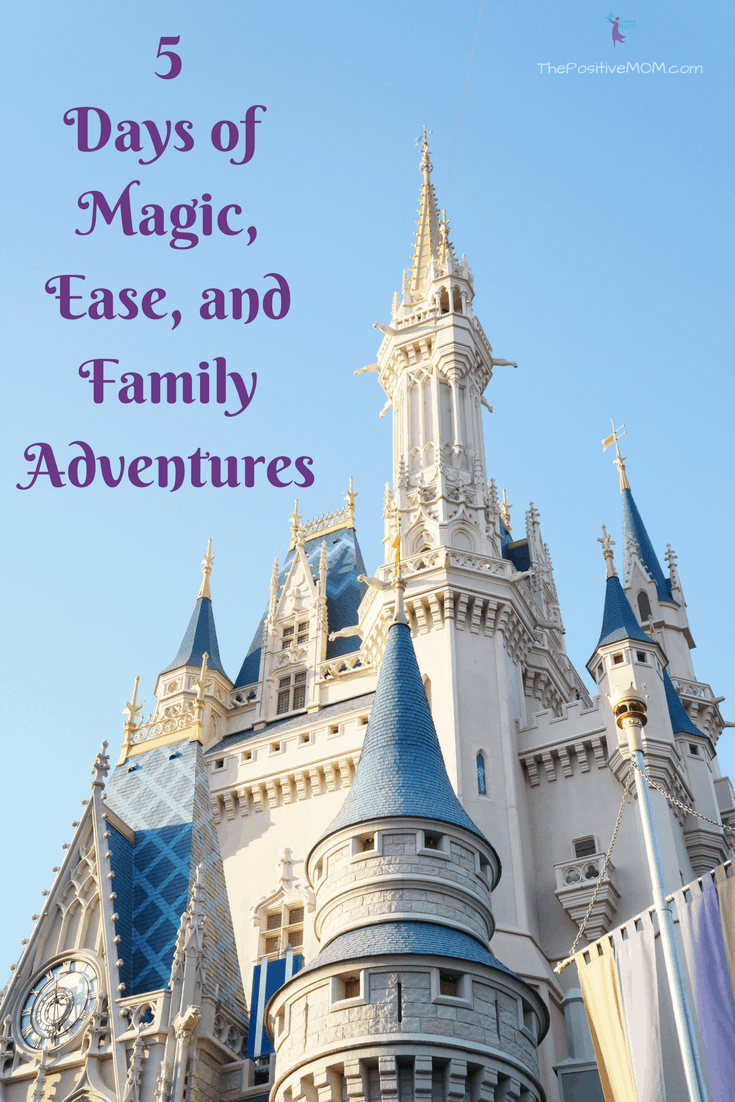 A relaxing and enriching family vacation may sound like a myth from the land of the unicorns. But I promise you it's not. Repeat after me: it is possible! You can let in a YAY, if you feel one coming.
I just returned from such an experience. We had a few days of magic, ease, and family adventures while visiting the Walt Disney World® Resort and aboard the reimagined Disney Wonder, one of four ships in the Disney Cruise Line fleet.
It all started a few months ago when I received a pixie-dusted e-mail from the Walt Disney Parks and Resorts Special Events Reservation Center saying they would be happy to host me (and my family) for the 2017 Disney Social Media Moms Celebration.
The invitation included a 5 Day Park Hopper Plus ticket for each of my loves to enjoy any Disney theme park as well as Disney Water Parks, FastPasses, and access to conference activities, incredible speakers, exclusive content behind-the-scenes, VIP evening events, and the joy seeing old friends and meeting new ones.
Sounds enchanting, doesn't it? RSVPing YES would seem like a "no brainer," but we moms overthink this type of stuff. I think it wouldn't be an exaggeration to say we probably fear death a lot less than we fear taking time off and the possibility of everything falling apart.
But I love Disney. For a girl raised in the slum, going to Disney is THE ultimate achievement. I realize I've been to the parks dozens of times and this wasn't going to be my first time on the Disney Cruise Line or first Disney Social Media Moms Celebration, but some places and events provide joy to your soul each single time.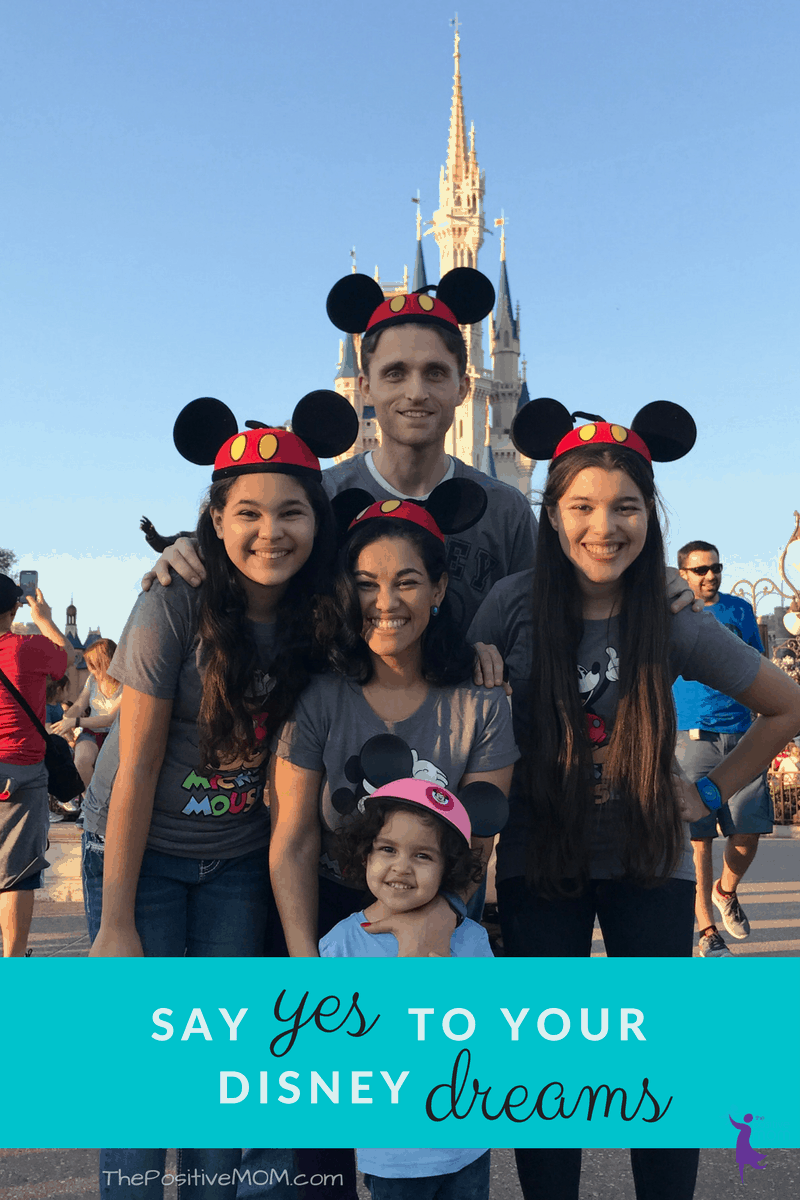 I said YES… and the excitement began. We bought matching shirts at the Disney Store Outlet, held our mail, and packed up our favorite Mouse Ears in a brand new Star Wars themed suitcase American Tourister delivered to my door. The collection is amazing!
We traveled through Louisiana, Mississippi, and Alabama, and made it to Florida, with a few magical stops on the way, determined to get there a couple of days early to experience the most magic we could.
But I know there's an elephant in the room (let's call him Dumbo!). You want to know about this "stress-free fun vacation for the whole family" concept. Ask no more!
I'll take you there!
It's common knowledge that mom is synonym of chauffeur. You drive your kids to school, I drive my kids to voice lessons, piano lessons, church activities, and whatever else comes up.
Imagine a world where you are transported to and fro, so you can relax and enjoy – at no cost. Disney's Magical Express is complimentary transportation between Orlando International Airport (Terminal B, Level 1) and any Walt Disney World® Resort. With your reservation details , your luggage goes straight from the plane to your hotel room, so you can be luggage free (this is extra helpful when you have a very active toddler!).
You have free transportation to any park and several ways to be transported within certain parks (like the monorail, the ferry, and the MEARS buses – that stands for "mouse ears").
When you sail on the Disney Cruise Line, complementary pre-arranged shuttles take you from the Walt Disney World Resort to Port Canaveral and luggage service is provided, so you only bring your day bag with things you need upon embarkation. Oh sweet bliss!
Dinner is served!
You hear this phrase almost daily when you're gathering the family around the table, but on the Disney Cruise Line ships, it's not you saying it. That is magic! I'm going to warn you that you will get used to not having to cook, worry about someone wanting something different for dinner, or dreading to do the dishes.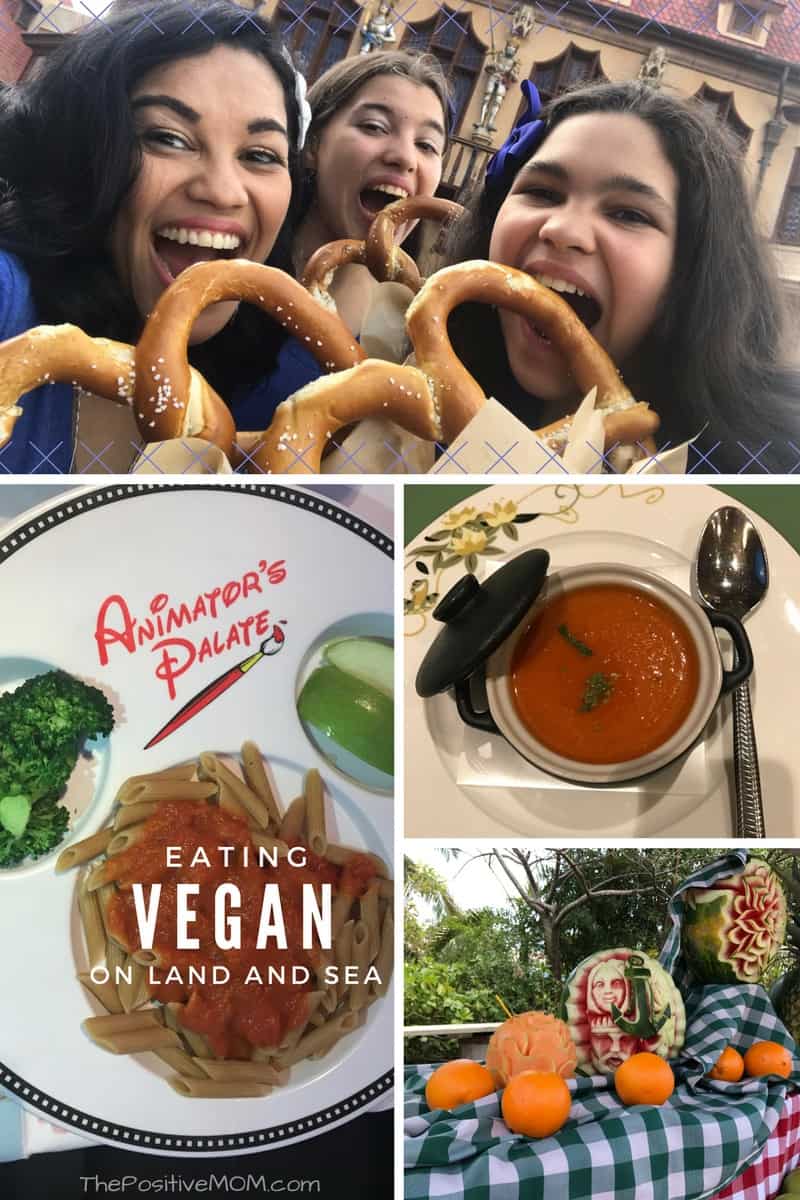 There is a great variety of restaurants at the Walt Disney World® Resort and theme parks. Ask a cast member about your dietary needs and they'll bring you a detailed list of ingredients so you can make a safe and yummy choice.
Alamo, another generous event sponsor, treated my family to vegan dinner at the brand new PizzeRizzo, a Muppet's inspired Disney's Hollywood Studios. They do have vegan cheese, amigas!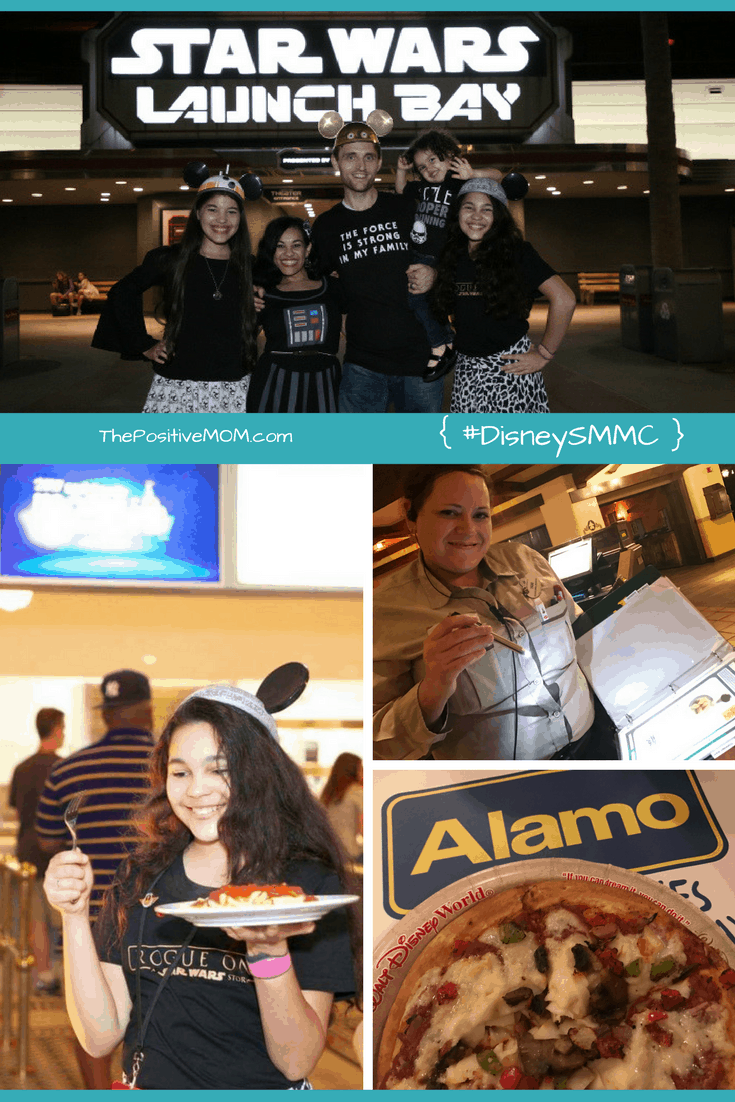 Oh and if you make it to Disney Springs, you're in for a variety of culinary delights: waterside cafes, world-class restaurants, and quick-service counters.
All meals are included onboard Disney Cruise Line. The service is remarkable and the food is delicious – and vegan friendly – and the atmosphere is conducive to laughter, unplugged quality conversations, and lifelong memories. No one is overwhelmed, overworked, or overstressed.
Our family requested the early seating (5:45) dining rotation. Dining attire is cruise casual in all 3 main dining restaurants, but you can get fancy if that's how you roll.
On day 1 of our 3-night Bahamian cruise trip, we dined at Tiana's Place, which a heavenly southern inspired menu, a jazz band, and appearances by the proprietor, Princess Tiana, herself.
On day 2, our feast happened at

Triton's

, an Under The Sea inspired venue with delicious menu.
On day 3, we enjoyed the magic of art animation at

Animator's Palate

, where the dining room transforms from black and white to color while you dine!
At Castaway Cay, we ate as a family at Cookies. Though they pride themselves in their BBQ Lunch, vegans can enjoy many options for a full belly compliments of DCL.
Be Our Guest!
Another thing that will provide ease and peace to your getaway is the fascinating Disney hospitality. We stayed at the Disney All Star Movies Resort before our event, and at the Disney's Port Orleans Riverside Resort for the land portion of the Disney Moms celebration. I try to stay at a new resort each time I travel to the Happiest Place on Earth, and I am always impressed with the uniqueness, theme, and top notch hospitality.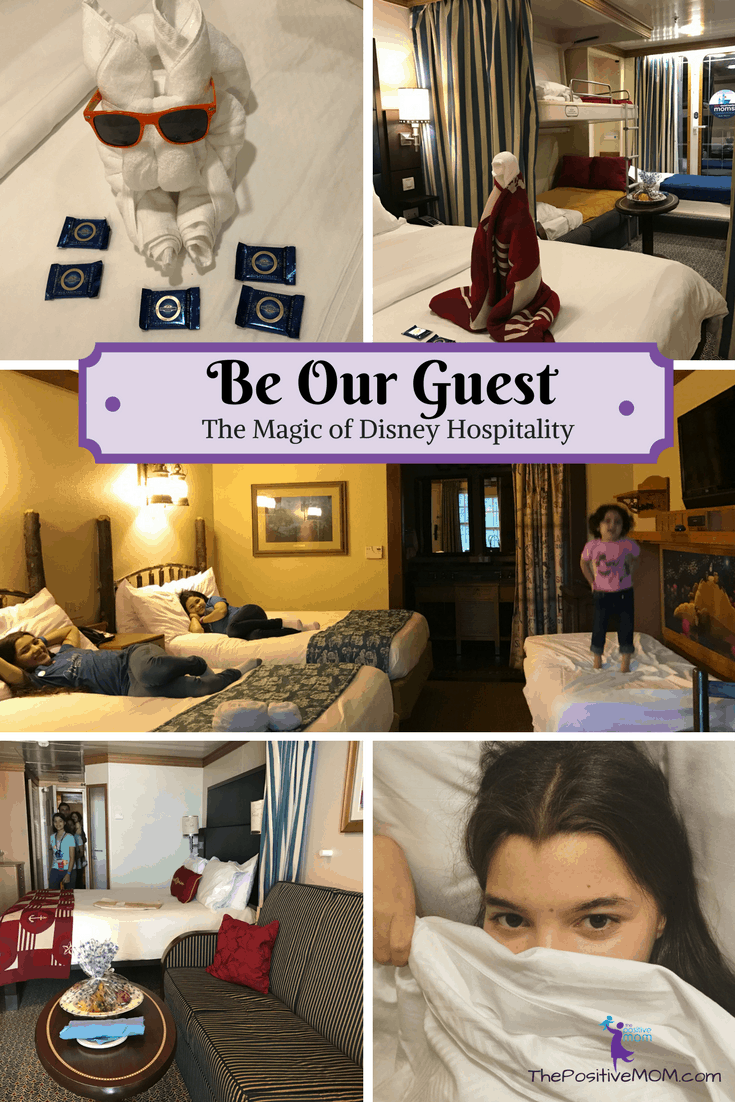 My stateroom about the Disney Wonder was also impeccable. We would leave for a while and come back to a transformed room with exotic towels, and dark chocolate.
And because I was a returning guest aboard Disney Cruise Line, they welcomed me with a fruit basket and gifted me a lovely tote and lanyards for the entire family. Feeling important and appreciated is a huge win in motherhood.
As is not having to clean, pick up, make the beds, or remind anyone to. I'm not naming names, because they know who they are.
I can show you the world!
While the handsome Aladdin is not guaranteed to be on-site, you will have complimentary access to the ins and outs of the world of Disney without having to take time away from what is supposed to be a vacation to figure out what is happening where what time.
At the parks, you will access your theme park tickets, your resort room, your dining reservations, and your FastPasses with the tap of stylish and colorful your Magic Band.
Wi-Fi connection is gratis all across Walt Disney World Resort (WDW-Guest Wi-Fi network), which allows you to use the My Disney Experience website or IOS/Google Play™ App to set up all your fun (check park hours, wait times, set up FastPasses, and more!)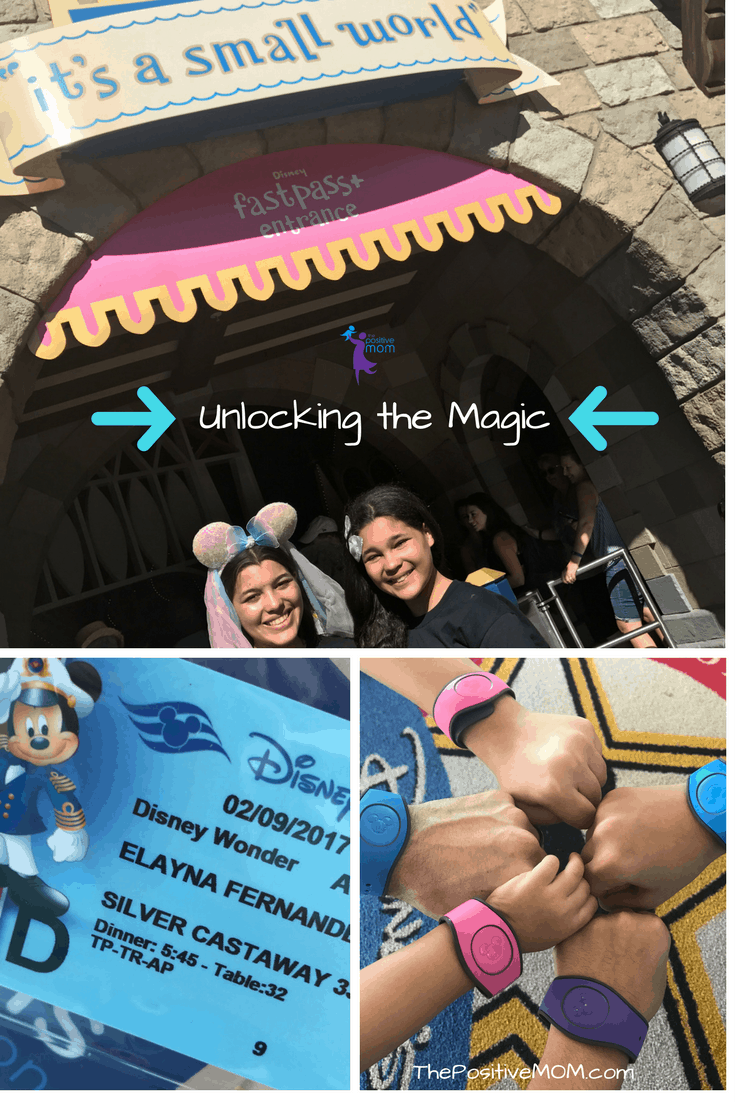 You can download The Disney Cruise Line Navigator App at the Apple Store and Google Play™ before boarding the ship. Your app connects to the DCL GUEST WI-FI network, and will help you stay connected and maximize enjoyment on your cruise days (Activities, Movie and Show times, spa, merchandise specials, Dinner Menus).
And there's the "Key to the World Card," which gives you access to your stateroom, all onboard purchases, and access on and off the ship. I even used it on the island gift shop to buy myself a souvenir! It tells you your dining rotation and table number.
We'll keep the kids happy and safe!
Helicopter mom is the nicest label I've been called because of my avoidance to take advantage childcare opportunities, but I have to say I fully trust Disney Cruise Line counselors to keep my precious princesses happy – and safe. Elisha and Elyssa had experienced the Oceaneer Club at the Disney Magic, and it was a mom's dream come true.
Little Pige was so happy – and she will let you know when she's not. She still asks if she can go to "her club," so I'm already planning another cruise itinerary in my head. I learned too late that you get a discount if you book your next cruise trip while onboard, but that's not going to stop me.
There are so many exciting opportunities for fun for kids of all ages aboard the Disney Cruise Line. Elisha and Elyssa were in a separate club for Teens called Vibe. We gave Elyssa signed permission to skip the tween club, which was equally amazing, because I melt with sisterly togetherness and puppy faces. They had so much fun and absolutely loved every minute of it.
Go Shopping!
If shopping is your thing, you will can get your hands on amazing Disney finds. We had the incredible opportunity to participate in the Disney Moms Social Media Family Challenge to test our creativity and shopping skills.
We used Disney Gift Cards toward some Star Wars #DisneyBounding, which was perfect for the reserved VIP viewing of the spectacular, flaming fireworks of Star Wars: A Galactic Spectacular and for the Star Wars themed Family Galactic Dessert Party, where we interacted with some visitors from a galaxy far far away.
Bringing a Disney Gift Card, rather than your own cash or credit card helps you stay on budget. Be sure to also take advantage of all the freebies you get at Disney: free Disney stickers, free Disney buttons, free water… and more!
Enjoy the show!
Disney offers extraordinary entertainment both on land and at sea. I'm sure you know there are magical shows and fireworks at the iconic Cinderella's Castle, but did you know that Disney's Animal Kingdom comes alive at night?
Two attractions you don't want to miss are the Tree of Life Awakenings and the brand new River of Lights; a nighttime show that combines fire, mist, color, fire, music, and illuminated boats and floats, bringing majestic images of animals to life.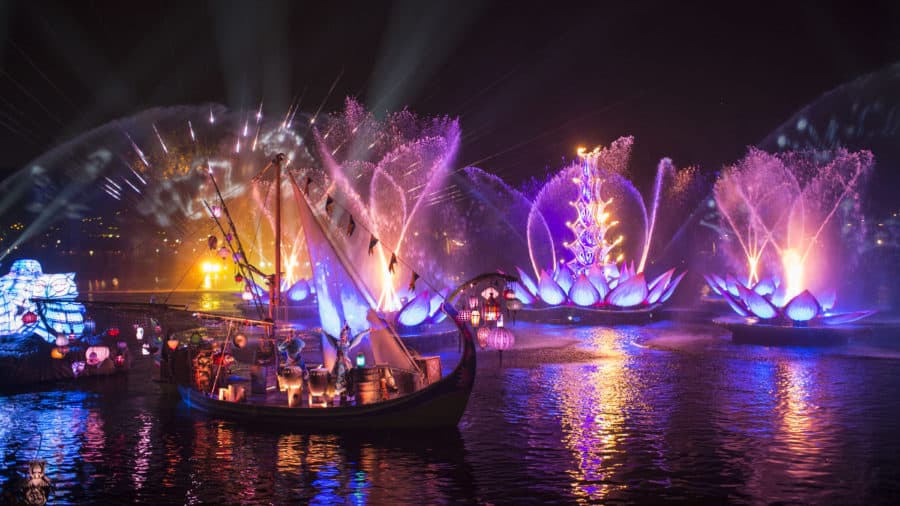 Aboard the Disney Wonder, you must attend the Broadway style shows that create a world of enchantment for everyone!
The Golden Mickeys features a red-carpet and unique awards show, recognizing your most favorite Disney films!
Disney Dreams is a classic tale of a girl who learns to believe in magic, at any age.
And Frozen, A Musical Spectacular, which takes us to the world Arendelle, bringing the animated story of Froze to life with exceptional talent, impressive vocals, and breathtaking special effects to complete the Disney whimsy we all love.
And if your type of fun includes the dance floor, the Sail Away Party and the Pirates IN the Caribbean Deck Party will be lots of fun. We dressed up, danced off, and watched the fireworks at sea!
Family Adventures [ are "out there! ]
Castaway Cay is Disney's private island in the Bahamas. It is a serene, secluded island with white sandy beaches, gorgeous vegetation, exotic views, and fun activities for everyone. There is a family beach, an adult beach, and an area for little ones to have thrilling adventures of their own.
Elisha and Elyssa went snorkeling, Taylor Bare and Eliana explored, and I took a nap while sunbathing! Best option ever! I did do the Castaway Cay 5K walk/run earlier that day though.
After 3 days of magic, ease, and family adventures, it was time to pack up our custom door magnets and say goodbye to our Disney Wonder Deluxe Family Oceanview Stateroom with Verandah… but we went back to Magic Kingdom for a last day of pixie dust (for now).
All this endless magic can be yours, too, when you say YES to your Disney dreams! Imagine yourself experiencing the endless magic of the Walt Disney Resort, enjoying yourself aboard the Disney Wonder… hearing voice saying:
go shopping
I'll drive
dinner is served
be our guest
we'll keep the kids happy – and safe…
so you can enjoy a whole new world of magic, ease, and family adventures!
Could you get used to that? I know I did!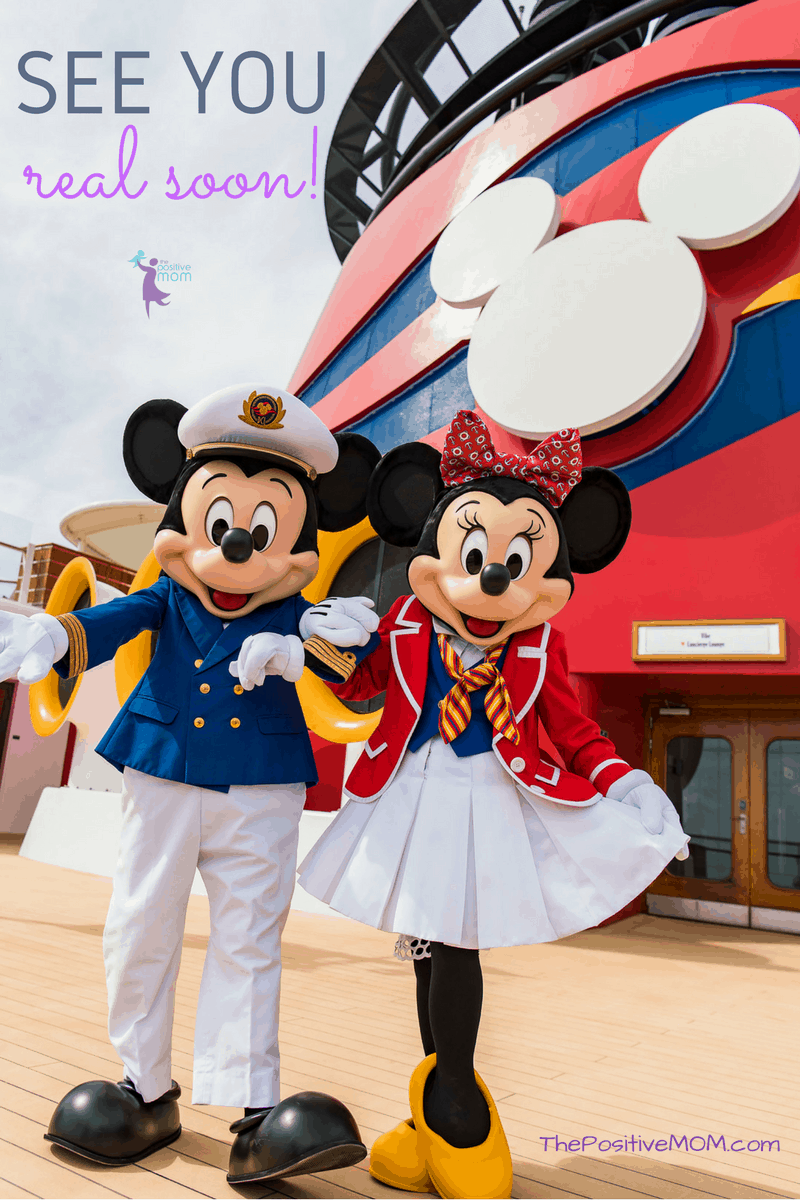 I'm so grateful to the The Disney Social Media Moms Celebration Team ( AKA the pixie dust fairies ) for allowing our family to be part of these enchanting adventures visiting Walt Disney World Resort and setting sail on a Disney Cruise Line voyage.
If you want to see photos and videos of my Theme Park visits, conference activities, networking and evening events, check out the #DisneySMMC hashtag on your favorite social platform, and be sure to follow @DisneyMoms on Twitter!