I'm so excited to announce that Universal Pictures released How To Train Your Dragon: The Hidden World on Digital and it will be available on 4K Ultra HD, Blu-ray™ & DVD on 5/21. Save the date!
I am celebrating the How To Train Your Dragon: The Hidden World release with a DVD giveaway, so make sure you enter below for a chance to win your very own copy of the beautifully imagined epic conclusion of this DreamWorks animated adventure trilogy for the entire family.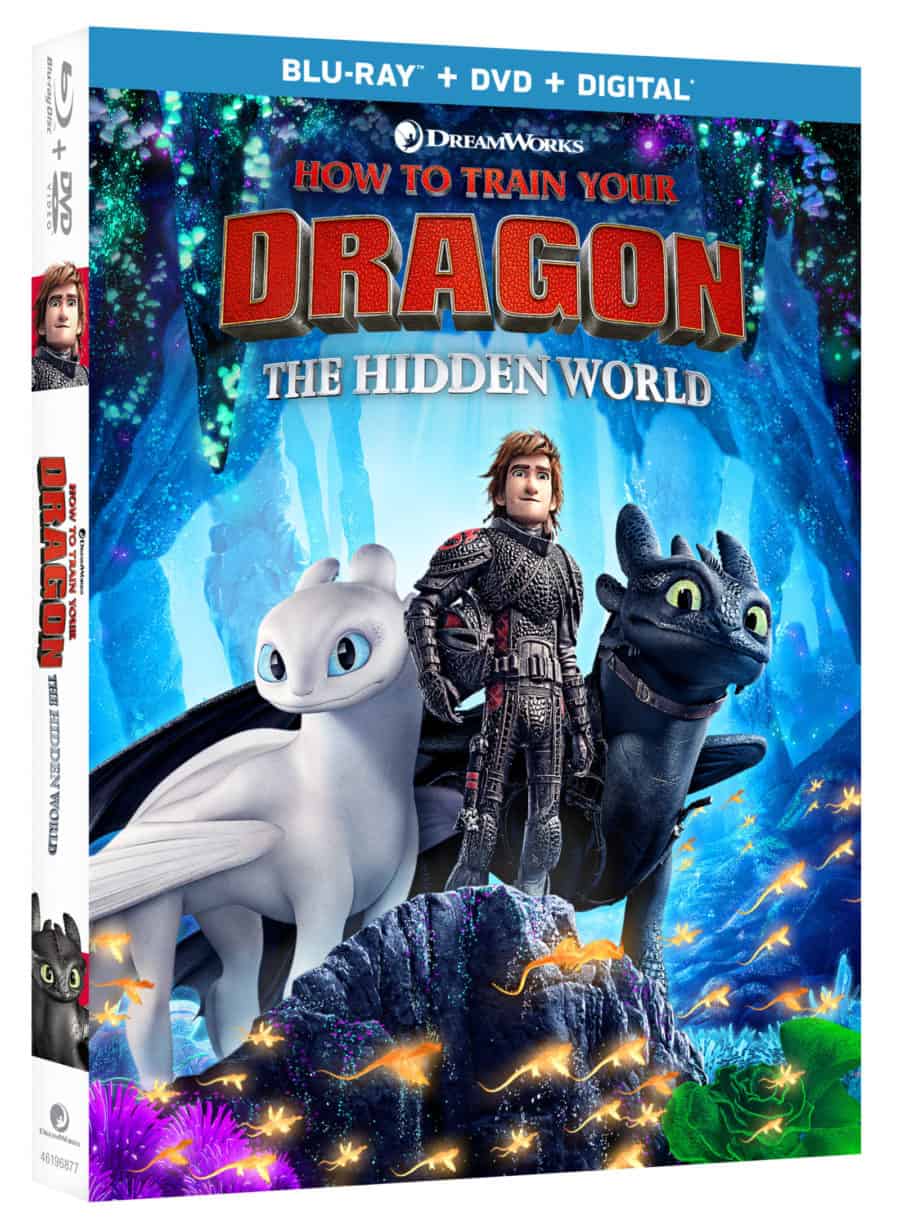 I cannot believe it's nearly ten years after the first How To Train Your Dragon movie! My teenagers were around my little one's age! Oh how they have changed – but they still love this amazing movie that wowed audiences around the world, based upon the "How To Train Your Dragon" book series by Cressida Cowell.
Hiccup and Toothless return to captivate fans with an adventure of a lifetime in DreamWorks Animation's How To Train Your Dragon: The Hidden World. The final quest from Dean DeBlois' (Lilo & Stich, How to Train Your Dragon trilogy), from Universal Pictures Home Entertainment.
What began as an unlikely friendship between an adolescent Viking and a fearsome Night Fury dragon has become an epic trilogy spanning their lives. In this next installment, the heroic pair finally fulfill their destinies; Hiccup (Jay Baruchel) as the village chief and ruler of Berk alongside Astrid (America Ferrera), and Toothless as the dragon leader of his own kind. As the Vikings and dragons of Berk face their darkest threat yet, the evil Grimmel (F. Murray Abraham), and Toothless discovers his soulmate, Light Fury – the bonds of Hiccup and Toothless' friendship are tested like never before.
Hailed as "the perfect conclusion to one of the best animated trilogies of all time" (Scott Menzel, We Live Entertainment) and certified fresh on Rotten Tomatoes®, the film opened at #1 in over 40 markets. The 4K Ultra HD, Blu-ray™, DVD and Digital versions feature over an hour of exclusive behind-the-scenes bonus content including an alternate opening, two DreamWorks animated shorts, deleted scenes and more.
The all-star voice cast behind all of the beloved characters from the previous films returns in How To Train Your Dragon: The Hidden World with Jay Baruchel (The Sorcerer's Apprentice, This Is the End), America Ferrera ("Superstore," The Sisterhood of the Travelling Pants), Cate Blanchett (The House with a Clock in Its Walls, Ocean's Eight), Gerard Butler (300, The Bounty Hunter), F. Murray Abraham (Isle of Dogs, The Grand Budapest Hotel), Kit Harington ("Game of Thrones"), Craig Ferguson (Brave), Kristen Wiig (Despicable Me 3, Ghostbusters), Jonah Hill (The Lego Movie franchise, 21 Jump Street) and Christopher Mintz-Plasse (Trolls, This is the End).
You will love these bonus features, plus, a special Facebook and Messenger App special feature that brings Toothless and Light Fury to life in-store experiences, plus two exclusive dragons to train!
Alternate Opening with Intro

by Writer/Director Dean DeBlois
DreamWorks Shorts:

Bilby

– Directed by Liron Topaz, Pierre Perifel and JP Sans; produced by Jeff Hermann and Kelly Cooney Cilella. Threatened daily by the deadly residents and harsh environment of Australia's Outback, a lonesome Bilby finds himself an unwitting protector, and unexpected friend, to a helpless (and quite adorable) baby bird.

Bird Karma

– Directed by William Salazar and produced by Jeff Hermann, the beautifully artistic 2D short film Bird Karma tells a delightfully lyrical and fully unexpected tale of a long-legged bird's journey of blissful joy, inescapable greed and the accidental discovery of the consequences when too much is not enough.

Deleted Scenes with Intros

by Writer/Director Dean DeBlois
How to Voice Your Viking – Go behind the scenes with the cast as they record the Viking voices ofHow To Train Your Dragon: The Hidden World.
Creating an Epic Dragon Tale – Discover what filmmakers learned while crafting this epic dragon trilogy.
How I Learned from Dragons – The diverse cast of characters reveal why they think the dragon trilogy is so special.
Brave Wilderness Presents: Nature + Dragons = Awesome – Join Coyote Peterson, host of Brave Wilderness, as he explores what it takes to make the dragon's characters come to life.
The Dragon Sheep Chronicles – Protecting sheep from the dragons of Berk is no easy task but Hiccup has a plan.
A Deck of Dragons – Observe four new dragons as Fishlegs unveils his original deck of dragon trading cards.
Growing Up with Dragons – After years of being with these characters, hear the lasting effects of the dragon trilogy from the filmmaker's perspective.
The Evolving Character Design of Dragons – Cast and crew reveal what it was like to evolve not only the characters of How To Train Your Dragon: The Hidden World, but themselves as well.
Drawing Dragons – Get a glimpse of what goes in to designing a DreamWorks dragon.
Epic Villain – A different kind of villain, Grimmel brings great challenges to the village of Berk. Go behind the scenes as filmmakers breakdown this epic character.
Astrid's Whole Dragon Trilogy in 60 Seconds – Hold on tight as Astrid sums up the whole dragon trilogy in a legendary 60 seconds.
Welcome to New Berk – With Hiccup as your guide, get a firsthand look at the updated Viking village of New Berk.
Feature Commentary with Writer/Director Dean DeBlois, Producer Bradford Lewis and Head of Character Animation Simon Otto
To learn more, visit the How To Train Your Dragon: The Hidden World website or follow/like How To Train Your Dragon on Facebook, Tumblr, and Instagram and @DWAnimation on Twitter. and use the #HowToTrainYourDragon hashtag to follow along!
How To Train Your Dragon: The Hidden World has a run time of 1 Hour and 44 minutes and it's rated PG for adventure action and some mild rude humor. You can enjoyHow To Train Your Dragon: The Hidden World in English, Spanish and French, with or without subtitles.
Make sure you enter this amazing giveaway to win a free copy ofHow To Train Your Dragon: The Hidden World on Blu-ray!
a Rafflecopter giveaway
One fortunate winner will win this fantastic prize. Entries will be verified!
[ela]