I finished high school when I was 15 and I knew I wanted to study marketing.
At that age, there was nothing in the world I was more passionate about, and, since I had been an entrepreneur since the age of 7, marketing was already a big part of my life.
I am very intense, too, so when I commit to something, you know I'm going to give it my all.
The very first college class I took went into "What is marketing?" and that's when I first learned about the power of a testimonial.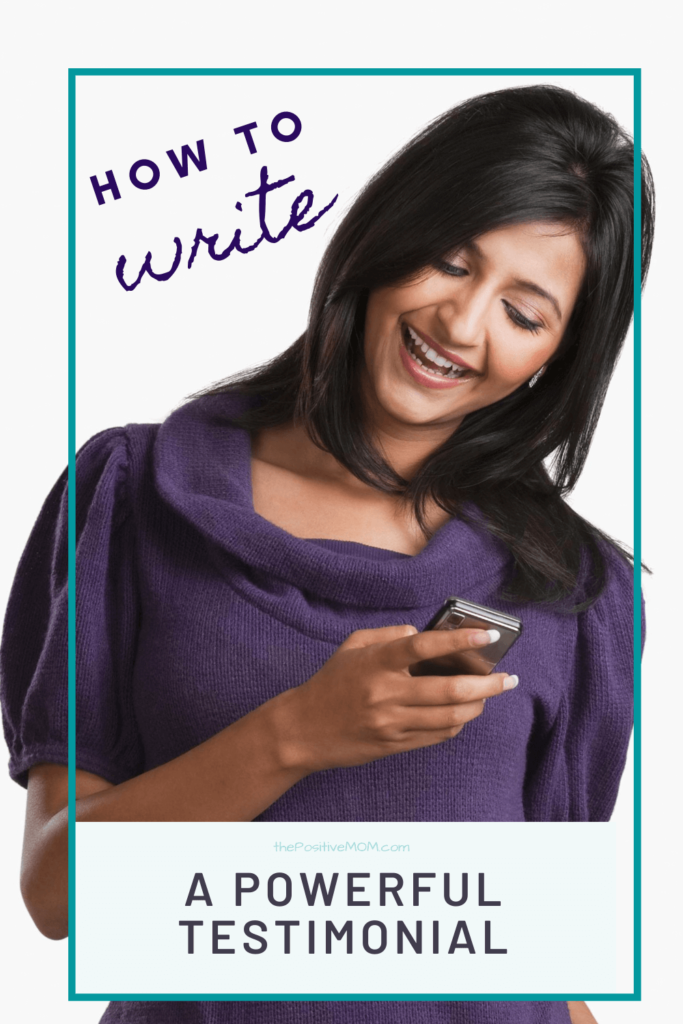 That was ages ago, and yet, even after becoming a Master Trainer, mentored by Jay Conrad Levinson himself, testimonials are still one of the greatest tools to build credibility, trust, and brand awareness, regardless of budget size (or lack thereof).
How Writing A Testimonial Is A Win-Win
Because most (if not all) buying decisions are emotion-based, when you share a testimonial you activate the Law of Reciprocity.
The receiver can tap into your personal experience to gain social proof and connect with their potential clients at a deeper level.
There are so many people who have been instrumental to my successes and crucial in my times of failure.
I've had the honor to work, share the stage, and be personally mentored by some of the world's top transformational leaders.
I've always been impressed by their ability to recognize, acknowledge, and voice others' gifts – both in private and in public.
A true leader does not feel threatened by someone's greatness; a leader celebrates and edifies greatness. Yeah, they write testimonials!
In my experience as an author, coach, influencer, course creator, and small business owner, I definitely love it when a testimonial comes my way.
And it's not about my ego being happy, although I do feel more confident that I'm using my gifts to make a difference, and what I do matters. That validation sometimes can keep us going!
However, it goes beyond that. It really makes my soul happy when someone writes a testimonial because it's not about me!
Here's the thing. The main purpose of testimonials is to address the false beliefs that are preventing someone from getting the positive transformation they want in their life.
So when you write a powerful testimonial, you also help the recipient's dream customers, because they are more likely to invest in their happiness and move away from their suffering.
A powerful testimonial or review expands the vision and supports the mission.
When I think of the difference between a sweet expression of gratitude and a powerful testimonial, I think about the story of the 10 Lepers in the Bible, when one came back to thank Jesus for his healing, versus The Woman At The Well.
She went beyond thanking Him and recognizing His gifts and power: she went and told everyone exactly what He did, assuring them He could do the same for them.
A powerful testimonial can change lives – and this is why we give them generously!
But not all testimonials are Powerful…
A powerful testimonial is the kind that serves as proof to the reader that the product, service, program, or person you are endorsing is exactly what they want and will provide the exact outcome they need.
In order to consider a testimonial powerful, I need to see these three elements at play: authenticity, intentionality, and specificity.
A Powerful Testimonial Is Authentic
To make sure that the time, effort, and energy you are investing in writing your testimonial is worth your while, avoid the fluff and focus on the authentic value you received.
A powerful testimonial does not have to be elaborate or lengthy. As a matter of fact, a powerful testimonial is often short and concise.
Too much rambling can make a testimonial a tedious, boring read.
The use of fancy words or jargon can take away credibility, especially if some facts are blown out of proportion and sound too good to be true.
You don't have to be a good copywriter to write a persuasive testimonial. Using your own words works best.
If you write your testimonial from the heart, then it's good enough!
To make it more authentic, make sure you start by adding some context:
What problem/issue/challenge were you trying to solve?
How did you find out about what you are reviewing?
What prompted you to invest in it?
For example:
I have been running live courses online for over 10 years now, but when I found out that I was pregnant with Elydia, I decided I wanted to create something evergreen, so I could immerse myself in motherhood again, take time to heal from my separation, and still serve my audience.
I researched and contacted a ton of course creation websites, but I didn't really know which one was right for me.
When I chatted with the LifterLMS team, I knew I had found the place for me. Not only do they have a stellar LMS platform that's fully customizable and easy to use, but they also really care about their customers' success.
By reading this excerpt, you can feel that I am a real person, a mom, who's truly looking for a solution and who's actually found it.
A Powerful Testimonial Is Intentional
In order to be intentional when I write testimonials and reviews, I pay attention to what my objections were when I was considering buying, and I address them and how I overcame them.
What were you concerned, skeptical, or afraid about before the buying process?
What questions, reservations, or hesitations did you have during the sales process?
How did it turn out to be okay – or even better than you thought?
For example, if I thought investing in something would be financially straining, and ended up saving me in opportunity cost, I think someone else would want to know.
Or maybe I can talk about a time when I was excited about a product and the price was reasonable, but I wasn't entirely familiar with the provider at first, I'd highlight why they earned my trust.
Another way to be intentional is to add a call to action (CTA) at the end of the testimonial, so the reader knows what the next step is on the customer journey.
For example, I was just part of a 30-day long challenge with Russell Brunson.
An intentional testimonial would sound like this:
"I know even an hour a day for thirty days is a huge commitment for devoted moms and digital entrepreneurs like you and I, but I promise you, it is worth it!
The One Funnel Away Challenge will teach you everything you need to market and monetize your message online for only $100, so don't put it off, sign up for the next one, and you'll end up saving time, energy, money… and even your sanity!"
As you can see, this short, honest review, is compelling the reader to take action and bringing a new perspective to the investment.
A Powerful Testimonial Is Result-Driven
My primary love language is Words of Affirmation and gratitude is one of my top core values, so you may imagine I'm all about them words!
But adjectives are empty without results.
If your feedback to someone who delivered quality work or services is…
You are amazing!
The course/product/service was unbelievable!
This coaching session was the best!
… then your feedback is not helpful or effective, because it won't help the conversion process: buy, download, register, etc.
When you write your testimonial, think about the person who will read it and imagine their journey:
What is the outcome they are looking for?
Which is the exact transformation they dream of?
Do they have a problem they need solved?
Make your testimonial about that, because that's what they want to hear. Communicate exactly what helped and how.
For example, I recently became a Certified Mastery Of Self Love Facilitator, and have been spending a lot of time with one of my most beloved mentors, Janet Attwood.
A paragraph focused on my results from working with her would read like this:
"Before I took the Mastery of Self Love course, I was in constant physical and emotional pain, blame and shame, feeling broken in just about every way. I couldn't seem to heal my trauma– even after therapy and a 20+ year journey in personal transformation! I was so hard on myself!
Through Janet's work and wisdom, I was able to release both my inner and outer pain (and even excess weight!) in just a few days.
I feel a sense of peace and wholeness that I never thought was possible, and I am finally falling in love with my true self and treating myself kindly. It has been a miracle for myself and my family!
Even though I don't know how many lbs. I lost exactly, because it was an unexpected byproduct of my healing, you can still feel that my transformation was dramatic, massive, and epic.
Of course, if you can measure your results, go for it! The Law of Specificity is one of the laws of success, so figures, percentages and tangible outcomes always make a testimonial more powerful.
Another way to bring specifics is to add to whom you would recommend this person, product, or service and why.
Every little detail matters!
A word on Disclosure
I've been working as an influencer for 15 years, so I need to remind you to stay compliant with The Federal Trade Commission (FTC).
When you receive a product, service, or program as a gift, receive compensation through affiliate commissions, or write a paid review, no matter how honest it is, you must disclose this in your testimonial.
So here's mine: the testimonials I am sharing do contain affiliate links.
Be careful not to make outrageous claims, especially when it comes to income (money), and add disclaimers when results aren't exactly typical or guaranteed.
Write A Powerful Testimonial
Okay, let's do this!
Can you think of someone who has stepped up when you most needed it or that made a difference in your life?
Who comes to mind that has helped you transform your life results?
What is something you bought that has solved a problem or made life better?
If you have not yet expressed your appreciation for their support, guidance, energy, wisdom, light, program, or service, then start writing words of gratitude, based on the transformation you experienced.
Then think of the people who need what you received and write a message to them.
When you add these two components, it becomes a love-filled powerful testimonial that can impact the world!
Share your testimonial online and send it to the receiver, along with your consent, so they can start using it on their marketing materials.
Have you written a powerful testimonial before? Share your most powerful testimonial with us in the comments section below!


My mission is to help moms find peace, break cycles, and feel whole so they can be present, peaceful, and positive moms. To receive a gift that can get you started on that journey click HERE.